How to add quick access to Settings pages to the right-click desktop menu in Windows 10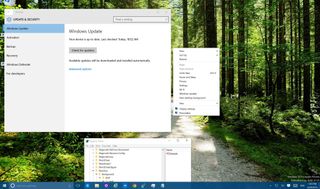 In Windows 10, for some reason, I find that the quickest way to access the Settings app is by right-clicking on the desktop and selecting "Display settings" or "Personalize", even though once I access one of the page settings, I have to click to go back to the main section. So, I ask myself: Why is Microsoft not adding an option to access the Settings app from the desktop right-click context menu? I think it'll be very useful for many users.
In our previous guide, we talked about how Microsoft is slowly moving away from the Control Panel in Windows 10 in favor of the new Settings app. This app is a more unified experience that brings all the Windows settings in one place and a user interface that works across devices e.g. phones, tablets, laptops, and desktops.
We also learned that each setting page in the Settings app has a unique identifier called "URI" (short for uniform resource identifier) that allows to link directly to specific settings. Knowing these URIs, we can use the Command Prompt or create desktop shortcuts to access settings quickly. However, as it turns out using the same logic, it's also possible to modify the Windows 10 desktop right-click context menu to add links to direct access to a specific page of settings.
If you want to learn how you can do this in your PC, keep reading below, where you'll find all the steps.
To add specific access to Settings, you can refer to my previous how-to guide to grab the URIs).
Warning: This is very important. The steps below involve modifying the Windows Registry, which it can be dangerous, and it could cause system instability. This guide is aimed for savvy users, who understand the risks. It's assumed that you will have done a full back of your computer or a recovery plan before continuing in case of something goes wrong and you need to roll back to a working version of Windows.
Adding Settings items to the Windows 10 desktop right-click menu
1- Open the Windows Registry editor: To do this, use the Windows + R keyboard shortcut to open the Run, type Regedit, and hit Enter.
2- While in the Registry, navigate the following path: HKEY_CLASSES_ROOT\Directory\Background\shell
3- Next, right-click Shell, select New*, and click on **Key, and name the new key with the name of the specific setting page you want to access. (For this guide, I'll be showing you how to add access to the Settings app, as such I'll be naming the key Settings.)
4- Right-click the newly created Settings key, select New, and click on Key, and this time, create a new key called command
5- Inside of the command key, double-click the Default to edit the String
Here is where the magic happens. Choose from the list of URIs, a page you would like to add to the desktop right-click menu, and create a command like in the example shown below:
Example #1: "C:\Windows\explorer.exe" ms-settings:
Example #2: "C:\Windows\explorer.exe" ms-settings:powersleep
Now, copy and paste the command to access Settings on the Value date field, and click OK
Next, right-click like you always do on an empty space on the desktop, and the menu should include the new entry to access Settings.
There you have it, folks! It's worth pointing out that this works for pretty much all the settings accessible via a URI.
What setting pages will you be adding to the right-click menu? Tell us in the comments below.
Mauro Huculak is technical writer for WindowsCentral.com. His primary focus is to write comprehensive how-tos to help users get the most out of Windows 10 and its many related technologies. He has an IT background with professional certifications from Microsoft, Cisco, and CompTIA, and he's a recognized member of the Microsoft MVP community.
Yep. That sure is more convenient.

Old trick. I have tried such registry hack on different aspects.

What can we say about you, genius...

Genius? Me? No, I'm only slightly more intelligent than u.

That, of course, you are but I was referring to the other dude, Mr. Karforma.

You know you can get to the settings bi right-clicking the startbutton, right? Edit: just realized MS still hasn't changed the link to the modern settings App. Butt still possible via Notification-center and quickactions.

Will you be making a "complete" set of fancy add-ons for Windows 10 incl. mobile? I sure would like one. It's so easy to forget these things. Most of which you once and then not again, until you've needed to do a reinstallation, and then I can't remember naught.

I always click the All Settings toggle on the action centre.

I always click the Start Menu and then Settings. Almost the same, but different ways =)

Helpful tip...but helping people edit their registry...dangerous...

With great power comes great responsibility!

Been editing the registry since Windows 3.1 and never had a dangerous outcome. :)

Can these how-to be placed in the forum, and leave the main page for news. The main page get clogged up w/ all these how-to access / pin tiles

It's posted in the How To section of the (Main Page) for a reason.

"Can these how-to be placed in the forum, and leave the main page for news."

Nope, sorry. The point of putting them on the main is two-fold: (1) for our everyday audience who may want to know such things and (2) Because it helps index them in Bing so that down the road, if you search in Bing for an article on this topic, you will find your answer and our sweet guide ;) There's no use in writing these helpful guides and how-tos if we bury them.

true! i dont use forum the way ppl using it... so using main page to tell us about how-to is great idea for ppl like me :)

For those interested, I have been thinking of reviving my old app Ultimate Customizer I wrote for Windows 7 for Windows 10 that ease the pain of doing this and alot more while backing up everything. :)

Isn't this the same number of clicks as clicking on the Settings shortcut in the Start Menu, or pinned Settings tiles? Not saying that people that want to do it shouldn't, but I don't see why this should be a true feature.

Windows + X is as fast as this hack. Or, as mentioned before, via start menu. And then again.. why would you have a shortcut to settings? If it's all set, it's all set..

I find the quickest way is to press WIN+I

Hey, I like that desktop background from the first picture (I'm the nature pic background type of guy). Where did you get it from?

You can find the image in this Windows Theme http://windows.microsoft.com/en-us/windows/footpaths-download-theme I hope this helps, Thanks,

Thanks a lot! Too bad it's just 1200p so it doesn't appear super sharp on my SP3. :/

Are you going to create a top-100 tips for Windows 10 on July 29? Because I am not taking note of all those tips!

Just pin Settings to the Taskbar. That is so much more convenient. :-)
Windows Central Newsletter
Thank you for signing up to Windows Central. You will receive a verification email shortly.
There was a problem. Please refresh the page and try again.