How to delay the Windows 10 Anniversary Update on your PC and why
You can delay the Windows 10 Anniversary Update from installing on your PC to avoid possible issues or for any other reason, and here we show you how.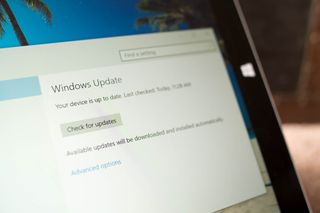 The Windows 10 Anniversary Update is officially released, and now millions of users around the world are busy installing the new update. However, it's been noted that not everyone is getting a smooth installation to the new version of the operating system.
You probably came across our extensive Windows 10 Anniversary Update guide highlighting a number of problems that users have been reporting during the installation, some of which include:
Cortana disappearing from the taskbar after the update without a way to turn it back on.
Some settings not migrating after installing the Anniversary Update.
Some Windows Store apps crashing immediately after launching them.
Windows 10 Anniversary Update failing to install with error messages, such as 0x80070057, 0x800705b4, 0x8024200D, and many others.
Note: It's worth pointing out that we're not saying don't install the update. The Anniversary Update is an excellent release that just makes Windows 10 better. We're only showing you different ways in which you can postpone the installation for any reason that you may have. In the end, we leave the decision up to you.
Although the update brings a lot of great improvements, in the early days of the rollout, it's expected to come across some issues and unknown bugs, especially on older hardware. Sometimes, this isn't a big deal for technical users or enthusiasts, but many regular users who don't have the technical skills, rely on their computers for work or school, and they may be better off waiting a little longer.
In this guide, we'll walk you through a few ways you can postpone the Windows 10 Anniversary Update -- at least until Microsoft releases a cumulative update addressing some of the issues.
1. How to reschedule the installation of the Windows 10 Anniversary Update
Starting with Windows 10, updates are mandatory, which means that if you haven't changed your settings, the Anniversary Update will download automatically on your computer. If so, the operating system will also automatically set a schedule to install the update, which usually is the same day (hours after the download).
If you're planning to update your machine, but you have a busy week, and you don't want to deal with possible issues, you can reschedule the update to a different day.
Open Settings.
Click on Update & security.
Click on Windows Update.
Under "A restart has been scheduled", select the Select a restart time option.
Pick your custom time and day. (Usually, you can only delay the restart five days, but you can come back, for example, two days later and extend the restart time for another two days.)
2. How to postpone the Windows 10 Anniversary Update
If you're not ready for the Anniversary Update, you can postpone the installation of new major updates up to 4 months using the "Defer upgrades" feature. However, this option is only available for Windows 10 Pro users.
Open Settings.
Click on Update & security.
Click on Windows Update.
Click the Advanced options link.
Check the Defer upgrades option to complete the task.
After you configure your PC to defer upgrades, your computer will continue to be serviced with maintenance and security patches, but big updates like the Anniversary Update won't install on your computer.
3. How to block the Anniversary Update on Windows 10 Home PCs
Although Windows 10 Home doesn't include the "Defer upgrades" feature, you can temporarily prevent the Anniversary Update from downloading on your PC.
On Windows 10, you get a feature to tell the operating system that you're using a metered connection to access the internet. This feature is especially useful to reduce bandwidth usage on connections with data caps, public access Wi-Fi, and mobile hotspots, also, it prevents the operating system from downloading updates.
If you're not ready to deal with possible issues during and after the installation of the Anniversary Update, use the following instructions to delay Windows 10 updates using a metered connection.
Open Settings.
Click on Network & internet.
Click on Wi-Fi.
Click the Advanced options link.
Turn on the Set as metered connection option.
Once it's been a few weeks, Microsoft released new cumulative updates, and you feel that the update is ready, you can revert the settings to install the Windows 10 Anniversary Update on your PC.
The only caveat is that you can't specify an Ethernet connection as metered. It seems Microsoft believes that only those on Wi-Fi connect to the internet using capped connections.
However, if you're using Windows 10 Home on your desktop PC, and you want to delay the Anniversary Update, you can use this previous guide to set your Ethernet connection as metered on Windows 10.
After configuring a metered connection on your device, Windows Update won't download the Anniversary Update or any other update until you revert the changes.
Wrapping things up
Usually, getting updates automatically is a good thing, as they help to keep devices secure and up to date with the latest improvements with minimal user interaction. The only problem is that during significant releases, chances are bugs and issues are relatively higher than regular updates. To avoid problems sometimes delaying an update could be the right thing to do.
The Anniversary Update is the second major upgrade with many new features and improvements. If you missed it, check out our full Windows 10 Anniversary Update review to learn more about all the new changes.
Are you delaying or installing the Anniversary Update as soon as it arrives on your PC? Tell us in the comments below.
More Windows 10 resources
For more help articles, coverage, and answers on Windows 10, you can visit the following resources:
Windows 10 help, tips, and tricks
Windows Central Newsletter
Get the best of Windows Central in in your inbox, every day!
Mauro Huculak is technical writer for WindowsCentral.com. His primary focus is to write comprehensive how-tos to help users get the most out of Windows 10 and its many related technologies. He has an IT background with professional certifications from Microsoft, Cisco, and CompTIA, and he's a recognized member of the Microsoft MVP community.
Cortana disappearing from the taskbar after the update without a way to turn it back on. I came across to this issue after updating. Since then I was looking for a solution and luckily found one today and now she's back

Unfortunately for some of us, she was never there. Nothing but a pipe dream really

Go to HKEY_CURRENT_USER/Software/Microsoft/Windows/Current Version/Search and change BingSearchEnabled value to 1

I got this issue, fixed it by registry edit. HKEY_CURRENT_USER\SOFTWARE\Microsoft\Windows\CurrentVersion\Search
set BingSearchEnabled to 1
set CortanaAmbient to 1
Start Cortana from Task bar (no restart required). Was chatting with MS Support, they first suggest checking the language/keyboard/speec/region settings to make sure they're in synch, but this didn't solve the problem. Then I ask her about this registry changes whether it might cause an issue or not.
She told me it's ok so I went ahead and did it. Fix the issue instantly. This happened on my Surface Pro 2.
Desktop/Tablet/SBook upgrade perfectly fine.

Or, try to update and persuade it to fail (easily done). Then your PC will never detect the update again. Problem solved. Also, there is an MS utility available to block any updates you select. Easy to search for.

thats a bad idea to delay it, my laptop never felt faster and game performance is really better great update Lenovo y70-70

Problems vary with Systems .

Try updating via ISO. I did my update like that. I got to 14393.0 (Cortana was working in this version). Then installed the cumulative update and bumped to 14393.10 (Cortana disappeared). Apart from cortana everything is working fine.

but this will wipe out my installation drive..

No? You can do an upgrade installation with the ISO, too, no need to wipe anything.

Oh ok..i have never done an upgrade installation..so I am not sure how that works..

My Tablet seems to be freezing after every login. After updating to anniversary update, I did a reset. After days of troubleshooting, I am just able to browse. Still store is crashing.. No apps can be installed. Looks like some settings missing in anniversary update 14393.0

Actually windows forgotten mobiles?? Since the last week no good news for mobiles.. Updates only for pc and xbox...

There was an article less than 48hrs ago, that Mobile AU (RS1) is most likely coming a ~week after the PC AU. No doubt work will start to pick up a few wks after that on RS2 (Mobile will supposedly have a heavier emphasis in RS2+).

Well, Killer Instinct is no longer working for me. It crashes whether I play Multiplayer or Single player. Working fine before the update. But now it'll just close and throw me back to the desktop.

Edge extensions are behaving weird. Ad block was installed correctly. Last pass is refusing to do so

I really want to roll back for a little bit due some issues with start menu and notification center. Annoying. Posted via the Windows Central App for Android

A clean install is the way to go! I did it on my laptop and my Lumia 950 XL. I have not had any issues since then. Just backup your files and then do a clean install. You will get a different experience.

Typical "solution" (and pathetic BTW) for Windows updates. Wipe/clean install/hard reset and start over, and waste hours and hours installing the software that you already had, after wasting hours installing an update, for me this is nothing but non sense.

I have already stopped ANNIVERSARY-UPDATE using command-line from Tuesday . Waiting for cumulative update

how did you do that? I would like to know that..so that I can have my laptop in usable condition..till some fix arrives..

That's the big problem with Windows. Too many devices need some specific configurations. I would prefer a perfect experience out of the box. Don't get me wrong I love windows but only when it work flawless. To do many work around that often reduce production time. Think about that MS. Even your line of Surface come out the box with so many bugs. Posted via the Windows Central App for Android

Time for you to try Apple, works perfect right out of the box, runs smooth and fast no hiccups.

I've never tried Mac but willing to try. I've seen Unix based system updates and are faster and better. Unfortunately I have to use Visual Studio to work, If I do a "clean install" I have to waste hours installing Visual Studio, hours installing Visual Studio updates, hours, even days installing additional software. F-word that!!

I think after a few hours getting used to OSX you will enjoy it. I was running a surface 3, even surfing the web was painful, edge was bombarded with ads and no ad blocker, IE11 MS slowed down to make you use edge. It was terrible. Then constant little things and freezes happening. I swapped one of my old computers for a 2007 Macbook to TRY. I am on it right now.....I have 2 new macbook 12" and 2 new ipad pro 9.7"s ordered now. The 2007 macbook is faster than any of my microsoft systems were even with just 2 gb ram and a 5400 rpm drive. My fast systems with MS had SSD and at least 8gb ram. Specs do not matter as much with Mac as the OS is optimized for the hardware. It really is refreshing. Don't mind the fanboy comments around here stating apple this apple that.....I am just switching from MS/Windows based products (surface 3, nokia 1020, samsung ativ s), and I can tell you with 100% certainty in the past month of using apple products, they flat out work better, faster have less issues and are just overall better machines than anything coming with MS software. Any updates are seamless, behind the scenes and you are just notified they are there to install. With my surface 3 if there was an update loading the surface became sluggish and slow unitl after it was done. then returned to normal working speed. I could go on and on comparing the two, and why apple is the better system. The fanboys will aruge with me until they are blue in the face.....however facts are facts. and experiences are experiences. i am speaking from the view of a recent Microsoft convert!

Yeah, every time. Apple OS installs never have any issues. BTW, I've got some beachfront property for sale too.

Awesome. I have some beautiful tropical property in tuktoyauktuk for all the windows users here that say windows is better than apple .....its not true...I have recently moved to apple from MS and Apple products are built better, work better feel premium and look premium. The friggin type cover on my surface felt like 3 year old built it. Loud clicks, flexing etc. The surface itself when used as a tablet was heavy bulky and slow after 10 update.

Me too, but for different reason. Was a big windows fan, but already changed for iPhone, because this US only-thing. No Cortana, no Surface Book, Bing is really bad in my country etc. The list is long. With Apple you get almost same experience wherever you live. Waiting for the New MacBook Pro to come out, whenever that is.

Show us how to roll back! Please! Posted via the Windows Central App for Android

You've to wait for next cumulative update in coming weeks...

Go to your settings, updates, update history and choose Uninstall updates, that takes you to the control panel with a list of installed updates, uninstall the AU update there.

I understand that rolling back might be your best option. However, take a moment to think of how much dead code you are going to leave on your computer. This is the source of the problem. Backup your personal files and then do a clean install. You can do that from Settings > Update> Recovery> MORE RECOVERY OPTION. You will be taken to a website to download the RefreshWindows Tool. I think downloading Windows 10 will take longer than the install. Your experience will be 30 times better than what you have now. REMEMBER TO AT LEAST DOWNLOAD YOUR NETWORK DRIVERS BEFORE DOING A CLEAN INSTALL. JUST IN CASE WINDOWS DOES NOT HAVE YOUR DRIVERS PRELOADED.

LOL, F-word clean installs!! Waste of time. Reinstalling everything that could've taken days to complete, taking care of "details" (as drivers) that could make your system unusable for hours or even days. Non sense.

rromerof, welcome to the world of Microsoft. How many fresh installs did I have to do using windows devices. I think you should really try apple.

Just use PowerShell to export your drivers. You can then use them for your clean install. Export-WindowsDriver -Online -Destination d:\drivers

And one more thing.... Isn't #2 Point also belongs to Home version? B'cz i can see the Defer upgrades option screen same as showed in #2 point.

Installed on my Acer laptop that came new with Windows 10. Absolutely no problems so far. Maybe problems are with computers that updated to Windows 10 from a prior version (Windows 7, 8.1...)?

Installed on my Acer laptop that came new with Windows 10. Absolutely no problems so far. Maybe problems are with computers that updated to Windows 10 from a prior version (Windows 7, 8.1...)?

Remove another same comment!!!

... release next cumulative update in next week.

Everything went well with all of our friend who have upgraded. I think the problems being faced are not on a wide scale. Posted via the Windows Central App for Android

New backup. Then hopefully third time lucky on Sunday.

Guys I got "Windows.old" folder in the C: drive after the update. Can I delete it?
I used a tool to update to the "Anniversary Update" which is on the "update history" page on MS site. Any help will be appreciated

Use the Disk Clean Up tool and make sure you tick include System Files or words to that effect.

Ok thanks, I'll try that
Appreciated

I think you've To perform a ' Clean Installation of your windows ' Before performing this, backup your data especially from C:(ROOT DRIVE)

Thanks bhai
Appreciated :D

Windows 10 M Anniversary Update is delayed by default. No need to worry.

Ha ha....by the sounds of it they need to delay it longer....again.....to make it work right.

Thanks for the very useful information

Lumia 950 now $298 direct from AT&T!

And on the other end my friends are bugging me as to why they aren't able to get the update :P

One potential deal breaker, and it's affected two of my rigs. Win 10 AU update may actually corrupt partitions on secondary drives. Both instances I had back ups, but my advice at present is back up and disconnect all drives apart from primary. This was a forced update though the tool provided by MS. I've left feedback with MS about this as well giving the drive geomatry and diagnostics.

I havn't faced such kind of problems after upgrading to windows 10 anniversary update on the second day after the update released! So, people who are telling have downloaded in a wrong way or I don't know!

I also have downloaded anniversary update it runs smooth without any problem no app crashes and Cortana is also there

Anniversary update is slow :-/

My computor has stalled after log-in also this year as it did last year after the anniversary update. I cannot access safe log-in or do anything.

So finally MS understood that Cortana is totally pointless and useless so they removed it quietly... Well, that's about time...

I'm not begrudging your choice to switch. Use whatever works best for you. But if you think OS/X and iOS are perfect, well... Enjoy dreamland. No OS is perfect.

Who are you replying to?!

Mr. Adams, above, on one of his switch to Apple comments that the WC app lost track of when I submitted.

Did a clean install. No problems faced till now. loving its awesome new features..
if someone facing any issue just clean install the OS. Posted via the Windows Central App for Android

Three PCs. Two upgrades went well although had the familiar difficulties with reestablishing sharing between them. Third PC is n HP laptop and ran into two bizzare problems. First is that IE vanished -- not just no icon - there was no executable on the PC after the upgrade! Fixed this by reinstalling IE. My killer problem is that I have a Linksys router with attached storage on my network. The initial versions of Win10 worked fine but after the upgrade, the OS could not see the drive. I can log onto the router to control it or to access it in order to get to the internet, but can not get Win to see the attached drive. Strangely, the other two PCs have no such problem after the upgrade. Rolled back to pre-Anniversary and all was well until Win10 decided to automatically update to Anniversary again. Since my version of Win10 is the Home version, I understand that I cannot easily defer downloads/installs of Anniversary unless I fool it by setting wifi process which I set up. Any thoughts on this or suggestions about how to convince Anniversary to see my NAS drive? Thanks

My pc is having serious issues with the aniversary update.After the installation, the pc goes gets a black screen with white revolving dots. I have to use the instalation disk, but the the computer automatically downloads and installes the anniversary update again and my pc becomes completely unresponsive. I followed the instructions to stop the upload, but I do not have the options on my settings to do so, as in this article. Please help!!!!!!!!!!!!!!!!!

I can't even get it to install on my laptop (previously upgraded from Windows 7). The whole thing sticks on a spinning wheel for a while, then just freezes up on a blank screen (I've even tried leaving it running for 24 hours). I've had to system restore twice now to the original version and am about to do the same again this morning when I accidentally left the thing on last night whilst leaving a backup running ... I've heard that this upgrade is an issue for Win 7 users. The only suggestion so far has been to do a clean install of Windows 10, which I haven't yet found out how to get hold of.

Actually there is another way to permanently delay the Anniversary update from installing, even on the Home edition: Run "services.msc" without the quotes, and disable the Windows Update service. Additionally, when a cumulative update is released for whatever build you actually are running is released, download it from Microsoft's download center, temporarily turn the Windows Update service back on so that the cumulative update will install, then after it is installed, turn off the Windows Update service again.
Windows Central Newsletter
Thank you for signing up to Windows Central. You will receive a verification email shortly.
There was a problem. Please refresh the page and try again.