How to set an Ethernet connection as metered on Windows 10
By Mauro Huculak last updated
If you access the Internet using an Ethernet connection, and you have a limited data plan, use this guide to set your connection as metered on Windows 10.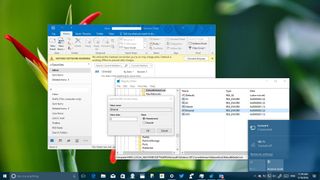 Update April 24 2017: Starting with the Windows 10 Creators Update, it's possible to quickly set an Ethernet connection as metered using the Settings app.
Windows 10 is an operating system designed to take full advantage of an internet connection without any restrictions on how much bandwidth it uses to perform tasks, such as download drivers and updates, sync settings, connect with cloud services, let you get access to the World Wide Web, and everything else.
While this isn't a problem for many users, not everyone has an unlimited data plan to access the internet. Many users connect to the World Wide Web through metered internet connection plans, which most of the time have a limit on the amount of data they can send and receive.
If you have a metered internet connection, setting your network connection as metered within Windows 10 will help to reduce the amount of data you're allowed to use in a given month.
The problem is that the operating system only offers this option for Wi-Fi or cellular data connections, and it appears that Microsoft assumes that anyone connected to a network using an Ethernet connection has unlimited access to the internet. However, if you know your way around the registry, you can still set an Ethernet connection as metered to reduce the internet data usage.
In this Windows 10 guide, we'll walk you through the steps to set your wired network connection as metered by modifying the registry.
How to set an Ethernet metered connection on Windows 10
Important: Before you make any changes, make sure to understand that you'll be modifying the Windows registry, which could be a dangerous game that can cause irreversible damage to your computer when changes are not done properly. It's recommended that you do a full backup of your system before proceeding. You've been warned!
Use the Windows key + R to open the Run command, type regedit, and click OK to open the Windows registry.
Browse the following path:HKEY_LOCAL_MACHINE\SOFTWARE\Microsoft\Windows NT\CurrentVersion\NetworkList\DefaultMediaCost
Right-click the DefaultMediaCost key and select Permissions.
On the Security tab, click the Advanced button.
Next to TrustedInstaller, click the Change link.
Type Administrators, and click the Check Names button to make sure you're typing the correct object.
Click OK.
On the Advanced Security Settings for DefaultMediaCost, check the "Replace owner on subcontainers and objects".
Click Apply.
Click OK.
On Permissions for DefaultMediaCost, select the Administrators group, and then make sure to check the allow Full Control box.
Click Apply.
Click OK.
On the DefaultMediaCost key, you'll find different entries, including for 3G, 4G, Default, Ethernet, and WiFi with their default data values: 1 or 2. The data value 1 means that the connection type is non-metered, and the data value of 2 means that the connection type is metered. Double-click the Ethernet DWORD (32-bit) Value key, and change the value to 2.
Click OK.
Close the registry and restart your computer to complete the process.
Once you set a metered connection, the operating system will stop using the internet in many ways. For example:
Windows updates will no longer download automatically. However, priority updates will continue to download when available.
Apps will no longer update automatically.
Live Tiles on the Start menu may stop downloading updates.
Offline content may not sync with other devices.
In the case you want to revert to the original settings, using the same instructions mentioned above, make sure to change the Ethernet key data value from 2 to 1.
If you want to verify your Ethernet connection is set to metered, you can use apps, such as the desktop version of Outlook, which will detect and alert you that you are using a metered connection, as you probably won't see any "Metered network" statics on the App history tab in Task Manager.
Obviously, you should also notice a reduced amount of data usage at the end of the month on your internet connection plan.
While this is a handy workaround to help you to control the data usage of the operating system, remember you will still need to control how much data you personally use to browse the web, watch videos, and everything else to not go over your data cap.
Do you have an unlimited or metered internet connection? Tell us in the comments below.
More Windows 10 resources
For more help articles, coverage, and answers on Windows 10, you can visit the following resources:
Windows 10 help, tips, and tricks
Mauro Huculak is technical writer for WindowsCentral.com. His primary focus is to write comprehensive how-tos to help users get the most out of Windows 10 and its many related technologies. He has an IT background with professional certifications from Microsoft, Cisco, and CompTIA, and he's a recognized member of the Microsoft MVP community.
I guess MS does not know that we struggle to save data. Even windows updates does not have an option to manually download the update and this used to take a lot of internet. Thanks for the trick ;-)

and it is 2016 and everything is connected to internet in one way or the other, so it's not Microsoft fault you live on a hole where you don't get proper carriers to give you the service everyone on 2016 should be having. ​I mean, did you even see this article? it's about ETHERNET. can you explain me how you get ethernet connection but still need to worry about "saving data"?. it just doesn't make sense, so again, it's not technically Microsoft's fault that you live in a place where carriers are taking your money and don't even give you a 24/7 service when you apparently have a modem. Also "we struggle" sounds like you think the world goes around you. I don't struggle to save data when I use my PC and the Ethernet cable. I only worry about data when I use my phone, and I won't download the updates with data.

I don't live in a hole, i live in a city where high speed internet is expensive. And I've seen many people who did not upgrade to W10 only for this reason. I totally agreed with them when 4GB internet was used only for November update. MS knows that there are 100s of cities without internet and they are helping internet to reach them, but that does not mean they are giving it for free.
And i am talking about ETHERNET! You should know anything is not free!
How hard is it to give a "Manual" option? These updates dont even care what i am doing, it just starts downloading automatically and slows my internet speed from browsing internet!

Emi you're about as stupid as they get. You should get your head out of your ass and realize that windows 10 uses so much data against our will because of stupid things like not being able to turn off automatic updates. Doesn't mean our internet provider is bad it just means we would like to save 50GB+ for stuff that we actually want. But we all know you're mentally handicapped and won't be able to comprehend anything we tell you.

Yeah Windows takes up too much data. This was posted in a pineapple under the sea.

I think you should want the updates, you know, to keep your PC/Tablet/Phone secure. If you do not run an Insider build the amount of updates you get to install are not more than they were before. They are only a lot bigger. And that is to solve the oldest windows update complaint that they are eating your disk space. Now you get the base windows 10 and the latest CU on your disk. In the past you got all updates since the latest CU and thats a lot for windows 7 (till very recently). Windows 8 would fill a small storage tablet with just updates sitting there.
So its a trade of between two bad or you stop doing updates, and personally I feel that thats the worst option.

Sorry I feel updates ruin my computer more than help it. Why worry about it being secure when there are golden keys. Performance wise windows 8 with updates off worked faster and better. I just shut off the Windows Update service. Turn it on when I feel like updating or getting something from the Windows Store. Work computer I can understand but not my home computer.

While most people here in the UK do have unlimited, there are still some that hgave a limited connection, some because they only use the net a limited amount of time, so they go for a cheaper option, even our largest supplier, BT have a limited option, with a 25GB limit, save someone a tenner per month compared to the unlimited one, that is £120 a year. The other reason is that some people are still on a naf ADSL system. Some of those I sure uses ethernet, in fact one lot i know that have limited broadband do use Ethernet as i set up the connection myself.

I understand your perspective because I used to think like that (as they always offered unlimited internet around here), but one day something happened to me. My wireless router broke. And nothing else worked. And I had important stuff to do. And I had to wait 2 days for repair and everything. Apparently it was so bad they had to rewire everything. I had to use the mobile hotspot on my phone. I only had a few gigs available. So I needed data savings. This was back with Windows 7, but this data-saving feature is very helpful to some people now.

In windows 10 now the mobile hotspots are detected as being metered connections (at least the one my Lumia 950 creates) so this particular example is now not an problem anymore. Not trying to reduce the feedback though cause the point sticks, data-saving is helpful in certain scenario's. Just trying to avoid people thinking this happens with their hotspot also :)

Yes, but I've had to use my mobile hotspot with a bridge connected to a router, so that I can be on the internet and print at the same time. The bridge logs into my mobile hotspot and gives access to it to the router on the router's WAN port. Gives wireless and wired access throughout the house from a mobile hotspot. It also allows me to access the NAS for additional files I may need, and my wife and I can access each other's computers. I had to quit doing that for the sole reason that Windows 10 was KILLING my 15GB data plan within a few days. This would have saved me a lot. Looks like I'll be able to go back to using that now. It's such a pain having to disconnect from the internet, connect directly to the printer (wireless), then print, then reconnect to the internet. Real pain.

My dad lives in a fairly rural area (in Oklahoma) where there aren't a lot of people so there aren't any great broadband options. His best option is satellite service (HughesNet) which is what he uses. His access comes in through a cable modem attached to a router. His primary PC is plugged directly into the router via an Ethernet connection. However, he is limited to 250MB bandwidth per day (he gets charged extra if he goes over the limit). As an example, I helped him install Windows 10 on one of his "extra" computers from the most recent (at the time) ISO that I had pulled down from my house (where I have decent broadband). Within an hour of getting Windows 10 initially installed, it had pulled down nearly 300MB of "stuff" (not really sure what since we were using the latest ISO) before we turned off updates (by killing/disabling the Windows Update service). On a side note, I've considered building a utility that would allow him to schedule the automatic Windows Update downloads since he has window during the night (around 02:00 - 06:00) where he can download as much as his current speed allows. I designed a prototype but haven't fully worked through the final tool yet. I suppose I've procrastenated a bit because I was secretly hoping Microsoft would see the light and add scheduled downloads as a feature. However, I think I probably shouldn't be holding my breath :-)

You can use the amazing tool Networx. It does exactly what you want. Although you'll have a lot of fun building the project yourself.

No need to be unpleasent just because someone is not as privileged as you.

Actually, there are a variety of situations where it makes sense. You say that OP is apparently using a (cable/DSL/etc.) modem, but that's not necessarily true. Though he admitted he is, and that the speed slowdown in the biggest problem, there are a variety of other possible situations, too. The most likely alternate scenario would probably be USB tethering. Generally, such a connection will show up on the PC as a virtual wired ethernet interface. This also sometimes happens with some WWAN cards and USB sticks. Indeed, the reason I ended up on this article is because I have a built-in WWAN card that operates this way. Such 'virtual' ethernet connections aren't the only possibility, either. Consider 4G routers, such as this one. Note the ethernet ports in the back, clearly enabling the use of normal ethernet to connect to a metered cellular connection. Further, I think it's worth pointing out that cellular connections aren't the only type of connection that can be metered. More and more (home) ISPs are rolling out caps on their connections, for example. There's also stuff like BGAN satellite terminals, which are extremely expensive bandwidth-wise: we're talking 1-2 cents per kilobyte. Can you imagine how outrageous the bill would be if your Windows machine started downloading updates automatically over such a connection? Simply updating the live tiles would probably incur a signifigant charge alone. And just for the record, I find it rather astounding that you accuse OP of thinking the world revolves around them. He clearly wasn't using "we" to refer to literally everyone, and a simple Google search shows he's far from the only person with this problem. Get over small-minded self.

Whenever I travel I use a mobile hotspot. I am always afraid of huge Windows updates happening while I am on the hotspot as it has only a few gb per month. I would really like to be able to flag that particular connection as metered.

Settings -> Network & Internet -> Wi-Fi -> Manage Know Networks

Here's the thing. When I go to manage known networks I can see the list of Wi-Fi spots I connected to. But there is no option for properties there only "forget" therefore I cant set even wifi to metered :( it used to be there but now it's just not. So it sucks. And now I moved to uzbekistan with data cap 13gb per month I really miss it back in Malaysia where I wouldn't ever care about this option

Cheers for that, now if I decide to install Windows 10 at some point I can use that. I do have unlimited internet, but putting ten on metered stops it doing thins I don't want it to do.

Yes, sadly, I am unable to obtain unlimited internet. In my particular situation, I have HughesNet satellite internet, and my monthly "anytime" data limit is 10GB/month. Thanks for the article! Now, if we can just get Microsoft to allow us to designate certain times of the day to download updates, because HughesNet gives an extra 10GB/month during the hours of 2am-8am.

Are you able to move house to an area where unmetered or 300+ GB/mo plans are available? For example, if you move to an area served by Comcast, you get 1000 GB/mo.

I dont necessarily want it metered, but I would love a way to force it not to use 100% bandwidth to download updates. I cant use my network for much of anything, even on other devices, if my PC starts downloading a large update (such as a insider build).

desktop outlook doesn't sync properly when on metered connection even if i say it to connect anyway

I have unlimited data plan in India, and its not so costly.

Wow didn't know this option wasn't available for Ethernet. Dumbass Microsoft

Firstly, thanks for the post and the discovery you made. I can see outlook saying you are on Metered Conenction. However, I don't see this setting effecting any other application, other than Outlook. How to check if other apps and OS is in metered mode? None of NETSH command can verify it either. No Windows API or PowerShell can state it either (I've WiFi metered, and API/PowerShell/NETSH states it is metered). "Metered Network" in Task Manager is meaningless.

EVEN IF my connection was unlimiated, it doesn't mean my speed is unlimiated you dips!%t microsoft! if i have 5 mbps connection my broswing experience is going to slowdown becuase Windows feels like hogging ALL of my speed to download some update! FU*K YOU WINDOWS 10! if i want to download large updates you should give me the choice.

I have this stupid LTE USB modem from Alcatel that the driver recognizes it as an ETHERNET adapter. This hack comes in handy.

Similar issue for me. My iPhone3GS does not do WiFi Hotspot (no more software updates for iPhone3GS). So I plug it in to my laptop with the cable, and to Windows that looks like an Ethernet device. Every few weeks I have been suddenly losing loads of my mobile data allowance, and now I have found out how to stop the problem - great. It would be nice if I could set each Ethernet device individually to metered or not. Because now when I plug in a real Ethernet cable at the office, it thinks it is metered. And it takes a reboot each time to switch the setting.

Have you tried physically unplugging the Alcatel LTE USB modem from the computer whenever you are not using an application that communicates over the Internet?

This update to Windows 10, version 1607 was driving me around the bend. it was downloding about 6 times, and crashed when it was installing. But with this (set connection as meterred) it stoped and save me alot of money and time. Thank you Danie

I think MS is well-aware that some of its users can't possibly afford unlimited access to bandwidth, yet of course, as a user I know 256 MB (ref. one of Bill Gates' EARLY commets, maybe mid-1980s??) is no longer at all reasonable for maximum use demand. However, my provider HughesNet has limited plans. I live in a western state about 15 miles from a major small city where there are several options for wifi service. However, where I am, there are probably 50 homes with access to 1 cell tower for cell phone or dish internet service. We're not primitive (we DO have indoor plumbing!), but that's the ONLY access we have for internet service. NO cable and even NO DSL. If I knew how and what MS wanted to download I could set my download time from 2-8 am every day on a program from PCWorld or CNET and save myself and my programs some trouble. How difficult would it be to have an option in Settings for creating a metered connection in Settings for my inhouse wifi network or ethernet for individual computers? I know the world goes on and becomes more and more sophisticated and automated, but just NOT in the county in which I live!! I need my updates, but they need to be orderly and planned. Just now, while typing this, I got a reminder that my Defender is outdated, but I can do nothing to fix it! Thanks.

This article saved my Life. Thank you so much.

anyone know why the permissions are necessary? why not just change the default values?
Windows Central Newsletter
Get the best of Windows Central in in your inbox, every day!
Thank you for signing up to Windows Central. You will receive a verification email shortly.
There was a problem. Please refresh the page and try again.