How to ditch Microsoft Edge as your default PDF reader on Windows 10
Yes, you can ditch Microsoft Edge and set another app as your default PDF reader, and in this guide, we'll show you how on Windows 10.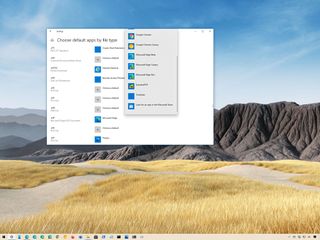 (Image credit: Windows Central)
On Windows 10, the Chromium version of Microsoft Edge is the new default web browsing experience, which also functions as the system default PDF reader on every installation.
Although the ability to view and edit PDF documents is a convenient feature, the experience offers limited functionalities. However, if you prefer a more capable software, such as Adobe Acrobat Reader (opens in new tab), Xodo, or SumatraPDF, you can always change the Windows 10 settings to disable Microsoft Edge and set another application as the default PDF reader every time you open this kind of file format on your computer.
In this Windows 10 guide, we'll walk you through the steps to change the system default settings to stop loading PDF documents with Microsoft Edge.
How to change default PDF reader using Settings
To disable Microsoft Edge as the default PDF reader on Windows 10, use these steps:
Open Settings.
Click on Apps.
Click on Default apps.
Click the Choose default app by file type option.Quick tip: You can also use the Set default by app option to change the default app to open PDF documents.
Click the current default app for the .pdf file format and select the app you want to make the new default.
Once you complete the steps, PDF documents will open the application you specified, instead of Microsoft Edge.
How to change default PDF reader using context menu
Alternatively, you can set another PDF reader as the default with the context menu option using these steps:
Open File Explorer.
Browse to the folder with a PDF document.
Right-click the .pdf file.
Select the Open with submenu and click the Choose another app option.
Select the new default app to open PDF files.Quick tip: If the app you want is not in the list, click the More apps option. Or click the Look for another app on this PC to locate the application manually. If this is the case, you will need to select the .exe file for the PDF application.
Check the Always use this app to open .pdf files option.
After you complete the steps, Microsoft Edge will no longer open PDF files by default. Instead, the document will open with the application you specified.
Mauro Huculak is technical writer for WindowsCentral.com. His primary focus is to write comprehensive how-tos to help users get the most out of Windows 10 and its many related technologies. He has an IT background with professional certifications from Microsoft, Cisco, and CompTIA, and he's a recognized member of the Microsoft MVP community.
PDF with Edge was so fine till the last update, now is just super buggy :/

Is there a way to do this on Windows Mobile?

True, it's beyond annoying that I can't use adobe reader for that. It's forcing me to use Edge, which is not suitable for all PDFs.

While I do not use Adobe reader as it is overe bloated, I do use another bit of software and while I have only been using Windows 10 for a couple of days this time, it have always used the reader I want to use for PDF. How long that will last is anopther thing, no doubt until MS does another update and decide that I wshould be using thier naff browser again.

Doesn't it ask you? Assuming you have an alternate reader installed.

Mine asks me every single time. Which is better than no choice, I suppose, but I would like it to default to always use Xodo.

I want to know how to use this too, it doesn't ask, just forces me to use Edge instead of my Acrobat reader!

My mobile asks me what program I want to open the pdf with.

That would be nice. I use Foxit for PDF on my Android devices by default, it's excellent.

How did THAT comment get me downvoted? oh, I see, I mentioned the "A" word. Some people's kids...

Is there anyway to make this change in Windows Mobile 10?

Install a good pdf reader like OneReader. OneReader can find pdf files on your SD card or Onedrive. Onced you open a pdf in is in the reader library. You can share a pdf to email or bluetooth. Files on the SD card can also be shared to OneDrive.

Whats the best PDF reader out there, a comparison article would be great.

Acrobat but it's expensive

He asked about READER, not PDF producing/editing software. Adobe Reader is free.

I like Foxit. It has a dark mode which I am a huge fan of.

Same here. Have been using Foxit for years.

I think Xodo is the best, opens PDFs in tabs, remembers previously opened PDFs, can reopen PDFs on launch, dark mode, modern interface.

But is it as powerful as desktop Foxit?

As someone that barely uses PDFs, I'm quite happy using Edge. It hasn't let me down yet and it's far less annoying than Adobe Reader. I'm not a fan of the revamped Reader. I guess I could install something else but I'm not that invested.

This is such basic Windows stuff that if someone does not know it by now, they need to give up on computers altogether. Seriously.

Nope you must be joking !!

Then explain why W10 keeps defaulting back to its own native programs instead of the ones you've chosen for file associations?

How you do this on windows 19 mobile?

The issue is that if you click a link to a PDF while browsing in Edge, you can't configure it to open in another reader. You have to save it to you hardrive, then open it with the other reader. The Edge built-in reader, just isn't very good.

What are the side effects of changing the default reader? I was totally frustrated with Edge right after the Creators Update came out because it wouldn't open pdf documents that were sent through a one-time link, forcing me to go back through and pay for the documents. I let MS have it in the feedback app and they seemed to have gotten it quickly back working again. Edge is OK for taking a quick look but scrolling by page works better in Adobe. I still leave Edge as my default browser because Internet Explorer is so slow.

Good News to learn that, please help us so with windows 10 Mobile, am findingbit hard to change the default Pdf reader...

The problem I find though, is that it keeps defaulting BACK to Edge, even after you change the file association.

So someone gave me a down vote for saying that I have an issue with W10 keeping my default program... very useful...

I found it did it again to me last night. Not only with PDFs, but also with jpg's for example, where I use a different viewer, yet windows keeps defaulting BACK to its own native program no matter how many times I change the file association.

That's not normal behavior. I've never had that happen. Unfortunately, I'm not sure why it's happening to you.

I love how after I spend time customizing my default apps, I'll get a totally random and unwarranted message from Windows saying "an issue caused my defaults to reset" for X-file type, but really it resets on quite a few (.PDF, video/image files, etc.).

Xodo is fast and powerful on mobile 📱 which kills it for me. And it has a dark mode.

It never asks on Fast ring at least just opens in Edge every time which is useless as you cannot zoom in properly. Some time ago the option to choose reader was there but that was long time ago now. How hard could it be to add the option?

Did this and it doesn't work, so frustrating!!!

i have been doing that for a few years now, I use Sumutra PDF, it does what is required .

How do you stop it from signing in by default.
First time you open it signs you in

Windows Central recycling three year old articles.

I simply installed a 3rd party app from the Store and made it my default (I really hate Adobe's software...way too bloated).
Windows Central Newsletter
Thank you for signing up to Windows Central. You will receive a verification email shortly.
There was a problem. Please refresh the page and try again.