How to download Xbox One achievement images on full HD in Windows 10 without an app
By Mauro Huculak published
If you want to show off your Xbox One achievements on your Windows desktop and in full HD, you can do that with ease.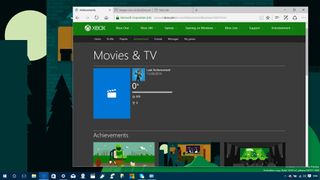 Achievements on Xbox One are rewards granted to users after completing certain activities within a game or even an app. You can view your achievements on your Xbox, through your Xbox Live account on the web, and through the Xbox app (opens in new tab) — and you can easily set achievements as your dashboard background on Xbox One, but it's a little more involved on a Windows PC. There's a nice little Windows 10 app called Achievement Art to browse and use the achievement images to personalize your desktop. But you can do it without any app in any version of Windows. Here's how:
How to download high-resolution Xbox One achievement images
Open your web browser (e.g., Microsoft Edge), visit Xbox.com

(opens in new tab)

.
Sign-in with your Xbox Live account.
On your profile, click on Achievements.
Click on any game or app you want.
Click on any unlocked achievement. A larger preview of the achievement image will open.
On Microsoft Edge, right-click the low-resolution version of the achievement image, and select Copy.
Use the Ctrl + Tab keyboard shortcut to open a new tab.
Right-click in the address bar click Paste. The URL of the image you copied will be pasted.
Scroll to the end of the URL and delete this bit: &format=jpg&h=640&w=1138.
Hit Enter, The high-resolution version of the Xbox One achievement image will download.
Right-click the image, select Save as, and choose the folder you want to store the image.
How to personalize your PC using Xbox One achievement images
After downloading the high-resolution Xbox One achievement images, you can easily use them as Lock screen or desktop backgrounds, and you can share them with friends using the following instructions.
Set a new desktop background
Use the Windows key + I keyboard shortcut to open the Settings app.
Click Personalization.
Click Background.
Under Background, choose whether you want to use one Picture or Slideshow.
Click the Browse button.
Select the image or folder with the images you want to set as background and click the Choose picture or Choose this folder depending on your option.
Set a new Lock screen background
Use the Windows key + I keyboard shortcut to open the Settings app.
Click Personalization.
Click Lock screen.
Under Background, select Picture.
Click the Browse button.
Select the image you want to set on the Lock screen and click the Choose picture button.
Create a Windows Theme with Xbox One achievement images
Additionally, you can group your Xbox One achievements images into a Windows theme pack that you can then use on other computers or share it with someone else.
Use the steps mentioned above set a desktop Slideshow with the images in you to want to include in your theme.
Use the Windows key + I keyboard shortcut to open the Settings app.
Click Personalization.
Click Themes.
Click the Theme settings link.
Right-click the theme that is currently labeled as "Unsaved Theme" with your achievements images, and select Save theme for sharing.
Enter a name of the new theme, select the folder where to store the theme, and click Save.
Windows themes will be saved as .deskthemepack file format that you can install on any Windows 8.1 or Windows 10 computer by just double-clicking the file. It's worth pointing out that the instructions in this guide can also apply for users who want to download Xbox One achievement images on previous version of the operating system, including Windows 7.
Resources
For more tips and tricks on Windows 10, and get the latest news, you can visit the following resources:
Windows 10 help, tips, and tricks
Do you have another technique to download achievements to your desktop? Let us know in the comments below.
Mauro Huculak is technical writer for WindowsCentral.com. His primary focus is to write comprehensive how-tos to help users get the most out of Windows 10 and its many related technologies. He has an IT background with professional certifications from Microsoft, Cisco, and CompTIA, and he's a recognized member of the Microsoft MVP community.
Wow, thanks for this @Mauro.

OMG.....I never thought of saving a picture with SAVE AS!!! This is awesome, thanks so much, you have changed my whole life!

Is there an app for this?! I want to download all of mine, but that's way to many to so individually.

The Achievement Art"app is the closest thing to what you're after. Premium ($1.50) allows you to one-click download all locked and unlocked achievement art per game. Unfortunately the resolution isn't quite as high as Mauro's method.

Thanks. I have something similar on mobile. Think I'll try this method for desktop.

I'm the developer for the Achievement Art app. What makes you think the art downloaded from the app is lower-resolution than what is obtained through this method? The images are 1920x1080, and that's what you get when downloading the images from Achievement Art. That's the resolution of the original, full-sized images. The app effectively automates this process, yielding the exact same images.

My apologies, you're right. Maybe there was an issue yesterday, I don't know on who's side. Because the images I downloaded from the app were lower resolution on my desktop (which is why I did it the other way). But today I tried again and Achievement Art downloaded full 1920x1080. Sorry for the misinformation, I'm not sure what the problem was yesterday. I love your app by the way :)

Cool, thanks for sharing your experience, Simone! I haven't personally seen images coming back at a lower resolution so it's good to have that information, I'll keep an eye out for any such issues in case they come back in the future. Glad to hear you like it!

This should be a feature of the xbox app

ya make it a app microsoft can do much better

"7- Use the Ctrl + Tab keyboard shortcut to open a new tab." I think it's Ctrl + T

Offtopic: Am I blind or there is no FPS counter in Xbox app? :/

i wanna know too is ther a counter?

http://blogs.msdn.com/cfs-filesystemfile.ashx/__key/communityserver-blog...

Use this trick? Sounds like those clickbait article titles: "Major Nelson Hates Him!"

Yea, these 'helpful' articles for idiots are annoying....fml.

Thanks for making a shoutout to Achievement Art in the article, Mauro! Wanted to point out down here in the comments that Achievement Art is available on Windows 8.1 as well as Windows 10 (both desktop and mobile) and that it also includes a paid feature for downloading all of a game's achievement art, which might make building those theme packs less tedious. My app is free and doesn't require any capabilities that aren't essential for it to function, but if you are running 7 or earlier or just hate apps, obviously Mauro's method is the way to go. :)
Windows Central Newsletter
Get the best of Windows Central in in your inbox, every day!
Thank you for signing up to Windows Central. You will receive a verification email shortly.
There was a problem. Please refresh the page and try again.