How to automatically empty the Recycle Bin with Storage Sense on Windows 10
With Windows 10 you can automatically empty the Recycle Bin, but still keeping the most recent files (just in case) — here's how.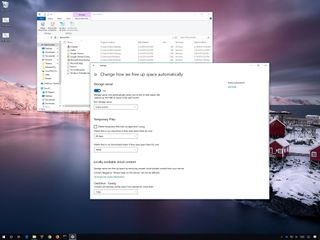 On Windows 10, when you delete files, they're not immediately removed from the hard drive. Instead, they're sent to the Recycle Bin, in case you need to restore them. However, since sending content to Recycle Bin doesn't delete them, they'll continue to use the space on the drive and eventually fill up the bin, and as a result, you'll start seeing messages, such as "the file is too big to recycle."
You could always empty the Recycle Bin manually to avoid wasting space, but this means additional steps and actually remembering to perform the task. Thankfully, Windows 10 comes with Storage Sense, a feature designed to automate drive maintenance, which includes an option to empty the Recycle Bin automatically while keeping the most recent files in the event that you need them back.
In this Windows 10 guide, we'll walk you through the steps to configure Storage Sense to empty deleted files that have been in the Recycle Bin for a specified period.
How to clear Recycle Bin content automatically using Storage Sense
To clean up deleted files from the Recycle Bin automatically, use these steps:
Open Settings.
Click on System.
Click on Storage.
Under the "Storage Sense" section, click the Change how we free up space automatically option. (If you're running the Windows 10 May 2019 Update, then click the Configure Storage Sense or run it now option, under the "Storage" section.)
Under the "Storage Sense" section, turn on the toggle switch.
Use the Run Storage Sense drop-down menu and select when the feature should run automatically — for example, Every month.
Use the Recycle Bin drop-down menu to specify how Storage Sense should clear deleted files automatically:

Never (disables the feature).
1 day.
14 days.
30 days.
60 days.

Quick tip: If you only want Storage Sense to delete files from the Recycle Bin, make sure to disable the content that you want to preserve before the feature runs automatically or clicking the Clean now button.
Once you complete the steps, Storage Sense will run automatically clearing the files that have been in the Recycle Bin over the period you specified.
Mauro recommends all these affordable accessories
Hi, I'm Mauro Huculak, Windows Central's help and how-to guru. I wrote the post you're reading now, and I know the Windows OS inside and out. But I'm also a bit of a hardware geek. These are some of the affordable gadgets on my desk today.
Logitech MX Master Wireless Mouse (opens in new tab) ($72 at Amazon)
I know mice, and this is the one I use every day. The MX Master is a wireless high-precision mouse that's very comfortable to use and has many great features, including the ability to connect with multiple devices, an infinite scroll wheel, back and forward buttons, all of which you can customize.
Ktrio Extended Gaming Mouse Pad (opens in new tab) ($12 at Amazon)
If you spend a lot of time typing, your palms and mouse will leave tracks on your desk. My solution was to start using gaming mouse pads, which are big enough for you to use the keyboard and the mouse comfortably. This is the one I use and recommend.
Supernight LED light strip (opens in new tab) ($20 at Amazon)
You could just use a regular light bulb in your office, but if you want to add some ambient lighting with different colors, an RGB LED strip is the way to go. This one is Mauro-approved.
Windows Central Newsletter
Get the best of Windows Central in your inbox, every day!
Mauro Huculak is technical writer for WindowsCentral.com. His primary focus is to write comprehensive how-tos to help users get the most out of Windows 10 and its many related technologies. He has an IT background with professional certifications from Microsoft, Cisco, and CompTIA, and he's a recognized member of the Microsoft MVP community.
I think I will stick to doing manually, Windows could get confused and delete something I needed, saying that I have not put anything in the trashcan I did not mean to put in there for years.
I mate of mine don't have anything going to the trashcan, just delete and that is it. I do use shift delete now and again.