How to enable the new virtual touchpad experience on the Windows 10 Creators Update
Did you forget the mouse or the Surface Type Cover? Don't worry, Windows 10 has a virtual touchpad to help you get on with your presentation.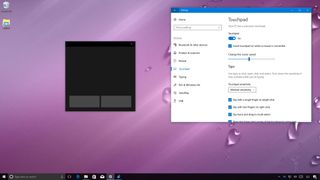 Alongside the array of new features and improvements included with the Creators Update, Windows 10 ships with many interesting smaller additions, such as the case of the new virtual touchpad.
The idea of the on-screen touchpad is to allow you to use your tablet as a trackpad to control a PowerPoint or another type of presentation when a mouse, touchpad, or a presentation clicker is not available. As you turn on this feature, you'll get a virtual touchpad experience similar to a traditional trackpad, including with a right and left button. This can also be handy when you need to make precision selections on apps or websites that aren't very touch-friendly.
In this Windows 10 guide, we'll walk you through the easy steps to enable and configure the new virtual touchpad experience included with the Creators Update.
How to turn on the virtual touchpad experience
The virtual touchpad comes on all versions of Windows 10, but it's not enabled by default.
To enable the experience, do the following:
Right-click the Taskbar.
On the context menu, click the Show touchpad button option. This feature is only available on touch screen devices.
Click the touchpad icon located in the bottom-right corner of the taskbar to open the virtual touchpad experience.
The virtual touchpad that Windows 10 is introducing with the Creators Update looks just like a sticky note, but with a dark theme. You'll also notice that it features two buttons, which are your right and left click buttons.
You can also tap and hold the top area to drag the on-screen touchpad around, and then you can use your finger to use it like any other touchpad.
How to customize the virtual touchpad experience
Another interesting aspect about the virtual touchpad is that includes "Precision Touchpad" functionalities, which means that you can also use finger gestures, such as pinch to zoom, two-finger drag to scroll, three-finger gestures, and much more.
If you want to customize the experience, do the following:
Open Settings.
Click on Devices.
Click on Touchpad.
If your device doesn't feature a precision touchpad already, you must enable and then open the virtual touchpad before using the Settings app to customize the experience. If you don't do this, you won't even see the Touchpad page in the app.
While in the Touchpad page, you can configure how to use taps, including the ability to customize the touchpad sensitivity.
You can control options for scroll and zoom, such as drag two fingers to scroll and pinch to zoom. The on-screen touchpad even includes support for swipes (up, down, left and right) using three-finger gestures.
There is a lot more you can customize in this experience. You can read our comprehensive Precision Touchpad guide to learn how to change even more settings for the new virtual touchpad.
More Windows 10 resources
For more help articles, coverage, and answers to common questions about Windows 10, visit the following resources:
Windows 10 help, tips, and tricks
Mauro Huculak is technical writer for WindowsCentral.com. His primary focus is to write comprehensive how-tos to help users get the most out of Windows 10 and its many related technologies. He has an IT background with professional certifications from Microsoft, Cisco, and CompTIA, and he's a recognized member of the Microsoft MVP community.
Using the virtual touch pad on my Phone to control a second monitor in Continuum is great, however using this new one on my tablet to attempt to control a second monitor is tricky as the virtual pad only covers a small area of the screen, not the whole thing like on the phone. That makes it tough to use without constantly looking at the tablet which is a problem when you're trying to control a pointer on another monitor. Oddly, the virtual track pad on the tablet is actually much smaller than the one on the phone? Crazy. Is there a way to increase the size of the virtual track pad, perhaps to full screen like the phone version? I could right click on the pad and select 'Size' but that doesn't seem to get me anywhere? I don't seem to be able to drag it larger after doing so. So, any way to make this track pad bigger?

Interesting thanks for sharing, sounds like something to report via Insider Hub, only if you have time ofc! I will have a Surface Book soon (top-most config), so will definitely check-it-out...

It is an excellent feature for tablet and phone users and fantastic that it's come across from the phones, really makes Continuum work well on the phone. I just can't see why they shrunk the thing to a small corner of the tablet. I assume it's part of the same thinking that saw the start screen shrunk to a small corner version, where I also never understood the practical benefits this was supposed to provide. With the start screen there is the option to expand it to a more useful full screen though, so I assume there's a similar way for the touch pad. Can't find it though, so perhaps it's coming soon. Being a Windows phone user I'm used to providing feedback and used to getting completely blanked by MS. Sorry, but at this stage I consider the feedback system to be there to provide 'busy work' to occupy the community whilst MS do their own thing. Win7 was sold as 'your OS' remember, the idea being that unlike previous OS issues this one would be based on user feedback. It was, and it was popular for it. Whilst I love Win8, it was clear that MS dropped the idea of making 'your OS' post Win7 and they now very much make what they want to make. Fair enough, but I'm not fannying around with a feedback system that's no more than a vote grind with no pay off. I never liked MMO games for this reason and at least they have better graphics.

It's cool, feedback or not, your call, as I said... Me, I'm not burnt... Happy to & still do occasionally, but on my terms, & when I have time collect my info/thoughts. Best.

I love to respond to devs, I have had the good fortune to work with a number of significant companies on improvements to their software, usually because when I can provide details about the problem and a pretty fleshed out solution, which they don't get every day, they know they can use me and I don't mind. The number of times I've got specific changes made to major products by ending up feeding directly into the dev team surprises even me. There are a few companies who have not seen the benefit, but only a few. Surprisingly most mid to large companies really like to take advantage of input from someone who understands the details. I can list far more wins than losses through this. Two major players stand out, though, for not being interested. MS, for obvious reasons, but also HP (When I provided a full solution to fix their drivers for a colour laser many years ago, in which all I needed to place was a few figures from them and I'd have provided my patched driver set to them for free, they just refused both the info and the drivers preferring to leave them broken. They were never fixed.) which is unfortunate considering their alignment with MS these days. I still like the products from both of these companies, but they are like artists creating their vision. They don't want our input really, and it certainly won't influence their work, but they can't stay away from the reviews. :)~

I can't find it in Settings!

Make sure you've installed the creators update.

More importantly, make sure to turn the virtual touchpad on before going to Settings. Thanks,

It's probably better than physical Synaptics / Precision trackpads given how garbage they all are IMO.

Absolutely. There are few decent touch pads for the PC. Actually, there's probably only the one. I have a Logitech T650 which is the only really decent one for the PC I ever found. It is a wonderful glass pad much like the Apple one for the Mac. Everything else pales next to it. Unfortunately MS doesn't think it is very precise and so won't enable any swipes, yet that awful thing on my laptop is considered a precision device? MS only had one decent touch pad to target and they missed. It's the device that absolutely made Win8.1, which recognised swipes on the T650 just fine. Still waiting for MS to fix W10 so it works with precision touch pads because as far as I can tell it's been specifically designed to fail to work properly with precision touch pads and only to work on the most appalling touch pads known to man. Hmm, not so much the fluid design. More like the brown rain I think.

The funniest part is that my 2015 MacBook Pro's trackpad in Windows 10 easily beats all Synaptics / Precision trackpads in every way. Laptop manufacturers have such a long way to go...

I have a cheap tablet with a defective touch screen (a dead band). This virtual touch pad works around the issue quite well.

I was messing with this on a 65" touch-screen display we are demoing in our school district. Pretty Fun!

Now this is an actual good reason for the app 🙂

Great feature. Very useful on tablets.

Found this feature shortly after installing the creators update, and the best thing it is useful for when using just a tablet, is for websites whose menu systems are based on mouse over events so you cannot browse the website with touch only. Was hoping with the introduction of Edge in Windows 10 that Microsoft may have implemented a workaround that interpreted the first touch of these menu items as a mouse over event.

If you attach a secondary non-touch display, this makes absolute sense.

I really think this should be on by default for all devices with touch screen. I wanted this feature for long time, but I only know it exsits until I read this article. Btw, even if you only have one touch screen, this feature is still useful since sometimes you need hover instead of click, e.g., some websites's navigation menu, or sometimes you need to click some tiny button precisely.

Been using the Lovesummertrue touch mouse pointer since Windows 8. It allows you to customize the entire screen as a trackpad, and even has a transparent touch keyboard, way better than this, but progress is good. If only we could simulate a scroll click! You can find it in the store under touch mouse pointer I think, I switched phone to Android, don't have MS store access at the moment. You have to download the app, and also install an .exe to enable.
Windows Central Newsletter
Thank you for signing up to Windows Central. You will receive a verification email shortly.
There was a problem. Please refresh the page and try again.