How to get your PC ready to download Windows 10 'Redstone 2' preview builds
By Mauro Huculak published
Windows 10 Redstone 2 builds will soon begin to roll out to Insiders, and here's how to get ready to download the new test builds on your PC.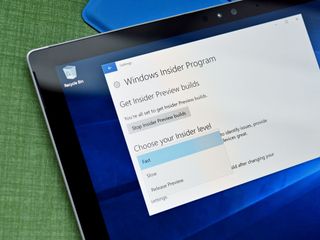 (Image credit: Windows Central)
Although Microsoft continues with the roll out of the Anniversary Update (Redstone 1), it doesn't mean that the development of Windows 10 has concluded. The new operating system is an ongoing process, and it's already known that Microsoft is planning to release two new feature updates in 2017.
In fact, Microsoft is currently preparing to release the first Windows 10 "Redstone 2" build in the coming days. Now that we know that new test builds are coming, it's time to get your PC ready, and here we show you how.
How to get Windows 10 'Redstone 2' preview builds
If you've been part of the Windows Insider Preview program, and you never unenrolled your device, there is nothing else you need to do. Your computer is already enrolled to receive "Redstone 2" builds as soon as they become available.
However, it's a good idea to make sure your device continues to be enrolled correctly in the program, and it's set to get preview builds from the Fast ring.
Verifying your device is enrolled
To check if your device is properly enrolled in the program, do the following:
Open Settings.
Click on Update & security.
Click on Windows Insider Program.
Make sure under "Get Insider Preview builds", you see the "You're all set to get Insider Preview builds" message.
Make sure the "Choose your Insider level" option is set to Fast.
Make sure under "Windows Insider account", you're signed-in with the correct Microsoft account.
Enrolling a device to the Windows Insider Preview program
If you're new to the program, or you unenrolled your device after installing the Windows 10 Anniversary Update, you can now enroll your device to get Redstone 2 builds.
It's also a good idea to go through this process before the rollout begins, as it'll take some time to get a new build after you have changed the settings on your PC or phone.
The instructions below will guide you to enroll your device to get Windows 10 "Redstone 2":
Open Settings.
Click on Update & security.
Click on Windows Insider Program.
Click the Get started button.
Click Next.
Click Confirm.
Click Restart Now.
After your device restarts, open Settings again and verify your device is enrolled to get preview builds through the Fast ring.
Note: It's important to point out that beginning with the Anniversary Update, Windows 10 Mobile no longer requires an app to enroll a device in the Insider program. This change means that steps mentioned above now applies for both ** Windows 10 PC and Windows 10 Mobile**.
Best way to test preview builds
There is always a unique excitement downloading and installing new preview builds of Windows 10, as we get to see early on what Microsoft is working on for the next version of its operating system.
However, you have to remember that we're entering into a new development cycle. This stage means that Microsoft is going back to the drawing board to build and improve Windows 10, and once again we'll start to see new bugs and issues, which initially can make the operating system unreliable on your main computer.
If you're planning to install new preview builds, it's recommended that you do this using a virtual machine with software like VMWare or VirtualBox. Alternatively, you can also install new test builds on a spare computer. (Keep in mind that you'll need a valid Windows 10 product key to do this.)
What to expect in early preview builds
Microsoft is currently in the initial days of the Redstone 2 development with internal builds being compiled in the 14900 range. However, you have to remember that even though during the development process of a new significant update of Windows 10, we're used to seeing new features and improvements, in the early days, we're likely not going to see major changes.
Usually, the first few test builds, Microsoft only prepares the operating system for new changes with improvements and modifications under-the-hood, with very few visual changes or new features.
Wrapping things up
Although we're likely not going to see significant changes during the early days, remember to keep testing new preview builds and continue to submit feedback to help Microsoft improve Windows 10.
Bear in mind that you'll be installing a pre-release version of Windows 10, as such it's recommended that you do a full backup of your computer before installing new preview builds. You won't regret it.
Are you ready to start testing Windows 10 "Redstone 2"? Let us know in the comments below.
More Windows 10 resources
For more help articles, coverage, and answers on Windows 10, you can visit the following resources:
Windows 10 help, tips, and tricks
Mauro Huculak is technical writer for WindowsCentral.com. His primary focus is to write comprehensive how-tos to help users get the most out of Windows 10 and its many related technologies. He has an IT background with professional certifications from Microsoft, Cisco, and CompTIA, and he's a recognized member of the Microsoft MVP community.
I'll hold back the first couple of preview builds, then I'll hop right back on Fast Ring!

I think that's what I'm going to do also. I would usually drive right in like I did in mobile and RS1, but at the moment I've got a lot of school work coming up and I need my computer to be super reliable and it is currently.

I run release preview on my main pc but I run a VM on Fast ring Posted via the Windows Central App for Android

I'm more interested in how to use WhatsApp in Windows 10 'Redstone 2' preview builds. :D

I am in. Can't wait. I'm having a LOT of fun.

Same! The first few builds will be a bit boring probably and especially on Mobile may be hoggy (as they turn on a LOT of telemetry for the first few builds and that slows down the entire device. I remember in RS1 when my phone was sending 500+ reports per every few hours). But it will be fun nonetheless.

I'd add Hyper V as an option to the mentioned hypervisors, IF you have a pro edition of Windows. It's been my favorite since it was added to client Windows starting with Windows 8.

Also, if supported on your main windows 10 pc, enable Hyper-v and spin up a vm to test the new builds.

HyperV is not supposed to run in a window. It is a server technology. It doesn't provide necessary graphics, and they are horribly slow(which means you won't like the usability). VirtualBox or any other virtualization app is better for the task.

HyperX is not supposed to run in a window. It is a server technology. It doesn't provide necessary graphics, and they are horribly slow(which means you won't like the usability). VirtualBox or any other virtualization app is better for the task.

I use VitualBox to run fast ring builds Posted via the Windows Central App for Android

They need to fix Tablet Mode with multiple monitors. It's immediately disabled the moment you attach a second monitor. Stupid.

They need to fix tablet mode full stop. Certainly when using file explorer It's a mess currently. Witness this on the Surface as you attach and reattach the type cover.

The problem with using VMs for test builds is you don't actually work in the VM, so testing is an inefficient use of time. A better strategy - if you have multiple PCs - is to use 1 or 2 as Slow and/or Fast Ring machines. That way you'll literally be using the test builds as you would on a daily basis.

Get ready. How about stop. Ive been a tester since the first build. Im so tired. i want my computer to just work. Unless they announce a specific killer feature i can't live without. I want out.

Testing fatigue is real. Don't blame you at all. So take a break for a bit and then maybe opt back in closer to release of the next major update. Either way, thank you and all other testers for your contributions.

So opt out. Become a regular consumer again. Forget the insider program exists. Not difficult.

too early for me to download RS2 builds i think i try it after two months from now on maybe then features will be available

Just don't enable fast ring the week before, I just learned my lesson this au. Posted via the Windows Central App for Android

Good informational article for those curious but cautious about joining. Running my Surface Pro as my daily and my 950XL as my daily also. The article clearly yet calmy says that I should not yet join - being too early in the development phase. I'll wait a bit. Good sailing those going forward.

Yeah avoid it like the plague. For the first half you'll be getting updates that give you nothing but cause you hassles and when the features finally come they're unstable until a month before formal release. Just relax and enjoy life without the insider stuff. If you're really keen to jump in just do it on something that you don't care about. I had my PC, Surface Pro 3 and 950 XL in it and all of them had massive problems. I reinstalled Windows as soon as the formal release came out and reset my phone. Never been better.

I have not yet got the redstone update.

I got some cumulative updates "only" in the redstone 2 release date and afterwards

950 on Release, XL on Fast, 650 out. Let's rock.

Lumia 535.....ready for Redstone 2....hope to see significant mind blowing feature on mobile

I'm stepping back to Release Preview on all my kit

my Aunty Elise just got an awesome metallic Mazda CX-7 SUV just by part time work from a compute
►►►✒✒✒ ✒ http://www.factoryofincome.com

I'm not brave enough to run preview builds. If you can, thanks for working out all the bugs so I don't have to!
Windows Central Newsletter
Get the best of Windows Central in in your inbox, every day!
Thank you for signing up to Windows Central. You will receive a verification email shortly.
There was a problem. Please refresh the page and try again.