How to keep your local account while linking a Windows 10 license to a Microsoft account
By Mauro Huculak published
Windows 10 allows you to link your product key to a Microsoft account to re-activate the operating system, here's how to do that and still keep your local account.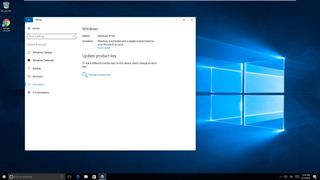 With Windows 10, linking your product key to your Microsoft account so you can easily re-activate the operating system when you make significant changes to the hardware on your PC, such as replacing the motherboard, processor, or hard drive.
You can associate your operating system license with a Microsoft account, but in doing that you'll be required to switch to a Microsoft account. If you want to tie your license to a Microsoft Account but keep using a local account on your PC, we can do that.
In this guide, we'll show you a workaround to link your Windows 10 product key with your Microsoft account while allowing you to stay on a local account.
How to link a Windows 10 license using an Microsoft account while staying on a local account
Here's the thing, you can link a Windows 10 product key with a Microsoft account, but you can't switch back to a local account because the process will remove the license link.
A workaround to this limitation is to use a second user account only to link the digital license to your Microsoft account. Then you can simply hide the new account on the sign-in screen, and you can keep using your already set up local account.
How to create a new Microsoft account on Windows 10
Open Settings.
Click on Accounts.
Click on Family & other people.
Under "Other people", click the Add someone else to this PC button.
Type your email address on the field.
Click Next.
Click Finish.
Sign out from your account.
Sign-in to the newly created account using your Microsoft account credentials.
Open Settings.
Click on Update & security.
Click on Activation to verify your digital license is linked your Microsoft account.
Sign-out from your Microsoft account, and sign-in again to your local account.
You have successfully associated your Windows 10 product key to an Microsoft account without losing your local account.
Now chances are you'll rarely go back to the secondary Microsoft account, but because you'll lose the link if you remove it, one thing you can do is to hide the account on the sign-in screen, so no one will know is there.
Are you staying with your local account or switching to a Microsoft account to link your Windows 10 product key? Tell us in the comments below.
More Windows 10 resources
For more help articles, coverage, and answers on Windows 10, you can visit the following resources:
Windows 10 help, tips, and tricks
Mauro Huculak is technical writer for WindowsCentral.com. His primary focus is to write comprehensive how-tos to help users get the most out of Windows 10 and its many related technologies. He has an IT background with professional certifications from Microsoft, Cisco, and CompTIA, and he's a recognized member of the Microsoft MVP community.
I think its just stupid that the license gets auto removed just because you want to only use your local account on your PC. This makes it seem like all Microsoft wants is to get users not to use a local account so they can data mine them lot more easily.

Correct, sadly people do not realise this, i do not have an MS account myself and I really do not see any reason to link it to a windows 10 licence. I thought that Windows 10 would re ac tivate anyway if it was reinstalled on the same machine or a different machine if it is a retail version. I use windows 8.1 and to be honest it is not difficult to stick a licence number in when it is installed and the same thing with Windows 10.

Yes but not if you change motherboard. If you too paranoid just write your product key on a piece of paper if you don't want to attach to your MS account. end story.

My version of windows is retail anyway so it makes no difference, i can use it on any computer. If someone have got a OEM version, then it will not work if you change the motherboard anyway unless the new board is the same as the old one. OEM versions of Windows are meant for machines that are pre-built and the manufacture installs windows on it. If you change the main board to a different type, then it is not the same machine. It is not about being paranoid, it is jiust making sure MS gets as little info as possible, also I do not want an MS account, I have no requiement for one.

there is no way in hell i'll have my windows desktop linked to a MS account.. If that is forced on me it will be linux ahead..

Nobody force you to link your product key to your MS account.

Thanks . This topic is superb. Helps a lot of users .

What happens if you have more than one Microsoft account on your PC? Most of my PCs have more than one MS account on them.

How do I do the opposite, i.e., use my MS account but NOT sync the key to it?

v1511 doesn't had this problem. Instead I opted sign in with PIN for quick go. Here is the caveat, guess with local ac we can't get W10Mobile notification sync across PC. Continuity demands to stay with MSFT ac. P.S Sorry If I'm wrong.

Most services is like that. How they know you the same person when you dont have anything to tell the service this is you on other device.
Windows Central Newsletter
Get the best of Windows Central in in your inbox, every day!
Thank you for signing up to Windows Central. You will receive a verification email shortly.
There was a problem. Please refresh the page and try again.