How to link your Windows 10 product key to a Microsoft account
If you're using a local account, use this guide to link your Windows 10 product key to your Microsoft account for easier re-activation.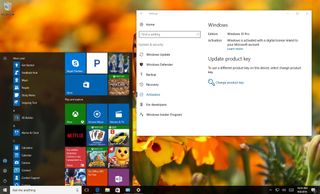 On the Anniversary Update for Windows 10, Microsoft introduced a lot of new changes and features for PC, including a way to make activation a little easier. Although activating Windows 10 was already a simple process, it wasn't easy to re-activate the operating system after a hardware change.
Starting with the Windows 10 Anniversary Update, your product key is no longer only attached to your hardware — you can also link it to your Microsoft account. This new change allows you to re-activate Windows 10 without having to contact Microsoft when you make significant changes to the hardware on your PC, including replacing the motherboard, processor, or hard drive.
Associating a Windows 10 license to a Microsoft account is actually an automated process if you're signing into your PC with a Microsoft account. But if you're using a local user account, you'll need to link your product key with your Microsoft account manually.
In this Windows 10 guide, we'll walk you through the steps to link your product key with a Microsoft account to simplify re-activation.
How to associate your Windows 10 license to a Microsoft account
To make sure that everything works, you need to make sure that Windows 10 is properly activated on your computer, you can easily do this with the following steps:
Open Settings.
Click on Update & security.
Click on Activation.
The Activation page should read "Windows is activated with a digital license" (or product key).
Once you know that your copy of Windows 10 is properly activated, you need to add a Microsoft account that you want to remember your product key. However, it's important to remember that this process will change your account type from local to a Microsoft account.
Open Settings.
Click on Accounts.
Click on You info.
Click the Sign in with your Microsoft account instead link.
Complete your sign-in information.
Click Sign in.
Type your current password.
Click Next.
Click the Set a PIN button, or the Skip this step link to complete the process.
After you completed the steps mentioned above, you could remove the Microsoft account, but reverting the process will also remove the device from your account, which will undo the association.
You can verify that your digital license is linked to your Microsoft account by using these simple steps:
Open Settings.
Click on Update & security.
Click on Activation.
The Activation page should now read "Windows is activated with a digital license linked to your Microsoft account". Additionally, you can sign-in to your Microsoft account using your web browser and navigating to the Devices section. If you find your computer listed, it means that the license is linked.
What do you think about the new activation approach to associate your Windows 10 license with your Microsoft account? Tell us in the comments below.
More Windows 10 resources
For more help articles, coverage, and answers on Windows 10, you can visit the following resources:
Windows 10 help, tips, and tricks
Windows Central Newsletter
Get the best of Windows Central in in your inbox, every day!
Mauro Huculak is technical writer for WindowsCentral.com. His primary focus is to write comprehensive how-tos to help users get the most out of Windows 10 and its many related technologies. He has an IT background with professional certifications from Microsoft, Cisco, and CompTIA, and he's a recognized member of the Microsoft MVP community.
Does this only work for Retail licenses or also OEM licenses? Because I work in retail and y know when u change something like your motherboard your windows license isn't valid anymore.

I guess it only works with the original package.

I guess so too since the license on a new device is tied to the original hardware.

Thanks for the info, I hadn't realised it had changed. Makes everything so much simpler.

So basically linking your license through a local account is done by logging in to your microsoft account. whats the point then if it ends up making you log in to a ms account. I dont think this solves anything, if, for whatever reason, you don-t want to use a ms account.

yes, I agree. what, if anything, does this change and how and for what good? does it mean Microsoft has more 'control' over personal info? what's the real benefit from this? surely its not just a hardware issue?

anybody knows how to DE-LINK it from MSA account?? Retail product key can actually be transferred from old computer to new computer.

Simple: Log in to your MS account, and remove the device there. This deletes the link.

This stirs awareness, thanks for the info and keep up the good articles.

Isn't this already done when you sign in with your MS account when you install/upgrade Windows? Mine was already linked to my account without having to go through this process.

This guide is for people who were using a Local account - eg people who hadn't signed in with an MS account yet. It is actually possible to avoid this step when installing.

This will come in handy when I change my hardware.

If we remove the Microsoft account and disassociate the product key then can we sign in with another Microsoft account and effectively transfer the product key to someone else?

I did this on a year old build PC, i built the PC in May 2015, a i54690k cpu with a gtx 970 gpu and a Windows 7 OS. Just wating for Windows 10. Upgraded to Windows 10 on July 29th. Sence then computer hardware has produced great and now cheaper hardware. New intel chips, SSD M.2 storage, gtx 1080 GPU and my sisters old Mac died a few weeks ago. I sold her the 1 year PC as a new Home Theter PC for 1/2 cost. She loves it, she never had Windows 10 or even a Windows PC. She can't beleave the simple UI and the security i inculded with a finger print account scanner. I just re-installed Windows 10 from a usb flash drive and logged in with my sisters new MicroSoft account. Works fine. This was a Windows 7 that i bought from the MicroSoft store and upgraded to 10, i could have bought the crap enterprise versions of windows 7 from ebay for a 1/3 of the price, but in fair-ness i thought this was a cheap hack of fair-play. Sence then i have bought the Windows 10 usb flash drive for my new PC.

Dude, you seem like an intelligent enough person when it comes to tech. But seriously, you need to learn how to spell.

Nice, but still no anniversary update. I know I can force it.

This is really helpful for those of us that build our own PCs and change out hardware often. And for those of you worried about signing in with a Microsoft Account, it's actually very useful to have you settings and browser favorites sync between multiple devices. It's no different than what Amazon, Apple, and Google are all doing with their Operating Systems and devices.
Windows Central Newsletter
Thank you for signing up to Windows Central. You will receive a verification email shortly.
There was a problem. Please refresh the page and try again.