How to manage accounts in the new Mail and Calendar app for Windows 10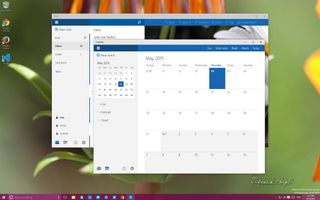 In Windows 10, Microsoft is including two new apps, Mail and Calendar, and while the company is bundling them as separate apps, they work very close to each other. The two apps will replace the same ones currently in Windows 8.1 and they both introduce a brand new look that follows Windows 10 modern design approach, and users will find that they are much easier to use.
Although, the Mail and Calendar apps are still in preview and they are only offer vary basic features, those running the latest public preview of Windows 10 can start testing the new apps. As such in this how-to guide, I will go over how users can setup multiple accounts, how to get around some of the issues you may encounter, and a few extra tips.
Unlike the Windows 8.1 equivalents, the Mail and Calendar apps for Windows 10 offer more options to setup different email services. For example, on the new apps, users can add services, such as the obvious, Outlook.com, Live and Hotmail, Exchange, Exchange ActiveSync, Office 365, Google, iCloud, and other messaging services using POP and IMAP settings. However, users will notice that the list of options to add new accounts are slightly different between the two apps.
The big news with the Calendar app is that users will now be able to sync and view their Google Calendar, which was something not supported in the same app for Windows 8.1. So it's a welcome addition.
Adding new accounts
When you first launch the Mail or Calendar app in Windows 10, while signed-in with your Microsoft account, both apps are smart enough to detect the account you're signed in with and add it automatically, and you can even add more accounts right from the beginning. However, after launching the app, adding accounts have a different procedure, but still quite as simple.
In both, the Mail and Calendar app, users will see a bar with a set of buttons in the bottom-left corner of the app to switch back and forth between apps, a button to send feedbacks, and a gear button to access the settings page. To add a new account, you want to click the settings button, which will bring the fly out pane from the right, click Accounts, which will list all your current accounts, and then click Add account.
You'll see a dialog box with the list of the available services you can connect to the app.
Now you may ask: Where are the options to add a new Outlook, Live and Hotmail accounts? Well, because the app is in preview a lot details are still not showing up in the apps, but users can add all the different Microsoft accounts by using the Exchange option.
Quick Tip: If for any reason your current account isn't syncing, you seem not to be able to add new accounts, or you add a new account, but emails will simply no show up. This could be cause by some issue with the first account that you have configured. I have seen this issue and deleting the first account and starting over solved the issue.
Next, for every service the page to enter the account information will look slightly different, but all them require the same information – your email address and password. Of course, if you adding a new service that isn't on the list, you'll need to provide the additional information such as POP and IMAP settings.
Once you completed including all the require information, click Sign in, and the new account will be added to the list in the left pane. Now emails should start downloading almost immediately.
Here are a few useful resources for those using Yahoo Mail and AOL: To set up a Yahoo mail using POP or IMAP settings use these instructions. For adding an AOL email account using a POP or IMAP settings use these instructions.
Renaming, changing settings, and deleting accounts
Now, you'll notice that depending on the account you added, you probably didn't get the option to name your account, which will make it very confusing if you have multiple email addresses from the same service, as they will be labeled with the brand name of the email service.
This behavior may change in future updates, but for now, you can rename your account by clicking the setting button from the left pane, click Accounts, and click the account you want to rename. You'll now see a new filed called Account name, simply add the name that you like (I personally like to use email address name, it makes a lot easier to identify the account, but that's just personal taste), and click Save.
Note that from the settings page, you can also change the account password as require, and you can change different settings as well, such as options for syncing, contacts, and calendar. You even control how often and how much new content gets downloaded (the default option is "based on my usage").
Finally, if you simply want to delete an account, you can go to the account settings, hit the Delete account button, and Delete one more time. (Please note that deleting an account from the Mail app will also delete the same account in Calendar and vice versa.)
Adding a new background picture in Mail
On Mail, you also noticed a new background image when you're not viewing an email message. What you probably did not know is that you don't have to stare at that same image over and over. You can actually change it for any image you like by clicking the settings button and clicking Options. Inside of Options, click Browse under "Background Picture", and choose any image you want.
Here is another tip: If you want to use an image from your current Windows Theme, open the Run command, navigate to this path "%LocalAppData%\Microsoft\Windows\Themes", and select a new image.
Keep in mind that this is a global background, you cannot set a different image per email account. (If you change the background picture and you don't see the change, simply restart the app and you should now see the new image.)
Although, the background is a global setting, the signature setting is not. If you want to show a custom signature per email account, you'll need to move between accounts, clicking the settings button, and change the signature under Options.
Wrapping things up
With the new Mail and Calendar app, you can manage virtually all your email accounts and calendars, including from Outlook.com, Yahoo, Gmail, and iCloud from a single user interface (with two apps). This means that you don't have to keep logging into different websites or extra apps, also Microsoft provides an environment without advertisements and cross platform.
Although, I can see the need to for Microsoft to have Mail and Calendar as separate apps, I still believe that they can be combined into a single app in the same way we have been using Outlook for so many years.
It's worth noting that all the configurations showed in this guide to manage accounts also work exactly in the same for the Calendar app.
Finally, remember that these apps are still in preview, as such settings and features may change in future updates.
Microsoft has already announced that there will be seven version of Windows 10, including Windows 10 Mobile and Windows 10 IoT, and the company has confirmed that various universal Windows apps will be bundled with the operating system, including Mail and Calendar.
Have you been using the Mail and Calendar apps in Windows 10? Have you come across any issues? Let us know in the comments below. And don't forget to use the Windows Feedback App.
Mauro Huculak is technical writer for WindowsCentral.com. His primary focus is to write comprehensive how-tos to help users get the most out of Windows 10 and its many related technologies. He has an IT background with professional certifications from Microsoft, Cisco, and CompTIA, and he's a recognized member of the Microsoft MVP community.
Mauro is one of our new additions, yes. He's going to produce some awesome Windows 10 content for us.

How come we don't get introduced? :/

Why is chrome on that desktop

Liked his language in this article...... Hope he coveys is a lot

Hi Abhishek1320, Yes, I'm new the new guy and I will be working on content to help you be informed and get the most out of Windows 10. So stay tuned! Thanks,

On phone ....they just simply screwed the calendar app.

Loved the black UI of Windowsphone 8.1..... My views exactly

My guess is the dark theme is coming back, and coming to PC as well. It'll be great for eye strain on big monitors of we can get a light-on-dark theme to use. Fingers crossed!

I hope they do a dark theme throughout the whole UI like WP8. Overall, I like what they are doing with 10, but I miss the black UI too.

I too love the Black UI & want it for Wp10. In fact I would also prefer edge browser with a dark background ​option.

Power cuts is common in India.... With those white background.., I can't look at my phone when in Candle light...i love that Dark background with white characterisation and colourful fonts to shows Agenda from different accounts

I like the new backend on W10, but the color and position of the toolbar are awful.

Yeah I hate the apps on the phone but I know they are going to fix it but they didn't start off on the right foot lol

My outlook mail app is completely broken it can't sync even manually in Windows 10 Mobile TP ...does yours work? And please don't tell me to hard reset

Works for lots of people. If you won't hard reset to resolve, then perhaps roll back?

As long as they add ability to pin individual email folder and/or calendar tile to start screen, I will be happy. I hope they release and Android widget where i can pin the tiles of folders for this app, I will be even more happy.

An android widget? I'd prefer live tiles, thank you :p

I need Unread email view in the new outlook mail app...

I miss the panoramic unread/flagged/all control. It makes a lot of sense in phones, but in desktop, not as much.

Even outlook desktop has the button for unread view. It needs to come back to this app so the phone retains it.

That's why it says it's a Preview. Microsoft will add all the features that will make it a good Email app. it's not like these apps are RTM ones and they will never get updated. but you can always use the feedback app to give your suggestion so they don't forget it, if they haven't added it yet, or next week, or next month or build.

Still no Task Management included. Quite a disappointment. Job halfway done.

I agree. I am definitely hoping task management is supported with some real functionality we can use.

I'm not so sure.... It maybe that some features, such as Tasks (and all the possible associated integration with SHarePoint, Project Server etc) stay in Desktop Outlook (with the associated licensing costs for business users) and the universal mail app is defined as a lighter, "free" offering.

Does Calendar support managing task yet?

Want accounts on my Xbox Music app!

Unfortunate on the Lumia 1520 I cannot get mail from Outlook.com nor can I add another account.

No app has ever given me trouble like OUTLOOK MAIL & ONEDRIVE what are these guys doing all this time, ok people can stay without onedrive but an email client!? Ohh no

It's a Technical Preview. If you need things to work, it's not for that.

Email is pretty basic. One would think MS could put out a beta that actually worked reasonably, even if without finalized extras.

Couple of things I have noticed: Can't merge 2 or more accounts into a single inbox. Can't print and no way to manage junk mail. I do understand this is a work in progress and some of this will change.

What I did as a workaround for this (Mail crashes when I try to add Gmail in addition to my default Outlook mail for some reason) was to forward all my email from Gmail to the main Outlook (hotmail) account. That way I'm just using it as my only email address on my phone. Exchange will not add my work email no matter what I try. The app just crashes (self-signed certificate is probably the issue).

I like the app, but I've run into an issue were an account I delete, will not stay deleted. Originally my MS account was tied to my Gmail address. I slowly have moved over to my Outlook email, and have stopped using Gmail. The mail app automatically adds my MS Gmail account (I assume because thats the one I have sign into Windows with, and is tied to the Insider Program) and I manually add the Outlook account. I delete the Gmail account, and the next time I reboot, it's back. Not a big issue, just something I've noticed.

7 versions?? Will my SP3 be able to run a W10 mobile app and vice versa? And will a W10 program for my SP3 run a W10 phone? Posted via the Windows Central App for Android on my BlackBerry Passport

What part of "universal apps" did you miss?

So I can install Bluestack on a Win10 phone and run android apps? Posted via the Windows Central App for Android on my BlackBerry Passport

**error**
Brain not found

Grow up troll. I'm asking questions so I can understand this. Posted via the Windows Central App for Android on my BlackBerry Passport

Please go read the Windows 10 section of Windows Central and you'll know very soon what the answer to your question is. All these things are taken care of in far smarter ways than your blackberry, that's for sure

I guess I will since I get nothing but stupid comments like this. I own Apple, Android, BlackBerry, and MS devices. I don't blindly buy one brand only. Plus I live in Canada, only 3 people own Win phones, and no banks support it. I will likely never buy a Win phone. But very happy with my SP3. Posted via the Windows Central App for Android on my BlackBerry Passport

No, Bluestacks won't work on WP10 because it's an desktop application.
As far as i know apps developed for WP8.1 will only work on WP 10 and apps for W8.1 on W10.
But new apps designed as universal apps work on all Windows 10 platforms (Desktop, Tablet, Phone, XBox One, ...), so there will be one app for all platforms.


Thank you for your response. Much appreciated. Posted via the Windows Central App for Android on my BlackBerry Passport

With all these separate apps from the OS itself (Mail, Calendar, Messaging, People etc) do I will have to set up my accounts for each one of these now???

​very useful thank you. However, I don't seem to be able to define the content of sync (calendar, contacts, email, etc.) EVERYTHING is necessarily synced when I'd like to be able to untick contact for a given account. I guess this is coming in a future update.

You can't define the content to sync when you originally set up the account but you can unsync them later. Open the app you're using -> settings (gears icon) -> accounts -> the account you want to change -> change sync settings -> untoggle contacts -> hit save.

Pinning mail folders. Needed.

"The two apps will replace the same ones currently in Windows 8.1 and they both introduce a brand new look that follows Windows 10 modern design approach, and users will find that they are much easier to use." Sticking with the current 8.1 versions.

Well it was a bit more relevant to the conversation than your comment...

Is separating accounts possible or are they all combined? I couldn't find an option to separate the accounts in the new app

You're not combining your accounts, they are all separate. One of the way you can tell is that you have to create a default signature for each account you add. Thanks,

But the accounts are all combined under one app. As it is now notifications are all jumbled up. Which is a terrible situation for anyone trying to use work and personal accounts.

This. Sorry I probably wasn't clear enough. Thanks for clarifying for me michail

Biggest issue I have with the email is that it won't respect corporate security settings. It will flag that new policies need to get enforced, but every time you hit "Enforce these policies" it just fails, over and over, and the account never syncs.

They really need to add the ability to pin accounts and control notifications by account. Otherwise this is a major step backwards.

Backwards is an understatement.

Why the heck there isn't yahoo email integration there ?

Also having the same issue as lozenp: corporate accounts (office365) don't sync because security policies never get enforced

The mail server management settings probably prevent use of/don't know about TP.

Seems to me there is still a lot missing in this Windows 10 Mail app!!! Although I do hope it should be called work in progress. I'm still not able to configure my own IMAP account. It's like the setting is based on the wrong assumption that my IMAP username equals to my e-mail address. I can define different usernames (and passwords) for the IMAP and SMTP server, but I'm not able to find the field where to enter my e-mail address. In my case the username is different from my email address! As a result I'm not able to send any emails. I guess they are rejected because the SMTP is checking for a valid sending email address. In any case the Windows 8.1 Mail app is offering a lot more flexibility to configure an IMAP account meeting my needs.

They should improve the existing app. half of what is in the new one was already there and had better account managemet. The new one has less features and will take them a bit of time to iron it out and bring it where the previous was.

The new one is universal. It's a different animal.

So the Windows 10 Mail app will support POP?

Possibly not. It's a, what, 30+ year old protocol?

Anyone has this problem?
My phone default language is Thai, I changed it to English was working fine I upgraded to the latest WM10 preview.
For some unknown reason when I access my Outlook mail account, I get some Thai language.
NB: I uninstalled the Thai Language leaving English as the only language.

Hope the outlook app are going to be more similar to mail in 8.1
As it is now, it's a complete tragedy

Yes, it is a pretty sad state of affairs. MS seems to be more interested dogged uniformity and not usability on this one. Really, the most important internet application and MS can't get it right.

I can't even get that far. Mail, Calendar, & People crash 10sec after launch. I had to start using Office Outlook to monitor all my accounts because of this crap.

What about calendar vs mail. Can they be unlinked? In other words, i want my work calendar, but not my work email. Can they be separate?

Yup, go to either the mail app or the calendar app -> settings (gears icon) -> accounts -> your work account -> change sync settings -> toggle email off (or whichever content you don't want) -> hit save.

I tried adding a new IMAP account, but could not click "Save" after entering all information.

What does this do for outlook for Office?

Not much. Outlook is still a separate Desktop application that can be used.

My kingdom for full CalDAV support in this Calendar app.

Can we now use formatted text in our signatures?

Good questions, but apparently, you can't at this point. Though, you can always add formatting using the Word ribbon in Mail. Not the solution you want to hear, but it's something... Thanks,

No. I'm not going to copy/paste a sig with each email. Has anyone tried simply pasting that formatted text into the signature box? Does it maintain the formatting? I know this doesn't work in 8.1 mail. And since you didn't hit on this in your review I suspect it's not a priority with others as well. Too bad. Office outlook is overkill for me.

Formatting isn't retained if I just paste some text in there.

Everyone else gets Acompli and Sunrise, while the most Microsoft faithful receive the equivalent of crayon drawings on the fridge? Great, thanks for the garbage mail and calendar apps!

Well, they're far from finished/released. They may get better. But honestly, for daily use they're fine. For corporate use they may need some extra features to be brought in.

Hopefully they keep both apps separated. Dont care to see them combined. Love the current apps.

They are combined. You can flip between Calendar and Mail using the icons at the bottom left.

Thanks! I guess that kills my hope. :)

I got what I hope is a silly question...how do you print from the new Outlook app on a PC? I looked everywhere obvious.

Not even CTRL+P seems to work currently. Best use webmail or Outlook if needing to print. For the moment.

Hey guys! Keep sending feedback through the Windows Feedback App, our team is listening to your concerns and we are trying to address them the best way we can. Thanks!

Brave man. Bet you're getting a lot of, ummm, interesting feedback. Good work though. One thing I'd like replicated from Outlook to Mail is Search Folders. As a concept they've replaced my lifelong habit of Rules and filing, very useful for organizing mails. IMO - I'm sure there's plenty of people who would say it's way less important than their fave feature.

Great to hear! Please fix the ability to save a custom IMAP account - right now I have no way to access my 1&1 email.

Yeah. Great. So...how does that help me today when I can't even RETRIEVE my frikkin emails??? The mail app is terrible. I thought Windows 8.1 mail app was bad, but you managed to make it even worse. None of this on here as shown or described even matches the Windows 10 I just installed. All kinds of crap that doesnt work. Dead menu items (they do nothing when you click them) in several places, not just in mail...and I have only had Windows 10 for a few hours. Didnt you guys Beta test this thing?

I found the Mail app to be useless. I have a subscription to Office 365 so I have Outlook. I saw this big block in my start page for Mail so I connected it to Outlook. It refused to sync. I kept looking for a way to sync but had no luck. I asked Edge "How do I sync Mail app in Windows 10 with Outlook?" but got no usable information. I asked the same question in Chrome and learned that I had to create another account that would connect with my Exchange account. I did this, but was told that my security settings were not secure enough and did not meet the reqirements set up by my administrator, so it would not sync with Outlook. Waitaminute! I'M the administrator of my business of one!!! I sat there fuming untill I cooled off and realized I was lured down a rabbit hole. I already have a fine copy of Outlook that gives me far more capability than the Mail app. Why was I even wasting my time? I fixed the problem by adding Outlook to my start window and unpinning Mail. Life is good again. My hard won admiration for Microsoft and Win10 is gone. Please do not inflict substandard software "apps" like this on a community that still remembers Windows ME and Vista.

I wish Microsoft would clear up the whole program vs app thing going on. I still don't see why I should care about the app if I have the program or in vice versa. Which one is it Microsoft?

Different solutions for different needs and situations. Desktop Outlook for full local functionality. Outlook app for a less-rich but unified, consistent experience across devices. And not to mention the licensing cost differences.

And you can use your ownCloud for calendar & contacts, this is very much appreciated.One caveat: since you'll use the iCloud template, your ownCloud username needs to be formatted like an email adress. For some reason you cannot change a username, so either create a dummy user in ownCloud or change your username. First synchronization takes some time, especially for the calendar if you happen to have multiple calendars (I am not talking minutes, more like a day or two). Afterwards sync is fine Contacts seem to synchronize faster, but since peoples app keep crashing within seconds I'll only saw a very brief contacts list. But, since autocomplete in Outlook Mail works as expected I guess sync is fine...

There is little to love in the Win10 preview for phone. And, even with it's inherent faults, at least it used to work. Now, after update, the only account it will take from me is Gmail (sweet, huh, MS?). After entering all the information for my work and other personal account, it simply does nothing but display a blank page indicating nothing wrong. Also, unless MS makes it easy to NOT combine accounts in one place, a third party email app will be required for professionals who need to keep personal and work email completely separate. The controls for phone are not good. MS should not sacrifice usibility on the alter of uniformity if they care about their users.

I use Yahoo and Gmail. I added my Yahoo account and it seemed fine, but when I compose an email and start to type the email address, some come up and some don't. Basically it's like I don't have all of my contacts that are suppose to show up in the suggestions when composing an email. I can't remember everyoen's email by heart. This is an issue I have currently with the recent lease of Windows 10.

Im trying to connect an email address from my own domain, but the mail app can't connect to it. I can't see where i can use some sort of manual setup. Any pointers in the right direction would be appreciated :)

Nevermid, i found the "advanced" settings :)

The Windows 10 Mail app is useless. It has by far the least configuration options I have seen in ANY email client I have ever tried. It's almost as if it's been designed to be used either by chimps or by complete morons. As usual Microsoft doesn't trust us to be able to do anything more than clicking two buttons: Compose and Send. - No options for properly formatted signatures, just plain text. - It doesn't sync properly with IMAP account folders: in my case it picked the wrong Sent Items folder from the list of available folders on the server (I have both a "Sent" folder and a "Sent Items" one). and gives you no option to pick other folders from the server - something we could do in WLM. - No other advanced configuration options like port numbers, root folder path, encryption... ALL of which WLM can do. So they are withdrawing support and future updates from a far superior product and leaving us with this piece of junk. Decorating it with a nice picture of a blue sky doesn't make it any better. So it's back to Live Mail as long as it keeps working...

Good writing! Mail is not the only problem. With windows 10, microsoft takes all the control from the users that is left. And the little bit of privacy we had...is gone. If microsoft dont listen at their users, they will loose a bunch of them...incl me.

No option to turn Conversation view off and no option to view all accounts at one time. useless.

Had the same problem...guess I can turn off conversations. Annoying. I want things in time order.

Need help. I have serveral email accounts. I want the accounts in alphabetical order. Any way of doing this. This was doable in Windows 8.1.

There is a critical problem even in the final release version of the mail app (with imap accounts at least): for sending emails, it expects the username to be an email address. My mail provider uses account usernames which are not an email address (but the mailbox identifiert). Retrieving email works, but sending will fail. worked flawlessly in Windows 8.1 and Windows Phone 8.1 What is interesting: If you do an inplace upgrade to Windows 10, the mail account will be migrated and sending works. but when you add a new mail account in Windwos 10 Mail app, the problem occurs again. So it looks like this is more a UI thing then a technical problem. Wonder is it is possible to edit the settings manually somewhere? In the registry maybe?

Good post! And where are the in/outgoing port options??? Microsoft want that their users use their own emails like live, hotmail and outlook. and the most important thing, microsoft want full control of their users...we dont have the privacy like before with windows 10. I think that windows 7 is still the best os .

The mail app is a BIG bug. Once you put back the option to choose incomming and outgoing ports, maybe it will be useful for people. When we cant choose ports, some isp's wont work. Me and my friende, all of us have those issues. We cant send and we dont get all incomming emails. Just one more thing, with windows 10...our privacy will be zero...because you only want more control of your owners...and with that...you will loose much of your customers. Thx to windows 95

I can't add senders to a junk folder list nor add a sender as a safe sender. I also see no way to create rules or otherwise automatically sort my email. I get hundreds of emails a day and this is a deal breaker for me. Maybe when these apps have matured somewhat, I'll be able to use them but, for now, Win 10 and its apps just feel too rough and unfinished for me.

How do I retain information from previous months on windows 10 calendar?

Upon updating to Windows 10 from 8, my mail app now needs setting up again - of the three accounts I had synced on W8, only one remains. The 'add account' button does not do anything. After looking at the article I tried deleting the one account I do have and starting over, but I'm not able to go into the account settings either, so I'm pretty stuck.

None of this as shown or described, matches the Windows 10 I just installed. None of it. Why?

When I set up my email acct in Windows 10, it kept doubling my password. I would go in and re-enter my password and save it , then I'd go back and check it and it would have added it twice again. What do I need to do? I even shut down my computer and turned back on but it still did it.

Minor glitch: the order of my various email accounts (I have 12 of them) keeps changing. It would be nice if the next version would allow the user to set this. Otherwise, this is a simple, slick and very useful mail app that works great for people who have to track multiple accounts at a glance.

Just upgraded to Windows 10 Preview and added my personal and business email addresses. Do I have to keep the Hotmail account that came with the upgrade?

Be careful. Wanted to send a picture from my work computer. It prompted to use the Mail app. When it was done it reset the whole User Account to my personal account with my personal password, and my supervisors were not pleased. IT had to recover the original account and separate from my personal. Since when does Windows allow those kind of permissions outside of the Control Panel?

Be careful. Wanted to send a picture from my work computer. It prompted to use the Mail app. When it was done it reset the whole User Account to my personal account with my personal password, and my supervisors were not pleased. IT had to recover the original account and separate from my personal. Since when does Windows allow those kind of permissions outside of the Control Panel?

in my calendar PC - windows 10 I can only see up to the prior 30 days... ON my ohone I see all How can I get the calendar from the PC showw all past entries?

Hi, I have several email accounts set up in Windows Mail but I can only get one to show. I used to be able to get all accounts shown on the start page but since an Windows Update, this doesn't happen anymore. I click on all the icons but there's nowhere to list all email accounts. Thanks

have read this article and watched a number of vidoes regarding synchronising email accoumts. Haven't yet tried removing and re-adding accounts, but appear to have followed all advices from all sources and appear to have "all the right boxes ticked" as requierd: privacy and calendar settings, passwords and I think, mail server settings. Still nothing doing: the system simply doesn't behave in the way the videos and blogs suggest it should. One thing. My WLM programme is rubbish and does have issues, which althiough again I have followed the trouble shooting advices I cannot cure and so have given up. Perhaps WLM inherent faults, like completely deleting/losing emails at random is at the bottom of my sync problems...???

How can I set up a password or PIN for the Mail and Calendar app? Is it possible at all? It seems to me such an option to be a must. But I couldn't find a way to do that. Thanks for an answer.
Windows Central Newsletter
Get the best of Windows Central in in your inbox, every day!
Thank you for signing up to Windows Central. You will receive a verification email shortly.
There was a problem. Please refresh the page and try again.