How many devices can I connect to Netgear Nighthawk AC1900 Wi-Fi router?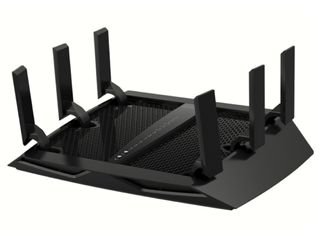 How do devices connect to the Netgear Nighthawk AC1900 Dual Band Wi-Fi Router?
Any client that connects to your home Wi-Fi can be counted as a device. That includes everything from a smartphone, to a Roku, to a smart fridge.
All Netgear home routers accommodate 32 devices at a time on a single band. The Nighthawk AC1900 Wi-Fi Dual Band Router has two bands: a 2.4GHz and 5GHz band. The 2.4GHz band is better at passing through walls, furniture, and other physical objects between your device and router, while the 5GHz line supports higher connection speeds but is not supported by all devices. You can connect up to 32 devices on each of these bands.
How many devices SHOULD I connect to the Netgear Nighthawk AC1900 Dual Band Wi-Fi Router?
Although the router can support up to 64 devices, keep in mind that network speeds on your devices will become slower as you add more devices. The 2.4GHz band supports a theoretical maximum of 600 Mbps and the 5GHz band supports up to 1300 Mbps. Adding 32 devices to each band will max an individual device to 41 Mbps on the 5GHz band and 19 Mbps on the 2.4GHz band.
A baseline 20 Mbps is recommended for lag-free media consumption. It might seem like even a maxed out Nighthawk AC1900 might be able to support adequate speeds, but remember that 600+1300 Mbps is the theoretical maximum. It is unlikely that you will see speeds like that in the real world. Running a speedtest on your Wi-Fi connected device will give you a better idea of realistic speeds in your house.
The Netgear Nighthawk AC1900 Dual Band Wi-Fi Router for your household
For a household that has a couple of smartphones, smart home appliances, and occasional guests, the Nighthawk AC1900 Dual Band Wi-Fi Router should be capable of getting devices the speed they need.
If you need a router that can support more devices, you could look at a tri-band router like the NETGEAR Nighthawk X6 AC3200 Tri-Band WiFi Router. This router has one 2.4GHz band and two 5GHz bands. The router will automatically distribute your devices between the two 5GHz bands. The three bands allow you to accommodate up to 96 devices.
You could also purchase multiple routers to increase the number of access points in your house. This would allow you to connect more devices and potentially improve range by having routers in different locations in the house.
Up to 64 Devices
Netgear Nighthawk AC1900 Dual Band WiFi Router
Dual band router that is sufficient for most households

The Nighthawk AC1900 provides two bands and fast speeds to accommodate multiple devices on your Wi-Fi network.
Up to 96 devices
Nighthawk X6 AC3200 Tri-Band WiFi Router
If you need to connect more devices

This version of the Nighthawk, with 3 bands, lets you connect up to 96 devices and includes Smart Connect that pairs each device with the optimal Wi-Fi band.
Get the Windows Central Newsletter
All the latest news, reviews, and guides for Windows and Xbox diehards.