How to disable Windows 10's 'USB selective suspend' setting
When a USB device is not working correctly with your Windows 10 PC, you can try disabling the "USB selective suspend" feature to fix the problem. Here's how.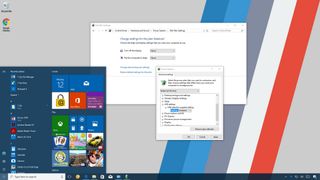 Windows 10 includes the USB selective suspend feature that lets you automatically put USB devices in a very low-power state when they're not actively in use. It's an important feature because it helps prolong battery life on your laptop or tablet, but it may also cause problems with certain peripherals connected to your PC.
If a USB device isn't working correctly, you can try to disable selective suspend on Windows 10. That may cause your computer to draw more power, but it may help to identify and fix the problem as well.
In this Windows 10 guide, we walk you through the steps to prevent the OS from suspending USB devices by changing the power options in the Control Panel.
How to disable USB selective suspend
If you're having connectivity issues with USB peripherals on Windows 10, use these steps to disable the USB selective suspend feature.
Important: It's only recommended that you change this particular setting when you're experiencing problems with a USB device. Otherwise, you should leave the option enabled.
Open Control Panel.
Click on Hardware and Sound.
Click on Power Options.
Under "Preferred plan," click the Change plan settings link for the plan you're currently using. (If you change the settings on the power plan that isn't active, this won't work.)
Click the Change advanced power settings link.
Expand USB settings.
Expand USB selective suspend setting.
Select Disabled from the drop-down menu.
Click Apply.
Click OK.
If you're changing the settings on a laptop or tablet, you'll see two options: On Battery and Plugged in, so make sure to change those settings accordingly.
Once you complete these steps, Windows 10 will no longer power off USB devices connected to your computer, which can fix any problem you may have as a result of this feature.
While this guide focuses on Windows 10, USB selective suspend has been around for a long time, and you can use the same steps on machines running Windows 8.1 and Windows 7.
More Windows 10 resources
For more help articles, coverage, and answers to common questions about Windows 10, visit the following resources:
Windows 10 help, tips, and tricks
Mauro Huculak is technical writer for WindowsCentral.com. His primary focus is to write comprehensive how-tos to help users get the most out of Windows 10 and its many related technologies. He has an IT background with professional certifications from Microsoft, Cisco, and CompTIA, and he's a recognized member of the Microsoft MVP community.
L930 is still not recognized after disabling this.

Try updating the driver/firmware via Device Manager. Also, USB drivers.

Also, removing the corrupted Microsoft WDG driver will solve the problem.

Thanks. I hope this works, been having USB issue when I connect any mobile phone to my Surface Pro3 Windows 10 device (it just doesn't see them). I hope this resolves it. Thanks again.

You must have downloaded that corrupted Microsoft WDG driver 12:00 a.m. crap.
.
Uninstall it and try again.

If you don't mind me asking, what do you mean by Microsoft WDG Driver and how do I go about uninstalling it? Thanks.

Okay, i don't remember correctly if it was WDG or something else. It was Wxx though. Microsoft released this driver by mistake which didn't detect any connected devices like phones, HDD's, etc. I had the same issue and after uninstalling it, the issue went away.

Oh ok. Thanks, I would a little research to find more info. 👍

Just check out your installed update history within Windows Update. My L650 didn't connect before. After removing that, it was okay.

Got it. Thanks would do that.

Thank you very much for this valuable tip. I have had problem with daisy chain USB devices on Thunderbolt display. I hope this solution solves my problems.

You guys help a lot with tips and tricks. Can someone help me figure out why my Cortana search on Windows 10 (insider) always opens up in Internet Explorer. I have Edge as default. Also I have switched file Extension association to Edge wherever possible. I want to switch completely over to Edge but Windows is not letting me do that. There are still several extensions like .website .mhtml etc that can only open in Internet Explorer.
And I've tried community threads. But no real answer.

See if this helps. http://www.winhelponline.com/blog/open-cortana-web-search-internet-explo...

Thank you. Will check it out now. Edit: Turning off Screen Reader option in Edge Advance Settings fixed the problem. Thanks again. :D

I had this issue for a year. Tried so many things but never helped. Finally did a hard reset via USB ISO. Perfect now.

Thank you. Will try the above solution first. If it didn't work, will have to reset then. Edit: The above solution by Steve worked.

I wonder if this would have fixed my issues I had pre dock on my tablet. One way to find out actually.

Also check with device manufacturer for driver update. Usb device should tell Windows if it supports full use spec.

Also check devmgmt.msc and power settings on the usb root hub and usb host controller and dont allow the computer to turn them off to save power.

When resuming from Hibernate mode, Carbonite keeps telling me that one of my drives is disconnected and takes a few minutes to realize everything is okay (I am assuming that everything is okay), but I wonder if this USB mode is at least partly to blame. Similarly had to disable Fast Boot to minimize a myriad of random networking and app issues.

Selective Suspend is an absolute nightmare if you're using external HDDs connected to a USB hub. Prepare to have your external HDDs randomly disappear from Windows if you leave your PC idle for a while. This is one of the main reasons I moved to a desktop from laptops in 2012.

It seems that this setting (enabled) has another nasty effect - it can prevent your screen (in my case a laptop) from turning off. I've no clue as to what the connection is, but disabling it (an idea I found elsewhere) solved the problem.

I need to make this adjustment to update my USB device, but following the directions above I am unable to locate the USB option within the Power Options. Are options being hidden from me? This is a personal computer, not a work one.
Windows Central Newsletter
Thank you for signing up to Windows Central. You will receive a verification email shortly.
There was a problem. Please refresh the page and try again.