How to temporarily prevent a Windows or driver update in Windows 10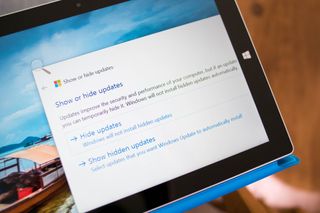 We showed you how easy it was to defer Windows 10 updates, however, it was limited to some editions of Windows 10. There is another method that even users with Windows 10 Home edition can utilize. It's not as straightforward as the first method, but you won't need to spend money to upgrade to Windows 10 Pro.
In Windows 10, your device is always kept up to date with the latest features and fixes. Updates and drivers are installed automatically, with no need to select which updates are needed or not needed. However, some people prefer to choose which updates and drivers to install. Here's how to do it.
1. Download and open the "Show or hide updates" troubleshooter package (opens in new tab). This package from Microsoft lets you select the updates that Windows will install automatically.
2. Tap or click Next to start checking for updates. Tap or click Hide updates.
3. If there are updates available, check the box next to the update that you do not want to install and tap or click Next.
4. Close the troubleshooter and open Settings > Update & Security. When you check for updates, Windows 10 will not be able to see or install the updates you've hidden with the troubleshooter package above.
That's it! You can unhide items by re-opening the troubleshooter package and selecting Show hidden updates. Check the box next to the item that you want to install next time Windows checks for an update.
I do not have any reasons to use the troubleshooter package on my Surface 3, but some people might have a specific driver or update that temporarily causes issues with their device. In that case, people may uninstall those drivers, and this method prevents the problematic driver or update from reinstalling automatically the next time Windows Updates are installed.
Do you need to use this tool? What device and which drivers or updates are you having trouble with? Sound off in the comments!
We hope these tips help you become more productive in Windows 10. For more tips, we have many more posts like this one in our Windows 10 help, tips, and tricks page.
Windows Central Newsletter
Get the best of Windows Central in in your inbox, every day!
My notebook doesnot obeys my orders. It wakes up whenever it wants. How to prevent this? Please share if you have any tip or trick?? Thank you :)

At the command prompt type "Powercfg -lastwake" after it starts on its own. The results will help to identify what caused the device to wake from sleep. It may some software or maintenance task. Once you have more info, ask for help in the forums instead of the comments section of an article.

The "-lastwake" tip is good, and you can also use this powercfg command with "-waketimers" that will show you what's set to wake up your computer and what time. My lastwake wasn't working but the waketimers said that my Teamviewer was the cause of my desktop waking up every hour or so and not sleeping again. Hope it helps. Also, WU will wake up your pc if there is a restart scheduled, so it wakes up, restarts and then, if you allow it on timers, goes back to sleep. In my case, also an issue because I set it to never sleep on timer, just manually.

In power options under advanced there should be an option called wake timer turn that off

I had to use this tool earlier today after getting the dpc watchdog error while upgrading a family member to Windows 10. The cause of the issue was Synaptics drivers

When our Wp got Official 10 number...

Just as new Intel Management Service driver disabled my system, saved me some googling ;)

My issue is the rste driver had to reset twice(guess the OEM didn't bother to test the reference drivers they posted)

Thanks for this info, I'll be downloading the troubleshooter package. Another dirty way to stop receiving updates is to go to services.msc and stop and disable windows update. Although this is not recommended, since you won't receive any updates for security, it will block all updates and that can make you vulnerable.

Microsoft should integrate this tools in Windows update settings or should give option for DRIVER UPDATES leaving security and feature updates automatic

Most of the drivers don't break anything... but Windows will try to download them and update them, since it sees your driver version is older, so you need to stop them from doing it. but can you blame Windows Update from doing what it's suppose to do, update?
On this dell latop I upgraded the video kept blinking and I had to use this to stop the intel driver to download. but it was a 5 minutes thing.
But of course the driver is older, and the Dell exe thing, even tells me how I am about to install an older version of intel. so I guess oems and everyone should be faster providing the driver updates. that way the driver wouldn't try to be updated since it's the same version or newer.

Hmm, looks like it's my run of bad luck as I've not once been able to hide any of the graphics driver updates pushed through WU and that has been true for several machines o.0.

I disable all updates anyways, I never trusted windows update to do anything on it's own especially after that "malicious software removal" update scandal that happened on XP. Now I NEVER ever install it even on W7. Stuff like this is keeping me off W10 because I see all these posts on jumping through hoops just to turn shit off that shouldn't even be on like feedback data and crap.

Windows Update has a very long reputation for pulling down bad drivers, old out of date drivers, or drivers for other devices on your network (like Printers) that you hasn't even set up on your PC (and don't want to). Device Drivers should NEVER be updated automatically, especially on a platform that runs predominantly on OEM machines, and not Microsoft's own hardware. Apple can pull down drivers automatically because they designed the hardware and the chances of them pulling down an out of date driver, incorrect driver, or installing new devices that you didn't ask them to install are almost non-existent. The same cannot be said for Windows Update. Automatic Driver Updates are probably the worst thing about this OS release, and it can potentially render your system borderline useless while you spend hours troubleshooting the issue since even if you replace the driver, Windows will often replace the good driver you installed wiht the bad one from Windows Update Automatically and Immediately upon reboot or whenever it does an update check. It will do this without even telling you that it's doing it. It happens in the background. I didn't realize that Windows replace my AMD Drivers with out of date, bad drivers, until I went into Catalyst Control Center to my CPU Clock Controls and realized the Clock Controls (and virtually everything else) wasn't there. It was just a blank screen with nothing, because Windows completely broke everything with the automatic driver update. I had to completely disconnect my PC from the internet, manually clean up everything, and install the new drivers and then run the Update Hide tool (something that should not require hunting the internet for a separate download) to hide the AMD driver update in Windows Update. That update shows up in the driver tool, but it NEVER would show up during aqn update check. It's as if Windows Update is coded to intentionally hide the fact that it's downloading and installing driver updates from the user. It will never tell you it's downloading and installing the AMD drivers, even if you uninstall the driver and do an update check. The only way of knowing that happens is being there when it happens and noticing the screen flicker and "new device sound" it makes when it is silently installing the driver. And most people won't even notice that because: 1. Windows will pull down the bad driver during an upgrade, or 2. It will happen immediately after upgrading, and at that point most people will not really notice it or pay any mind to it, or 3. It will happen in the middle of the night when Windows does has its "Maintenance Window" at which case they be completely unaware that it ever happened. Most driver updates may not wreck your system, but the fact that it has potential to wreck your system is the problem. That kind of volatility is not something that's acceptable in an OS meant for professional use. What if Windows downloads a bad driver at night and then you're traveling all day the next day? Suddenly you cannot do any work on the road because... Most driver updates through WU are fine?

Nah they just need to make the wsus role available to pro sku users. It's still the ultimate tool for small business/home power user

just by searching on bing "hide Windows 10 updates" brought the troubleshooter link. People are lazy, that's all :) Good guide for the lazy p​eople on the internet.

Guess tech writers everywhere should follow your lead and stop writing articles about anything since people can just search for it and find the answers....

Well. A lot of what tech writers do when they write 90% of these articles is state the obvious.

People need a guide how to use to search.

Hit start and type change device installation settings, hit enter, then change settings to never install driver software from Windows Updates.

I think MS will stop automatic updates in TH2 final. They should release quaterly based service update package. Because Everybody tired of uptodate 2-3 times a week. It will turn them to downgrade to 7 or 8.1

Samsung QX410 laptop. The ELAN touchpad driver update. The pointer move on the screen to where you touched on the touchpad. It was impossible to do anything without a mouse. This was a life saver.

I wonder why in home users can't select what to install, like we could do till Windows 8.1 , is there an technical reason for it or is by annoy to home user

I wonder why some users dislike taking the most recent updates

Because we think we are not in a computer dictatorship, I want to be free of choose what to install and what don't and when install. If the auto unavoidable install is the only differentiator between home and professional versions? Why should be installing the drivers from Microsoft if the hardware vendors like NVIDIA which they periodically makes the latest ones

to prevent updates from downloading in win 10,just activate the battery saver mode from the taskbar!

That does more than disable updates. It disables PUSH Notifications and Background Tasks for some apps that you may not want to cripple, like the PIM Apps, among others. That is not a solution to the problem. That is just a horrible work-around.

Yes I had to use this but it is crucial you also disable drivers to install from windows update through system properties. Logitech is allowed to push it's malware Logitech Download Assistant through windows update if you have any input device from them, even if they work correctly. It is a hassle to uninstall. I'm all for hotfixes and security patches but drivers are NEVER a security risk. I'm sticking with 8.1 on my laptop but I want DX12 on my desktop.

A few setbacks: 1) Mostly does not work, because it needs to be used BEFORE the system even tries to find updates (right after install without connectivity, which BTW means no MS account login). Otherwise updates will reappear and install anyway. 2) Hides driver updates only up until next version, so needs to be reused (which rarely realy works, see point 1)... Auto driver updating is the WORST idea Microsoft got since Windows Millennium Edition.

This was a lifesaver. For some reason Office 2010 and 2007 updates keep appearing on my PC, even though I'm on Office 2013/365. When Windows Update tries to install them, the whole process hangs. I can finally update again. Thanks,

I used this to prevent Graphics driver update. But after some time, driver update happened. Its not reliable.

I've been trying to get rid of a printer update that has been stuck and is constatly giving me notifications that it can't install. I tried this tool, but it went to the "Detecting Problems" screen after hitting the first next button and just got stuck there forever.

I got this to run after opting out of the Insider program. It didn't help me at all though. It says no updates are available to hide and I still have "• Canon - Printers - Canon MG5400 series Printer - Error 0x80240017" stuck in my Windows Update. It's actually a more serious problem than it seems since it is now blocking all other updates. I haven't had a Defender Definition Update since August 2 and haven't had a Security Update for Windows 10 since July 28.

I am offered an update for: Update for Microsoft SharePoint Enterprise Server 2013 (KB3039703) farm-deployment. Although I don't have SP installed on my Windows 10...? Keeps on offering me the update, cannot hide it through this tool either, it doesn't see any updates available to hide - any ideas?
Windows Central Newsletter
Thank you for signing up to Windows Central. You will receive a verification email shortly.
There was a problem. Please refresh the page and try again.