How to successfully install Windows 10 build 14393.222 (workaround)
If trying to update to Windows 10 build 14393.222 fails, use this guide to get around the problem and successfully install cumulative update KB3194496.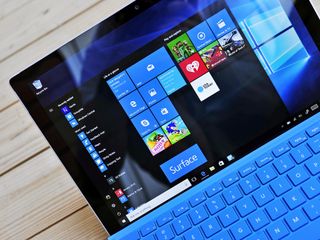 Microsoft recently rolled out cumulative update KB3194496 for those running the Windows 10 Anniversary Update. The update bumped the version number to build 14393.222 and was meant to address a number of issues to improve the quality of the operating system. However, short after the release a small number of users begun to report issues trying to install the update.
Users quickly took their concern to the Microsoft forums to a thread that now has grown over 25 pages long. Quickly the Windows team responded that is aware of the problem and it's working to address the issue.
On a statement, Jason from Microsoft said:
However, AirportsFan (opens in new tab), a user at the Microsoft forums had a reply with a workaround that seems to be working for some. The problem appears to be that update KB3194496 is failing to install because of two items in the Task Scheduler, including XblGameSaveTask and XblGameSaveTaskLogon, and the workaround involves editing the Task Scheduler, deleting two system files, and editing the Registry.
If you can't wait until Microsoft issues a permanent fix, in this Windows 10 guide, we'll walk you through the steps to successfully install Windows 10 build 14393.222 on your device.
Workaround to install Windows 10 build 14393.222
Important: Before diving into this guide, it's worth noting that editing the registry can be dangerous, and it can cause irreversible damage to your system if you don't do it correctly. It's highly recommended to make a full backup of your system before proceeding. You've been warned!
Open Start type Task Scheduler and press Enter.
Expand Task Scheduler Library > Microsoft.
Select XblGameSave.
On the right side, right-click XblGameSaveTask, and select Disable.
Right-click XblGameSaveTaskLogon and select Disable too.
Close the Task Scheduler.
Use the Windows key + E keyboard shortcut to open File Explorer.
Navigate the following path:C:\Windows\System32\Tasks\Microsoft\XblGameSave
Delete both files: XblGameSaveTask and XblGameSaveTaskLogon.
Use the Windows key + R keyboard shortcut to open the Run command.
Type regedit, and click OK to open the Registry. (This should open the Registry with administrative privileges. If it doesn't, make sure to search for regedit on the Start menu, right-click the result, and select Run as Administrator.)
Navigate to the following path:HKEY_LOCAL_MACHINE\SOFTWARE\Microsoft\Windows NT\CurrentVersion\Schedule\TaskCache\Tree\Microsoft\XblGameSave
Right-click and delete the subkeys: XblGameSaveTask and XblGameSaveTaskLogin.
Close the Registry.
Open Settings.
Click on Update & security.
Click on Check for updates and try to install the update one more time.
Once you completed the steps mentioned above, you should now be able to install Windows 10 build 14393.222 on your device. After the update installs, the two tasks you have previously deleted should re-appear, which means that you shouldn't have to revert the changes.
Did the workaround allow you to install cumulative update KB3194496? Tell us in the comments below.
More Windows 10 resources
For more help articles, coverage, and answers on Windows 10, you can visit the following resources:
Windows 10 help, tips, and tricks
Windows Central Newsletter
Get the best of Windows Central in in your inbox, every day!
Mauro Huculak is technical writer for WindowsCentral.com. His primary focus is to write comprehensive how-tos to help users get the most out of Windows 10 and its many related technologies. He has an IT background with professional certifications from Microsoft, Cisco, and CompTIA, and he's a recognized member of the Microsoft MVP community.
Has this worked for anybody?

Yep, the solution works perfectly and it takes less than a minute to do it.

Yup, worked here also. Glad to get rid of that annoying nag to Restart :-)

worked for me on my work laptop, had the failed install and removal every startup, finally looked it up today and found this same solution on another site and worked fine. i made the changes, left it and the download in windows updates would always start automatically every day so i just let that happen automatically and when it was done downloading and installing i rebooted and it applied with no issue.

EXACTLY! Finally, it's installed, and I can hope for my computer to go back to working as usual. THIS is why there needs to be a way to defer updates. I have 12 times that this update failed - and that was because I did the best I could to NOT let it try again. Twelve times I failed to do so. There needs to be a way to defer updates - for a week, maybe - so that if an update goes south, you can keep it from trying again for a week, thereby giving Microsoft time to fix it. EDIT: Or better yet - if an update fails, it should automatically not try to run again for at least 48 hours. Or some time period that the user can set. Say 24 hour increments, up to a week.

its a SHAME to ask anybody to edit the registry just to get an offical update

They're not asking anyone "to edit the registry". It's a workaround.

By work around, you mean that MS might get around in getting it to work?

I just went linux mint 18.. I like it..

Seriously... Other then computer enthusiast who wants to be bothered with this ****. Microsoft really needs to get their act together with their update process. I ran into a similar issue on the last update with my SP4 and had to manually download the files to get the install to complete. Not the experience I am looking for having a premium device. Also anyone else out there notice their rotation lock button no longer showing up in the notification screen after the latest update?

If you're looking for a premium experience, then perhaps the Insider program is not for you. However, since you're in the program, have you reported the issue you described via the Feedback Hub? As for this particular installation issue, there is no need for any manual work around... Just a little patience.

well.. the Lumia phones are sold with "Beta" software so many many and many more pepole need to register as an Insider to use they phones. Shame? Yes so Microsoft needs to fix more problems

I want to use my brain, but I don't want too.

My understanding is the issue this article is talking about is a non-insider issue. As I understand it this release was sent out to general public even with insider feedback telling MS there is issues with the install process. Yes, the issue I had on the last update was an insider build, but I am on the release preview ring so I would think MS would have install issues figured out before pushing an update to that ring. My view is outside of the Fast Ring, install of new builds/updates should go without a hitch esp. on MS own built hardware. My point is MS vision of Windows 10 as a service is centered around being able to push updates out, if they don't have the update process nailed down solid then they are pursuing their vision on a cracked/broken foundation. Regarding feedback yes I send discovered items in.

> My understanding is the issue this article is talking about is a non-insider issue. No. The update is available to the general public, but as far as I know the issue only affects insiders.

Nope. I am not running insider on my two affected machines. It is a possible cause however as I was until the AU.

Really I thought I read the issue was affecting non-insiders as well. Regardless insider/non-insider, it is frustrating that the update process is problematic at this point.

Per the statement from Microsoft: "... the cause has been identified. Looks like this will only be hitting a subset of Insiders..." So while everyone has gotten this patch, the problem actually installing it is limited to certain Insiders. And looking at the workaround details, I imagine that subset of Insiders is limited to certain active users of the Xbox app...

Wrong on both accounts there.. I'm on release preview i don't use the Xbox app, I don't even own an Xbox or any console for that matter. Install fails. just being patient on this end for MS to fix the problem..

I'm on Release Preview too and had this issue with the cumulative update (now fixed by the XblGameSave hack): just a couple of points to note - Release Preview is an Insider option and the XblGameSave scheduled task does not require you to have an XBox!

Can agree with that.. There was a post above that kinda said that the small amount of people affected by this was actively using the Xbox app.. I added the fact I do not own a console of any kind to affirm I do not use the Xbox app at all to cause the installation error lol.

As mentioned I've read non insiders are having issues with the install as well so perhaps MS statement is not addressing the specific install issues others are having. It's not like its beyond the real of probability that their are multiple install issues out there. Hell there is a poster above who has indicated they are a non insider and are having install issues. In fact when I get home tonight I will have to take a look at my SP4 as I may in fact not have that machine on the insider program. I get you are a fan of MS, as am I, but looking at these issues with rose colored glasses doesnt help MS address these issues. The more criticism out there for these type of issues the better. Competition is fierce so MS needs to be on their game or the general consumer will leave them behind.

And to add to Dojo005's comment, in the end it really does not matter if this bug only affected Insiders, because various news items produced by assorted techmedia sites gave the definite impression this affected everyone. Like it or not, Windows 10 has an image problem, and this issue (even if it really did affect only Insiders) did not help.

Jessicator: You are the type that creates such a worthless experience in fact checking. You don't know what you are talking about but never afraid to "share".

Note to TDH69: Maybe you should check your facts about my comments. When I'm stating my opinion or a subjective, yet educated guess of some sort based on actual facts (like what works, in this case), I clearly say so (as I did in this case where I explained my reasons for thinking that way). And when I quote the article (or something else), I make it clear that I'm quoting someone (in this case, the statement from Microsoft). No need to be such a bully about it. This is an open discussion. No need to get so personal by assuming "the type" of person I am or trying to make me feel like I'm worthless and that I shouldn't bother commenting because I'm not as good as you. Thankfully, I know my worth, and not you or any other bully will not change that.

uh, that comment by MS was before they rolled it out to the whole world prematurely without addressing it.... learn to check the dates...

Wrong again MS. I wonder how their weekend went?

Maybe you should check your facts. This is an officially released CU for general availability on the Current Branch. Are you the Compass of wisdom on who should or shouldn't have an experience? MS has a long way to go in establishing the type of experiences that garner massive amounts of positive user sentiment. Pushing botched Updates to general availability after Insiders reported the problems is not how to do that.

It looks like the non Insiders are having this issue as well. And they have no idea where to turn to or how to apply the work around.

Gamo62, you seem to be the only person who can't follow a simple set of instructions. Deleting 2 reg keys, disabling 2 tasks, and delete 2 files really isn't rocket science.

While not rocket science to you and me, I'm not sure that the registry editor or task scheduler are the kinds of things I'd want the average user futzing with. Anyway, there's no need for anyone to do anything. A follow-up fix is forthcoming. This is just for people who are unable to install this update (and who even *know* that they're unable to install the update to begin with) and who are too impatient to wait for the fix to be sent out.

its not about patience. I have this issue. Your PC takes ages to logon as it tries to install the update, then fails, the reverts, then logs you on. 12 minute reboots are a tad annoying :/ so far, the instructions above do not work for me. but I am going to hit it with a hammer right now to see if that helps.

Do a search for Microsoft Update Catalog you should be able to download the update manually and install. That is what I did last time I had issues.

Thanks for the tip Dojo. The instructions on this article worked for me on the second attempt. On the first attempt, one of the task scheduler files was in a sub folder (unlike the article where they are both in the root). I kept the subfolder, it didn't work. Second time around, the subfolder did not exist, and the files were both in the root. Tried the above instructions again, and voila. I am on 0.222 Appears this effects people who were on insider preview, and turned this off when AU came out. I did, as I don't want to beta anymore. So its this subset of people who are falling foul of this issue. Thanks for the help folks.

Thanks for the tip that solved the problem

I didn't have to do this, mine went without problems (I'm insider release preview). Two other PCs in the house also went without a problem. Posted via the Windows Central App for Android

Damn...you're quite good at these geeky articles Mauro...Not desperate to try the above workaround. but am starting to get confident that if i have any unique issues, there's a good chance that there will be an article on it at WCentral :)

I really appreciate the feedback.

I installed without problems as soon as it appeared on my laptop :))
Sorry for my English, a hug from Brazil. :))

No problem here installed it last week, Ireland

My two pc updated normally without any modification

The tasks SHOULD come back. I would double check if you're a gamer that's using the game save sync for Play Anywhere titles as it sounds like it's related. I'm going to hold off on the update until MS come up with a fix or a new build for Release Preview that attempts to fix this. Will just put up with the occasional failed update attempt until then I think

Thanks. But I have a problem with the 14936 build in the cellphone. The problem is that cortana dont working with the Microsoft band 2, I send any comand in my Microsoft band and cortana say i dont hear anything.

I was able to get the update to install with only two changes: Delete the folder
C:\Windows\System32\Tasks\Microsoft\XblGameSave on the system. (Please note that you can only do so with elevated privileges.) Delete the Registry key
HKEY_LOCAL_MACHINE\SOFTWARE\Microsoft\WindowsNT\CurrentVersion\Schedule\TaskCache\Tree\Microsoft\XblGameSave

Worked for me on SP4. I wonder if this affects only those who have the Xbox app or MS games installed and used? Regardless, thanks for posting the solution!

On my intel NUC the update didnt work on the system at 1st my solution: control panel / troubleshooting -> fix problem with windows update then the update installed without any hitch

Worked on my SP3.
​Also, after the update, all changes in registry, scheduler and folders were restored... nice!

Does mobile have the same issue? I thought they released .222 for mobile (at least on the insider release preview) but my phone doesn't have it yet. It hasn't failed to update, doesn't even see it as an option so I'm starting to wonder if they pulled it or it wasn't ever released.

.221 for mobile; same fixes, and no, no issue for install.

Awesome, that's what I'm on. Thanks!!

100's of millions of computers running Windows 10. Literally. Doubt there has been a single Windows update EVER that was succesfully installed on 100% of the computers it is targeted for, without a hitch. Very unrealistic. Same goes for Mac updates. I'm actually surprised that there aren't MORE isssues, considering the enormous complexity of the whole global distribution process. You can claim I have rose-colored glasses on, but I think I'm being reasonable.

Sure, but wouldn't it be nice if it worked more often and more reliably on MS hardware if nothing else? In contact to my Surface 3 and the several SP4 mentioned here.

Yeah, it worked great. Thank you :) .

Hooooray! It worked on my desktop.

Installed just fine on 4 devices, I honestly wonder what some people are doing. I also wonder how many complainers aren't even on Windows 10 or Windows user at all.

How did you come across "small amount of users" are experiencing...Hey OP! Where the hell have you been? More than a "small amount of users" are affected. You and Callaham need to learn the difference between small, and quite a lot. Are you guys so attached to MS's ass that you cannot be honest when writing an article?

this update went installed on 2 out 3 Computers in my home so i will wait for the MS fix rather than go to editing a computers Registry which from what I learned in my Computer trianing not a good thing to do unless it's very Criticle that you have to do it

Works like a charm.. whats more troubling is it took someone from the community to fix something MS should have done over the weekend... pathetic

The suggested solution worked for me. One of three of my computers had this problem, the laptop. The desktops installed the KB3194496 update quickly and without any problem. I use the same user account and same software on all three. Why only the laptop was affected puzzles me.

Exactly same problem here

Which genius came up with this solution, really?

While I have no idea who, if you're curious about how to troubleshoot this kind of thing yourself, a great tool is ProcMon (part of the Sysinternals suite, and available at https://technet.microsoft.com/en-US/sysinternals/processmonitor.aspx for download). When troubleshooting why some file and/or registry changes are not applying successfully, you can run the tool to watch what is happening and what's not and then debug the specific process to find what's blocking the change.

Every update includes install logs. You look at those and see where if failed. Had to diagnose AU on my system this way. An older driver was causing that issue. Removed and then the upgrade worked. But not for regular users... Most will just wait and eventually Microsoft will fix centrally.

Microsoft should have come up with this and put out a utility to do this or just fixed the update. I reinstalled already, which probably needed doing anyhow so I am set. Thanks to whoever figured this out though.

They already stated they're working on fixing the update. Note that while this workaround appears to have worked for many, there's no telling if there were other edge cases they are still troubleshooting before they push out another version of the update. Usually, this kind of thing takes at least a few days.

Uh, HELL NO. I'll just keep my Windows Update service disabled until they fix it. I don't care how easy it is, there should NEVER be a "workaround" for a production update.

We are so excited. We manage to make an update people now need a work around.

Tried this workaround on my Surface Pro 4 and it still just hangs at 45%. Never goes beyond.

I install this cummulative update at first try, no problem here :)

You actually don't need to delete the task at all; just deleting the folder and the registry key will work. Both folder and key will be restored by the update anyway. Yes I did the above and it worked for me :)

Worked like a charm for me, thanks! Posted via the Windows Central App for Android

My SP3 had failed to install 3 times today alone according to update history. Time consuming and anoying. The workaround worked like a charm for me too!

I have no problem with failed install. Just give me the option to shutdown my laptop without performing the upgrade! Then, I taught maybe I'll use the command prompt to shutdown :D and I was left disappointed again :( Sleep mode till MS pushed a proper update then. I heard rolling back to previous build might work. Haven't tried it though.

I stop being an insider when AU is official and I have XblGameSaveTask and XblGameSaveTaskLogon with ready status but I never experiencing any problem installing updates including build 222

The update solved my problem installing the update on my Surface 3, so very happy. Thanks for the article

I tried the update on 5 of my PC's. 4 worked and one did not. I don't own an Xbox. On the PC that did not work, I did click on the Xbox app before. The instructions here worked on that PC.
Windows Central Newsletter
Thank you for signing up to Windows Central. You will receive a verification email shortly.
There was a problem. Please refresh the page and try again.