How to successfully install Windows 10 Mobile build 14951 (workaround)
By Mauro Huculak published
Good news! If your phone is stuck at 0% downloading Windows 10 Mobile 14951, you can use this workaround to install the latest flight.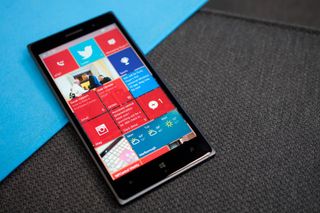 Microsoft recently began the rollout of Windows 10 build 14951 to the Fast ring. The new release includes some subtle improvements and fixes, and a few features for both PC and Mobile.
Although users quickly began updating their PCs to the latest version without a glitch, users running Windows 10 Mobile on their phones have been reporting getting stuck at zero percent while trying to download build 14951 on their handsets. Thankfully, there's a few workarounds.
Microsoft quickly acknowledged the issue and now has already narrowed down the problem to an issue that is only affecting phones which have been previously updated to Windows 10 Mobile 14946. The company says that is currently making the necessary changes to properly publish build 14951, and the same changes will be part of future flights to prevent users hitting this issue again.
In the meantime, the company is now offering a few workarounds (opens in new tab) to help Insiders successfully install Windows 10 Mobile build 14951 on their devices.
In this guide, we'll walk you through the four available paths to download and install the latest test Windows 10 Redstone 2 update on your mobile device.
How to install Windows 10 Mobile build 14951
Currently, there are four different ways to try and download the latest Insider preview build on your phone.
Fastest: Force the update session to time out
Plug your device into a charger.
Open Settings.
Tap on Update & Security.
Tap on Windows Insider Program.
Change your device to "Slow" and then back to "Fast".
Go to Network & wireless.
Tap on Airplane Mode, and turn on airplane mode.
Go to Time & Language.
Tap on Date & Time.
If On, turn Set date and time automatically to the Off position.
Change the date on the device to 7 days in the future.
Return to the home screen.
Reboot your phone.
After the reboot, open Settings.
Tap on Network & wireless.
Tap on Airplane Mode.
Turn off airplane mode.
Go to Update & Security.
Tap on Phone update.
Tap the Check for updates button. As expected this process will fail with an error code.
Go to Time & Language.
Tap on Date & Time.
Change the device date back to the current date.
Go to Update & Security.
Tap on Phone update.
Tap the Check for updates button. This check may fail again, but it's expected.
Return to the home screen.
Reboot your phone.
Open Settings.
Tap on Update & security.
Tap on Phone update.
Tap the Check for updates button and now Windows 10 Mobile build 14951 should begin to download.
Microsoft also notes that users may run into an error code 80242006 after this last update check, and to fix the error users need to use additional steps:
Open Settings.
Tap on Update & Security.
Tap on Windows Insider Program.
Change your device to "Slow".
Go to Phone update.
Tap the Check for updates button and wait until you get the message that your device is up to date.
Go back to Windows Insiders Program.
Change back to the Fast ring.
Go to Phone update.
Tap the Check for updates button, and your phone should now update.
Easiest: Wait
If your phone is already stuck at 0% trying to download build 14951, it will timeout after five days. After the update times out, your phone will get updated metadata, which will allow the device to download Windows 10 Mobile build 14951.
Medium: Reset to factory and update
You can always reset your device currently running Windows 10 Mobile build 14946 to factory default settings.
Open Settings.
Tap on System.
Tap on About.
Tap the Reset you phone button.
Once the reset is completed, you should now be able to download build 14951 without getting stuck at 0 percent.
Hard: Less optimal
In the case you already rolled back to a previous build, including Windows 10 version 1511 or Windows 10 Anniversary Update using the Windows Device Recovery Tool, you can easily download and install build 14951 without running into issues.
Wrapping things up
Although Microsoft has isolated the issue, keep in mind that these instructions are still being validated. However, if your device is stuck at 0% downloading the update, and you can't wait until the timeout expires or the company releases the next build, you can use these options to install the latest flight on your phone.
Finally, remember that some of this options will wipe out your phone, and as always, it's recommended to make a backup your data before proceeding.
Did, any of these options, work to install Windows 10 Mobile build 14951 on your device? Tell us in the comments below.
More Windows 10 resources
For more help articles, coverage, and answers on Windows 10, you can visit the following resources:
Windows 10 help, tips, and tricks
Mauro Huculak is technical writer for WindowsCentral.com. His primary focus is to write comprehensive how-tos to help users get the most out of Windows 10 and its many related technologies. He has an IT background with professional certifications from Microsoft, Cisco, and CompTIA, and he's a recognized member of the Microsoft MVP community.
Many if you guys have reported that this build is quite buggy do I think I'd best wait for the next build. The previous build is still working fine for me and also, this build doesn't have any new feature.

I think you should probably update to get away from this upgrade bug.

I used a combination of methods with the last being the stopping Windows Insider Program and then returning. Not sure which worked. A recent news says that Users can now make voice and video calls using the Facebook Messenger App in windows 10. Is it ?

Yep and any build newer than 10586 will work. (provided your phone has 2GB RAM)

The price of being an insider

Is everyone in the comments trolling or something? Like the first 5 comments are how buggy this build supposedly is without having installed it...(?!) but I've not had an issue yet, though it's just been a few minutes since install. No stuck at 0% for me though... I looked under updates once and it had already downloaded and just needed a restart. It just completed that and my ICON is ridiculously fast now. I don't know what that 8.1 Env (envy?) update was but mean, I'm loving it so far. Camera processing is quick, Hey Cortana works when I want it to and transitions and animations are lightning fast again. I'll keep using it to see if the battery is any better but so far it seems fine.

They're not trolling, they're just saying they may not get this build due to just how buggy some people have said it is, so they're gunna wait for the next build

To get update... So much procedure...OMG

Basically they make procedure in part so one can easily understand. This is what you have to do. Clock your time 7 days ahead by turning off flight mode. Reboot. Check update. Update will fail for obvious reason. Then again turn on flight mode. Check update. Update will fail again. Reboot. And check update.
Thats it.

I went until Step 13 and now my Lumia 950 is stuck on Microsoft logo with constant restarts.

First try updated 925. But I still can't open Glance settings

Think I'm just gonna wait.

Yup. Anyways this build has nothing much to look forward to.

doesnt take that long! just did it! great method! i had to do the extra step too!!

"Insider" right?
You signed up for this. Non insiders don't get this update

Seriously? They tell you when signing up to expect these kinds of issues. If you chose to participate or not read the warnings, that is on you.

Who forced you to subscribe to the fast ring?

Ummm... ever heard of a term beta? No? Look it up you might be surprised! ​Also what about all of the warnings they posted everywhere before you join. Did you read any of them? Get out of insider rings and go to production builds and move on with your life.

The most ridiculus thing is the fact that even Redtone is as buggy as hell. Go figure... Insiders still reporting bugs of obvious things like :working operating system:. It is unbelievable how bad W10 is, even on official releases.

and you complaining so much with your big mouth even though the Windows Insider program was designed to have tons of bugs and issues.

Hmm the "fastest" option didn't work for me.

It didn't work for me either on my ICON. It isn't trying to download anymore either. I get an error with a retry button. I put my phone on slow ring and I'll wait for next build.

On my Lumia 930 running build 14946, it shows an update "Windows Phone 8.1 emv mandatory update build 14951 ...."
.
Why the heck is it saying that?

It did work for me with the additional steps. Lumia 640XL.

worked for me on Lumia 650

It's more easy to leave the insider programe or to use recovery tool

Ha Haa Haaaa that is so funny, come on guys where is your sense of humour, kudos to whoever worked that 1st workaround out !!!

One must be a die-hard member of the Insiders to go through this ridiculousness. Fixed: Nothing. Broken: Everything.

Everyone said they wanted more frequent fast ring builds, Microsoft said they didn't want to because it would mean more bugs. Everyone still persisted that they wanted more frequent builds. Microsoft gave the insiders what they wanted. Now everyone complains that the fast ring builds are too frequently and too buggy.

I never complained about the build itself being buggy. It was the installation procedure I commented about. I have been ages in the fast ring and I acknowledge and accept all the issues that may arise using that particular build.

This is also a result of a bug, many times in the past we rolled back to update if you remember 8.1 preview days. This is no different than those.

I remember doing this many steps for way back build 9986

There are already 4 rings and you CHOSE to go with the fastest and riskiest and you guys still complain. What do you want? 6 more rings? Faster Fastest Really Fast Seriously Fast! I'm-not-kidding-goddamnit Fast You-are-a-fool-if-you-join-this-ring-because-it-is-guaranteed-to-brick-your-phone Fast

Yeah please... I will be happy to join number 5. Lol.

Engage ludicrous builds...

I would join this build ring :)

This had me rolling in laughter. You forget to mention my preferred ring, "Warp-speed-ahead Fast".

To-Infinity-and-Beyond fast Ring

I'm going to sneak into @ZacB_ house and select option 5 "You-are-a-fool...." on his HP Elite x3 and then run away so that he would be stuck with a brick and he would have no idea who it is. ;)

Take your limp wrist and go get a shiny iPhone then.

Even that is too much work for that dude. The only thing he is likely to achieve is gaining mass by eating tons of junk food and complaining here

Waiting is the lazy and more risk free way...hence i am gonna wait. Thanks a lot MS

I just use the Release Preview ring as those builds tend to be the most stable, I haven't had any major issues on that ring.

Fastest option works for my 950XL.

Annnnnd I was going to say here too, but have the error code lol

Done the extra bit - Now at 3% and downloading !!!

Yup, I did the additional steps too

Same here with my x3, I needed the extra step, but it's upgraded now. :-)

I'm at 0.125% How is that even possible?

Did it this morning on my 950XL, worked great. Build installed and loving it, 20 minute boot up times and all! :)

I'm still stuck at Microsoft logo reboots

Hey gonna try it , that's why I'm here.

Whoooo!!! Somebody understands what Insider means! ​If I could give you a gold star I would :)

That did the trick here! Thanks!

Thanks for sharing the results. Glad it worked.

Same here. I actually expect these things on Fast Ring and assume I am risking a full reset on this ring with each release. Simply move to a slower ring if you it annoying, that's why those options are there.

So i just checked back this morning and new update shows, but with a ridiculous title -- "Windows Phone 8.1 Preview Env Bundle - OS 10.0.14951.1000 "
So pathetic, unless I am missing something...

Yes, I'm getting the same. Eager to install 10.0.14951, but not if its going to break/brick my 950xl with something W8.1 related... has anyone had any success installing the update with this strange title?

installed on 950XL, seems smoother than 14946, haven't seen automatically reboot issue until now

Have tried the factory reset method. The OS build is 14946.1000 right after reboot which seems to be the build which causes problems. Although I haven't switched to Insider Fast yet.
​When I try to update (to Slow or Fast flight), I get 0x8024800a. Off I am for a complete recovery ...

Had the same issue this morning but following the "fastest step" with the additional steps did the trick.

Yep, had that too. I thought for a moment I might be in a DeLorean going back in time. But turns out it was just another part of the bug.

I got this also without prompting. Way faster than before. Is it supposed to mean WP 8.1 envy? LOL What I mean without prompting is I just went to Update and Security and it was there waiting for the right time to reboot. I just woke up and saw it updating now. My phone is silky smooth now for the most part. Feels like Windows Phone again!

I did another Method of myself:(EASY AND FAST) Just Do This: 1.Go to "Windows Insider Program". 2.Click "Stop Insider Builds" And set it for "1 day". 3.Then Go to "Phone updates" And click "Check for updates". 4.Wait till shows "Your Phone is Upto Date". 5.Then Again Go to"Windows Insider Program" And Click "Resume". 6.And check whether it is "Fast". 7.Then Again Go to "Phone Updates" And click "Check for updates". Your Build 14951 Will START to get Download Welcome :)

Did This Worked For You? :)

Yes, its worked. I tried the "fastest" one first, but that didnt worked. Send the tip to Windows central! :)

hello. i was able to install the build in my lumia 950 xl u.s. version, but i had error 80242007 (different from the 80242006 error mentioned) initially. i changed the date to october 30 because changing the date to october 27 didnt work for me and it installed.

Tried FASTEST option. Got error code 80242006 Followed the steps for this error. Worked on both my L930 and 950XL

Seems like a better solution would be for Microsoft to pull the build and re-release it without the download issue.

And where would the fun be in that may I ask ??

That's not how this works... The point in the program is to kind of have these issues so they have more information. Data is data. Positive or negative results are still results. That is science friend!

They are making changes and are going to rerelease it but no need to pull the build if we could install it successfully if we wished. I got it done with no problem. This is what they said:
THANK YOU to all the Windows Insiders who have provided us feedback on getting stuck at 0% while trying to download Build 14951 on their devices. We have narrowed this down to a new issue that only seems to affect devices on Windows 10 Mobile build 14946. We are making a change to how Build 14951 is published, so that Insiders can avoid hitting this issue. We will also make the same changes when we published the next build so Insiders do not hit this when upgrading to newer builds.

First process worked for me. Downloading now and not stuck on 0%.

Anyone else stuck on 49%? Weird thing is after being stuck on 49% I restarted the device and now it's preparing to install. This is one weird update process.

Lol alot of things about windows 10 mobile is weird, its actually cute. Like the phones have a mind of their own. I love this OS though.

Yeah, I can wait. This particular build doesn't seem worth it anyhow.

Are the insider builds not meant for us to help fix and shape the ecosystem, seems odd to wait as not worth it ??

Stability has improved for me, so that's a plus :).

The time trick worked fine on my 950

They missed a step where you need to kill a squirrel and put some butter on your body, before rebooting.

Damn it! I put the butter on the squirrel now can't catch the little blighter

Another day in the Fast Ring, Workaround works..... Next!

Still have the Fierce XL?

This is the fast ring for you hehe. Strangest workaround I've ever seen in a mobile phone's OS but if it works it works!

Fastest fix is working L950

YES! FASTEST WORKED FOR ME 1520 UNLOCKED HERE :-)

Wow, I thought I was the only insider that still had a 1520. How is it?

Lol. I love it. It's been my daily since day one in 2013 lol. Never had a mess up yet. I follow directions and im patient. How is yours?

It's great. Just got it about a month ago on ebay. This is actually my first high end Windows Phone. I can't go back to mid range or low end.

Yeah once you go to flagship you will never go back lol. Good luck. It's a great phone

Went through the 42 steps and the build is downloading, 14951 (RS_Prerelease).Thanks for giving the workaround.

Updates are available.
Windows Phone 8.1 Preview Env Bundle - OS 10.0.14951.1000 update for all mobile phone devices....
I don't know about you guys, but this is the update my phone is stating it is available...Windows phone 8.1. What is going on. Anyone, please let me know what is going on. Going to the past Friday.

It's okay. Windows 8.1 is better anyway.

My phone wouldn't stay in the future, kept changing back to today....
But it's downloading anyway after the 80242006 :-)

I think i will hold my horses and wait

I didn't have any horses to hold, so I went for it :) ​Working great so far

Well, that was a fun 45 steps to follow to get an update. I hope it isn't buggy.

All is fine now . And Update working fine . After do the procedure as MS mention on this Article. Many thanks MS . Now my turn to start test and give Feedback for this 14951 build .
Many many thanks MS . Ur super as usual.

I don`t know if i should just wait the next update or take this as a challange :D

Challenge accepted :) ! Preparing to install 5% .. seems it worked

Was able to get the update following the Fastest method along with the additional steps for the 80242006 error.

my 950XL already stuck at 0%.

I'm not sure this will work for everyone who has the massively annoying 30-min boot up times on 14946, but updating to 14951 seems to have fixed it for me. Totally worth it. Side note: it takes less than 10 mins to complete the workaround -- change the dates, switch to slow, reboot, update (will say it's up to date), switch to fast, and boom. If anyone has ever had to write step-by-step instructions for anything technical, it always looks more daunting on paper than in practice.

Followed to the letter, worse mess than a download battery drain.

Manipulating the clock is always a very bad idea with many other unwanted side effects. Refrain from it under all circumstances.

You might inadvertently rupture the whole space time continuum!!!

Seems complicated,...it's not...
Just finished update...

Up, Up, Down, Down, Left, Right, Left, Right, B, A, Select, Start.

I am still in windows phne 10.0.10586.545 and i cannot update to latest release ring , i am very sad , do not know how to update!!!!! So sad!!!!

I cannot as my insider option is not in update menu in settings but in app and whenever i set fast or slow my phone restarts and cannot do the steps properly

Is it a really old phone, unfortunately not all phones that reach windows 10 can work on AU or RS2. It might be worth checking if it is compatible as if it is not you might be wasting your time trying. Failing that, if it is compatible you may be able to force it with the Windows Device Recovery Tool ------ Be warned this will ERASE all of your phones contents in the process!! Use at own risk!!!! ------

where can i find the compatible phone list for the preview version of the rs2? I am using Lumia 820

If there was even just one new feature in this build, I would have gone through this circus act to get it installed. #pass

worked for me on lumia icon. fastest option then got the error and went through those steps. even though all of the negative reviews on this build i'm still going to install it anyway because why not.

I've opted out for the 5 day period for my 950XL. The last 3 Fast builds for desktop have especially been problematic considering the 3rd part antivirus issue. I am starting to lose patience with these weekly Fix-5-Items-Break-7 Insider builds.

It is insider after all... that's the way these things go

I've been an insider fast since the start. I don't complain much and understand all of this is needed to vet future public releases... But.... Gimme a @%#(!$¥ break

Worked for me. Thanks guys

Wow! Meanwhile, those of us using Apple hardware and OSs are busy getting work done. That's why I no longer waste time keeping Microsoft crap running. Life is too short to do the work of their so-called "engineers" and "developers" for them. I'm also SO over dealing with "undocumented features" just like this train wreck! Somehow, Microsoft is under the delusion that they're "innovating." What a laugh!

Yeah, people in the preview program should never expect issues with unreleased software!

Are you serious apple is the least innovative company on earth all the do is copy and still and the phone are junk made to break if sneezed on and is alway out of date spec wise on day one go away troll

Laugh all you want. Insiders is hard work and helping to create something better for everyone. So that those in production build can have an easier life. You know Apple has the same issues during development, but they are tested in-house. Lots of people make fun of Microsoft for getting rid of QA and using Insiders instead. In my opinion, it's awesome. It's what I love to do. And that is exactly the point of Insiders. If you are not good at technology and don't like to perform workarounds or do other tasks that you find "boring" or "ridiculous" then move along. Nobody is forcing you too. I'm glad you found a platform you like. Apple is fine. They have a very simply OS design so that even a baby could use it. I like my OS and platform and no matter what criticism somebody throws at it, I am staying. ​You stay on the Apple side of the fence, I'll stay on Microsoft side of the fence. You don't see me blasting Apple on iMore. I have no desire to troll other forums, each OS is great in its own way. Move on with your life and get over it

Lumia 950 Followed the steps. But still getting the 80242006 error.

The workaround with changing the date and all works but be warned that the Outlook Calendar live tile may become stuck on that future date and will no longer update. After trying several things to fix the problem I'm doing a hard reset now.

Just uninstall mail and calendar then go to store download them. Work for my 950.

Thanks, although I already did the hard reset (and restore from backup). I never realized Outlook Mail & Calendar will uninstall now. With RS1 or earlier there was no uninstall option so I never bothered to check if that had changed.

Exactly how can you just unistall mail and calendar?

there is no option to uninstall Outlook Calendar and Mail in my L640...

This method worked for my 950 XL DS US 1.Go to "Windows Insider Program".
2.Click "Stop Insider Builds" And set it for "1 day".
3.Then Go to "Phone updates" And click "Check for updates".
4.Wait till shows "Your Phone is Upto Date".
5.Then Again Go to"Windows Insider Program" And Click "Resume".
6.And check whether it is "Fast".
7.Then Again Go to "Phone Updates" And click "Check for updates".

this does not work because update remains in the queue...

Has any been syncing their phone to macs... Mine would not

I followed the procedure mentioned, result is error 0x8024800a

Same here: 0x8024800a​. Will try to recover over USB from scratch.

Try again first. I had the same error then switched to slow ring...then then checked for updates...then switched back to fast then checked and it downloaded

Thanks for the hint, but it didn't work out. So I went through full recovery over night and Insider Fast. I'm back now, but I have a desption: Before this whole procedure I had side-loaded a newer version of Gadgets. Now I have regressed to the previous version which is a complete failure. I don't understand why MS doesn't do some housekeeping in order to get basic functions right and then keep them while advancing on the Insider rail.

I had the same error and then ran through the long process mentioned in the article and after the 1st restart, turning airplane mode off, and then checking for updates again it started downloading correctly.

Finally, it's downloading...

I already downloaded this build with the steps but for some reason when I changed the date and after rebooting it would change the date back, don't know why

My god. What an ugly hack. Do they never test anything before releasing it to the public?

It's not released to the public. It's an Insider Preview Fast Ring build.

Reading isn't your strong suite is it?

No! Set time a week ahead, select slow ring, reboot, search for updates (your up to date) set time back, select fast ring, search for updates again. Thate it.

FIVE DAY time out ? LOL I could understand 3-5 hours but, 5 days ? What are you to do with out a phone for 5 days ? I have 3 phones so I am good.... Nokia ICON, LG G4 and a iPhone 6... so I could always swap my Verizon sim over...

You won't be "without a phone for 5 days". Just the update times out. Phone is still functional.

..... you can use your phone during the timeout period..... it's in reference to how long the update stays out there in the queue

worked with the two steps (lumia 930)

After the last few extra steps, when changing the insider ring didn't worked, i just added to it, change to slow ring restart and then change to fast ring and it worked

Still not working for me, now is showing "• Windows 10 Insider Preview 14951 (RS_PRERELEASE)" and still 0%

Got it to work here, downloading now on my 640XL. I did have to do the extra steps (go to slow ring, check, go back to fast ring, check again)

After I changed the date, and rebooted and ran the update mine started downloading. I am not sure if that is because I had done a hard reset or what. The funny thing is after the hard reset I got the stuck on Windows loading screen that I hadn't had before and was mentioned as one of the bugs in the system. This was on my 950 tester. My 950XL is a daily driver and isn't in the Insider Preview for good reason. Hint for all the people complaining about bad updates.

I didn't actually get an error in step 20, the checking for updates progress bar just disappeared. Went through the rest of the steps and got 80242006. Went through the next 10 steps and still getting 80242006. Lumia 950XL DS in Canada. I'll try factory reset and update, as I have a bug on the previous build where SMS notifications do not work. This applies to messages as they come in, tile count and notification area. Oddly, Cortana over BT works.

Factory reset -> restore from backup -> 80242006. Factory reset -> check for updates -> downloading.

This is pathetic, I get that as an insider I should deal with bugs on builds...and that's fine! But the OTA upgrade process can't be one! 12hours and the upgrade isn't finished on my 950, 3 times it got stopped at 99% for 4 hours it didn't finished, so I cleared and started again now its installing ... Sorry Microsoft but it is not acceptable... You need to up your game...

Having to uninstall apps from ram, to make space, when there is ample on SD is beyond me. But guess that's the MS way.

This is the funniest thing for me today. Thanks Mauro by the way.

No problem. I know a lot of users may feel disappointed about the issues, but we don't have to forget that errors and bugs are expected on pre-release software. Thanks, Mauro

That we understand, but this isn't a bug, it's a server side issue. I don't understand why its almost impossible to install on a 8gb phone, without painfully having to remove all apps that won't install to SD card.

none of those methods worked for me
i have to wait for 5 days

I had to do it twice...then do the little fix section (switching to slow ring, checking for UD's, then switch to fast, check again and then wait) took a bit for it to come up from 0% buts its all installed now. I'm using an Alcatel OneTouch Fierce XL

Wdrt isn't working. Am I only one with this problem ??

did not work for me either, and I can't even load it on my W10 machines. Using a W7 laptop, WDRT starts but says it cant download the files. Now using the first option 'fastest" and it seems to be working.

worked for me! i went to the last step and i got stuck at 0%, my phone went locked and when i unlocked it, it was at 10% Downloading *-*

The first method worked for me, only I read it in the forums where it had less steps and didn't look so complicated from a glance :D

Just a useful note on this - the early steps (flight mode off > date forward 7 days > flight off > Update) also worked on my Surface Pro 3 that has recently been refusing to acknowledge available updates. (Already tried the clear cache, reset services, etc. fixes with limited (only some) successful)... so pleased this fix allowed both my desktop and mobile to update to [14951]

I have a Lumia 735, I tried all the steps but basically after getting to step 17 to turn airplane mode off my phone locks up whenever I go to settings. I reboot and all seems ok as long as i do not go to Settings

I see so many people on here endlessly complain and say Microsoft should do better. Frustration, if it annoys you then move off fast ring, we are on it to specifically to FIND these bugs. For me I find it very mentally stimulating unlike the boring rigid Apple ecosphere. For me in Australia on a 1520 it worked perfectly using steps to number 25.

My workaround is so simple - I just leave the Insider program...

That's quite a long list of instructions..... Will try it later

32 steps, are you for real?

Using the fastest option, it is downloading without changing the date at step 20. I'll see how this turns out!

Tried the first option, but nope. did the hard reset thing and it did work. pain in the ....

Tried it only once? I would have done it three or four times before I did a hard reset. Besides..this is the sort of thing you should expect being on the fast ring.

Steps 1-32 didn't work as I kept getting error message. When I applied the last 1-10 additional steps, it worked and I am on build 14951 now. Thanks to Windows Central, the best Windows 10 infotainment platform. I must give thanks to Daniel and the app developer.

Enjoy! Good to hear the guide worked for you. Thanks, Mauro

It seems like the key is getting the "your phone is up to date" message. I kept seeing the message saying "Windows Phone 8.1 Preview Env Bundle - OS 10.0.14951.1000" was available, so I started from step one and rebooted between every change. Switch to Slow Ring... reboot... switch to Fast Ring... reboot... and so on. I also set my date forward a month instead of a week because the five-day expiration period seemed to be starting a week from now since the metadata for the bogus 8.1 update was retrieved again while my phone was set a week ahead.

This is quite a cluster... I did the steps with only getting the error messages at different steps. It's downloading now and I am afraid...

It's not permanently set that way. It will refresh. I think I may have done a restart but I don't think that fixed it, it seems to have refreshed in time. Have some patience, it will be refreshed

I had to do at least two restarts and then perform the additional steps since I received the last error. Now it's downloaded, prepared and waiting for the final restart to perform the update. I'm still afraid of what this release could do (I.e. Break).

950XL updated! Thank you for witchcraft.
Outlook Calendar tile, however, is permanently stuck on 29 October. Does anyone else have a similar problem?

Solved. If change device locale and language to a language which is never used on this phone, and then toggled back, it fixed the calendar tile problem.

The update on my 950XL is OS 10.0.14951.1000 but the description is "Windows Phone 8.1 Preview Env Bundle. "8.1"???? Anybody else?

It is a Typo! Should be Windows Phone 10....

I followed the article here. http://www.winbeta.org/news/how-to-download-and-install-windows-10-mobil... The bottom part. I chaged the date to oct 27 and change insider to slow ring. reboot. check for update, it says up to date, then change to fast ring, and check for update, it is downloading 14951 now, (RS_Prerelease).

This. Worked. I nominate you to be a Windows Central article contributor.

Thanks' worked for me too!

5-day patience paid off.....14955 installed!

Thanks to whoever came up with this work around. Worked like a champ on our 1020 and 640.

Sorry to say (actually not!) that work around to force update is absolutely ridiculous. I'll wait.

This is awesome! It's like a cheat code

Method 1worked for me although I had to do the additional steps after the last reboot. Easy!

I guess I was lucky. I have never had any issues installing any of the fast ring updates on my Icon. Knock on wood!

I tried the 32 step sequence which didn't work but adding the additional 10 steps worked so my Lumia 950 with 10.0.14946 is in the process of installing the update. Glad that microsoft figured out the work around but never should have had to do this work aground. Don't they check updates before releasing them to see if they even download?

The FASTEST with ADDITIONAL STEPS worked for me on Lumia730DS with 10.0.14946. Now preparing to install - 20%.

Option 1 worked fine for me, however I've noticed another thing: Sine 14951 was announced, app updates on 14946 stopped working. I've had 7 pending updates the last 3-4 days. The updates reach 0.10KB and then stops and end up as pending. I managed to update to 14951 but the app updates are still pending and does not install. Lumia 950XL, Denmark.
I wonder if I'm the only one with this problem?

Have you tried restarting the update, pausing the update before it freezes and then restarting the update? It was a fix for that issue in a previous build.

ive tried the fast one but stuck with error 0x80242006 when it trys to update

I've tied the extra section and even on slow, it flags up the fast ring not your device is up to date

4th attempt now and its going thro,roll on 14951

Got it working. The key was patience. Need to connect to power outlet, turn airplane mode, disable automatically adjust date, change date to 7 days into the future, switch to slow ring or stop insider builds. Reboot phone. Connect to wifi. Check for updates. It should say phone is up to date. Change date back to correct date. Switch to fast ring. Update should work

I'm feeling lucky tonight. An hour ago I checked to see if update was on my Icon. It was, told me that next time the phone was powered off it would instal the upadate. I hit the power off button and in about 15 minutes thte whole update finished and took only 8% off the battery! No workaround needed. I'm on slow ring. Good luck to all!

Wow, so many people who have obviously forgotten what it is to be an insider. Sometimes things gets messy. Sometimes peoples phones bricks. Sometimes updates don't go as planned. This is what beta means, this is what you all signed up for. If you aren't willing to accept this then you simply should leave the insider program. It's not mandatory, it's an option to get beta builds. So why are you "all" whining so much and beating MS like this is the finale product, like this is the newest and thereby the best? With preview builds you get the newest and the most UNSTABLE builds. How is this so hard to get?

Tried all the methods but it still gets stuck at the error message. Can't get it to download... I guess I will have to wait for 5 days, or something like that

Great! Thanks. I got it at step26.

Ek baar me update dena nhi ata hai

easiest way -turn off your Window insider 1 day off
Check for update
Your phone will say up to date
Go back to window insider and resume
Check for update again
It will s start downloading...
1520 the beast enjoy

Insider, fast=risks, many. Stop complaining... Nobody forced you and those risks are stressed very clearly. I'm from a time when a bricked phone was a bricked phone, period. Now 99.99% of "bricked"phones get good just by doing some shenanigans at home. Don't use fast insider in your day life phone, there. That's why some people have good jobs and others don't. Some people just lack the ability to endure, to learn, get screwed, and get up again. The ******** lvl is over 9000... Even when a solution is offered.

Still don't understand why people who simply observe that not even being able to load an update means you can't give feedback on it get super down voted by the MS-can-do-no-wrong folks. Sure, Insider means taking risks, check. But if I can't even carry out an update, how am I supposed to give feedback on it? Especially on this one which seems to have affected tons of people. Is it a bad thing to point out that MS could do better?

No it's not bad but people just seem to assume because of an issue it's all bad, which isn't the case and when I think of all the different apps and phones these systems have to run on it is no surprise it takes a while to sort when there is an issue. Negative feedback is good if done with understanding not just for the sake of it. Look how quickly a work round was issued while it is investigated.

i didnt get any changes for my camera app after update Posted via the Windows Central App for Android

Solved problem with Outlook Calendar. Go to Airplane mode, Date and hour, auto off, set in the future, set to actual date, back to auto mode and Airplane mode off. Works on my 930 ☺

Downloaded successfully after following the steps. Fantastic, really made me feel I was part of a progressive programme. The phone works great with the new update on my Lumia 950 and I haven't experienced any bugs. Everyone look at all the good bits instead of the issues, these build are moving forward.

I followed through with all the steps and everytime it's about to start download it stops with error 0x80070057. Also my calendar tile shows the wrong date. Anyone with the same problem?

I'm facing the same error. Hopefully someone will find a way out of it.

Had the same thing on my Icon

have to try the workaround
as since last build edge is crashing on phone Lumia 950

Updated yesterday. This build works like a charm on my 930 :) Also, the battery life has improved twofold.

I can't update my windows 630 with 8.1 to windows 10

See how windows 10 mobile fails.always!!!its a piece of junk!

I just updated to build14951 but the camera isn't updated nothing is....and I still get error when pressing on update button

Wow the FAST option isn't as long as I thought after first reading it. Working for me on my 1520. I just can't wait until they fix the long boot bug. For those hesitating to try it, I highly advise you give it a try.

I'm not sure how, but after doing the FAST option above and updating to 14951 my phone no longer sticks at the Windows logo. I tested a few times to make sure. So I'm very happy...so far.

Just update it with fasted work around work PERFECTLY all apps working , fixed edge crashing , is faster as well !!!! On Lumia 950

Used the 5 day forward, slow/fast method, worked

Anybody having issues with Cortana on this build? She keeps telling me she can't connect to a network but I'm obviously posting this, so I do have an internet connection... (1520)

I just checked on my 1520 and it works fine was even in sync with my Xbox One.

I hate this build. I am trying for three days to successfully install it and nothing.

After seeing 32 steps I said fug it and tossed her into the trash.

I'm stuck at 0% on the 14951 RS PRERELEASE on ATT and if I connect wifi or LAN it fails with error to retry

I finally did a reset, the update then installed and the phone now runs like a dream 950XL

My Lumia 630 is not updating to the Windows 10 it is showing that my mobile is up to date if any one had same problem and updtaed to Windows 10 please help me too to get the anniversary update

Had problems installing new build on three phones, 1520, 740 and 950XL. Instructions worked like a charm, I have installed update on all three phones. Only problem the past 24 hours has been battery, it lasts less than with the previous build. Cortana's Home and Notebook Pages are not working either. Home page is empty. Notebook page freezes when selecting any item.

in case od error 0x80242006 .. just go to sd card .. find WUDownloadCache and clean its inside :) it worked for me

Best way :- If it get stuck at 0%, let it stuck ! Because, upadate is downloading. And how will you that if it is downloading or not ? Follow the steps for every minute or two :- 1. Go to Settings. 2. Tap on Storage. 3. Go to This Device. 4. Wait till it loads then tap on Temporary files. There it is ! Pending updates and preview build, and below that the size of downloaded update. If it gets increasing then your update is downloading. Dont know what is its actual size but be patient. Thank you!

I adopted the same procedure of 25 steps but in vain 650

I've tried all of the steps listed above on my Microsoft 950X with no luck. But, I was able to get the 14951 update to download after completing the following steps: 1. Go to "Windows Insider Program".
2. Click "Stop Insider Builds" ​It started updating after the above steps.
Windows Central Newsletter
Get the best of Windows Central in in your inbox, every day!
Thank you for signing up to Windows Central. You will receive a verification email shortly.
There was a problem. Please refresh the page and try again.