How to use Live Tiles in Windows 10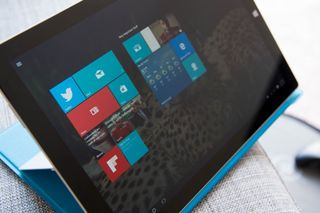 Live tiles in Windows 10 display information that are useful at a glance without opening an app. For example, the News tile displays headlines while the Weather tile displays the forecast. You can rearrange, resize, and move these tiles to make them work better for you. We'll show you how.
How to pin tiles to Start
Pinning tiles to Start is very easy. Right-click an app in the app list and then tap or click Pin to Start. Alternatively, you can drag the app from the list and drop it in the tiles area. If you're using the touchscreen, tap and hold the app from the list, and then drag it to the tiles area. To remove a tile, right-click and tap or select Unpin from Start.
How to resize tiles in Start
You can resize live tiles to your liking. There are four different sizes available: small, medium, wide, and large. However, some apps only have three sizes as it is up to the developer to enable the large one. Right-click a live tile > Resize, and then select a size. If you're using a touchscreen, tap and hold a live tile, tap the ellipsis on the lower right corner, and select a size.
How to move tiles in Start
As you add more live tiles in Start, you'll want to move things around and even organize them into groups. To move a tile, just drag them into place. If you drag a tile all the way to the bottom of Start, a new group will be created. You can name the group whatever you want. To add a name, click or tap above the group. If you're using a mouse or trackpad, hovering above the group displays "Name group." You can also move a whole group of tiles by dragging the two lines next to the group's name.
How to turn off live tiles
Live tiles can be handy, but it's good to know that you can easily turn them off. You just need to right-click on a tile, and select Turn live tile off.
If you think this guide is helpful, we have many more posts like this one in our Windows 10 help, tips and tricks page.
Thanks. I did not know about how to move whole groups of tiles. Very helpful and good to know.

Since we're speaking about live tiles, when are we getting interactive live tiles? Seems like eternity. Live tiles are such a unique thing and MSFT is ignorant not to take it to next level. Instead they want to make OS more 'familiar'.

Dont forget its all about the 20 year old start menu.....

A wall of icons easily pre-dates the start menu.....

What sort of interaction are you after please?

For example, Music controls on Music tile. And so.

Instead they want to make transparent tiles.

They want ot make ALL TILES transparent, and make it feel like it's just a background with a square mosaic in its front.

I like the transparency because I've got a background for a reason. I want to see it.

I remember that they discuss/mentioned it during the some of developers event during Build, not the keynote.
The problem is that there is no official public announcement that they will do it, so I'm kind of skeptical too if it will come or when.
Most probably only on Redstone update. I believe that the upcoming October update would not be as big, so we have to lower our expectations. I hope that they will deliver it soon. Interactive Live Tile is the next evolution of it and makes the Live Tile become more useful for virtually to anybody.

I want an option that forces a "flip" of a live tile. Maybe even an additional option that turns them off until you manually flip them. I look at the weather app a lot and get a little annoyed waiting for it to flip over. Why shouldn't it be available immediately? Why does it always have to be on a timer? It reminds me of watching the Blair Witch Project in the theater with the entire audience staring at a completely black screen while nothing is happening. That's when I truly felt like a sucker :P

Yea good idea, like double tap to flip or something

Simple solution: Don't. :) Kidding aside, I had to send my Surface 3 back to 8.1 because pretty much ALL of my Metro apps would either glitch or not work at all. :(

I can't go back to 8.1. Really liking Windows 10

I like it, too, but I use Metro apps a lot, and they are really not reliable right now. I'm waiting for Threshold 2.

Wondering if you have the same issue as me... do some of them not make it to/past the splash screen? Did you check the event viewer applications log? An example: Activation of application Microsoft.AgeCastles_8wekyb3d8bbwe!App failed with error: The app didn't start. See the Microsoft-Windows-TWinUI/Operational log for additional information.

Mine either get stuck loading or crash after a few minutes. Mostly games like Solitaire and other Microsoft made games. I also had touch screen issues with ghost tapping with Windows 10.

Did you do a clean install of 10?!

Best to clean install. Just do into settings>backup and restore and delete everything and reinstall windows. Everything works a treat after that. Obviously you have to reinstall everything but it's well worth the time and effort.

One thing I noticed was you can't select more than one app at a time to move unless you select an entire group. It took me forever to reorganize my live tiles. Why couldn't it remember how I had it set up on Windows 8.1?

Same here, I took me half an hour to set my live tiles as they were.

I'm glad that I don't use live tiles having read this.

On the plus side, they fixed the wrap gaps issue where it couldn't fit in the small tiles.

I'd like to get about 5-7 tiles to dispay content. I have 3 computers on Win 10 and Weather works on 1.

Yeah, I don't know what is the problem with Live Tiles on desktop: they've never worked. They've always worked well on mobile, and now with Windows 10m, they are following in desktop footprints. Tiles go static, tiles revert to default. I cannot believe that in almost 3 years, they haven't fixed them, and now they're breaking them on Windows Phone.

People and calendar tiles do not work anymore.

People app still pre-alpha. Don't expect it to have a Live Tile.
That app hasn't been mentioned from most sites and even Microsoft themselves because of current sorry state still got. Its useless and infinitely ugly. About Calendar tile, try turn off the Live Tile and turn back on. You have to try on Medium size tile at first. Large seems not working generally in Windows 10.

Hey have a question...how do I horizontally arrange my tiles...? I want the start to look similar to win 8.1... No matter what I do, a new title bar wont pop on the right side of the start menu...its always vertical, below the existing set of tiles...
Also, am not able to pull the start and resize it to become bigger...are all these bugs or something??

People did not like the horizontal scrolling in Windows 8. That was one bit of feedback that was received that they acted upon. They told Insiders early on about this. That's a big reason why Panoramas are being deprecated: desktop uers only want to scroll vertically. And I can understand that; most desktop mouse/trackpad drivers are broken/crippled and cannot scroll horizontally.

Oh...well that sucks...but for ppl with touch, it would be a nice option...what about the article pic...? The surface looks like it has space for more tiles on the right...also doesn't explain why I can't resize my start menu ... :/

I struggled with resizing my start menu but I managed to do it with the touchpad on my Surface by hovering by the right edge with the mouse pointer until it changed then I could click and drag it to the left, took me a while to spot that one... the surface pen can't do that action apparently!

If you hold your tablet it's so easier to swipe vertically with your thumb (bottom/top/top/bottom) instead of (right/left). I think. And yes you can resize your Start Menu.

Resizing works fine on my laptop, but you have to drag out a full row at a time.

Elementary, my dear Watson :p

I want Live Tiles on my desk top, not in the start menu.

Seriously - why have they not though of this yet? They had widgets before...feels like a logical next step to have interactive file/folder icons that can do more.

Put it in tablet mode. Full screen start menu with your live tiles,

You don't even need to put it in tablet mode. Full Screen start menu works in desktop mode to; it doesn't change how it works unlike tablet mode. It's in the personalization options. In fact, I use it myself; I'm 100% desktop user and a video editor. I actually love the fullscreen menu much more than regular.

The best thing we can have is to turn on the Start screen. Though it doesn't auto-open on startup and doesn't auto-open when there is no apps in the desktop.

they dont scroll sideways anymore:(

Anyone tell me how to clear the Live Tile Cache in Windows 10? In 8.1 there was the option in the Settings swipe in menu but in 10 no sure thing! I could be missing something obvious but just thought I would ask

Not in front of a Win10 machine at the moment, so this is from memory... Right click on the Taskbar Properties Start Menu Tab Clear Personal Info from My Tiles - Click Clear Button

Many thanks for replying....I have had a look and my Properties dialog box does not show a Start Menu tab sadly :-( I have a clean install of Windows 10 with all the updates applied and everything thing else I can handle... just the odd tile needs a cache clean!

Still waiting for the Start Screen to return to its former glory. Live Tiles aren't nearly as fun when the Start Screen is in shambles. :(

And how is it different? Only the scrolling and now there is a limit hoe many tiles you can pack on each column. After that everything is almost the same.
You want it full screen? Then go to settings -> personalization -> start something (don't know in English) -> and you turn full screen start menu on without going to tablet mode.
The app list while not full screen it display things on folders which is good. Install apps like 3dsmax, vray or anythin like that. On windows 8 it was a pain yo scroll through that. While windows 10 puts it in a folder you can expand. So to me that's better and its a thing that would looks strange if it acted like windows 8.

It's still extremely different. I'm limited in ho many tiles I can put across, I can no longer have large Tiles besides each other. I could look past the scrolling issue, if it weren't for the fact that OS now strictly limits me in how I place my tiles. Only three mediums across? Ridiculous. I like the 8.1 Start Screen because it was extremely flexible in how I could place my tiles and my content. I'm not saying it was perfect (It wasn't), but it's also a lot better than the current full screen Start menu in 10. For example: I can no longer simply swipe down to see All Apps. I now must click a hamburger menu, then swipe down, then see all my apps (And in a side view, and not the gorgeous full screen view that I appreciated before). Another reason I find fault: Cortana is AMAZING, don't get me wrong. But the new Start Screen is very inconsistent in whether or not typing begins to search for you. In Windows 8.1: Typing from anywhere on the Start Screen would immediately begin searching, without fail. Now in 10, unless Cortana is selected (And she's very easily unselected with an action as simple as clicking on the abundance of blank and wasted space now found on the Start Screen), nothing happens. It's frustrating because I then I have to reactivate Cortana, and THEN start typing again. Yes, keyboard shortcuts exist, but it's still an extra step compared to before, especially since it's so inconsistent. The new Start Menu is fantastic, and I'm happy for those who like it. But I've tried it, and I still prefer the Start Screen. But the Start Screen has been butchered in 10, it's not nearly as aesthetically pleasing as it was in 8.1 (Which is really saying something, sine Windows 10 is a GORGEOUS OS), it wastes a lot more space, it's less customizable, and overall leaves me feel like I'm missing out. I don't like it, and most others don't like it either. And since it has to be activated deep in the settings and/or appears during Tablet Mode only, Microsoft literally could've just kept the exact same layout and functionality that they had in Windows 8.1 (With some minor cosmetic changes to match Windows 10 design), and I feel everyone would've been happy. Everyone who wants the Start Menu would have that, everyone who wants the Start Screen would have that. I love Windows 10 from a desktop perspective, but it does feel very lacking when compared to 8.1 from a tablet perspective.

I agree 100%. This is the reason I'm sticking with Windows 8. I can't stand the new layout...it feels awkward and limited. It makes me sad lol

You mean the same way as windows 8. I wish windows phone had a way to stop interactive tiles the same way as win10 and 8.
But anyway I haven't used live tiles in a while, only sports one but since I installed windows 10 I haven't opened the app so np way to get it.

Yeah, on WP I'm forced to resize to the tiniest icon to disable live-tiles because the app doesn't have a setting to stop it. I think it's a bit ridiculous we can't just disable them for any tile we want.

My Weather tile broke again :( It wasn't working all during the insider builds, did a clean install and it worked for about 5 days and crapped out yesterday. Boo.

One thing I was hoping would make this first run is Live Folders (like on Windows Phone). Here's hoping folders will be there in the Fall update.

Yes! Live Folders is a must!

Didn't liked the fact that I can't use two large tiles side by side, or two wide tiles side by side. On Windows 8.1 we were able to rearrange tiles the way we liked, now on Windows 10 we can't. Now I have a big empty space because I'm using large tiles and wide tiles in two different columns. That's ugly.

Im having the same problem on my tablet. Theres no point in live tiles if I cant see them. I have to scroll down to see my large tiles now. I want Windows 8.1 start screen back!!!

This is the problem with new Start screen/menu in Windows 10. The groups aren't flexible horizontally. You are forced to have to fit everything in 3 columns.
They really should make it flexible in next update. Also high-density tile should be an option. More tiles in the Start screen needed.

I have to agree 1000%. Not being allowed to have 2 large tiles next to each other is ridiculous. It looks so strange to have this huge space between 2 groups. Especially in portrait mode. They have to change it: As much tiles as you want vertically in one group, at least 2 large tiles.

"Now conveniently all hidden and sleeping under the Start menu!" Come on, let users pin their favorite tiles to the desktop, MS!

Absolutely. This seems like such obvious common sense. If I have a news or weather Live Tile, it doesn't do me any good on the Start menu where I will never see it unless I open the Start menu. That defeats the whole point of Live tiles that give you the information continually as they update.I want to put them on some part of my desktop. OK, I get it -- on a laptop, maybe you don't have any open space. But for users with multiple or large monitors, it's common that part of the desktop would remain visible, especially if there can be a few Live Tiles showing important information.

How do I add headings for menus to my tiles

It tells you that in the article already...

Hopefully they fix the bug where some large tiles never update.

Yeah. There is still a massive bug in Live Tiles. Most of my Tiles don't update pr remain static. :(

Hope they fix the bugs so it'll be easier to pin and organize. Hope they fix the bug so you can select more and resize more at the same time. Hope they fix the bug where you don't have the same order of tiles in start menu and in tablet mode. Hope they fix the bug so you can delete more than one email at the time. Hope they fix the bug where you can actually draw without activating typing in Onenote, hope they fix the bug so apps dont freeze when your computer sleeps. Hope they fix the bug where borderless windows are truly borderless. Hope they fix the bug where you think you got notifications becuase your computer tell you have even though you've turned them off and there's really nothing in there..... Hope they...... Oh wait.... Nevermind.... I'll just go back to Windows 8.1

When pinning a webpage to the start screen the tiles always look the same and are either small or medium sized. Windows 8.1 gave the option to re-title them too but 10 just calls them what it wants and you seem to be stuck with that.

Anyone have issues where tiles wont pin until logging off and back in?

Theres no uniformity on the live tiles on the win 10 and mobile also the right click on desktop and start menu.

My calendar live tile is not working properly, I've tried turning the tile off and on but it doesn't work, any suggestions? It doesn't show me the date, I'm using a Hp stream 7

Idont have windows 10 with full screen insteada cropped one.no one helped me resolve this.

I use Start Screen rather than the Start Menu! Love it! :)

1 at the time, 1 at the time.... Everything so timeconsuming!

Anyone have duplicated apps in windows 10? I have a 2 copies of Weather and OneNote and I can't remove the copy. When I click on it it just opens the store. Also, why has the "live" experiance gone down since 8.1? On 8.1 I had lots of active live tiles, now even the windowsCentral app isn't live.

I never understood the hate for live tiles, even now with the start menu back there are those who want to complain about them (head over to The Register, where they will swear Microsoft should have shuttered development of new Windows when the built XP).

"Weather, Facebook, News, Mail,Twitter neither of them is showing me any info in live tiles ( live life is turned on) ... "
They should also have shown some info on lock screen like:
Playing song (with next/previous play/pause, album art )
Weather
mail info( depending on user defined privacy settings) Help will be greatly appreciated :)

I want the live tiles on my desktop all the time. I would like to see them switch and leave the start menu up as default and desktop as the switch too!

I also want to see the live tiles all the time, or as Holly said, have the option to switch to the start menu......

How come the very first paragraph of this article says the Weather tile will show the forecast, yet neither the Weather tile on my PC, nor the one in any of the screenshots in this article, show the weather forecast??!! I guess that's really a feature in some future version (or some "past" version).
Windows Central Newsletter
Thank you for signing up to Windows Central. You will receive a verification email shortly.
There was a problem. Please refresh the page and try again.