How to uninstall the Your Phone app on Windows 10
If you don't have a use for the Your Phone app, it's easy to remove.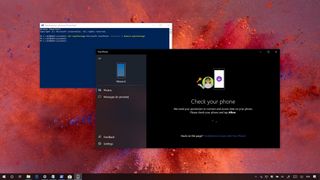 On Windows 10, Your Phone is an app that allows you to connect to your mobile device wirelessly to access your pictures, notifications, and text messages.
The built-in app is available beginning with the Windows 10 October 2018 Update (version 1809), and while it's an interesting approach (but not unique) to integrate your phone with your computer, it's still a work in progress with missing features and functionalities, and currently, it only allows you to link your Android device.
If you don't have a use for Your Phone, you're experiencing problems, or you're an iPhone user, it's possible to uninstall the app.
In this Windows 10 guide, we'll walk you through the steps to uninstall the Your Phone app. In addition, we'll outline the steps to get it back in case you change your mind.
How to uninstall the Your Phone app using PowerShell
If you want to get rid of the app, or you're having problems, and the reset option doesn't work, you can uninstall it using PowerShell with these steps:
Open Start.
Search for Windows PowerShell, right-click the top result and select Run as Administrator.
Type the following command to uninstall the app and press Enter:Get-AppxPackage Microsoft.YourPhone -AllUsers | Remove-AppxPackage
Once you complete these steps, the Your Phone experience will be removed from your computer.
How to install the Your Phone app using Microsoft Store
In the future, if you want the app back, you can reinstall Your Phone using the Microsoft Store with these steps:
Open Start.
Search for Microsoft Store, and click the top result to open the experience.
Use the search box in the top right, search for Your Phone

(opens in new tab)

, and click the top result.
Click the Install button.
After completing these steps, the Your Phone app, will be available again in your installation of Windows 10.
If you need assistance setting up the app again, you can use our guide that walks you through the steps to get started with this experience. Also, if you come across any problems or you have questions about the app, make sure to check out this other guide with troubleshooting steps and information you need to know about Your Phone.
More Windows 10 resources
For more helpful articles, coverage, and answers to common questions about Windows 10, visit the following resources:
Windows 10 help, tips, and tricks
Windows Central Newsletter
Get the best of Windows Central in in your inbox, every day!
Mauro Huculak is technical writer for WindowsCentral.com. His primary focus is to write comprehensive how-tos to help users get the most out of Windows 10 and its many related technologies. He has an IT background with professional certifications from Microsoft, Cisco, and CompTIA, and he's a recognized member of the Microsoft MVP community.
Windows phone users take note

Yeah, sad how it's completely useless for Windows phones. And they said you don't need it because windows phones somehow already have those capabilities.

I guess removing this does not damage any of the integration with Windows Phone? Just checking because I've not done the update yet due to all the reports of it being of shonky construction. Waiting for everything to be fixed and well tested first. This app is just for Android, right? I do wish MS didn't make uninstalling packaged bloatware like this a command line thing. Good grief, may as well use Linux if this is the way Microsoft is going...

Yes its just for android users, as many Windows Phone users are aware that we have native integration which works using the live/outlook accounts and does all this and much more things with ease so WM10/WP10 users don't have to bother about any of this.. the windows mobile / phone users connection to windows will supersede all other platforms/devices that do not have native support because they are not running the same platform/code base nor have proper integration so rest assured cause your windows devices sync will not be botched by some app meant to provide support for other platforms.. it's simply an addition that is there to help other platform users to have some of those sync features : )

Take note of what? my Windows 10 Phone is always connected with the PC and it doesn't need some app to do this.. android users were given an app to do this process cause they don't have the native integration to Windows which is quite obvious..

Take note of how to uninstall. I'm on your side.

Even though the app is incomplete, I still find it useful

Honestly the Dell version of this app is far better and works more seamlessly. I found the windows app to miss texts and notifications often we're as the Dell version just works and works better.

I can see iPhone being awesome with this app, but it's also annoying that iPhone is so locked down to Apple's insanity. However, I hate Google more. Hoping someday this app becomes useful to me as an iPhone user.

The fact that you think of plattorms in terms of hate Intensity towards the company that develops it is pretty sad. Then again, that's why Windows Phone flopped, cause of people like you who hated Microsoft and therefore wouldn't bother giving their platform a chance - no matter how good it was. Touche.

Removed previous comment... cause I had a senior moment... lol ;) So I had tried this and it wouldn't work and tried a few more times to make sure... then I realized.....duh...Windows PowerShell --- "Run as Admin"

I just tried to run the PowerShell script they gave in this article. It failed with this error: Get-AppxPackage: The 'Get-AppxPackage' command was found in the module 'Appx', but the module could not be loaded. For more information, run 'Import-Module Appx'.
Windows Central Newsletter
Thank you for signing up to Windows Central. You will receive a verification email shortly.
There was a problem. Please refresh the page and try again.