How to use My People in Windows 10 Fall Creators Update
My People gives you a quick and easy way to communicate with a handful of your favorite contacts.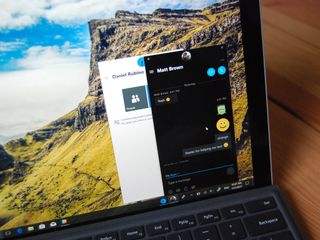 We all have a handful of people in our contacts list that we communicate with on a daily, often hourly basis. To help stay in touch with those people, Microsoft introduced a feature called My People in the Fall Creators Update. It lets you quickly send a message, Moji, file, or other form of media with just a couple of clicks. Let's take a look at how all this works and how to get it set up for the first time.
How to set up My People
My People comes mostly set up with the Fall Creators Update. All you have to do is click a few buttons to get it all started.
Click the People button in the bottom-right corner of your taskbar.
Click Get started.
You should now see a window that includes your connected apps. In our case, all three apps were connected by default because we'd signed in to them in the past. If you've never signed in, you'll instead see Click to connect this app below the app's name. If so, click each app to connect it to My People.
How to pin contacts to your taskbar
Up to three contacts can be pinned to your taskbar for fast access.
Click the People button in the bottom-right corner of your taskbar.
Click Find and pin contacts.
Click a contact.
You'll now see the person's avatar in the taskbar. From here, there are many more features available.
How to merge multiple contacts
If you have more than one contact for one person, say in the case of a Microsoft account and an Xbox Live account, you can merge them into one for easier communication.
Click a contact's avatar in your taskbar.
Click Combine duplicate contacts for this person… A new windows will open in which you'll be able to see all contacts associated with this person.
Click Choose contact to link.
Click a contact.
Click the checkmark button once finished.
All information about the person will now be contained in one contact.
How to use Skype through My People
Skype is one of the driving apps that makes My People work. Here you can send messages and start calls without opening the full Skype app.
Click a contact's avatar in your taskbar.
Click Skype.
Type a message and hit Enter on your keyboard to send.
Click the Call button to start a voice chat.
Click the Video call button start a video chat. Ours is greyed out here because we have no webcam connected to the PC.
You can also launch the full Skype app from here.
Click the More options button.
Click Launch Skype.
How to send Mojis through My People
One of the coolest things about My People is the ability to send animated Mojis straight to your friend's desktop.
Click a contact's avatar in your taskbar.
Click Skype.
Click the Insert icon or Moji button. It looks like a smiley face.
Click a Moji and hit Enter on your keyboard.
Once sent, the animated Moji should appear above the pinned avatar for a short period of time.
How to use Mail through My People
Need to blast off a quick email? You no longer need to open the full Mail app.
Click a contact's avatar in your taskbar.
Click Mail.
Click the New button at the bottom of the window. It looks like a plus sign.
Type an email message.
Click Send when finished.
Your email will now be sent, and you'll be able to see a list of recent emails in the Mail category within My People.
How to share files through My People
Once My People is set up, you should see your pinned contacts when you right-click a file and click Send. This feature uses the Mail app.
Launch File Explorer from your Start menu, desktop, or taskbar.
Right-click a file.
Click Share.
Click one of Your People.
Click Send.
How to remove a contact from your taskbar
Windows 10 only lets you pin up to three contacts to your taskbar, so if you'd like to remove and replace, follow these steps.
Right-click a contact pinned to your taskbar.
Click Unpin from taskbar.
At this point, any other contacts you've attempted to pin to the taskbar while you already had three pinned will automatically fill the cleared spot. If you haven't attempted to pin any others, an empty spot will remain.
How to change My People settings
From here you can tweak a few settings to do with My People.
Click the People button in the bottom-right corner of your taskbar.
Click the See more button.
Click People bar settings.
Here, near the bottom of the page, you'll find three toggle switches: one that shows or hides contacts on your taskbar, one that shows or hides notifications from Your People, and one that turns on or off a sound when a notification comes in. To change any settings, just click the switch.
More Fall Creators Update resources
Windows Central Newsletter
Get the best of Windows Central in in your inbox, every day!
Senior Editor, Laptop Reviews
Cale Hunt is formerly a Senior Editor at Windows Central. He focuses mainly on laptop reviews, news, and accessory coverage. He's been reviewing laptops and accessories full-time since 2016, with hundreds of reviews published for Windows Central. He is an avid PC gamer and multi-platform user, and spends most of his time either tinkering with or writing about tech.
Will they put more apps to integrate with My people?

Most noticeably absent from My People support are many of Microsoft's own properties, both consumer- and enterprise-focused... e.g. Outlook, Skype for Business, Teams, GroupMe, Xbox Live, LinkedIn, etc.

I cant help but feel this My People app needs to be "richer?" It needs to be more well thought out because the way it currently is, I might as well pin the standard People app to the task bar ..click on it find a contact and either send them message or mail and it will probably take the same amount of time.

My Exchange and Outlook contacts appeared in My People, but I couldn't link them with Skype. Only some of my Skype contacts are accessible to My People. Seemed like a very buggy alpha version to me.

This. Skype works horribly on Windows, so this feature is basically just for mail. Make Facebook integrate Messenger with this, and it'll be a hit. But this way, totally overrated.

Quick tip for everyone that likes to use People, add a Bot to skype and pin it to your taskbar so you can make more use out of that functionality. I pinned the Bing News bot, quite awesome and helpful!

It way to complicated and ugly. Just open Skype and sent to everyone... To manage your hotmail contacts from people app is a nightmare. I have 4-5 same contacts for the same people. I use Skype for sms via windows phone and appears double contacts even I have link them...

Before they do I think they need to do a better job of managing contacts in Windows 10. For instance my Sister has 4 duplicate Skype listings and they all needed to be merged, which is separate from her Outlook contact entry which was also duplicated twice. If Microsoft ever wants to bring an Ultra-Mobile PC with Telephony to market they need to radically fix the People app, make it easier to delete, edit, or combine Skype contacts, then start pushing for other devs to support My People.

Don't. Who built this half-baked junk anyway? Why isn't XBOX LIVE messaging included out of the box? So much potential wasted because of burnt bridges and locked down 3rd party networks.

It's a shame that My People works really badly in Tablet Mode. Microsoft needs to improve the experience in this area, it's almost unchanged since W10 launch.

Notifications badge and fly-out emoji never worked on my SP3 and home PC (no reaction on my feedback in hub).
Contacts suggestions are mess. Files D'n'D on photo doesn't share via Skype.
Pretty useless feature for me (Skype is alway opened), only takes space, so turned it off (won't try to reinstall Windows just for this feature and tired to send feedback into the void)

OT: That emoticons thing u can do.. That Windows key + . Combo to make the emoticons screen pop up. I have a laptop where it works and 1 laptop where it doesn't work, why is that? Or is that a bug?

Known "issue" with the FCU, mentioned in the WC article today It will only work if your keyboard is set to EN-US

Ah thanks, yeah the one where it does not work on is my work laptop for when im on the road, so it makes sense :)

@BonzeUK, also works with Dvorak keyboard, but could still be limited to US, not sure beyond Dvorak and Qwerty.

I disabled My People right off. I use live tiles.

I dont get this drop down option to select which mail box the people app uses to send email. How do I get it?

If u mean selecting from which email address that is yours to send an email with?.. It should give u that option when hitting that + for new mail. It then shows all your email addresses u have. Same when u use the share button on web pages or apps or whatever. If u mean which kind of mail besides outlook, it has to be supported and connected in that feature.

I dont see it for some reason. I have my outlook account and my work office365 account connected but by default it only lets me select the work account when i click the + for a new mail. Im on the insider preview btw. May be its broken here. Do you have it in your mail app as well?

Everything is showing up for me and im not in the insider preview. I have all my email addresses edited and linked under my own name in the peoples app. U can try to do that.

I would love to be able to send a text using the people hub now that Cortana is integrated. My ultimate dream would be able to compose any text message and be able to send it through various apps ( whatsapp, kakao, snapchat..etc)

Until they get some big name integrations, at least for me I don't see the point. If they can get other big platforms to add support Fb, Whatsapp or others, My People would become an invaluable tool. Only today I was looking for some sort of universal client and I hope this becomes one. I'm sick of having too many chat apps.

Have you tried "Wire"? Great stuff as it was created by the Microsoft people that created and designed Skype and left to form their own company. It works great!

Sorry when I said universal I should of said multi protocol. Wire is just another chat app.

My experience of using the Skype functionality via the People app has been poor when i comes to sending Emoji's. What i send it the proper Emoji and what i get back is a word in brackets i.e. (hungover) (giggles) (gift) etc this is when used with the UWP app Screenshot - http://1drv.ms/i/s!AtVYyANQdUC5kfRw02KVFn4gBbTTxg If i use the Skype desktop app i receive Emoji's in the form expected

Now if I could get the people app to not close as soon as it opens.

WhatsApp, Facebook Messenger and Twitter integration is mandatory. Otherwise is just another useless Windows 10's feature. #TooComplicated #FAIL

Since the most recent People app update some of my Skype contacts have disappeared, including the contacts that I pinned to the task bar. Has anybody else experienced that? Does anybody know a solution?

I had that with skype, fixed it by logging in by going to Skype via web browser where all contact are still showing. Somehow the missing contacts popped up again. Was an old solution but it worked for me.

How did you get to your contacts in Skype.com? I've gone there, logged into my account, but don't see any place where there is contacts.

I wish I can connect Hangouts to it.

Contact duplicates are bothering me so much. People app across devices and platforms sync so badly. I created test contact on android and it created two profiles. When I sync it brought back contacts I deleted. I am sure they are working on it, but it is annoying. I worked also love to be able delete Skype contact and put Skype name on my outlook contact to create one. I know I can merge them, but I don't feel this as comfirtable solution.

which apps are crurently supported to my people in Windows 10.

So i am having a complete terrible experience with this feature. Skype messages don't arrive at the recipient i'm sending to, and supposedly my Telegram/Unigram contacts are combined with their regular contact information but My People gives me no choice to use Unigram to message at all. I don't understand why Microsoft can't get on the ball with being able to text message through the computer the way mac users can do it. Why does it have to be so complicated with them... (and venting complete!)

Got a question about using Skype with My People. I've got My People set up on my PC. My wife is the contact I've pinned to the taskbar. I've got People, Mail and Skype set up. I click on Skype and get this:

Insufficient Skype Credit

Huh? Does this mean that the only way I can use Skype via the My People is if I initiate a Skype call? Why can't I just send a Skype message?

I'm experiencing this same issue. It was working fine for a few weeks after the update, but now I can't use the pinned contact, because of this message. I have to open the full skype to be able to just chat with my wife.

I wish Microsoft took serious initiative to figure out a solution for contact management. It is such a mess right now with the People app, knowing what's really working with Outlook, Skype, Mail app, Outlook.com, etc. I honestly don't know where the best place to edit contact info is. If it I edit it in Outlook desktop app, it seems to sync well with Outlook.com but People app has vastly different UI elements. Using Outlook.com's Birthday calendar feature is a total hit-or-mess depending on which app you use to create a new contact or add birthdate info to. To top it all off, Microsoft seems to be making it impossible to add pictures to Contact profiles. How do Mojis even work if the contact I send it to doesn't use Skype? Does it fall back on a Microsoft Account-linked email address? What if I have a contact's email address that does not match their Skype account nor their Microsoft account email address? AND how did Apple seem to have figured this out with iMessage...it seems so seamless at their end. /endrant hehe
Windows Central Newsletter
Thank you for signing up to Windows Central. You will receive a verification email shortly.
There was a problem. Please refresh the page and try again.