New Windows Defender Security Center features in Windows 10 Fall Creators Update
These are the most exciting features and improvements with the Windows Defender Security Center in the Windows 10 Fall Creators Update.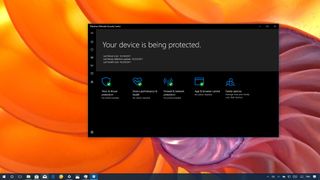 The Fall Creators update (version 1709) is finally available and gradually rolling out to millions of compatible PCs around the world. Along with all the new features and changes, this release also introduces new security enhancements — just in time to fight back the recent increase of malware and cyber attacks targeting Windows 10.
In this new version, Microsoft is focusing on making Windows 10 more secure against ransomware with "Controlled folder access," and it's attempting to help organizations, as well as regular users, to mitigate vulnerabilities before a patch becomes available through Windows Update with "Windows Defender Exploit Guard."
In this Windows 10 guide, we give you a closer look at the new features in the Windows Defender Security Center app included with the Fall Creators Update.
Controlled folder access
Starting with build version 1709, Windows Defender Antivirus introduces Controlled folder access, a feature designed to add an extra layer of security to protect your files against malicious programs and threats, such as ransomware.
When enabled, the new security feature monitors the changes apps make to your files stored in specific protected folders. If a blacklisted app tries to manipulate a file, controlled folder access will stop the attempt, and you'll get a desktop notification about the suspicious activity.
Windows Defender Antivirus protects the Documents, Pictures, Movies, and Desktop folders by default, which are locations that you can't change, but it's possible to include additional locations, such as from external hard drive, network shares, and mapped drives.
Although most of the apps you use on a regular basis will be allowed on your system, if one of those you trust gets blocked, Controlled folder access also includes an option to whitelist the app to enable it to make changes in the protected folders.
Enabling Controlled folder access
Controlled folder access comes disabled by default, and you'll need to enable it manually, Navigate to Windows Defender Security Center > Virus & threat protection > Virus & threat protection settings, and turn on the Controlled folder access toggle switch.
Adding new locations
If you need to add more locations to monitor, while in the Virus & threat protection settings, click the Protected folders link, and then click the Add a protected folder button to include new locations.
Whitelisting apps you trust
In the case that one of your trusted apps gets blocked, while on the Virus & threat protection settings page, click the Allow an app through Controlled folder access link, and then click the Add an allowed app button to add the executable for the app you want to allow.
This feature only works when Windows Defender Antivirus is your main security software; if you're running third-party antivirus on your machine, this feature won't be available.
Windows Defender Exploit Guard
Although security has always been a priority for Microsoft, before Windows 10 it took the company several years to release new versions of the OS, making the response to new threats very slow. In order to help commercial customers deliver mitigations against specific vulnerabilities, Microsoft created the Enhanced Mitigation Experience Toolkit (EMET), which allowed customers to keep devices secure without waiting until the next version of Windows.
However, because EMET was never part of Windows, and it was also limited in many ways, starting with the Fall Creators Update it is now possible to audit, configure, and manage system and app exploit mitigation settings within the Windows Defender Security Center app.
The best part is that you can take advantage of Windows Defender Exploit Guard (opens in new tab) settings even if you're running third-party antivirus.
Customizing exploit protections settings
Windows 10 ships with a configuration that will suit most users, but you can always customize the settings (as long as you know what you're doing) on Windows Defender Security Center > App & browser control > Exploit protection, and clicking the Exploit protection settings link.
Inside Exploit protection, you'll find two tabs, including "System settings" and "Program settings."
In the System settings tab, you can configure protection settings, including:
Control Flow Guard (CFG) — Ensures control flow integrity for indirect calls.
Data Execution Prevention (DEP) — Prevents code from being run from data-only memory pages.
Force randomization for images (Mandatory ASLR) — Forces the relocation of images not compiled with /DYNNAMICBASE.
Randomize memory allocations (Bottom-up ASLR) — Randomize locations for virtual memory allocations.
Validate exception chains (SEHOP) — Ensures the integrity of an exception chain during dispatch.
Validate heap integrity — Terminates a process when heap corruption is detected.
In the Program settings tab, you'll see a list of applications that are currently protected using the Exploit protection settings.
If you need to modify the current settings for a particular application, just select the executable from the list, and click the Edit button. Inside the page, you'll find some security features with an option to override system settings and set your own rules.
In this update, there are 21 different rules you can customize, some of which include:
Arbitrary code guard (ACG) — Prevents non-images-backed executable code, and code page modification.
Block low integrity images — Prevents loading of images marked with low-integrity.
Block remote images — Prevents loading of images from remote devices.
Block untrusted fonts — Prevents loading any GDI-based fonts not installed in the system Fonts directory.
Code integrity guard (CFG) — Ensures flow integrity for indirect calls.
These settings are meant to add an extra layer of security against new threats even before they get an official fix through security patches or anti-malware solutions.
Windows Defender Advanced Threat Protection
We're just scratching the surface, and the Exploit protection settings on Windows 10 are part of a more complex topic. Microsoft is also adding more security enhancements to its Windows Defender Advanced Threat Protection (ATP) (opens in new tab) service for enterprise customers to create an antivirus using Microsoft's cloud-based security intelligence to detect infections faster than ever before.
In addition, Microsoft is now offering new tools, a security analytics view, and an updated detection dictionary to identify the latest attack techniques, which will enable network administrators to respond to attacks more quickly.
Initially, these security features will be available for commercial customers, but the company is looking into integrating Windows Defender ATP to the Windows Server platform and all customers in the future.
For more details about the Exploit protection settings, you can refer to the Microsoft Docs pages (opens in new tab), and to learn about Microsoft's EMET, you can check out this Security TechCenter article (opens in new tab).
Additional improvements and changes
Another minor change can be found in the Firewall & network protection section of the Windows Defender Security Center dashboard, where you can now see more clearly which network profile is currently active. The page also lists firewall settings for domain networks.
On Windows 10 Enterprise, Microsoft is finally delivering Windows Defender Application Guard, which is a new feature that sandboxes web pages using Microsoft Edge to prevent internet malware and zero-day attacks from infecting your computer.
Windows Defender Application Guard was originally scheduled to release with the Creators Update, but it got pushed back, and now it's available with the Fall Creators Update.
Wrapping up
In this guide, we highlighted the new features and changes coming in the Windows Defender Security Center dashboard for the consumer version of Windows 10. Microsoft is also starting to offer a lot of additional features, but they're aimed at enterprise customers, such as Windows Defender Threat Protection and Windows Defender Application Guard.
More Windows 10 resources
For more helpful articles, coverage, and answers to common questions about Windows 10, visit the following resources:
Windows 10 help, tips, and tricks
Windows Central Newsletter
Get the best of Windows Central in your inbox, every day!
Mauro Huculak is technical writer for WindowsCentral.com. His primary focus is to write comprehensive how-tos to help users get the most out of Windows 10 and its many related technologies. He has an IT background with professional certifications from Microsoft, Cisco, and CompTIA, and he's a recognized member of the Microsoft MVP community.
Great article to go over the new features. Anyway you can do a follow up article for configuring these settings via group policy?

are you talking about Microsoft ATP which is for organizations or for home users?

More exploit guard and such defender has easy to understand gpos pretty straight forward. Exploit guard not so much.

Bing is your best friend for configuring Windows Defender: https://docs.microsoft.com/en-us/windows/threat-protection/windows-defen... If you're familiar with Group Policy you should find the setup very easy, but ensure you have the prerequistites before you attempt to enable it, otherwise it won't do anything. Most people won't be able to use certain features due to the requirement for the enterprise version.

The docs are meh for exploit guard it says you can configure all this stuff but there is literally one gpo setting in the 1709 admx's which is only to use an XML file to configure it. This is kinda sucky since you have to have a centrally located xml file to config exploit guard. I was hoping they could dig up another way (maybe via reg keys) with their MS contacts to do it.

I wish I could use these features but I can't because it says Restoring previous windows version after 45%

I feel ya there. My desktop at home gets to 84% before doing the same thing. On the firest creators it only made it to 83% so at this rate I only need 16 more updates to finally be able to install the update.

This is excellent. I had no idea about this setting. Ransomware imo is the scariest of the malware out there because it's so prevalent. May look into pushing this out in GP if possible. Thanks for the excellent write-up.

We rolled it out on Monday and the only complaints were from users who insist \desktop is a replacement to SharePoint.

I have 1709, but this option does not exist! Is it only me?

For me it's there but it's greyed-out.

Configuration is only on the Pro-Version.

Well, I have the pro version :) Maybe it's an A/B testing?

Check my computers (Tablet, Laptop and Desktop), all 3 have the option. No idea then. Maybe you're right.

I use Avast, Malwarebytes and windows 10 defender as my security AVs all at once, Windows 10 defender is on periodic scanning, while my Avast AV is on fulltime, Malwarebytes is there as back up, also I have got Bitdefender ARware security in check too, in terms of firewall I've decided to go with comodo dragon firewall for protection for my PC.

So you have a PC for running Virus scans. This should keep it busy enough for preventing any virus to get time on the processor?

I did some additional review of the changes Microsoft made under the hood to Windows Defender. The enterprise version of the product has some really cool features that totally suprised me. One that was really cool is Cloud Based scanning of unknown binaries and some really nice scan option settings that can be applied. I can imagine scenairos why you wouldn't want the average consumer to have all these settings, but they sure are sweet for us enterprise users.

"Unfriendly application" - now that's a very polite way to name it.

That's what I feared that it would be for Pro-only.

That's what I feared that it would be for Pro-only.

That's what I feared that it would be for Pro-only.

That's what I feared that it would be for Pro-only.

The ''Ransomware'' protection is useless.. It detects and prevents any stupid change. Like it's preventing games from saving progress and even Geforce experience wasn't allowed to update, because of this protection. And some more.. I don't want to put every single program manually to allowed list. I had to turn it back off.... too many problems

I'm just a little concerned that it's off by default. I have the sneaky suspiciion that by turing it on, unintended "troubles" will start to happen.

I had to turn off Controlled Folder Access after two days because it was blocking far too much of what I was trying to do. The notification you receive when something is blocked does not show the full path to the offender, and the notification doesn't stick around long either. I know there is probably a way to find something in the Event Log but so far I haven't seen anything there. Maybe I'm not doing something right. It would be nice if Microsoft would make it so you could click the notification and have it list the offending item in the Controlled Folder Access in Windows Defender Security Center. Would make it easier to whitelist the ones you want to allow.

I too have found some weird problems where office apps (including even OneNote that tries to save with each character update) can't save files to the standerd Documents folder with Folder Access Control turned on. I even tried adding the onenote.exe file to the list with its full path ("C:\Program Files (x86)\Microsoft Office\root\Office16\ONENOTE.EXE"), but that had no effect. I've had to turn this protection back off to be functional. I'm running in a Domain environment with server-based Documents folders, always available offline on the client machines via Offline Files, so maybe that's a mode that's not currently supported with Folder Access Control. Or maybe it's off by default because this is known to not be quite ready for general use yet.