How to use the new clipboard on Windows 10 October 2018 Update
Windows 10 introduces a new clipboard experience, and in this guide, we'll show you how to use it.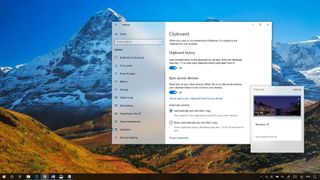 On Windows 10, you've been able to copy and paste text and images for a long time, but it's been an experience somewhat limited that only supported copying one piece of content at a time and no interface to view the things you copied.
To overcome these limitations and to make the experience more useful, starting with the October 2018 Update, Windows 10 introduces a new clipboard that tracks the text and images (up to 4MB) that you copy. Also, you can finally view and paste content from the clipboard history, and even pin items that you copy and paste more frequently.
In addition, leveraging the same cloud technology use to sync your Timeline content, your clipboard history can now roam and be accessible across all your devices.
In this Windows 10 guide, we'll walk you through the steps to set up and use the new cloud-powered clipboard experience included with the October 2018 Update.
How to enable clipboard on Windows 10
On Windows 10 version 1809, you can enable the new clipboard experience using the Settings app and the new keyboard shortcut.
Enabling clipboard using Settings
To enable clipboard in the Settings app, use these steps:
Open Settings.
Click on System.
Click on Clipboard.
Turn on the Clipboard history toggle switch.
Enabling clipboard using a shortcut
Alternatively, to enable clipboard using a keyboard shortcut, use these steps:
Use the Windows key + V keyboard shortcut.
Click the Turn on button.
After completing the steps, you can start using the clipboard experience and manage many other settings.
Disabling clipboard on Windows 10
The clipboard history device using the sis disabled by default, but you can check or disable it if the feature is turned on using these steps:
Open Settings.
Click on System.
Click on Clipboard.
Turn off the Clipboard history toggle switch.
Once you've completed the steps, the new clipboard experience will no longer be available without affecting the old clipboard functionality.
How to sync clipboard history on Windows 10
Perhaps one of the most interesting features about the new clipboard is the ability to paste text and images on your other devices. However, for privacy reasons, it's a feature that you must enable and configure manually using these steps:
Open Settings.
Click on System.
Click on Clipboard.
Under "Sync across devices," turn on the toggle switch.
Select the automatic syncing option you want to use:

Automatically sync text that I copy: Your clipboard history will sync to the cloud and across your devices.
Never automatically sync text that I copy: You must manually open the clipboard history and select the content you want to make available across devices.
After completing the steps, your content history will sync to the cloud and across devices using the settings you specified.
How to clear clipboard history on Windows 10
If you want to delete your clipboard history because you no longer want to use experience or something isn't working correctly, and you want to reset the history to see if that fixes the problem, use these steps:
Open Settings.
Click on System.
Click on Clipboard.
Under "Clear clipboard data," click the Clear button.
Once you've completed the steps, your clipboard content will be deleted from your device and Microsoft account, but pinned items will remain in the history until you remove them manually.
If you're looking to delete one or two clips, instead of clearing the entire history, you can open the Windows key + V experience, and click the X button for each content you want to delete. Alternatively, you can also click the Clear all button in the history interface to erase the list.
How to use clipboard on Windows 10
Although the new clipboard introduces a new interface and several new features, it's not an experience complicated to use.
The new clipboard complements the old experience that you already know. Once you upgrade to the October 2018 Update, you can still use the Ctrl + C shortcut to copy and the Ctrl + V shortcut to paste. The same is true using the right-click context menu.
However, you can now use the Windows key + V shortcut to bring up the new clipboard history. In this new interface, you'll find a list of items (such as text and images) that you have copied from different applications, such as Microsoft Word, Snip & Sketch, OneNote, etc.
If you want to copy and paste content from your history, use these steps:
Select the text or image from an application.
Right-click the selection, and click the Copy or Cut option.
Open the document you want to paste the content.
Use the Windows key + V shortcut to open the clipboard history.
Select the content you want to paste.
You can also pin the items that you paste frequently for faster access using these steps:
Use the Windows key + V shortcut to open the clipboard history.
Click the Pin button for the content you paste frequently.
When you no longer need the content, click the button again to unpin or the X button to delete the item.
Using the clipboard history, there are some obvious limitations as no everything you copy will appear in the history or sync across devices. For example, you can copy the name of a file, but copying a file to move it to another location will not appear in the history.
Also, the cloud clipboard supports images, but only if you copy the image within a document. You cannot copy an image file and expect it to appear in the history or sync across devices.
Wrapping things up
Although the new clipboard experience can sync your history across devices, you can only access your history on computers running Windows 10 version 1809 or later and when using the same Microsoft account.
If you choose to enable this feature, make sure that you also understand the potential security risks. For example, if you're one of those that usually copy sensitive information (such as passwords, addresses, names, etc.), anything you copy to the clipboard will store in plain text, and anyone with access to your computer will now be able to see this information by just using the Windows key + V shortcut. In addition, if you enable the sync option, you'll also be uploading your history to the Microsoft servers.
What do you think about the new clipboard experience on Windows 10? Are you enabling the syncing option too? Let us know in the comments.
More Windows 10 resources
For more helpful articles, coverage, and answers to common questions about Windows 10, visit the following resources:
Windows 10 help, tips, and tricks
Windows Central Newsletter
Get the best of Windows Central in in your inbox, every day!
Mauro Huculak is technical writer for WindowsCentral.com. His primary focus is to write comprehensive how-tos to help users get the most out of Windows 10 and its many related technologies. He has an IT background with professional certifications from Microsoft, Cisco, and CompTIA, and he's a recognized member of the Microsoft MVP community.
I wish Win 10 bring OS to OS clip boarding...

This feature is really useful! I'm glad they keep coming up with ways to be productive across all devices.

This will help me out a lot in my day job... but it *really* needs an auto-delete scheduler. There are things I copy & paste that definitely do not need to live in there for more than 6-8 hours.

Based on usage. Insiders will get this job done in no time.

Can we copy/paste between PC and phone? It says 'devices' in the official notes not just 'Windows devices', so I'm assuming phones are included as long as you have a device with Timeline available on it or maybe via the SwiftKey keyboard?

MS have enabled Project Rome in their apps.
Project Rome is the Android SDK to communicate with the Microsoft Graph. The Microsoft Graph lives in Azure and is amongst other things, the consumer facing product for all the telemetry they've been collecting for years. MS Launcher will enable copy/paste between Android and Windows 10, and likely even iOS at some point if their API allows it.

It's Windows 10 only now, but I think they plan to bring it to Android and IOS.

This I've been waiting for.

While i do not like the sync part of this a clipboard manager is a useful thing, I have been using one for years, I just wonder why it have taken MS so long to bring one to Windows? Saying that maybe it is not a bad thing, gave other people chances to produce some good ones. I will keep with the one I have got as it works fine.

How does this feature set compare to other clipboard managers? Not being able to see files in the history seems like a pretty big omission. I'm also surprised there isn't a more elegant solution to the security hole opened up for people using password managers to copy passwords!

Exactly the same issues I had in mind, very disappointing you can't copy (links to) files to your clipboard history, and what about password manager clipboard usage???
Which clipboard manager would you advise?

How can access to Clipboard using Tablet Mode (without keyboard)?

You can use the on screen keyboard. You can put the icon in your taskbar to bring it up when needed.

This new clipboard experience is feature I'm looking forward to getting most with the Windows 10 October Update. And I'm glad to know about how to sync to the cloud, or not. I have a long commute on a train to work each day. I've been wondering for a while how this is going to work with my Windows 10 laptop, since for most of that commute I'm going through places with no Wi-Fi nor cell phone coverage. I think that I'll just not use the syncing to the cloud for my laptop, since I won't have the cloud available most of the time. Glad that it's an option.

Zac showed a video demo of clipboard. In the video it was suggested that content on the clipboard would be saved indefinitely if the pin icon was pressed of copied content in the clipboard. But in the clipboard it wasn't saved at the end of the demo.
Thus the questions:
-how long will clipped content remained cached in clipboard without purposefully deleting them?
-will the cache be saved and automatically be repopulated in clipboard after a system restart or reboot? -Is it possible to extend the cache beyond 4 Mb?

I took the 4 Mb limit as the size limit of how big an image can be stored, not the total cache size of the history. Having a max number of items to remember, or an auto-delete after a selectable period of time (both of which the Ditto clipboard history app offers) would be nice enhancements.

I've only seen one person so far actually comment something that makes sense... While this is a cool idea... I wish it didn't exist... This is just yet another place an malicious person can exploit to get stuff from you... they could get passwords, usernames, phrases of whatever nature, images, probably even FILES depending on how the code itself is implemented... I'll be making sure this feature is disabled in every way possible... While sure, I trust myself to not get anything malicious on my computer... it can happen time to time and no one is infallible... So I'll NOT be using this... And I hope to whatever that people in sensitive work places don't use it either...

Hello. How did you change the background of Windows Settings on the left hand. It is either white or dark. But yours is little blue transparent. How did you do this?

Reading this in March 2019 and can't comprehend it's not more advertised.
Windows Central Newsletter
Thank you for signing up to Windows Central. You will receive a verification email shortly.
There was a problem. Please refresh the page and try again.