How to use the new touch keyboard in Windows 10
By Cale Hunt published
How do I change the touch keyboard in Windows 10?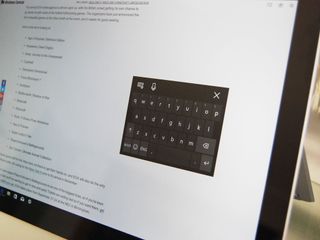 The touch keyboard in Windows 10 makes it easy to type even if your tablet or PC has no physical keyboard attached. Some people also prefer using the touch keyboard on a desktop PC, usually for accessibility reasons. The Fall Creators Update is bringing a few changes to the touch keyboard, including a new keyboard type and an updated user interface, and we've put together a guide to help you customize it to your preference.
How to view your touch keyboard
When in tablet mode on your Windows 10 PC, a keyboard icon will appear in your system tray. This icon can be clicked or tapped, and the keyboard will appear.
You can also set the touch keyboard to appear when not in tablet mode if you don't have a physical keyboard attached. This is especially useful on a Surface Pro where you can easily remove the keyboard.
Click the Start button.
Click the Settings button. It looks like a gear.
Click Devices.
Click Typing.
Click the switch below Show the touch keyboard when not in tablet mode and there's no keyboard attached so that it turns on.
A touch keyboard will now appear when you click a field that accepts typing and your PC senses no physical keyboard is attached.
This menu of touch keyboard settings can be tweaked however you'd like, including options for playing sounds when typing, capitalizing the first letter of a sentence, and using uppercase letters when double-tapping the virtual Shift key (much like a phone keyboard).
Want to reach the settings menu quickly? Here's how.
Tap or click the touch keyboard settings button.
Tap or click the Typing Settings button.
How to change touch keyboard type
There are four separate types of touch keyboard you can use. The standard keyboard is what is shown by default, and has most keys you regularly use. One of the newest additions to the touch keyboard, coming with the Fall Creators Update, is a swipe keyboard that emulates the one on Windows 10 Mobile. To change keyboard types, follow these steps.
Tap or click the touch keyboard settings button.
Tap or click a keyboard type in the top row of the menu. The left option is the standard keyboard and should be grayed out because it's already in use. There are three more options next to it.
The second option is the mobile keyboard clone. It includes a swipe function that lets you quickly type without removing your finger or pen from the screen, much like the keyboard found in Windows 10 Mobile.
The third keyboard is the inking keyboard. This keyboard can be used with your finger or pen; write words in clear handwriting instead of typing single keys.
The keyboard on the far right is the expanded standard keyboard. This includes the Windows and Function keys.
How to change between floating and fixed touch keyboard
Instead of having the touch keyboard fixed along the bottom of your screen, you can change it to a floating keyboard that can be moved around at your will.
Tap or click the touch keyboard settings button.
Tap or click the floating keyboard button.
To change back to a fixed keyboard, repeat the steps but tap the fixed keyboard button, located next to the floating keyboard button in the second row of the menu.
How to enable and use dictation with the touch keyboard
If you'd like to use your voice to "type" on the touch keyboard, you first have to enable speech services in your settings.
Right-click the Start button.
Click Settings.
Click Privacy.
Click Speech, inking, & typing.
Click Turn on speech services and typing suggestions.
Click Turn on.
Now that speech services are enabled, next time you're using the touch keyboard, you can tap or click the microphone button located in the top-left corner and begin dictating what you'd like typed.
How to add languages to the touch keyboard
If you need any other languages than the default of touch keyboard (it's determined by your Windows 10 language settings, in our case English), you can easily add them through Windows 10 settings, accessible through the touch keyboard's menu.
Tap or click the touch keyboard settings button.
Tap or click the Language preferences button in the bottom row of the menu.
Tap or click Add a language.
Tap or click a language. The language pack will take a few seconds to download.
Tap or click the language button on the touch keyboard.
Tap or click a new language.
Cale Hunt is a Senior Editor at Windows Central. He focuses mainly on laptop reviews, news, and accessory coverage. He's been reviewing laptops and accessories full time since 2016, with hundreds of reviews published for Windows Central. He is an avid PC gamer and multi-platform user, and spends most of his time either tinkering with or writing about tech.
Would love to have speech-to-text/dictation, but it seems really silly to HAVE to activate the touch keyboard just to press the little microphone button. It really should be one-touch/click accessible in ANY PLACE in the OS that can be typed in.

is it only avalable in small keayboard? it would be nice to have the new touch keyboard but in the same size of the courent one...

Oh, dear heaven, no. Word shaping or whatever you wanna call it would be a painful beast on a large screen keyboard. I'm happy it's small.

No, I don't think it would. I think it would work well on a Surface Pro 4, in fact, sometimes I forget it doesn't have it and try to use it like that (I'm quite used to it from mobile). At least we should be given the choice.

If only I could just move the touch keyboard icon in the task bar to my secondary touch screen which is up on my wall. This would allow me to open the keyboard on the secondary touch screen when I'm standing in front of it even if I have a physical keyboard attached. It would seem Microsoft believes all big touch screen monitors made in the world must always either be the only monitor connected to the computer or is the primary monitor. Why can't the task bar work the same on all connected monitors? SMH.

I don't have the microphone icon to do text-to-speech. It must be restricted to certain regions/languages (i.e., US english)

Me either! i dont have mini keyboard, no microphone and no full keyboard icons! My devices are in Spanish.

the small keyboard was the reason i went in on the slow rings, and it's such an improvement for tablets. I don't know if in ios/android if you can set by defualt a floating mini swype keyboard, but this is definitely something that i really appreciate.

I've been using it since it was available on the Fast Ring. Sadly, it performs just as horribly as it does on my Lumia 950. And I really wish they'd bring back the handwriting recognition from Windows 8. The one on Windows 10 is almost useless.

Does anyone else have the issue when using the newest builds that you are no longer able to hold down the shift key and then use the arrows to select text. Works fine on RS3, but not on RS4. I see it on 3 different devices. This is on the touch keyboard only.

anyone who hasn't tried Windows Mobile yet, this is one of the things you've been missing.

3rd party keyboard support! It's been years MS, come on! I'm sure this will make the Windows experience on touch not be as crappy as its current keyboard is, but this is nowhere near as powerful as the likes of SwiftKey (which MS owns, come on!!!) or Swype.

Can someone explain to me why exactly would anyone need a mini keyboard on his big screen device and why should we be hyped for this? One reason?

The advantage of the mini keyboard is that it supports swipe. The main touch keyboard does not.. I agree I don't understand why swipe has to be limited to the small keyboard side. I use swipe all the time om mobile, but it doesn't mean that size has to matter, just because the assumption is that a larger keyboard means, I presume, a longer swipe. I actually would like it on the main keyboard. For me the virtual typing is about the efficiency of swiping as a typing tool, irrespective of the keyboard size. For most tables and touch screens the default touch keyboard is fine.

Their mobile clone keyboard is missing the little blue dot to move the cursor around. That is my most loved feature in any mobile keyboard.

Is the accuracy of the keyboard improved? It seemed fine on Windows Phone 8.1 back in the day, but every time I've tried to use it on the Surface it's just garbage. I wouldn't own one if I didn't have the touch cover.

As a tip it is good to know that other than the touch keyboard and handwriting pad, language support is limited or patchy with regard to other features. It is not entirely feature complete for every language. Speech support will vary greatly from region to region. Also the mobile keyboard with swipe, supports only 5 languages, which is far less than on the same keyboard on windows 10 mobile, despite the available database and telemetry from the windows 10 mobile platform. Microsoft has not been clear if they plan to unlock more languages in the future or support more spoken languages going forward with Cortana or Windows 10.

SWIPE IS HERE?! I'm not in any slow or fast ring updates, is this available for everyone laready??

the ink keyboard is the best. written from the ink keyboard ☺

You know what's sad, I had to use the Android app to view this article. The website isn't working properly in windows 10 with edge. Lol

Help please! I want to use the sweep keyboard, but I follow this guide, and its not on my system... I have 2 pc with FCUpdate, and none of them have swipe keyboard (the smallest one)...

Any thoughts on how to pin Touch Keyboard to the taskbar or Action Center, even when in desktop mode (and with keybard attached)? I go back and forth between touch screen and wireless keyboard and prefer desktop to tablet mode, so it'd be nice to have constant access to the touch keyboard on demand, regardless of tablet / desktop mode. (The on-screen keyboard can be pinned to taskbar, but I prefer to use the Touch Keyboard).

Same here: there is an option to show the touch keyboard button in desktop mode but it's only visible with no attached keyboard: what's the point?

I am having issues with using the microphone on the keyboard that is present in fall creators edition. When I press it to dictate, I get the message "Something went wrong, try again later." then when I click it several times again, it finally turns on and the voice dictation is very buggy. If I pause when dictating, it deletes everything I said before the pause. Furthermore, saying commands like period for example actually spells the word for me instead of placing a "." at the end of the sentence. I have had experience using both ios and android with much greater reliability. Is anyone else experiencing problems with this?

I cannot make it work in French: when to switching to the English keyboard I can see and tap on the microphone icon but with a French keyboard the microphone icon isn't there.
Windows Central Newsletter
Get the best of Windows Central in in your inbox, every day!
Thank you for signing up to Windows Central. You will receive a verification email shortly.
There was a problem. Please refresh the page and try again.