How to use your Surface Pro 3 docking station with a Surface Pro 4
Can I use an old dock with my Surface Pro 4?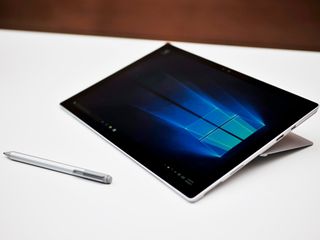 If you've been a Surface user for a few years now, you might have started with a Surface Pro 3 (opens in new tab) and upgraded to a Surface Pro 4 (opens in new tab). In this case, you might also have a Surface Pro 3 dock sitting around somewhere. Good news! You can use your old dock with your newer, thinner Surface Pro. Here's how to get the necessary adapter and how to put everything together.
Get your dock adapter for free from Microsoft
To fit your Surface Pro 4 into the older dock, you'll need an adapter from Microsoft. The easiest way to get one is to visit Microsoft's device repair site (opens in new tab).
Register your Surface Pro with Microsoft.
Click Replace an accessory.
Click Surface Pro 4 Adapter for Surface Pro 3 Docking Station.
You can also spend some time out of the house and head down to a local Microsoft store to pick up an adapter. Not sure if there's a physical Microsoft Store location near you? Check out this full list of Microsoft Stores (opens in new tab).
Print your own dock adapter
If you're lucky enough to own or have access to a 3D printer, Microsoft has been kind enough to supply a template for the necessary adapter (opens in new tab). This page contains all the instructions and files you need to print your own adapter.
How to use your Surface Pro 3 dock with a Surface Pro 4
The adapter for your Surface Pro 3 docking station simply slides in, allowing your Surface Pro 4 to sit atop it. Here's a step-by-step guide to ensure you get everything set up correctly.
Pull out both sides of your docking station.
Place the adapter against the docking station and slide it down.
Place your Surface Pro 4 against the dock and adapter and slide it down.
Push both sides of the dock in so that it attaches to your Surface Pro 4 (Surface Pro 3 is pictured below, but it's the same process for the Surface Pro 4).
That's it! Your Surface Pro 4 will fit securely in your docking station and you can enjoy all your peripheral devices.
Where to get the Surface Pro 3 docking station
If you like the look and function of the Surface Pro 3 docking station, you can still get it from the Microsoft Store for about $200 (opens in new tab).
See at Microsoft Store (opens in new tab)
If you'd rather have a dock that works with the Surface Pro 3, Surface Pro 4, and Surface Book, the Microsoft Surface Dock is your best bet. It doesn't have the same stand-like design, but it works just as well to connect your peripherals. It is the same price as the Surface Pro dock — about $200 (opens in new tab).
See at Microsoft Store (opens in new tab)
Which dock do you use?
Do you have a Surface Pro 3 dock that you use with a Surface Pro 4, or did you go with the newer Surface Dock that is compatible with all Surface models? Let us know in the comments section!
Senior Editor, Laptop Reviews
Cale Hunt is a Senior Editor at Windows Central. He focuses mainly on laptop reviews, news, and accessory coverage. He's been reviewing laptops and accessories full time since 2016, with hundreds of reviews published for Windows Central. He is an avid PC gamer and multi-platform user, and spends most of his time either tinkering with or writing about tech.
Thanks for the tip I didn't know the pro 3 dock could be used with the pro 4, spotted one on sale for 80 euro so I'm going to buy it and already have the adapter ordered!

And it arrived today, exactly one week from Germany to Ireland

This was very helpful.. Thank you.

I have been wanting a Surface Pro 3 docking station for my Surface Pro 3. I didn't originally buy one with my surface, and was under the impression that they are no longer available. The newer docking stations don't seem to get very good reviews and thus don't interest me. Is this article suggesting that the linked to Surface (non-pro) 3 docking station is compatible with the Surface Pro (3 and 4)?

Surface 3 does not work in a Surface Pro 3 dock. I have both Surfaces and a dock. Their connectors are completely different.

Huh, can't get the instructions above to work to get an adapter.
1. Device is registered
2. This option doesn't exist as stated, it is 'Tell us about your problem' and select 'Accessories'. Then 'Issue Type' in another drop box and select 'Docking Station'. Then Input your PID number which I assume is the docking station SN. Then click button 'Create Repair Order'
3. Address verification
4. Choose Service Type - Surface Pro 4 Docking Station Adapter - SEN - Paid
5. Shipping Method - No Action Required
(USD 6)
6. Method of Payment - Blank - Cannot complete order as button to move on is grayed out and no selections available. Typical Microsoft BS and half-asses systems.

I had to get with support and they got it through. Just took 10x longer than it should.

I have a docking station and have been using it with my SP4 without the adapter, without any problems at all

It is not lose in any way?

I've actually made the troubles to ask a Microsoft Store supervisor, emailed and chated with a few representatives from surface support, there is simply no way to get the adapter here in Malaysia( yeah, who cares for this country anyway...)

The link to the surface pro 3 dock is actually the surface 3 dock, not the surface PRO 3 dock.

Good catch! Updated the link. Thanks.

I've been using my SP4 in the SP3 dock with the free adapter since I bought the SP4 many months ago. I like it much better than the newer dock.

I've been using the sp4 with sp3 dock without the adapter. It's just not available when you are outside the US. What I did was putting a small piece of plastic towards where the bottom edge of sp4 touch the dock (left and right side). I also find a thicker Christmas card and stick it on the dock where it's in contact with the sp4 back. Not perfect but I've not seen any issues. Charging light immediately turn on when the sides of the dock close.

There is also the option for printing your own (or having it printed) at your location. But it sounds like you don't really need it anyway. :)

I can really tell that the Surface Pro 3 Dock is very useful and I like the stand alike design better than the universal Surface Dock. I just could'nt find a reason which would justify replacing my i7 Surface Pro 3 with the Pro 4 ;) But it is very useful to know that those two are compatible.

The new dock has two DisplayPorts vs one on the dock for the Surface Pro 3 but is known to not work as well. You need to use active display dongles on it otherwise you will have problems. The display dongles MS sells are not active! You can find a link to a support doc from MS that has a list of recomended active display adaptors.

Hey Cale, might need to be careful using the word 'Free' as I would disagree. Sure, while the adapter is free, Microsoft will charge you $9 AUD for the postage on it and you can't go get it from the Australian Microsoft store

I want a speedy tablet like the SP4.... But I can't afford $2000. I'm ok with i5 (or similar speed variant) and 12" display. Where's the best value? I want to spend under $500. Used is fine....
Edit: Even something that's $1000. I can usually wait for a sale on it.
Edit 2: New to the tablet world. Ready to ditch my laptop. Need full windows. No gaming.

Could someone please tell me how to have 2 monitors hooked up to my SP4? Do I need the SP4 dock or an adaptor? If so which adaptor? I'm in Australia by the way.

My pro 4 fits fine in the dock without an adaptor but the network connection won't work. Research says it won't. will this adaptor fix that?

It's a shame the docks are just so expensive, I know you should be paying for quality and features but the price seems rather too high. I'd really like one and would probably find it quite useful, but my needs just don't warrant that cost.
Windows Central Newsletter