HP Elite x3 orders in the U.S. are anticipated to begin September 5th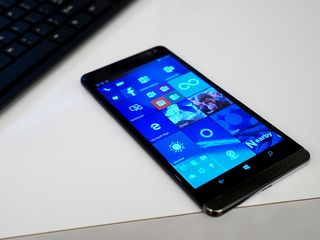 An HP spokesperson has confirmed to Windows Central that online orders for its highly-anticipated HP Elite x3 phone with Windows 10 Mobile are "anticipated" to begin one month from today on September 5 on its U.S. store site.
The use of the term "anticipated" by the company spokesperson gives HP a bit of wiggle room if, in fact, orders don't actually begin on that date. It's also important to note this is just for HP's U.S. site, as other countries and regions will have their own dates to begin selling the Elite x3. Indeed, HP's Australian site has already started taking pre-orders for the 6-inch business-themed phone. The company previously announced it would be sold in 47 countries.
HP stated in July the Elite x3 would be priced at $699 in the U.S. or for $799 when bundled with its Desk Dock accessory.
Need more? Don't miss our other coverage of the Elite x3 including:
Got a question as I'm a "Tech-noob" I just started getting interested in this stuff just 1 year ago when I bought a Surface 3 (great device.) When people talk of "virtualization" on this phone, (currently I use a VPN and REMOTE DESKTOP to access my work computer), does this mean in theory I should be able to use this phone to access Remote Desktop and use all the functionality of my work computer? Is that possible? Or are there severe limits with the continuum feature? Or am I completely off base?

Yeah! Continuum features has limitations. If ur using this feature for tablet purposes, you are going to be amazed and if you are using this for a PC alternative then you are going to be disappointed.

I guess what I'm asking is if you are using Remote Desktop, then you should be able to utilyze all of the functionality of your desktop PC at work, right? (aside from the performance issues with 4 GB RAM). I don't really see any other use for it otherwise. https://www.youtube.com/watch?v=XxOrZ5sWI4o

Yes. Via Remote Desktop or any other virtualization/remote app, you can use your work PC fully. I use Team Viewer on my 950XL via Continuum to access my home desktop.

cool. Do you find the processor is adequate for doing that? Or is it really laggy? I'm tempted to get a 950 XL (prices are pretty good) or get the HP X3, Part of me wants to be patient and wait for the "surface phone." By then continuum should be more fine tuned.

For me it is a matter of network speed. Cellular is slower, Wifi is faster but using a Ethernet connect at work yields great results using Team Viewer. It will vary based upon those factors. The HP Elite X3 is a more powerful phone than the 950XL and if you don't mind the extra large screen, it should provide better performance due to newer processors, including faster a WiFi chip in the Snapdragon 820 SOC.

I did vpn for work to my work rdp and I did home rdp when I was away for a week on lte, a bit laggy but expected due to speed. It's just how fast the image can render, not actually any grunt work

I'm pretty sure RAM won't be an issue if you're using remote desktop (unless that's the limit of the desktop your "plugging into") It's basically just mirroring your desk/laptop and protecting it to a larger screen with optional mouse and keyboard. Though I must say my 950XL works wonderfully as a touchpad now that continuum supports landscape orientation as well

Actually it's a great way for you to run your apps and work on your data on anyone's pc without the need to install/copy them into the new machine because they run directly on the mobile phone :)

Continuum is still in its infancy stages, but has great potential.

Pagal hai tu! usne pucha kya hai ye to dekhle.

Yes, you can use Continuum to access a remote desktop and use your phone like a PC. In fact, one of the features touted about the HP Elite is that you get access to HP's virtualization technology. You're not always going to want to use it to replace a desktop but it's quite useable and there are a few folks on here who use it on the regular. As for how satisfied people are with it, that will vary as everyone's circumstances are different.

I'm confused... What's the difference between virtualization and remote desktop access?

It will work with virtualization, yes, to answer your question. Continuum is in its infancy stage, so the experience may not be a full-fledged PC experience. But it is growing, and HP has been at the forefront of innovation in this idea. It will get better and better as users work on it.

Cool! Time to start saving money (for those who want this beast of a phone)! Really hoping that Windows Central can get their hands on one of these because I'm curious about camera quality, and how it is in general.

Now if we can only find out why HP chose not to get CDMA certifcation for the x3 to run on Verizon Wireless....

You can be they didnt "CHOOSE" ... rather Verizon told them to go away... nuf said.

My friend....I too, used to be like you and spend years on windows phone related sites asking the old why no CDMA (VZW/Sprint) question. Constantly checking data usage on my VZW line per month to make sure my family didn't go over 10GB.... Now I am on T-Mobile paying a $100 less for 4 Unlimited lines and I streamed the whole season of Stranger Things on my phone the other day. If you are a Win10 user, AT&T or TMO is your only bet in the US.

My family is all on Cricket. Great AT&T network and cheap cheap prices!

AT&T is where I'm heading shortly with the 950XL; rather wait for (fingers crossed) for the Surface Phone then get the HP x3.

You watched an entire season of a tv show on your phone? Did you accidentally lock yourself in a trunk?

I have completely given up on Verizon every truly sufficiently supporting a Windows phone. It took *months* (almost a year? - I can't remember exactly) after the release of the WP8.1 Update for Verizon to finally allow it on my Ativ SE. That was frustrating to say the least. As soon as the Elite x3 comes out and there are a few reviews available for review I plan to leave Verizon for an unlocked Windows Phone (hopefully the x3) and AT&T and never look back.

The answer is with Microbrains according to the info I got. They have refused to submit W10M for CDMA certification so that's you don't see it on Sprint or Verizon or any other CDMA carrier. The bald idiot Nadella strikes again!!

Your name is Nadella too?

There is no such thing as OS certification for CDMA. It's device specific. The OS doesn't care what bands the radio uses.

Actually, there is. The Global Certification Forum handles them. You can submit OS certification for Qualcomm CDMA code, and carrier certification as well. Both can be done at the same time, as it would take an average of two business days when using current and proper CDMA code using Qualcomm standards. OS Certification is only required when a new version is released. Windows 10 for Mobile still has not received CDMA certification, while other OS have done so. I would suggest reading how CDMA certification works, as is not the same way as GSM based technologies.

Fascinating. I'm always happy to be told I'm wrong if I get to learn something new in the process. I found the site (thanks for the name!), but I don't see anything about OS. It does still look like it's purely device-based, but you sound like you know what you're talking about. Could you post a link to the part about the OS validation? From here: http://www.globalcertificationforum.org/certification/how-it-works.html it looks like it's purely on the manufacturer to submit for testing, and that it's optional -- this is a service to facilitate approval -- not a requirement. In fact, I see that Microsoft is a member, but lists the country as Finland, which seems to suggest that it's only because of the Nokia acquisition that Microsoft has ever engaged in any of this testing, and not something they've ever done as an OS maker. HP does not appear to be a member. Other members appear to be phone makers, not OS makers (e.g., Google is not a member, but Foxconn is). Based on what I see on their site, that seems to suggest that Microsoft would not normally be expected to submit the OS for testing (except as a component of the testing for their own handsets), but if you think I'm mistaken, please post a link suggesting otherwise. Happy to be wrong and learn. :-)

Let me ask you this question? If there is a new version of an OS (From Windows Phone 8/8.1 to Windows 10 for Mobile with a lot of new neat features), where do the OS fall in terms of testing? If you still say it does not require testing, you are wrong. A new version of any OS with new features falls under New Technology, and is subject to Qualcomm CDMA certification. Why does it require it? In order to make sure it's using current code, while there are no conflicts on functionality. Is not just put a CDMA radio and certify it as some think it is. It works in similar way with GSM/UMTS/WCDMA based devices, but the testing for those is leaa

@mrmdj31675, I'm not saying anything, except that the site you referenced doesn't appear to say what you said it says. It seems to indicate that other major OS makers have not gone through the certification process you describe, at least not through that company. That testing company appears to work with phone hardware makers, not OS makers. I'm not drawing on any personal expertise, however, and fully acknowledge that I may be wrong (e.g., there could be other testing agencies). All I can say for sure is that the link you provided does not appear to support your assertion or the similar statement made by @AKA Preluva.


The bottom sound panel looks like ****

I LOVE that bottom sound panel!!

Fake metal never goes out of fashion. Paint will peal off gracefully.

Most people will have one of those awesome cases HP has an accessory.

I really wanted one but I'm not willing to part with Glance, Double Tap, a dedicated camera button, or an awesome camera. Probably upgrade my aging L830 to the 950 XL and free display dock for $450 to get me by until 2017 phones come out with RS2 next spring.

All great points. I'm thinking the same thing.

Man super disappointed. I didn't buy the note 7 thinking this phone was an August release. Not sure I can wait that long.

Have the pre orders already been sold out? I'm thinking to get the AT&T deal for two Note 7's. Was really waiting for the Elite X 3, but it is taking its time to come out and the only review for the device really didn't go into much detail on camera quality. I'm somewhat afraid of switching over to Android and being stuck with old builds, waiting on AT&T or whatever carrier to get updates out to it. The 7.0 Nougat beta is already on a buddies Nexus P (I believe is what he has), and outside of some camera bugs, he says it's very "snappy". The Note 7 on the other hand will come with Marshmallow and who knows when it will receive the Nougat update. I'm thinking to keep my 1520 if I do go with the Note just so I can keep up with Windows and decide whether I want the eventual Surface phone.

Apparently Samsung's UI overlay on Marshmallow expands on it and some of the features in Nougat are already things Samsung implemented previously.

Note 7 is the only phone that would send me back to android. Honestly, Samsungs implementation of the Pen, and even IRis scan is beyond what MS can do. Kind of sad, but true.

What does there OEM and iris do the hello and the new inking features in anniversary don't do?

Juan Bagnell says it's faster than the 950's iris scanner. Don't know how true it is. On the other hand, Michael Fisher says he's not too impressed by it due to the fact that he's used to the one on his 950. Posted via the Windows Central App for Android

Android Wear smartwatch support, Android Car support, huge app catalog, support of all Google Services, Microsoft services and some Apple services (Music), Samsung Pay, gorilla glass 5, looooooots of accesories, ...

Quite pricey...but I hope this kicks on to something

Hmm idk how's the build quality going to be HP because... Posted via the Windows Central App for Android (LG V10 or Nexus 5x)

Used 950xl is $340 and used MS display dock is $80 at B&H. Hmm...

Or brand new at the MS store both for $450!

I have a 950xl. This one is the better one to go with since it has the snapdragon 820 which is way better than the 810. Not only with battery, heat, but performance too.

If it is not twice as fast as 950XL, it wouldn't worth getting this phone just for cpu upgrade. The bottle neck for speed is not cpu or ram, rather main storage. If the main storage is slow, I wouldn't get this phone.

Like I mentioned yesterday, my distributor will be shipping to me on Aug. 10th. My retail price will be $779.00

hey. would it be possible if you then do a review on the phone :). Would help a LOT of us here in deciding which phone to buy ...

Why his soft touch are blue ? O.O

what's the over/under on the dock being compatible with a 950xl/950 ?

It's not since the usb connection jack is not in the center of the dock unfortunately!

The thing i'm actually most curious about is the impact/sales this device will have with enterprises.

Trust me my HP representative never visits me; Janet seen him/her in three years!

Did he also confirm that we should start seeing advertisement on TV? Does no good to never see ads on TV whether business or consumer; if you don't know about it, you won't buy it! Specifically it's features and capabilities.

Why bother? Microbrains has excluded half the US market with there GSM only policy.

Yea that's stopping me from a 950 right now. My Icon is one of the best phones I've ever Owned but I would love to have a 950 for the camera upgrade.

You, apparently, are the "microbrain" - CDMA is pretty much an outdated technology that the rest of the world, except Verizon & Sprint, has moved past. Almost everyone else uses GSM. FYI - CDMA is the very reason it's so hard to use any other phone on Verizon or Sprint. Besides needing a CDMA radio, CDMA standards allow Verizon and Sprint to have total control over what phones use their networks. GSM standards, on the other hand, dictate that a GSM network must accept ANY GSM phone. Posted via the Windows Central App for Android

@Dennis Wilson1, I'm entirely with you that this has nothing to do with Microsoft (same probably is not true for the 950 and 950XL), because certification for a carrier is up to the device and its manufacturer. However, there are places, like where I live, where I can drive for miles and miles with no AT&T signal at all, but decent Verizon coverage. Only Verizon (and Sprint who roams on their network) has any support for people living here. So the validity of their technology is irrelevant to us as far as impact on phone. I still use the Lumia Icon (works well with Windows 10, but no Continuum), because I'm not leaving Windows Phone if at all possible, but I am entirely dependent on phones that work on the Verizon network.

There is nothing wrong with phone itself. But this thing running WM10, really horrible experience for 800$ phone. My 640xl is such a pain, friend already sold his 950 to get proper phone.

I am hoping that it will be able to be added to Verizon

Me too. Apparently not possible with this specific model, but maybe they're working with Verizon on a Verizon exclusive with slightly different specs and name. Like the Lumia Icon is the Verizon version of the 930. It's almost inconceivable that HP would ignore the largest carrier and mobile enterprise partner with a phone targeting enterprise.

Im actually not a camera person im all about the specs of the device an its capability.Camera is not an issue,this is a great device!

I've been looking all over, and even asking for, information on pricing for HP Workspace. So far it has not been found, at least by me! With pre-ordering already underway in some countries, I would think that this information would be released already. Who is going to order a phone with HP Workspace as its big selling point over other W10M devices and not know how much it is going to cost? Without HP Workspace, the Elite X3 is just another WM device. Other than impressive hardware, it does nothing to improve the current weaknesses in the W10M ecosystem. To me this seem to be a vital component to this device's viability.

I'd say that the drop test rating and water proof spec is enough to differentiate between other W10M handsets.

I bought a 950 mainly to help with the Continuum process. It's not perfect, but it does do some amazing things on its own. It will push a set of innovation the more the development matures. :)

I thought they said it will be available to purchase at the end of August in the USA. Not to preorder and have to wait even longer for it to come out?

That's my birthday! One of you guys should order me one as a gift.

There is no doubt this device is a good one but i feel I feel that HP would sell more of them if the price was lower than it is now. I think it will sell well among Winbdows smart phone fans but I am not sure if businesses will buy the HP Elite X3 for their employees. 6 months from now will tell the tale how well HP is doing selling this device .The rumored Microsoft "Surface" brand smart phones debut in Spring 2017 which begins March 20 amd Ends June 21 2017. that is 7 months from now That's a long time for a Company not to debut a new flagship smart phone. Samsung , LG , Apple and others will have their new devices out by then. Perhaps Microsoft will debut the new "Surface brand smart phonbes at the 2017 Mobile World congress which begins Febuary 27 to March 2nd 2017. A good question is will Microsoft be at the 2017 Mobile World Congress event and if Microsoft does appear there will it show any thing "New" Microsoft I hope in a press release says that the Surface brand smart phones are even coming because 7 months is a LONG WAIT for a device that is a MYTH !

Can't wait for the reviews to start rolling in!

Damn was hoping for this to be out by the end of august...just got a 950xl after my 1520 kicked the bucket and want to return it before 30 days to buy this...

OK, this comes from a former die-hard Windows Phone user (used them since 2006): Nice phone but who's gonna purchase it with that price? C'mon, no apps available like there's for iPhone and Android (one of the main reasons I switched to Android + Microsoft pulled the plug off their own phones) and tremendous price. If I was about to determine the price of a Windows Phone, regardless its specs (unless they're really out of this world), I'd sell it with the price of $400 (max. price) and try to sell them like hell. I guess all of us have noticed the price collapse of Lumia 950(XL). IMO that's not a smart way of selling phones, i.e. tremendous price at first and then when nobody's buying the phone model or for similar reasons, the prices will be slashed. What kind of strategy is that? I'd rather try to sell them with the decent price thruout the time they're on market. You're not an equal contender in the current state of mobile phone business with your Windows Phone. Therefore I'd try to sell them with the max. price of $400. BTW, our company's gonna drop Windows Phones from their phone list because the majority of available mobile software (company software) is made for Android. So what will be the gimmicks that will boost the sales of Windows Phone? Don't get me wrong, I loved them and would still use them if the things hadn't turned out that way. I guess someone could still use them for business purposes like I'm using this laptop of mine but would it really replace your laptop? Nope, I don't think so.
Windows Central Newsletter
Thank you for signing up to Windows Central. You will receive a verification email shortly.
There was a problem. Please refresh the page and try again.