HP Elite x3 scheduled to receive Windows 10 Mobile Anniversary Update on Sept. 13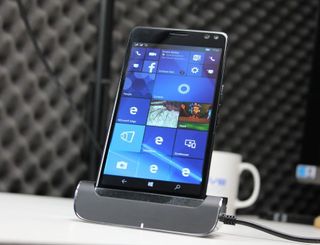 An FAQ page on HP's support site states that the HP Elite x3 smartphone will receive the Windows 10 Mobile Anniversary Update "on or about September 13, 2016".
The FAQ page (opens in new tab) (via WindowsArea.de) notes that the HP Elite x3 will get some new additions with the Anniversary Update, such as the Windows Information Protection security system, along with some improvements to the phone's Continuum and other features. It should be pointed out that the HP Elite x3 can also connect to the Windows Insider Program, so people who get the phone before Sept. 13 can connect to the Release Preview ring and snag the Anniversary Update, if they want.
Obviously, release schedules for software updates can, and usually do, change, so don't take the Sept. 13 date as being written in stone. The HP Elite x3 has started shipping in some parts of Europe. The U.S. can expect shipments to begin in early to mid-September.
Unboxing and hands-on with the HP Elite x3 superphone
See at Microsoft Store (opens in new tab)
Need more? Don't miss our other coverage of the Elite x3 including:
Windows Central Newsletter
Get the best of Windows Central in in your inbox, every day!
Good news for people and business purchasing this device.

Great news! Can't wait for the firmware update that's coming too.

I hope to have it by then... :-)

Why release a top dollar device with TH on it. As an owner of the 950xl, the TH release was OK, but sluggish, despite the specs. This power house has better specs and is going to be throttled back on TH. Why? RS has unleashed the 950 series. I hope TH runs OK on these, otherwise there could be rumblings of discontent. Ive played with one on TH, and it was OK, but compared to RS on my XL, it did seem to be lacking fluidity. I guess they had a schedule and RS wasn't quite ready in time. I just hope those who know about the various versions of W10M can keep the faith.

You're right. I can see visible fluidity in transitions on my L640xl with anniversary update.

Having used my Elite X3 as daily driver since Thursday, and anniversary update release preview since Saturday, I can safely say that with the anniversary update, the Elite X3 out performs my 950XL in every way apart from the buggy camera. Once the firmware update arrives, this should put the Elite X3 overall ahead of anything else out there.

Phone will only star to shine after RS2 (if they focus on it). I think MS gave false hope to HP and when the phone was ready MS was like "Fingerprint reader for phone, what?". Still i don't believe HP will have any losses on this phone. MS will keep it alive like life support machine.

The unboxing video shows the fingerprint reader working perfectly (following the AU install) -- very fast, very nice.

It would be nice if the dock gets it's own power battery

Why, if you're using it, you're near an outlet. It's not like it'd power a keaboard mouse and monitor as well.

It's a massive phone for Windows biz users, the best there is as far as windows phone is concern

Eveything should come out-of-the box. After all this is a product and not a beta product. This strategy is really dampening on the integrity of Windows Mobile. With proper QA team this should not happen. The customer's first experience is everything. It will make or break this device. I can now conclude that Apple is to Marvel Cinematic Universe as Microsoft is to DC Extended Universe. Apple (Marvel) is coming up with great movies while Microsoft (DC) is really stumbling and their last movie Suicide Squad is really suicide as the film is divisive. It tried to ape Guardians of the Galaxy and boy it failed miserably. Wake up Microsoft. Soon Windows Central will be renamed to Microsoft Central because Windows will soon die because of no love from Microsoft itself. Its like Microsoft kills its own sone in favor of iOS and Android.

Good. So most of the markets will get the phone with Anniversary update. That will be great for the device.

And with that update, they are going to open the bands so the phone will work on Verizon..... Yea, right....LOL
Windows Central Newsletter
Thank you for signing up to Windows Central. You will receive a verification email shortly.
There was a problem. Please refresh the page and try again.