HP slashes Elite x3 price to $399
HP is slashing the price of the Elite x3 for the holidays.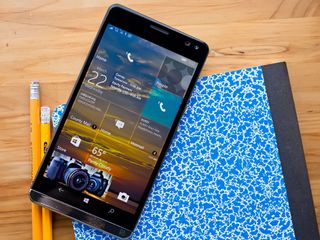 If you've had your eye on the HP Elite x3, HP is offering up a solid discount on the HP Elite x3. HP has dropped the price of the Elite x3 to $399 (opens in new tab). Though it's still not in impulse-buy territory, that's a full $300 down from its list price.
For your money, you'll pick up a Windows 10 Mobile device powered by a Qualcomm Snapdragon 820 chip, 4GB of RAM, and a 4,150 mAh battery. The screen is a 5.96-inch 2560 x 1440 AMOLED panel, and cameras include 16MP and 8MP shooters on the rear and front, respectively. A fingerprint reader is also on board, as is an iris scanner.
The HP Elite x3 is more than a year old at this point, and, as a platform, Windows phone is on the outs, However, if you're not looking to jump ship to Android or iOS yet, the Elite x3 is one of the last high-end Windows 10 Mobile handsets to be released, making it attractive for anyone looking to stick with the platform – especially at a discount.
Thanks for the tips, everyone!
See at HP (opens in new tab)
Windows Central Newsletter
Get the best of Windows Central in your inbox, every day!
Dan Thorp-Lancaster is the former Editor-in-Chief of Windows Central. He began working with Windows Central, Android Central, and iMore as a news writer in 2014 and is obsessed with tech of all sorts. You can follow Dan on Twitter @DthorpL and Instagram @heyitsdtl.
I had to check and see if it's the Verizon-compatible one, but it's not. GSM only. :(

It still costs over $800 in Canada 👿

Plus I doubt Microsoft UK will update their prices as well... The alcatel idol 4 pro is still £420...

Yep, still 699 Euro in The Netherlands as well. So this is a US specific discount. Perhaps an idea to note this in the article. Strange if you realize the US market for Windows Phone and Windows Mobile always was percentage-wise small. If they really want to get rid of those phones they can better try discounts elsewhere. A reason to choose for the US market is still it's quantity I guess. Maybe companies have to get more aware that with the current global market, customers communicate with eachother, market policies like this are transparantly shared and can influence the opinion to customers that do not have access to discounts like these. Of course customers do not have any influence on the discounts-policy itself, but those discounts can change the way the customers think of companies. And that can influence their future buy decisions.

That's incorrect. Footnote 12 specifically indicates verizon LTE compatibility. https://www.windowscentral.com/e?link=https2F2Fcrea...

So this discounted phone does work on Verizon? Even without CDMA support? Or is this the same version as the Verizon one?

Actually it does look like the official version with Verizon support is different than this discounted version. It's odd that it can support Verizon LTE though. So suppose I got this phone and activated it on Verizon. What happens then? What's Verizon service like without any 3G or 1xRTT CDMA support? Can it even send text messages and make phone calls?

in February if its on the same discount i love to have one

"...for the holidays." I see what they did there.

They'll have to bump it a lot further down to get people to buy it now...

Got one for $380 on Amazon a week ago.

Yeah I got one over the summer for just a little bit more than that. Sold though a month later and broke even. Great phone on a dead platform.

I just got the amazing Essential phone for $450.. (like 3 weeks before the amazing $400 + 360 camera BF deal)... when you can get a phone like that for the same price, this phone should be 200-300, if that.

This phone is definitely the best phone I have ever used. From iPhone 7 to GS7, the X3 is by far superior. And I know MS has not shown any commitment to develop WM further but even the current version of WIndows Mobile is still a very solid OS. Apps could be a drawback if you love to own 100+ apps. In my case, emails, calendar, Uber, Camera, TuneIn, OneDrive, myTube, Twitter, Skype, VLC, Office 365, WhatsApp, GHub U and ListenXM are more than enough.

It's not whether people want to own lots of apps. It's whether the ones you really need to use are available. And if so, for how long.

As long as it takes. At least until Apple and Google (and maybe Microsoft) come up with a mobile OS that is as agood as WM10. Think about this: Windows Hello was around way before Apple came up with their version this year. So is wireless charging. So if I could charge my phone wirelessly two years before iPhone does the same, no one should be telling me that Windows Phones were not ahead of iPhones. And I am still waiting for Apple of Samsungs to master Live Tiles :-)

To be politically correct, Palm had wireless charging way before MS did :P
The Palm Pre series had really solid devices. I will agree with you with everything else you say.

It does not matter who was "ahead" and who was "behind" with so called "wireless charging". Windows phones were behind with everything else. Period. The fact that Windows phones were "ahead" with the 2 things you mention, yet still no one wanted them, speaks volumes about how far behind they were with everything else. Apps are all that matters. The folks here who keep harping on "Windows 10M is such a great OS" are totally missing the point. You sound like Linux Geeks. No one cares about the GD OS. No one buys a PC or a phone to run the GD OS. If it does not run the apps I want/need to run, how "great" the OS is does not matter.

Needs to drop another $300.

Terrific phone... But, no. Nope. I can't do that if it has no future. If my 950 spontaneously combust, and ATT replaces it with on of these for free, I will be getting one. Other than that.....

That is how I got my LG V30. I paid $150 deductible.

They should've sold this through att. I would've had it long ago.

I'll give you a hundy for it. Thats all.

They're giving them out for free to employees as Christmas bonuses

"However, if you're not lookign to jump ship" How does this get past an editor? You DO have an editor, right? Spellcheck? Proofread your own stuff? Anything?

He typed it on his Windows Phone. At least he got the apostrophe correct.

Just wondering if after the release of Windows 10 on ARM whether you will be able to install 10 on ARM on these X3s. I still like my X3 and would love to be able to make actual use of my dock, which seemingly 10 on ARM would allow. I would hope that it would be available beyond OEMs and would allow such experimentation, or is there some extra hardware that is necesary (considering MSFT demoed 10 on ARM on X3s, I can't imagine that is the case).

Just bought myself a HP Elite X3 earlier this week, it cost me NT$9500, around US$327. The reason was that my Lumia 930 started to malfunciton, the camera key fell off......besides, I've been using my Lumia 930 for 3 years, time to buy a new phone, but I'm still not ready to switch to iOS or Andriod. Anyway I was surprised all Exlite X3 were sold out in Taiwan, all retailer had left were demonstration units, and the outside of the box even has a label saying "Property of HP"......well I decided to take a chance, been using for couple days, it's still like new, I'm still amazed by the huge screen, way bigger than Lumia 930, really cool!