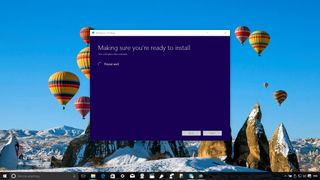 A lot can happen in a week. Seven days might not seem like much, but it can be an eternity in the tech news cycle.
Between Windows news, hardware and software developments and Microsoft's fast-paced movements throughout the technology landscape, it's never easy to keep your hand on the pulse of technology. Not to mention everything that's going on right here at Windows Central!
Every week we're going to compile the biggest stories into one post, so you never fall behind – In Case You Missed It (ICYMI).
Windows
Happy Thanksgiving to our readers in the U.S. It appears that we weren't the only ones on holiday, as it was a very slow news week.
It's been a couple of weeks since Microsoft started rolling out Windows 10 version 1511, also known as the November Update. Although the big update brings with it a ton of new features and fixes, it is not without bugs of its own. Many users have had problems during the upgrade itself, while others have run into issues with drivers, settings, and more.
One very specific issue that a small number of users ran into was that "a few settings preferences may have inadvertently not been retained for advertising ID, Background apps, SmartScreen Filter, and Sync with devices." This breach in privacy settings was thankfully patched rather quickly with a cumulative update this week.
While we were busy feasting, the folks over at Gartner were busy crunching numbers. The research firm released a report predicting that Windows 10 will become the 'most widely installed version of Windows ever'. They also said that the mass migration would take place much faster than previous upgrades to other versions of Windows:
One of the driving forces behind the quick adoption is the free upgrade from Windows 7 and 8.1, which means many consumers will be familiar with the new OS by the year's end. Furthermore, it is estimated that nearly fifty percent of all enterprise customers will have begun making the move to Windows 10 by the year's end.
Microsoft's plan to see Windows 10 running on one billion devices by July 2018 could be well on its way.
Other notable items:
Microsoft adds new Enterprise Mode features in Internet Explorer 11
More and more visitors to US government websites are using Windows 10
Microsoft
Microsoft recently completed its annual assessment of diversity and inclusion. An although the company made gains across the board in racial and ethnic categories, the study found a significant decrease in the number of women employed by the company. Microsoft explained that the decrease in representation from about 29% to 26.8% of the workforce was due to this year's restructuring, which included layoffs of 7800 employees in the phone division.
Microsoft's General Manager, Global Diversity & Inclusion, Gwen Houston, said:
On an unrelated, but positive note, Microsoft's HoloLens was named Time's top gadget of 2015. Though the list of candidates included the likes of humongous hard drives, Pluto-probing spacecraft, and self-driving cars, it was Microsoft's innovative approach to virtual reality as "mixed reality" that deserved the honor:
Other notable items:
Microsoft is hosting Windows Insiders events on Dec. 1 in NYC and Bellevue, WA
Microsoft to host Xbox fan event in Los Angeles on Dec. 3, with tickets for The Game Awards 2015 -
Miscellaneous
Fitness tracker manufacturer Fitbit announced some new features this week. The company added the ability for all users to set weekly goals. Additionally, some of their devices picked up automatic workout tracking, and better heart rate monitoring.
A company by the name of ShiftWear has developed shoes with app-controlled screens on them, allowing you to change their appearance on the fly. They have set up an Indiegogo campaign to get the project funded.
It was revealed this week that some Dell laptops shipped with Superfish-like root certificates that could allow hackers to gain access to them remotely. The PC giant says it "deeply regrets" the security flaw and has issued an update and manual instructions for removing the root certificate.
And lastly, following the release of a third-party streaming app, and Microsoft's own Xbox streaming to Windows 10, Sony said that it will be bringing PlayStation 4 Remote Play functionality to both Windows and Mac. There is not yet any prospective date for its release.
Other notable items:
Share your thoughts on this past week of news! And we'll be back again next week to do it all over again.
Get the Windows Central Newsletter
All the latest news, reviews, and guides for Windows and Xbox diehards.
2 Posted via the Windows Central App for Android

Also in case you missed it, Waze for Windows Phone now has Star Wars voices (C3-PO). Enjoy!

Uh, how? Google bought Waze middle of last year and halted Windows Phone development on the app. There is nothing new for Waze.

Mind explaining how to get it then?

Open Waze, click in your little guy in the lower left corner, click on in-box, and follow the directions for "The Force Comes to Waze". Then select the voice from the list of voices. Done deal. Plus you get all the Stormtrooper helmets and stuff in your map. Pretty cool.

There isnt any giveaways for India. I wish we get a giveaway for lumia 950/XL, Microsoft Band 2 and much more !!!