Instagram, Xbox One SmartGlass, Readit and more are your app highlights for this week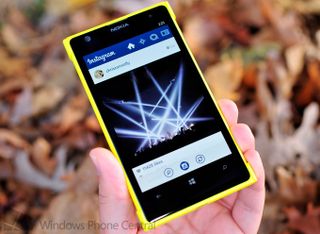 This was a pretty busy week for Windows Phone. We've got two new devices (the Lumia 1520 and Lumia 2520) and what seems like a baker's dozen of new apps. Missed out on some of the apps released this week? No worries, we're here to help you stay on top of what's new in the Windows Phone Store with our weekly app highlights.
New
Instagram – It's finally here. What seems like an eternity is now a moment in the past. Instagram is officially available for Windows Phone. It may be a beta, but it's here and helps validate the platform. It's not feature complete yet, but a solid first start for the photo social network. Get it for free in the Windows Phone Store. (Free)
Waze –After being in beta for what seems like forever, Waze is also on Windows Phone. What's Waze? It's an app where a social network meets a navigation platform. Users supply real-time feedback to things like traffic, accidents, police traps, and more to others using the app. Get it in the Windows Phone Store. (Free)
Xbox One SmartGlass –We've been loving every second with our Xbox One. But you're going to want to get the new Xbox One SmartGlass app to get some cool second-screen experiences. The app gives you the ability to control your Xbox One from your smartphone (or tablet with the Windows 8 version). No excuse not to get it if you have Windows Phone and an Xbox One. Available in the Windows Phone Store. (Free)
Office Remote – It took long enough, but there's now a way for you to control PowerPoint, Excel, and Word on another computer from your Windows Phone. Office Remote comes to us from the Microsoft Research team. It gives you some pretty impressive controls on your phone. For example, view presenter notes, time, and more when you're giving a PowerPoint presentation. You can even control the presentation with your phone. Get it in the Windows Phone Store. (Free)
MetroMail –We've got plenty of third-party developers to support Windows Phone if Google doesn't want to. MetroMail is a new app for users wanting a premier app on their Windows Phone while accessing Gmail. Beautiful UI and solid functionality give us an app we'd recommend you check out. Get it in the Windows Phone Store. ($0.99)
6snap –Has there been a week where we haven't featured an app from Rudy Huyn? Probably not and this week is no exception. The Windows Phone equivalent of a mad scientist has produced 6snap, a client for popular photo sharing network Snapchat. It does absolutely everything you'd get in an official Snapchat client. So go get it in the Windows Phone Store. (Free)
Sozoom –Have a Lumia 1020 or 1520? Want a fun way to easily share how great the zoom capabilities are on the camera with your friends? Then check out Sozoon. It's an app that works on those two devices and creates fun images that highlight your cameras photography talent. Get it in the Windows Phone Store. (Trial/$0.99)
Redbox Instant –Stream digitally with Redbox or rent movies through their numerous kiosks? If so, check out Redbox Instant for Windows Phone. You'll get a month free for the streaming access or you can reserve movies at your local kiosks using the app. It's pretty neat. Get it in the Windows Phone Store. (Free/Lumia only)
Updated
Windows Phone Central – Our very own app received an update this week! That's right, head to the Store and you'll see version 4.4 sitting there. What's new? You'll see some UI changes after we recently had a design review with Microsoft, new settings screen, silent mode for notifications, and much more. Get it in the Windows Phone Store. (Trial/$0.99)
ProShot –One of our favorite photography apps received a big update this week. The latest version of ProShot brings things like faster image processing, shadow recovery, 1020 support, and much more. Go check it out in the Windows Phone Store. (Trial/$1.99/In-app purchases)
Twitter –The official Twitter app doesn't see too many updates on Windows Phone, but this week we did get one. New to the app is the ability to delete single direct messages, improved notifications, and more. Get in the Windows Phone Store. (Free)
Readit –Our favorite Reddit client for Windows Phone was updated this week. In the Windows Phone Store you'll see version 1.2 of Readit. You'll notice support for 720p and 1080p displays, improved performance, and much more. It comes highly recommended from us and worth grabbing in the Windows Phone Store. (Trial/$1.99)
Nokia MixRadio –Nokia has rebranded Nokia Music as MixRadio. Its Windows Phone app has also received a major overhaul in both UI and features. For example, the new Play Me feature is a personalized mix inspired by your own music profile. You can also thumbs up and thumbs down tracks to help determine your music profile. Get in the Windows Phone Store. (Free/Lumia only)
American Airlines –The Wallet feature in Windows Phone 8 is highly underutilized by developers. Thankfully American Airlines now supports it in their latest update. Save your ticket info for a flight to the wallet and more in this most recent version. Get it in the Windows Phone Store. (Free)
Beta
Cal –This is an app that's currently in beta. What kind of app? Just one of the slickest calendars we've seen. It's currently in beta and coming soon. Be sure to check our first impressions of Cal right now.
Games
iFruit –Grand Theft Auto V came out over two months ago, but we're still playing as much as we can. The iFruit game for Windows Phone is a companion app for your GTA experience. You can customize your rides in the game or train your dog, Chop. If you're into GTA V and have Windows Phone you need to get this from the Windows Phone Store. (Free)
Any apps or games we missed highlighting this week? This is where you come in and tell us below in the comments. Let us (and others) know what games or apps you think just rocked this week.
Windows Central Newsletter
Get the best of Windows Central in your inbox, every day!
Loving the Xbox one, and the Smartglass app. It is a must have for Xbox one owners.

Yes, but mine second controller failed on me, wired works cannot use wireless. Plus smartglass can now actually change my audio volume (I have a Sony audio receiver and lost remote so only way was to walk up to it) but cannot do that via the gamepad. Only in smartglass

If only the Smartglass App was LIVE...instead the double wide tile just sits there....and sits there, is that it Microsoft??? Come on son.

Smartglass makes the Xbox One experience even more enjoyable. Im fascinated

Readit tile is broken, always goes blank on me

Didn't realize GTA IV came out only a 2 months ago ;)

I love instagram.. And i love my ps4

This was THE week. Apps I hope to see until the end of the year:
- Flippboard; - Xbox Video (is supposed to be alread released, whats happened??). Games I hope to see until the end of the year: - Angry Birds Go (confirmed);
- Minions Rush (I cannnnnntttttttttttt waitttttttt for this!!);
- Rayman Fiesta Run (also confirmed);
- Cut the Rope Time Travel (can I have a little bit of hope??);
- Cut The Rope 2 (am I dreaming to much??). Now we need to focus our forces in the games area. WP is lacking soooooooooooooooooooo much!! I think the principal reason to this is the arcaic live certification. Big companies dont like to release their games without this, but they dont want to wait months and months to get a certificate or to release a little update... PS.: hated, hated, hated the Waze UI!!! How is possible to have thousands of users testing this app for since, like, forever and no one complained about the horrendous UI?? :S :S

Yeah, waze looks really bad and the map is laggy (ativ s). Bad for this long dev time and maybe direct ms support..

Remember, Waze was bought by Google.

Makes sense.. "Look you know that Waze is GREAT on smartphones! so its not our fault, its Microsoft's phone!" and someone was saying.. "that looks ewwwey, try the Android version!". Thats Google for you gents.

Another game in looking forward to have on WP hopefully soon is PvsZ2. I'm addicted to the original.

Path? It's confirmed, will come in December.

Moliplayer pro got updated yesterday.. New features have been introduced.. We can manage the media files (move, delete). Brightness, fw, rew can be adjusted onscreen.. Can set the password too... It is just getting better..

Ya i got the update the best player on wp8

Ya... Very much useful... SD Card management is superb.
1.Now, We can access default video and audio folders-including subfolders
2. Can delete videos from SD Card
3. Can save videos downloaded by 3rd party apps to SD Card
4. Can save videos sent by Bluetooth to a specific folder in SD Card
5. Password protection
6. Gesture support for fast forward, rewind, volume, brightness
7. Video and audio are separated
I think Microsoft has removed some of their OS restrictions over SD Card....

Smartglass is cool, but I just want a official solution from MS so that I can control my W8 machine from my WP device.. I need a app that is set up like a all in one dashboard, and has volume, next track, and search options on one screen. Another screen can have a track pad to control the pointer, and so on.. It would be cool if you could swipe from the right to reveal a W8 style charms menu... Does anyone else have this need❔

I do now! Thank you very much!

How could MS not think of this❔.. They have to be thinking of this.. I was hoping that the Smartglass app would work between WP and W8..

Woot woot! WP is coming of age!

http://www.moneymail.in/?sponsor=67329 register to earn money witout investment

I want temple run 2 and flipboard badly!

Not sure if it's just me but I noticed my Xbox One achievements don't show up on the WP Xbox app. When I check to see my achievements, none of my Forza 5 or Day One achievements show up. They need to update the app.

When will MS come up with a Remote app for XBox Music? I want to replace my AirPlay streaming with a MS one.

Instagram must come for wp7.8!!

It has, Nokia Lumia 520...

Xbox One Smartglass...
Is this app US only or is there anyone in Europe that have downloaded it successfully ❔❔

I have it in the UK, I don't have the console though lol. Only got it to check out uploaded clips from users.

You know I dont understand this. Windows phone apps are improving so fast but windows 8 apps I feel are being neglected to some extent. Do developers make more money from the windows phone store or is it just easier to develop apps for the mobile platform?

I think they're a bit lazy and they don't think there's a market for Windows 8 because the tablets don't sell well. They forget Windows 8 is also on PC so that's money left on the table. Mostly I would put it on laziness.

Sam you forgot an Audible update this week too. A prime exemple of why WP hasn't reached parity yet, the app is there but it pales in comparison to the iOS and Android versions.

cool I very like wpcentral websit

Get a Lumia 1020,920,820,620,520 absolutely free... Register Below and Develop Apps https://rewards.msdn.microsoft.com/Error/NotFound?404

intagram to wp 7.8 ???!!!!

Windows phone sucks!!! I have a wp 7.8 and they totally just left 7.X and gives everything to wp8... Like wtf!!! Why did I even buy a WP....

Instagram for WP 7.8 ???!!!!!!!!!!!!!!! Please!!!!!!!!!!!!!

Love that Instagram came out. :)