Lenovo refreshed its Legion gaming lineup in 2018 with a more mature look that I loved and continue to appreciate. The ports on the back, the aluminum chassis, and the fairly straightforward stylings all carried forward for the next few years, but now Lenovo has changed things up again with the Legion 5 Pro. It's a new AMD-powered option with taller 16-inch display, better cooling, boosted audio, improved AI performance tuning, and more. There's a lot to open up here, and I've been using the Legion 5 Pro for a couple of weeks to see what it's all about and, ultimately, whether it can compete with the best AMD Ryzen laptops.
Bottom line: The Legion 5 Pro is one of the best gaming laptops Lenovo has ever released. The taller 16-inch display with 165Hz refresh rate and blazing but stable performance on AC power are a grand combination. Just don't expect to fully enjoy the system on battery power.
For
Beautiful 16-inch QHD+ display with 165Hz refresh rate
It will easily crush all modern games
Smart layout for lots of ports
Keyboard and touchpad have been improved
Stable performance
Against
Runs really hot under load
Performance on battery leaves a lot to be desired
No fingerprint reader or IR camera
Short battery life
Lenovo Legion 5 Pro: Price, availability, and specs
Lenovo supplied Windows Central with a review unit of the Legion 5 Pro. This is considered the sixth generation of the Legion laptops, though the Pro moniker is new. Our review unit has an updated 16-inch display with a taller 16:10 aspect ratio, 2560x1600 resolution, and a bunch of other goodies that appeal to gamers. For performance hardware, it has an AMD Ryzen 7 5800H processor (CPU), 16GB of DDR4 RAM, 512GB M.2 PCIe NVMe solid-state drive (SSD), and NVIDIA RTX 3070 Laptop graphics card (GPU). This exact model costs about $1,995 at Lenovo, though you can find models starting at about $1,300.
As far as AMD-powered laptops in Lenovo's Legion gaming stable go, the Legion 5 Pro sits between the Legion 5 (non Pro) and Legion 7 in terms of price, performance, and available features.
The Legion 5 is available in 15- and 17-inch versions starting at about $1,100 for the smaller screen and $1,150 for the larger screen. One of the main differences here is the display, which is still using a 16:9 aspect ratio.
There's also the more premium Legion 7 with the same 16-inch display upgrade as the Legion 5 Pro. It's available with up to an AMD Ryzen 9 5900HX CPU, NVIDIA RTX 3080 Laptop GPU, per-key RGB lighting, and some other premium features. Models start at about $1,800.
If you're a fan of Intel, there are also Legion 5i, Legion 5i Pro, and Legion 7i versions on the way. Lenovo's website doesn't yet have them listed (they still have the 10th Gen Intel models), but they're expected any day. Following are the exact specs as found in the Legion 5 Pro review unit we received for testing.
Swipe to scroll horizontally
Category
Spec
OS
Windows 10 Home
Processor
AMD Ryzen 7 5800H
8 cores, 16 threads
Up to 4.4GHz
RAM
16GB DDR4-3200
Dual-channel
Upgradeable
Graphics
NVIDIA RTX 3070 Laptop
8GB GDDR6
140W
Storage
512GB M.2 PCIe 3.0 NVMe SSD
Upgradeable
Two M.2 slots
Display
16 inches
16:10 aspect ratio
2560x1600 (WQXGA)
Non-touch, IPS
Anti-glare, 500 nits
100% sRGB, 165Hz, 3ms
Dolby Vision
VESA Display HDR 400
NVIDIA G-Sync
X-Rite Pantone calibration
Ports
Four USB-A 3.2 (Gen 1)
Two USB-C 3.2 (Gen 2)
Ethernet
HDMI 2.1
3.5mm headset jack
Audio
Dual 2W stereo speakers
Nahimic audio
Wireless
Wi-Fi 6
Bluetooth 5.1
Camera
Front-facing 720p
E-shutter
Keyboard
Lenovo TrueStrike
Four-zone RGB backlight
Touchpad
Precision
Security
Camera shutter
TPM 2.0
Battery
80Wh
Dimensions
14.02 x 10.25-10.41 x 0.85-1.07 inches
(356mm x 260-264mm x 22-27mm)
Weight
5.4 pounds (2.45kg)
Color
Storm Grey
Stingray
Material
Aluminum
Familiar look
Lenovo Legion 5 Pro: Design and features
The Legion 5 Pro has a familiar design from previous years, with display hinges set forward on the bottom chassis to leave room for a rear exhaust and port array. The aluminum chassis looks great with just a bit of angled styling on the lid, and it's plenty rigid. There's no RGB save the Legion Y logo that lights up white when the laptop is closed and charging or open and on. The Storm Grey color does well to hide fingerprints and smudges, and you can also get it in a white Stingray finish for a bit more pop.
With a weight of about 5.4 pounds (2.45kg) and thickness of about 1.07 inches (27mm) at its chunkiest point, the Legion 5 Pro isn't exactly trim. But it is in line with a lot of the best gaming laptops, especially at this price range. Also to be considered is the extra inch of space you get in the display compared to the more popular 15-inch machines.
The majority of ports are along the back edge, which makes for easy cable management. There you get a proprietary Lenovo charging port, RJ45 Ethernet, HDMI 2.1 (great for modern displays), USB-C 3.2 (Gen 2), and three USB-A 3.2 (Gen 1). The left side has a 3.5mm headset jack and USB-C 3.2 (Gen 2), and the right side has USB-A 3.2 (Gen 1) and a camera E-shutter switch. This is a great mix of I/O and you should be able to get everything connected without much issue. Thunderbolt 4 would be nice, but the lack is a tradeoff for the AMD system.
Lenovo's TrueStrike keyboard makes a return here, complete with customizable four-zone RGB lighting, 1.5mm key travel, number pad, and full-size arrow keys. For the most part it feels good under hand while gaming, if a bit on the mushy side. If you're a seriously competitive gamer you will want to stick with a mechanical keyboard, but otherwise this one will get the job done. The Precision touchpad is also quite large, though you're no doubt going to disable it and plug in one of the best gaming mice as soon as you load up a game.
Image 1 of 2
A 2W speaker lives on either side of the bottom wedge of the laptop for some decent down-firing audio. They're nothing special on their own, but there's a ton of tuning available through the Nahimic Audio app. You can set them for music, movies, chatting, or gaming; there is a noticeable difference between all presets, and you can make many further changes to each one. You're still going to want to invest in one of the best PC gaming headsets for competitive play.
The front-facing 720p camera is actually quite good. There's hardly any grain and it deals well with exposure. There's an E-shutter switch built into the side of the laptop that kills the feed for a bit of extra privacy. That's basically the only bit of security on this laptop save firmware TPM 2.0 in the chipset; yes, you should be able to upgrade to Windows 11 without much issue. Rounding things out is Wi-Fi 6 and Bluetooth 5.1 wireless connectivity.
Big upgrade
Lenovo Legion 5 Pro: Display
One of the biggest changes to the Legion stable is the new 16-inch IPS display with 16:10 aspect ratio and 2560x1600 resolution. It's tall enough that it basically removed the chin below the screen, and the rest of the bezel is very thin for a modern look. There's still the lip at the top of the display that houses the webcam and makes the lid just a bit easier to open.
There's just the one display option available for all the Legion 5 Pro models, but it's tuned for gaming. The 165Hz refresh rate can keep up with the performance hardware inside, and you can set it to run at a 3ms response time by toggling the "Over drive" feature in the Vantage app. It's a G-Sync display that, along with the RTX GPU, cuts down on screen tearing, plus it has Dolby Vision and VESA DisplayHDR 400 for compatible content.
The anti-glare finish does a great job, and the screen actually surpasses the claimed 500 nits brightness. Testing with my SpyderX Pro colorimeter, I saw 541 nits at peak and 5 nits at the lowest. As for color, Lenovo nailed it again. The screen comes with X-Rite Pantone color calibration so it looks great as soon as you open the lid. Testing again with my colorimeter, I got back 100% sRGB, 79% AdobeRGB, and 81% DCI-P3 color reproduction. These are all great results and as long as you don't want to go for 4K you should be happy.
A tale of two power sources
Lenovo Legion 5 Pro: Gaming
Lenovo has put a focus on its AI performance engine with enhanced tuning to ensure you get optimized performance no matter the task at hand. It works along with the "Q Control" tuning — something I first saw in 2020's Legion 5i 15 — which allows you to quickly swap between Performance, Balance, and Quiet modes. You can toggle automatic optimization for Balance mode, which in theory means you can leave it there and let the laptop do its thing.
This is all handled in the Lenovo Vantage app, repurposed for a focus on gaming. Here you can also toggle network boost to prioritize games, over drive to reduce screen response time, touchpad lock, hybrid mode to disable the integrated GPU, and a whole lot more. It's fairly plentiful for standard users, but if you really want to dig down into the system's settings or mess with over or underclocking you will need to check out the BIOS or some third-party software.
Raw performance when on battery power is about a third of what you'll see when running on AC power. It's clear that the focus here is on lengthening battery life rather than maximizing mobile performance, to the extent that the "Performance" power option is disabled without AC. Most gamers understand that a gaming laptop isn't meant to be enjoyed on battery power, as the CPU and discrete GPU require way too much juice to ever run full out without AC power.
I tried tinkering with some power state controls in Windows settings, and I also tried forcing the laptop to stick with the stock "Balanced" performance plan from Windows with a bit of tweaking. However, going back over the same benchmarks again on battery made no difference. This isn't a huge issue since all gaming laptops suffer on battery power, and as we will see in the next section, the Legion 5 Pro isn't plagued by some of the other AMD system throttling issues when it's on battery power.
Let's get into the good stuff. The Legion 5 Pro really shines once we move on to AC performance. This is really what most people are going to experience, and Lenovo has outdone itself in this aspect. The Ryzen 7 5800H CPU and RTX 3070 Laptop GPU are a potent combination that will crush your favorite modern games, and the QHD+ display is up to the task of displaying their potential. Here's how the Legion 5 Pro compares to a bunch of other laptops we've tested.
Image 1 of 3
Lenovo does some careful balancing with its gaming systems to prevent throttling. Instead of letting the CPU and GPU run wild until they cap due to heat, they're kept within a certain range. I ran a combined CPU and GPU stress test for 15 minutes in AIDA64 and the results are what I've come to expect from Legion. The CPU hit a 3.7GHz clock right from the start, pulling about 47W with a 90-degree Celsius temperature. The GPU climbed to a 1.77GHz clock at 122W, capping off at 77 degrees Celsius. Everything remained stable for the duration of the stress test, and there was no thermal throttling.
The dual fans are surrounded by a fairly chunky heatsink, and you're going to hear the cooling when it kicks in. It's nothing terrible, and it will be drowned out if you're wearing a gaming headset. The Legion 5 Pro gets hot, especially beneath the keyboard. Keycaps are noticeably toasty when you're gaming, and you'll feel warm air blowing on your mouse hand due to the side exhaust ports. At least the palm rests remain cool to touch.
Next I moved on to test performance within actual games that have built-in benchmarking software. I tested with in-game settings maxed out at the native QHD+ resolution. DLSS and RTX were also off except where specified.
Assassin's Creed Valhalla: 57 FPS
Far Cry 5: 89 FPS
Red Dead Redemption 2: 60.6 FPS (DLSS off), 78.7 FPS (DLSS balanced)
Shadow of the Tomb Raider: 85
Part of the beauty of a QHD+ display is that there's a lot of room to scale down in order to boost frame rates. Say you want to enjoy a particularly heavy game with ray tracing enabled. You can switch to a 1080p resolution — still entirely enjoyable on a 16-inch display — for much better performance. As it stands, though, the Legion 5 Pro is an exceptionally powerful machine that is capable of delivering a top-tier gaming experience with native resolution.
Upgradeable RAM and SSDs
Lenovo Legion 5 Pro: Performance and battery
Executive Editor Daniel Rubino recently wrote about AMD laptops reducing system performance for better battery life, arguing that while it's not necessarily the wrong approach, it could be handled better when it comes to transparency. This has led us to make two benchmarking passes with a few recent AMD systems, including the Surface Laptop 4 15 and the Razer Blade 14. What we found is that performance on battery — from CPU right down to the SSD read and write speeds — was being compromised.
Running the same dual set of benchmarks with the Legion 5 Pro reveals a bit of a mixed bag. While SSD speeds aren't impacted at all when running on battery power, you will see a drop when it comes to multi-core CPU performance in something heavy like Cinebench R23. It's clear that there's still some throttling going on behind the scenes to try to boost battery life, but not in as many places. That's a positive. And besides, this is a gaming laptop. If you want DC gaming performance on par with AC performance, you're hardly going to load a game before you need to plug in.
The only other thing here to point out is that you need to keep battery life claims in perspective when it comes to AMD systems. You might get an hour or two more than a similar 11th Gen Intel system, but with reduced performance when unplugged. That's far more applicable to non-gaming laptops, as battery life is never good once you introduce a high-performance display and discrete GPU.
Testing battery life with PCMark 10's Gaming rundown, the Legion 5 Pro hit just an hour and 18 minutes with screen brightness at 50%, hybrid mode disabled, and using Lenovo's Balanced power mode. That's not a great result, but most systems with similar hardware and display won't be too far ahead.
Take a look at how the Legion 5 Pro compares in more general benchmarks to other laptops we've recently reviewed. Note the AC and battery results in all save the Crystal Disk Mark SSD test.
Image 1 of 4
The Legion 5 Pro has two M.2 SSD slots. Depending on the configuration you checkout with, one or both will be in use. They're easily accessible once you remove the back cover, as are the two SODIMM RAM slots. If you want to keep your laptop up to date or just want to add faster storage and RAM, you shouldn't have much issue.
Hot market
Lenovo Legion 5 Pro: Competition
The recent Razer Blade 15 refresh is currently top of mind, and it is a solid alternative to the Legion 5 Pro if you're looking for something with a more premium flavor. The latest models start at a much higher price, but the laptop is thinner and lighter while still allowing for a ton of hardware options. Get up to a 15-inch OLED 4K Touch display, 11th Gen Intel Core i9-11900H CPU, NVIDIA RTX 3080 Laptop GPU, 32GB of RAM, and 1TB SSD. If you're looking for an AMD-powered laptop from Razer, the Blade 14 starts at about $1,800.
For something more in line with Lenovo's pricing, check out the Dell Alienware M15 R6 starting at about $1,274 for a model with 11th Gen Intel Core i7-11800H CPU, NVIDIA RTX 3050 Ti GPU, 8GB of RAM, 256GB SSD, and FHD display with 165Hz refresh rate. There are multiple displays available, including FHD with 360Hz refresh rate and QHD with 240Hz refresh rate.
And for some more AMD goodness, the HP OMEN 15 is also a great option within the same price range as the Legion 5 Pro. It's available with AMD Ryzen 5000 Mobile CPUs, up to a NVIDIA RTX 3070 Laptop GPU, 16GB of RAM, and 1TB M.2 PCIe SSD. The 15.6-inch display can be had in FHD with 144Hz refresh rate or QHD with 165Hz refresh rate.
Be sure to have a look at our collection of the best Windows laptops for plenty more options.
Big decision
Should you buy the Lenovo Legion 5 Pro?
Who it's for
Those who are looking for high-end performance
Those who want to spend mid-range prices
Those who want to game on a 16-inch QHD+ display
Who it isn't for
Those who work primarily from battery power
Those who want to keep things extra thin and light
Those who want to go with a 4K display
The Legion 5 Pro isn't a PC that's meant to act as a mobile workstation. AMD's CPU performance drop on battery power is present once again, and while the laptop isn't going to grind to a halt as soon as it loses AC power, you're going to see a significant drop in multi-core performance. Even with the performance slowdown, battery life is brief, lasting just more than an hour.
You might be saying to yourself, "Who cares? This is a gaming laptop. It's going to be plugged in all the time." In that case, this laptop should serve you well. Running on AC power, the Legion 5 Pro is an incredibly powerful laptop that's capable of delivering a high-end experience in all modern games. Not only that, but it also manages to stave off thermal throttling thanks to careful power balancing, and it is stable under full load. It does, however, put out a ton of heat that you will feel through the keyboard and out the side exhaust. The Legion 5 Pro really isn't a laptop you want to use on your lap.
I'd still recommend the Legion 5 Pro to anyone shopping around for a modern gaming laptop. The 16-inch QHD+ display with 16:10 aspect ratio is packed with features, including 165Hz refresh rate, NVIDIA G-Sync, 500+ nits brightness, Dolby Vision, and HDR. There are plenty of ports available (most out of the way on the back), and the camera's E-shutter adds a bit of privacy. This isn't a laptop you should rely on when it comes to battery life and DC performance, but otherwise it is one of the best Legion laptops Lenovo has ever released. I look forward to testing the Intel version for some comparisons.
Big changes, still affordable
AMD's performance slowdown on battery is present here, but otherwise this is a killer 16-inch gaming laptop I would recommend for anyone who doesn't mind remaining plugged in.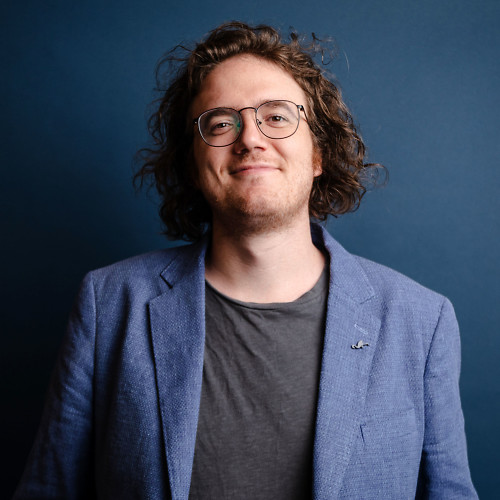 Senior Editor, Laptop Reviews
Cale Hunt is formerly a Senior Editor at Windows Central. He focuses mainly on laptop reviews, news, and accessory coverage. He's been reviewing laptops and accessories full-time since 2016, with hundreds of reviews published for Windows Central. He is an avid PC gamer and multi-platform user, and spends most of his time either tinkering with or writing about tech.