Lenovo Legion Y740 15 review: Cool, quiet RTX 2070 performance that is priced right
Lenovo's Legion Y700 series has taken its game to the next level.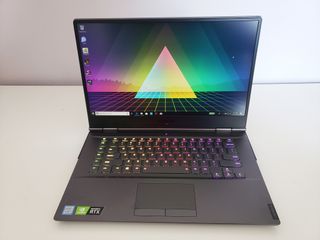 (Image credit: Windows Central)
This year's Lenovo Legion Y700-series refresh brings powerful NVIDIA RTX graphics options and 144 Hz refresh rate displays to a design that's otherwise similar to the Legion Y730. One of the main complaints with the Legion Y730 was that it topped out at a GTX 1050 Ti, making it only suitable for low-end gaming, but that's definitely been rectified here. I've been using for about a week to see how well it stands up to the tough task of gaming.
Lenovo supplied Windows Central with a review unit of the 15-inch Legion Y740 with an NVIDIA RTX 2070 Max-Q graphics card (GPU), 8th Gen Intel Core i7-8750H processor (CPU) with six cores, 16 GB of DDR4 RAM, and a 256 GB PCIe solid-state drive (SSD) coupled with a 1 TB SATA hard-disk drive (HDD).
From $1,400Bottom line: It has a small battery and the webcam shoots up your nose, but the 15-inch Legion Y740 stays cool and is almost unbelievably quiet while delivering outstanding gaming performance.
For
Superb performance
Mature aluminum design
Colorful 144 Hz display
RGB keyboard with macros
Runs cool and quiet
Against
Under-display webcam
Touchpad position interferes with left hand
Small 57 Wh battery
Lenovo Legion Y740 15 tech specs
Swipe to scroll horizontally
Category
Spec
OS
Windows 10 Home
Processor
8th Gen
Intel Core i7-8750H
Hexa-core
Up to 4.10 GHz
RAM
16 GB DDR4-2666 MHz
Dual-channel
Graphics
NVIDIA RTX 2070 Max-Q
8 GB GDDR6 VRAM
Storage
256 GB Samsung PM981 PCIe SSD
1 TB Seagate SATA HDD
Display
15.6 inches
1,920 x 1,080 (FHD)
G-Sync enabled
144 Hz refresh rate
Ports
Three USB-A 3.1
Mini DisplayPort 1.4
HDMI 2.0
RJ45 Ethernet
Thunderbolt 3
3.5 mm audio
Audio
Dual 2 W speakers
Integrated subwoofer
Dolby Atmos
Wireless
Killer Wireless
AC 1550i
802.11ac
Bluetooth 4.1
2 x 2 MU-MIMO
Camera
720p front-facing
Keyboard
RGB backlight
Corsair iCue
Touchpad
Precision
Battery
57 Wh
230 W adapter
Dimensions
14.2 inches x 10.5 inches x 0.88 inches
(361.42 mm x 267 mm x 22.45 mm)
Weight
From 5.1 pounds (2.2 kg)
Lenovo Legion Y740 15 design
The 15-inch Legion Y740 is housed in essentially the exact same chassis as last year's Legion Y730. That's not necessarily a bad thing, especially if you like the mature look that Lenovo succeeds in pulling off here. The laptop weighs in at about five pounds (2.2 kg) and is 0.88 inches thick, which makes it more portable than the enormous 17-inch Legion Y740 I also reviewed. The chassis is primarily made from aluminum, but it has a plastic portion along the back and partially up the sides to house the exhaust, bottom air intake, and majority of ports.
Lenovo seems to understand that most people are going to hook up at least an external mouse and have the AC adapter plugged in most of the time, and so have relegated most ports to the rear, including the proprietary Lenovo charging port, HDMI, Ethernet, Mini DisplayPort, and two USB-A 3.1. You don't have the clutter along the sides that you'd normally see with a bunch of accessories plugged in, and you still get Thunderbolt 3 port on the left side, as well as a USB-A port on the right side.
Image 1 of 3
The dual hinges allow for the lid to be opened with one hand, and it has enough range of motion to allow the screen to sit back flat. Still, the hinges remain sturdy enough, and even if you're gaming on the go you shouldn't have an issue with too much-unwanted display travel. You still get a dual-fan cooling system here that does an exemplary job, especially considering the hardware inside, and the exhaust vents have RGB lighting that can be customized in Corsair's included iCUE app.
The laptop tapers a bit towards the front for a bit of a wedge shape that helps make it appear thinner than it really is, and there's a 2-watt speaker on the slanted edge on either side. There's also a subwoofer built into the back of the laptop for some extra audio oomph, and I didn't mind not using a headset for general play. Audio gets loud without distorting, but I still prefer a gaming headset for anything competitive.
Lenovo Legion Y740 15 display
Image 1 of 2
Compared to the 17-inch Legion Y740, you're getting here a much thinner bezel along the top and sides for a more modern look, though the front-facing webcam has been moved below the display. This causes anyone watching your stream to see pretty much directly up your nose. If you're just using it once and a while to catch up with friends and family, it will get the job done, but anyone taking game streaming seriously will want to invest in a webcam with better picture quality and that allows for a different angle.
It would be nice to have the option to select a display resolution other than 1080p — the RTX 2070 GPU is capable of handling 1440p and even some 4K — but Lenovo has stuck with FHD. The display is G-Sync compatible and has a 144 Hz refresh rate, which both contribute to a smooth picture with minimal tearing. In a lot of games, you're going to hit that high framerate, and the result is something wonderful.
The display is noticeably colorful when you open the lid, and I didn't notice the same light bleed along the edges as I found with the 17-inch model. Colors are full and contrast is spot on. I tested color reproduction with my Datacolor Spyder 5 and got back 98 percent sRGB and 75 percent AdobeRGB, both excellent results. If you don't plan on often connecting an external display to the laptop, you should still get a visually enticing gaming experience.
Lenovo Legion Y740 15 keyboard and touchpad
One thing I liked about the Legion Y730 was the column of extra keys to the left of the main keyboard, which is found again on the Y740 15. At the top of the column is a shortcut key for Lenovo's Vantage app, wherein you can customize the two macro keys to do whatever you want. A record button is also found in the column, as well as keyboard backlight adjustment.
RGB lighting for the keyboard is handled by the Corsair iCUE app, which lets you set up just about any color combination or effect you'd like. It's a nice look on any gaming laptop, and the fact that you can sync up the exhaust vent lighting with the keys makes it even better. Don't worry; if you prefer a solid color without any throbbing or waving, it's easy to achieve.
This isn't a mechanical keyboard, but I didn't have an issue using it most of the time. Keys have lots of travel, they bottom out softly, and they're responsive, which is important when you get into competitive gaming. The only issue I have is that the macro key column on the left side shifts everything else in the main QWERTY deck over to the right, but the touchpad remains in the middle of the chassis. Though the laptop senses when you have an external mouse and disables the touchpad, your palm will still rub the edge when using the usual WASD keys for gaming. It's easy to forget about once the game starts, but it's still there.
The touchpad uses Precision drivers, allowing for the full gamut of Windows 10 gestures, but it's rather small and the physical buttons are, like on the 17-inch Y740, finicky. You have to hit them directly in the middle to get a response, and the click feels flimsy. Most people are going to plug in a mouse right away, so I don't think it's as big of a deal as on a standard Ultrabook.
Lenovo Legion Y740 15 gaming and VR
The Legion Y740 is almost unbelievably quiet when running under heavy load. I gave it an extended CPU stress test to check temperatures and to see if there was any throttling, but cores remained at about 75 degrees Celsius with no thermal issues whatsoever. You'd expect the fans to be loud at this point, and while you will notice them, I don't think they're any louder than a lot of regular notebooks that don't have this type of performance hardware inside. I thought the fans on the 17-inch Y740 were relatively quiet, but this is something else.
Something I first noticed on the larger Y740 was that the CPU draws 60 watts when the GPU isn't also under load and drops down to about 45 watts when both are running together. The Y740 15 does the same, and it gives you more processing power when you just need the CPU and keeps the laptop from getting into any sort of dangerously high temperature when you're taxing the entire system.
The battery here is only 57 Wh, which is relatively small for a laptop packing this much power. While gaming, you're going to get less than an hour of life before needing to plug in, and can expect just less than two hours when using the laptop for regular tasks. There is a fast-charge option that can be enabled to quickly get the battery back up to about 80 percent in under an hour, but the battery should be much larger to keep up with the competition. I thought maybe Lenovo would use a smaller AC adapter for the 15-inch model but it's the exact same as comes with the Y40 17. It really hinders the overall portability, and the fact that a lot of 230 W adapters for other laptops are a fraction of the size, it's kind of a letdown.
I ran some synthetic gaming benchmarks to see how the RTX 2070 Max-Q holds up against other NVIDIA hardware.
3DMark
Time Spy (Higher is better)
Swipe to scroll horizontally
| PC | GPU | Score |
| --- | --- | --- |
| Lenovo Legion Y740 15 | RTX 2070 Max-Q | 6,406 |
| Lenovo Legion Y740 17 | RTX 2080 Max-Q | 7,128 |
| Lenovo Legion Y730 | GTX 1050 Ti | 2,568 |
| Lenovo Legion Y7000 | GTX 1060 | 3,975 |
| Dell G7 15 7588 | GTX 1060 | 3,792 |
| Acer Predator Triton 700 | GTX 1080 | 5,809 |
| ASUS ROG Zephyrus | GTX 1080 | 5,551 |
3DMark
Fire Strike (Higher is better)
Swipe to scroll horizontally
PC
GPU
Score
Lenovo Legion Y740 15
RTX 2070 Max-Q
14,669
Lenovo Legion Y740 17
RTX 2080 Max-Q
16,303
Lenovo Legion Y730