Lenovo Legion Y920 Tower review: Pricey pre-built PC power
A ton of power, an attractive chassis big enough for easy upgrades, and a wide selection of ports with VR in mind. This is Lenovo's Y920 Tower gaming PC.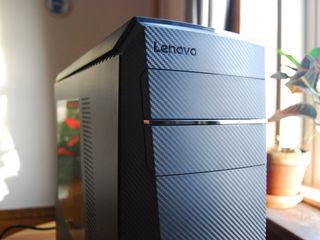 Love them or hate them, pre-built desktop gaming PCs are here to stay. Many people don't have the time to amass the parts required to build their own rig, or they prefer having an all-in-one warranty to cover any defects. In any case, most major PC manufacturers have a gaming line.
Lenovo's line is called "Legion," and what we have here for review is their premium offering, the Legion Y920 Tower (Y920T). It has overclockable hardware, lots of room for upgrades, and some extra features that gamers love. Let's see how it all comes together in our review.
About this review
Lenovo loaned Windows Central a review unit of the Legion Y920T. This specific configuration has inside a seventh-generation Intel Core i7-7700K processor (CPU), 16GB of DDR4 RAM, a 256GB solid-state drive (SSD) coupled with a 2TB hard-disk drive (HDD), and an NVIDIA GTX 1080 graphics card (GPU) with 8GB of GDDR5 VRAM. This specific configuration costs about $2,500.
Lenovo Legion Y920T hardware and specification
Category
XX
Processor
Intel Core i7-7700K (4.20GHz)
RAM
16GB DDR4-2400MHz
Storage
2TB 7,200 RPM HDD
256GB PCIe SSD
Graphics
NVIDIA GTX 1080 8GB
Motherboard
Z270 Chipset
Ports
Front:
Four USB-A 3.0
USB-C
HDMI
3.5mm audio jack
Rear:
Four USB-A 3.0
Two USB-A 2.0
PS/2
VGA
Ethernet
DVI
HDMI 2.0
Three DisplayPort 1.4 (one routed to front HDMI)
Wireless
Killer Wireless 1535
802.11ac (2 x 2)
Bluetooth 4.0
Keyboard
Mechanical (included)
Mouse
Gaming (included)
Optical drive
DVD
Power supply
625W
Weight
Starting at 31.08 pounds (14.1kg)
Dimensions
18.85 in x 19.82 in x 8.12 in
(478.9 mm x 503.5 mm x 206.4 mm)
OS
Windows 10 Home
Lenovo Legion Y920T design
The Y920T's chassis is a pretty standard gaming tower, with a primarily black finish that resembles carbon fiber on the front panel. The top has some fancy venting and a handle that helps lug around the 30 pounds, and on one side is a removable panel with a clear cutout to show off the internal lighting and hardware. The internal light on the rear fan is not customizable — you're stuck with red — but the dual lights on the front, as well as the Lenovo logo, can be customized through the Nerve Center app. Choose from different dynamic effects (including a sync with the game you're playing) and colors to make it your own.
Lenovo wanted to make their new gaming PCs more upgrade-friendly, and I'd say they've succeeded. The side panel comes off with a slide and push of a button, giving you full access to what's inside. There is plenty of room for extra hardware and upgrades, including a secondary (empty) drive bay and room for more storage.
The PC is absolutely loaded with ports, which any gamer will love. On the back are plenty of modern and legacy options (including PS/2, VGA, DVI), and on the front, where they're super easy to reach and plug in a VR headset, are HDMI, four USB-A 3.0, and USB-C. This is a great mix and will stay relevant for quite some time.
Despite some gaming rigs going a bit overboard in the design department, the Y920T sits darkly next to my desk without drawing too much attention to itself. That's not to say it isn't a looker; when the lights are on and the GTX 1080 is lit up from inside, there's a certain aura it gives off, as should any solid gaming PC.
Lenovo Legion Y920T keyboard and mouse
Compared to the offering that comes with the Legion Y720T (the Y920T's mid-range counterpart), the included keyboard and mouse are of a high quality. You're looking at mechanical keys, a red backlight you can customize for brightness and breathing effect, and a bunch of extra keys around the outer edge for custom macros and volume controls. The keyboard, on the right side, has a USB-A port for the mouse, as well as headphone and microphone jacks for your headset. While these ports are appreciated, the headset cable seems to get in the way of my mouse hand a lot more than not, but it's a solid option for anyone who has their PC located away from their desk.
The right-handed mouse is of the same quality as the keyboard, branded with a backlit Lenovo "Y" and featuring four extra macro buttons on the left side. You're looking at a selectable DPI up to 8,200 and a 1,000Hz polling rate, plus there are four small weights that can be added to a compartment on the bottom of the mouse if you feel it's too light. The mouse is designed with comfort in mind, but it's rather large (5.27 in x 3.32 in x 1.60 in) and I'm used to something a bit more compact. Still, for something included with a PC, you're getting a device that's up there when it comes to quality and function.
Lenovo Legion Y920T gaming and VR
Branded on the Y920T's packaging is a sticker signifying that it's Oculus-certified. If you have a Rift or are planning on getting one, this means you can access in-depth Oculus support for any issues you run into when using your Rift.
Alongside the Rift, this PC handled the HTC Vive and Windows Mixed Reality (WMR) without a hitch. We played Fallout 4 VR without issue, comfortably hitting 90 frames-per-second (FPS) as a rule. The other VR games we tested again ran without issue. This is a lot of power, and it shows.
The ports on the front are an enormous boon for anyone, but especially those with a VR system. You can plug in the Vive, Rift, and WMR no problem, and there are even those three extra USB-A ports for Rift external sensors. No more leaning over the back of your tower to feeling around for the correct ports.
3DMark
Time Spy (Higher is better)
| PC | GPU | Score |
| --- | --- | --- |
| Lenovo Legion Y920T | GTX 1080 | 6,774 |
| Lenovo Legion Y720 | GTX 1060 | 3,469 |
| Lenovo Legion Y520 | GTX 1050 Ti | 2,491 |
| Razer Blade 2017 | GTX 1060 | 3,639 |
| Dell XPS 15 (9560) | GTX 1050 | 1,789 |
| Surface Book | GTX 965M | 1,531 |
| Spectre x360 | GT 940m | 613 |
It's not really a fair comparison to throw a desktop PC up against laptops, but it should give you a good idea of how well the Y920T performs.
3DMark
Fire Strike (Higher is better)
| PC | GPU | Score |
| --- | --- | --- |
| Lenovo Legion Y920T | GTX 1080 | 16,996 |
| Lenovo Legion Y720 | GTX 1060 | 9,017 |
| Lenovo Legion Y520 | GTX 1050 Ti | 6,623 |
| Razer Blade Pro | GTX 1080 | 12,976 |
| Dell XPS Tower SE | GTX 1070 | 12,315 |
| Razer Blade 2017 | GTX 1060 | 9,278 |
Again, we're comparing the Y920T to a set of laptops, but you can see the difference. To further put these results into perspective, a score of about 9,200 is average for a VR PC.
VRMark
Orange Room (Higher is better)
| PC | GPU | Score |
| --- | --- | --- |
| Lenovo Legion Y920T | GTX 1080 | 10,688 |
| Lenovo Legion Y720T | GTX 1060 | 9,028 |
Compared to its mid-range sibling, the Y920T manages to eke out more VR power (no surprise). For perspective, a premium high-end PC is expected to hit about 10,390.
For real-world FPS examples, we used Dying Light and PlayerUnknown's Battlegrounds (PUBG) at 1440p to test out average FPS. At highest settings, we got an average of about 86.7 FPS from Dying Light. With mostly ultra settings, we got an average of about 81.5 FPS in PUBG. These are both excellent results but are expected from the beefy GTX 1080 GPU. One thing to note is that there's a bit of a whine when the GPU is put under heavy load. It's easily drowned out by speakers or headphones, but it's worth mentioning.
Lenovo Legion Y920T performance
The Corsair DDR4 RAM inside is overclockable, and you're also getting a K-class Intel Core i7 CPU that can be overclocked with the push of a single button, available through the Nerve Sense app. You can likewise set network priority and can access advanced Wi-Fi settings through the Killer Control Center.
This PC is built to be a real performer, and it shows when testing out everyday performance.
CPU
Geekbench 4.0 Benchmarks (Higher is better)
| Device | CPU | Single core | Multi core |
| --- | --- | --- | --- |
| Lenovo Legion Y920T | i7-7700K | 5,484 | 18,438 |
| Lenovo Legion Y720 | i7-7700HQ | 4,697 | 14,810 |
| Lenovo Yoga 720 15 | i7-7700HQ | 3,784 | 10,255 |
| Surface Laptop | i5-7200U | 3,725 | 7,523 |
| Lenovo Legion Y520 | i7-7700HQ | 4,596 | 14,903 |
| Razer Blade 2017 | i7-7700HQ | 4,277 | 13,597 |
| Dell XPS 15 | i7-7700HQ | 4,503 | 13,587 |
| Razer Blade Pro | i7-6700HQ | 3,660 | 12,325 |
| Dell XPS 13 (9360) | i7-6560U | 4,120 | 7,829 |
| HP Spectre 13 | i7-7500U | 4,100 | 7,469 |
| Surface Book | i7-6600U | 3,948 | 7,415 |
Those four cores aren't there for nothing, as you can see from the latter benchmark score. Not only can this CPU handle gaming, it'll also handle a heavy amount of multitasking.
PCMark
PCMark Home Conventional 3.0
| Device | Score |
| --- | --- |
| Lenovo Legion Y920T | 4,682 |
| Lenovo Legion Y720 | 3,599 |
| Lenovo Yoga 720 15 | 2,993 |
| Surface Pro 2017 | 3,055 |
| Surface Laptop | 2,494 |
| Lenovo Legion Y520 | 3,475 |
| Razer Blade 2017 | 3,448 |
| Dell XPS 15 | 3,534 |
The PCMark Home Conventional test takes a bunch of your hardware and determines how well it works together while performing a number of everyday tasks. Again, this is an excellent result, showing that this PC will shred any everyday tasks you have in mind.
SSD
CrystalDiskMark (Higher is better)
| Device | Read | Write |
| --- | --- | --- |
| Lenovo Legion Y920T | 3,291.6 MB/s | 1,226.6 MB/s |
| Lenovo Legion Y720 | 1,642 MB/s | 789.7 MB/s |
| Lenovo Yoga 720 15 | 1,839 MB/s | 1,238 MB/s |
| Surface Laptop | 423 MB/s | 237 MB/s |
| Lenovo ThinkPad T470 | 1,079 MB/s | 716.1 MB/s |
| Lenovo Legion Y520 | 1,838 MB/s | 1,151 MB/s |
| Lenovo Yoga 720 | 1,904 MB/s | 1,169 MB/s |
| Lenovo X1 Carbon | 1,518 MB/s | 1,188 MB/s |
| Samsung Notebook 9 15 Ext | 1,365 MB/s | 1,213 MB/s |
| Razer Blade Pro | 2,571 MB/s | 2,467 MB/s |
| Dell XPS 15 (9560) | 2,207 MB/s | 1,628 MB/s |
| Dell XPS 13 (9360) | 1,287 MB/s | 794 MB/s |
| HP Spectre x360 15 | 1,128 MB/s | 862 MB/s |
The 256GB Samsung PM961 SSD delivers blazing-fast speeds. Windows 10 boots instantaneously, and the same goes for any games installed on this drive. The 2TB Seagate HDD, on the other hand, only hit a read speed of 220.6 MB/s and a write speed of 215.2 MB/s.
Lenovo Legion Y920T review: Conclusion
One of the only issues with this PC is the price. For the model reviewed here, you're looking at about $2,500. This includes the impressive keyboard and mouse, and includes Lenovo's standard limited warranty (opens in new tab) which can be upgraded further for a fee. Altogether this is an impressive package, but there are far cheaper pre-built options out there. An Alienware Aurora (opens in new tab), for example, that includes an eighth-gen Core i7 CPU, is more than $400 cheaper.
Disregarding price, you're looking at a big gaming PC that starts with a lot of power and has lots of room for upgrades. The customizable LED lighting is a nice touch, and the clear cutout on the side lets you show off your hardware. The ports on the front make it easy to connect your peripherals, and the included accessories are high quality. Do these extras make up for the price difference you'll see when you start shopping around? That's for you to decide.
Pros:
Oculus-certified.
Plenty of well-placed ports.
Tons of power.
Customizable lighting.
Quality accessories.
Cons:
Pricey compared to similar PCs.
Bit of a whine when under load.
Senior Editor, Laptop Reviews
Cale Hunt is a Senior Editor at Windows Central. He focuses mainly on laptop reviews, news, and accessory coverage. He's been reviewing laptops and accessories full time since 2016, with hundreds of reviews published for Windows Central. He is an avid PC gamer and multi-platform user, and spends most of his time either tinkering with or writing about tech.
Windows Central Newsletter
Get the best of Windows Central in in your inbox, every day!
Thank you for signing up to Windows Central. You will receive a verification email shortly.
There was a problem. Please refresh the page and try again.