Lenovo goes behind Microsoft's back – preinstalls "Pokki Start Menu" software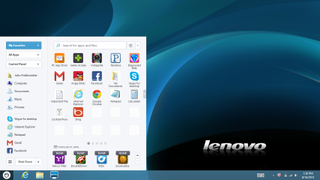 The disappearance of a Start button and traditional Start Menu from Microsoft's latest operating system, Windows 8, has been controversial. Many users who have been using the software for years feel discombobulated when trying to find their list of installed applications in the new OS. While most OEMs are hoping Windows 8.1's decision to reintegrate a Start button will clam user frustrations, Lenovo has gone one step farther.
The world's largest PC manufacturer, Lenovo, will begin installing a piece of software onto all of its Windows 8 machines that will bring users closer to the traditional start menu. Pokki, a piece of software developed by startup, SweetLabs, adds an "acorn start button" in place of where the "windows start button" used to sit.
The button provides access to a more traditional start menu along with a collection of apps that can be downloaded from Pokki's own application store. SweetLabs states that they intend on expanding their app store to include traditional desktop applications and Windows 8 applications. Co-founder, Chester Ng, made a statement regarding the recent arrangement with Lenovo:
A closer look at Pokki does show quick links to document libraries, the control panel, and currently installed applications. Users who have missed the traditional start menu will definitely feel more at home with Pokki installed. The application can either sit in your taskbar as a standalone button or get rid of the new Windows button all together. If you want to have Pokki look exactly like the Windows 8.1 Start button and even intercept when the "Windows Key" is pressed – you can do that.
We are not sure whether or not the new implementation will make Windows 8 users equivalently happy as compared to the anger Microsoft is no doubt feeling right now. We have reached out to Lenovo for further comments and will update you when we receive a response.
For users interested in trying out Pokki themselves, it is free and can be downloaded here.
Source: GeekWire
Get the Windows Central Newsletter
All the latest news, reviews, and guides for Windows and Xbox diehards.