When I reviewed last year's first-gen ThinkPad X13, I noted strong performance from AMD Ryzen 4000 Pro processors and a modest price. However, the stale design and middling battery life held it back. Now the ThinkPad X13 is back for a second generation, and this time my review unit is packing an 11th Gen Intel Core CPU to go along with a bunch of other significant changes. Let's take a look at how it has improved and whether or not the second generation is worth your money.
Lenovo ThinkPad X13 (Gen 2)
Bottom line: The ThinkPad X13 gets some worthwhile upgrades for its second generation, but its price keeps it from being an easy recommendation over the coveted ThinkPad X1 series. You'll no doubt want to wait until the X13 (Gen 2) costs less than the higher-end laptops before buying, otherwise stick with the X1 Carbon or X1 Yoga.
For
Chassis is now aluminum
Taller 16:10 display
Keyboard still excellent
Plenty of ports with dual Thunderbolt 4
Excellent battery life
Against
Loose touchpad rattles
Chunky bezel
Soldered RAM
No SD card reader
1080p camera should be standard
Lenovo ThinkPad X13 (Gen 2): Price, availability, and specs
Lenovo supplied Windows Central with a review unit of the ThinkPad X13 (Gen 2). This specific model is near the lower end of what's on offer, with Core i5-1135G7 processor (CPU), 8GB of soldered RAM, 256GB M.2 PCIe 3.0 solid-state drive (SSD), and FHD+ non-touch display. A similar model costs about $2,009 at Lenovo before any of its frequent and deep discounts.
This Intel version isn't alone in Lenovo's lineup. The ThinkPad X13 (Gen 2) is available with AMD Ryzen 5000 Pro chips, as well as a convertible Yoga model powered by 11th Gen Intel. Though AMD models are usually more affordable, this time models start at about $2,149 before any of Lenovo's discounts. Similarly, the Intel-powered Yoga version starts at about $2,119 at Lenovo.
All three versions of the second-gen ThinkPad X13 are available to buy now, plus the first-gen Intel- and AMD-based models are still listed at Lenovo and at many major retailers.
Following are the exact specifications of my review unit.
Swipe to scroll horizontally
Category
Spec
OS
Windows 10 Pro
Processor
11th Gen Intel
Core i5-1135G7
4 cores, 8 threads
Up to 4.2GHz
RAM
8GB LPDDR4x-4266
Dual-channel
Soldered
Graphics
Intel Iris Xe
Storage
256GB M.2 PCIe 3.0 NVMe SSD
Display
13.3 inches
1920x1200 (FHD+)
16:10 aspect ratio
IPS, 300 nits
Non-touch
Anti-glare
Ports
Two Thunderbolt 4
Two USB-A 3.2 (Gen 1)
HDMI 2.0
3.5mm audio
Ethernet extension connector
Audio
Dual 2W speakers
Top-firing
Dolby Audio
Wireless
Intel Wi-Fi 6E AX210
Bluetooth 5.2
Camera
Front-facing 720p
Privacy shutter
Keyboard
Backlit
Touchpad
Precision
TrackPoint
Security
dTPM 2.0
Fingerprint reader
Camera shutter
Kensington Nano lock slot
Battery
54.7Wh
65W AC adapter
Dimensions
12.04 x 8.58 x 0.71 inches
(305.8mm x 217.89mm x 18.06mm)
Weight
3.04 pounds (1.38kg)
Color
Storm Grey
Material
Aluminum
New aluminum build
Lenovo ThinkPad X13 Gen 2: Design and features
Lenovo's first version of the ThinkPad X13 was built from a magnesium alloy that kept it below 3 pounds but didn't offer quite as much rigidity. That's changed with the Gen 2 model. My review unit sports a heavier all-aluminum build that feels like it can handle a tough life. Indeed, it's been put through MIL-STD-810H durability testing to prove it can withstand conditions outside of a normal office life. The Storm Grey finish does a better job of hiding fingerprints and smudges than the usual soft-touch black paint.
WWAN models substitute the metal keyboard surround for magnesium, while the models with a black finish come with the same surround and a carbon fiber lid. It seems like Lenovo is currently only offering the black finish on its website, though this limitation will likely change. You can configure models with a Quectel 4G LTE or Qualcomm Snapdragon X55 5G modem, and the M.2 slot inside is accessible. A Nano-SIM slot is possible, and eSIM comes standard. NFC is available, and Wi-Fi 6E and Bluetooth 5.1 are included.
The keyboard is laid out the same as the Gen 1 model, and it's still the not-quite-full size that you see on larger ThinkPads. Keycaps are just a bit tinier, but overall the keyboard is no less comfortable. There's tons of travel, a soft bottom, and a backlight to help work after hours. I also appreciate the navigation keys not being doubled up and accessible only with a Fn shortcut. The top row includes dedicated communication buttons for easier call control.
A wider touchpad sits below the physical buttons associated with the TrackPoint system. I appreciate the extra room for pointing, but the click feels loose and sometimes rattles. It's not up to the usual ThinkPad standard and I hope it's a bad batch instead of a permanent regression. I won't comment much on the TrackPoint setup; it's there for those who use it and remains mostly out of the way for those who do not use it.
Dual 2W stereo speakers have been moved from the bottom of the chassis to sit between the keyboard and display. A grille covers the speakers, and there's an incorporated LED status light to go along with the nearby power button (which itself has a built-in fingerprint reader). Sound is certainly less muffled now that audio fires upward. Dolby Audio is included, allowing you to tune sound for different scenarios, but no matter what the speakers are still just a bit hollow. They get pleasantly loud without distorting, and overall they're very good for a compact business laptop.
Within the Lenovo Vantage app are some audio optimization settings for the dual-array microphones. You can optimize for VoIP, with further tweaks to pick up just your voice or multiple voices. The aforementioned dedicated comm keys help a lot if you find yourself on a lot of calls.
Image 1 of 3
My review unit comes with a rather basic front-facing 720p webcam with privacy shutter. I was admittedly impressed with the clear picture and how the camera dealt with exposure in a bright room. As an upgrade, a 1080p camera with IR for Windows Hello is available. This option comes with human presence detection, a sensor that will lock or unlock your PC automatically as you leave or approach. If you work in a busy office this can be a huge boon.
Both USB-C ports on the Intel-based X13 (Gen 2) now offer Thunderbolt 4, and HDMI has been bumped up to version 2.0. Besides that, there are still two USB-A 3.2 (Gen 1) ports, proprietary Ethernet extension connector, and 3.5mm audio. There's space for a Smart Card reader to be configured at checkout if required. This is a great selection for a laptop this size, allowing you to remain for the most part outside the world of dongles. A Thunderbolt 4 docking station can always be added for a more permanent setup.
New 16:10 aspect ratio
Lenovo ThinkPad X13 (Gen 2): Display
Lenovo has been shifting its laptop displays to a taller aspect ratio with recent refreshes; the ThinkPad X13 (Gen 2) is included in the upgrade. It's now 16:10 with a 1920x1200 (FHD+) resolution that looks crisp and clear at 13.3 inches. This is the most basic display available, with anti-glare finish, IPS panel, and a measured 354 nits at peak brightness. It's almost bright enough to work outdoors, at least on a cloudy day.
There are two other FHD+ displays available. One hits 500 nits and includes a Privacy Guard to limit viewing angles. The other is touch-enabled with 300 nits and the same anti-glare finish. I love that there's also a version with boosted 2560x1600 (QHD+) resolution, 400 nits brightness, better contrast, and anti-glare finish. It's also low power and low blue light.
I find the basic FHD+ non-touch version to be well suited for most people just going about regular work. I measured with my SpyderX Pro colorimeter 100% sRGB, 79% AdobeRGB, and 81% DCI-P3 color reproduction, all solid results. Colors are full and good contrast helps remove any washed appearance. I had no issues using it for photo editing, and for standard productivity work it will be more than enough. If you foresee a lot of work outdoors, something with more brightness is recommended.
The only other nitpick I have in this regard is the chunky bezel. The chin, thanks to the taller aspect ratio, is thinner, but the top and sides are the same size as the first generation. It's an outdated design, especially for a laptop that is often considered just slightly below the X1 pinnacle.
Intel Evo certification
Lenovo ThinkPad X13 (Gen 2): Performance and battery
I was impressed with the first-gen X13's AMD 4000 Pro CPU performance. And while you can now get an X13 with AMD 5000 Pro CPUs, my review unit has an 11th Gen Intel Core i5-1135G7 with Intel Evo system certification. This guarantees consistent performance even on battery life, quick wake from sleep, and nine or more hours of battery life with the FHD display.
I used the laptop for about a week for work, including heavy web browsing, word processing, photo editing, streaming, and email. There are no issues to report. The Core i5 CPU puts up good numbers in synthetic benchmarks, and the integrated Intel Iris Xe graphics will be able to handle light gaming. For something better suited for fun, check out our best gaming laptop picks.
One thing I would recommend is at least 16GB of RAM. Because it's soldered to the board, there's no opportunity for upgrades down the line. Take a look at how the ThinkPad X13 (Gen 2) compares to the Gen 1 AMD model, other ThinkPads, and more.
Image 1 of 6
The M.2 SSD is for some reason slower than usual on the write side, but the read side is speedy. The drive is accessible after removing the bottom cover. You can upgrade as you like, and the system should support PCIe 4.0. The single fan has a relatively small intake, though the laptop didn't get too hot during regular use. If you are using an external mouse, note that the exhaust vent on the right side of the laptop will blow onto your hand.
I measured battery life using PCMark 10's Modern Office rundown test, with screen brightness set to about 75% and Windows 10 power plan set to Better Performance. The X13 (Gen 2) managed 12 hours and 36 minutes, a stellar result.
ThinkPads and more
Lenovo ThinkPad X13 (Gen 2): Competition
I expect that Lenovo will offer some serious discounts on the X13 (Gen 2) as its life wears on, but as it stands now the price isn't that much cheaper than options from the X1 series. The 14-inch ThinkPad X1 Carbon (Gen 9), arguably the best laptop Lenovo has to offer, is actually down to around $1,440 after a major discount (regular price $2,879) at Lenovo. Although it has a slightly larger footprint, it weighs less. It also offers many of the same (and more) premium business and security features you'll find in the X13. If you want to go premium, this is the way to go.
The ThinkPad X1 Yoga (Gen 6) is a convertible version, and it's one of the best laptops I've tested this year. If you'd like to be able to rotate your screen around for tent, stand, and tablet modes — as well as pull a built-in pen out for use whenever you please — this is a good option. You're looking at a starting price of about $2,027 at Lenovo.
I was also impressed with the ThinkBook 13s (Gen 2), and anyone looking to spend less than $1,000 on a laptop should definitely give it a look. Typing isn't as good and the display could be brighter, but performance is solid, and the battery should last more than 10 hours.
Moving away from Lenovo's laptops, those looking for an Ultrabook that isn't necessarily focused on business should check out either the Dell XPS 13 (9310) or the Razer Book 13. These two laptops sit at the top of our collection of the best Windows laptops, and for good reason. They're exquisitely built, the screens are hard to beat, and they offer tons of performance and battery life.
In the shadow of X1
Should you buy the Lenovo ThinkPad X13 (Gen 2)?
Who it's for
Those who want a high-end ThinkPad without paying (quite) X1 prices
Those who need extra security measures and durability
Those who want an excellent keyboard and lots of ports
Those who want 10 to 12 hours of battery life
Who it isn't for
Those who want a 4K display
Those who want a dedicated GPU
Those who want a thin, modern bezel around the display
Lenovo's odd pricing system sees laptops have a "standard price" that's generally hovering somewhere on the edge of outer space. Then, thanks to ecoupons and sales events, it can advertise thousands of dollars off the regular price. However, when those sales aren't active it can be tough to figure out just what to recommend.
The cheapest X13 (Gen 2) at time of writing sits at about $2,009. An X1 Carbon (Gen 9) with the same CPU, double the RAM, and twice as much storage space costs $1,440 after a discount. Who is going to spend nearly $600 more on an arguably inferior laptop? Enterprise buyers might see things differently due to the lack of some features (like Smart Card reader) on the X1, but for the regular consumer I'll recommend the X1 Carbon over the X13 any day when prices are on par, never mind with such a disparity.
Whereas the X1 lineup used to not have a 13-inch option, there's now the ThinkPad X1 Nano to sort of steal the spotlight. Granted it does cost more than the X13 (Gen 2), but a discount could change that at any time. And again I would recommend the Nano over the X13 if prices were similar.
Pricing changes and discounts will play a big role in how well the X13 (Gen 2) sells. With that out of the way, I can say it's a ThinkPad through and through. The new aluminum build is far more solid and doesn't add enough weight to not be extremely portable. The top-firing speakers remain unmuffled and audio gets loud enough for most use cases. Optional 4G LTE and 5G connectivity will keep you up to date wherever you go, and stellar battery life will keep you from searching for an outlet.
The keyboard might be a bit undersized, but the keys are comfortable, and I still prefer it to most other keyboards I've tested. It's a shame the wider touchpad doesn't have a better click. It feels cheap and there's often a rattle. Port selection is more than generous on a laptop this size, with dual Thunderbolt 4 and HDMI.
I love the new 16:10 display and appreciate the four different screen options. The biggest complaint here is the chunky bezel. Above the display, Lenovo should make the optional 1080p camera standard at this price. Whether or not it includes an IR camera and human presence detection is another thing. At least the 720p camera on offer is better than most others.
The ThinkPad X13 (Gen 2) is a well-rounded business laptop that will no doubt appeal to a lot of people. It's brimming with features, and the changes for this generation are all appreciated. Check out our collection of the best Lenovo laptops for more great options if this isn't quite what you're looking for.
Intel-powered business Ultrabook
Lenovo ThinkPad X13 (Gen 2)
The second-gen ThinkPad X13 with Intel hardware makes some notable changes, but it's hard to recommend to the average consumer when ThinkPad X1-series prices are so similar.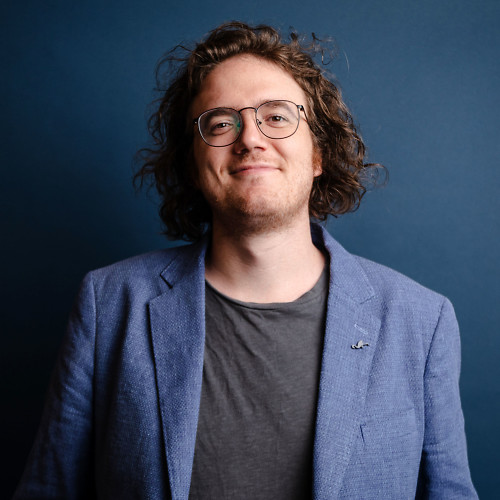 Senior Editor, Laptop Reviews
Cale Hunt is formerly a Senior Editor at Windows Central. He focuses mainly on laptop reviews, news, and accessory coverage. He's been reviewing laptops and accessories full-time since 2016, with hundreds of reviews published for Windows Central. He is an avid PC gamer and multi-platform user, and spends most of his time either tinkering with or writing about tech.