LG's 34-inch curved gaming monitor has a high refresh rate and its own crosshair option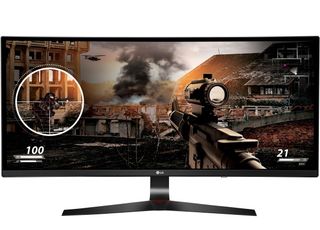 LG has announced the 34UC79G curved monitor, targeting the PC game market with a high refresh rate, motion blur features and even an option to put a crosshair in the center of the screen.
The LG 34UC79G gaming monitor will go on sale in October for the price of $700.
Windows Central Newsletter
Get the best of Windows Central in in your inbox, every day!
not bad, i'll stick with my predator x34 though thanks

That thing had two video inputs. Wonder how many LGs 38" monster supports.

what is the resolution of the monitor ??

IPS Glow/Backlight bleeding fixed? If not what's the use than when playing at night in a dark room? Posted via the Windows Central App for Android

"option to put a crosshair in the center of the screen" Unless this can be disabled by game developers for their games this is a bad idea as it can enable cheating in certain games by putting a crosshair on weapons like sniper rifles that should not have one unless zoomed in.

Anyone can do it with just a marker :P

True, but that requires some effort at least :D

Asus has had this feature in their monitors for quite a while.

I'll take Gaming Terminology for $400, Alex

You got the Daily Double!

The press release doesn't mention a resolution. Is it fair to assume it'll be 2560x1080 given the refresh rate and price? Posted via the Windows Central App for Android

these monitors usually have 3440x1440, searched for it and indeed it`s a 3440x1440, beautiful resolution and i`m amazed that my single R9-290 can still push Battlefield 4 at over 100 fps at this resolution (Mid settings no AA)

That's what I wanted to hear - I just lowered my expectations since they didn't go out of their way to mention it. Posted via the Windows Central App for Android

i have a 34" 3440x1400 monitor, the DPI and everything is just right for this size of monitor, takes some time to adjust to the wideness but once you`re over it ... amazing. Some people still don`t like 21:9 but that`s expected.

Computer monitors are getting so good! Wonder if I can talk work into installing these lol

great, they make this after I just bought my 34" 60Hz one :) Love it anyway 34UM88P

So it's FreeSync again. I hope someone presents something similar for nVidia users...

And pay Nvidia royalties? Why would someone want to do that?

Maybe to sell the monitor for anyone with an Nvidia card; I for one would not buy a monitor that does not fully support the card I have.

Nvidia is free to implement FreeSync but they don't want, so pay premium price for G-Sync.

FreeSync ​is of no use to me. I need a new monitor with G-Sync​ and i like the 144 refresh rate. Also is 4k worth considering? I'ed rather pay more now to have a 30ish inch monitor that will last a few years. I'am short sighted and ware glasses. A large monitor about 5ft away with great screen quailty will save me the hassle of warering my glasses to focus on farther items. I can see fine on closer items and reading books, papers and my phone. ATM i have a 32 inch Sony 1080p HD TV and it's on a wheeled stand, i can pull or push it about 4ft, i find with no glasses 5ft is great, any further i will need to ware to glases focus. I tried larger screens to no avail. Even a 50+inch tv, after 5ft, text will become burrey.
Windows Central Newsletter
Thank you for signing up to Windows Central. You will receive a verification email shortly.
There was a problem. Please refresh the page and try again.