Lords of the Fallen and Zombie Army Trilogy on sale for Xbox One this weekend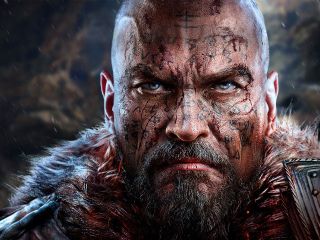 In addition to the Xbox One games included as part of this week's Games For Gold discount, you can also get price cuts on two more games for Microsoft's console. One of those games was just released today.
The digital version of the fantasy RPG Lords of the Fallen from developer CI Games is now priced at just $30 from now until March 9th for all Xbox Live members. The game normally costs $59.99. In addition, Zombie Army Trilogy, the WWII-supernatural shooter from developer Rebellion that was just released today, is on sale in its digital version for 20% off its normal rate for Xbox Live Gold members only in most of the console regions. In the US, that means the price has been cut from $49.99 to $39.99. This sale will end on March 13.
Source: Lords of the Fallen on Xbox.com (opens in new tab); Zombie Army Trilogy on Xbox.com (opens in new tab)
Windows Central Newsletter
Get the best of Windows Central in your inbox, every day!
I got lords of fallen when they accidentally put it on sale the other week for £9

Jealous. After seeing that I really cannot bring myself to spend $30 on it. I know my logic is flawed but I just can't.

I understand your feeling. I think it's a common reaction. It's like it automatically and permantenly reduces the value of something once you see that it was previously sold for significantly less (even if it was an accident), but it's pretty silly that we humans do that, isn't it? I do that all the time with digital games (I'm all digital now), where I won't buy a digital game, even if on sale, if the physical version costs less.

This is exactly why I'd love for them to implement a price match of some sort in the Xbox Store, it's ridiculous some games are going for $20-30 but are still $60 in the digital store. I'm also fully digital for this generation so I understand completely.l

Why don't people get it? Physical will ALWAYS undercut digital because the stores set their own prices for physical copies, they will even sell then at a loss if necessary because they make most of their money on trade-ins. And people aren't gonna bother buying physical copies to trade in if digital is cheaper...

Well, if digital is suppose to he the future, then that standard needs to change, doesn't it? You just made a complete ass out of yourself for me mentioning a feature that many people have mentioned.

This is exactly why the Xbox One's original policies were better: all physical copies were digital copies, meaning that Microsoft didn't have a monopoly on digital content and gamers therefore would've been able to enjoy the pricing advantage of third-party retailers. Most retailers don't accept trade-ins for games (Amazon, Best Buy, Walmart, Target, etc.).

Thank you for saying something. This is exactly why I was fine with the DRM policy, there were multiple advantages to being able to use it. The only issue I truly had was the 24 hour check-up, but other than that, it sounded great. Sharing any game in your library with a set list of friends on whatever Xbox (which we can kind of do if you have your account downloaded to their Xbox One and it's online) and the instant access of your library once it's installed, no disk required. I understand people didn't want change, but I've already moved to digital. Microsoft even said they would figure out trade-ins, but people only focused on the negatives. Steam = DRM. You know what the gaming community needs to realize? That it's one of the main reasons (if not the main) why the Steam sales are so rediculous. Anyways, everybody enjoy your games, no matter the console you play on! I'm done with my rant.:)

Yep, also managed to pick it up. I like the game, but it's really hard. It's sometimes hard to find time or interest for sessions where you just keep dying over and over again on the same thing :D

You should start using screenshots of the games in articles.

+1520 since a few weeks ago. ;)

Cool but not in my budget

Got lords of the fallen for the wrong sales price during the big sale. Really want Zombie Trilogy but cant swing it right now. Maybe I can by the 31st.

That Zombie game has had my attention since it was announced. I enjoyed Sniper Elite 3, so I'd imagine I'd enjoy this one as well.

I can't believe I got Lords of the Fallen for $9 the other day when it went on sale very briefly before they realized it was a mistake and pulled it. Great game.

I grabbed it at that price too, still haven't played it because I picked up a lot of other stuff in the sale too, and just got AC4 and Unity (though I got them from cdkeys.com instead of the sale because they were/are way cheaper there)

I picked it up for $9. Worth every penny. I would have paid the $30 sale price.