Out This Week on Xbox One: Lover's in a Dangerous Spacetime, Leo's Fortune, and Castle Crashers!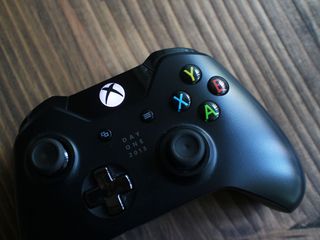 Every week, new games are released for the Xbox One. Whether they are indie titles or AAA titles, we want to make sure they're on your radar. So get your wallet ready and clear some space on your hard drive. Let's take a look at what's coming out this week for Xbox One.
Lovers in a Dangerous Spacetime
colorful couch co-op
Lovers in a Dangerous Spacetime is a frantic couch co-op shooter exclusive to the Xbox One. In the game, you and your co-op buddy must work together to control different parts of your spaceship to properly evade enemies as well as attack them. Don't have anyone to play co-op with? No worries, as you can treat the second player as an A.I. pet and tell them what parts of the ship to man.
The ship can also be upgraded by finding space gems that will allow you to customize the loadout of the vessel. This is an ideal step if you want to create the optimal space-bunny machine. Lovers in a Dangerous Spacetime takes off on the Xbox One this Wednesday, September 9.
Lovers in a Dangerous Spacetime - $14.99 - Xbox Store
Leo's Fortune
the search for gold continues
Leo's Fortune is arguably one of the best platforming games on mobile phones today. You play as Leo, who wakes up to see that all of his riches have been stolen and sets out on his way to recovering it all. To get his riches back, he must follow a trail of gold coins through different levels and avoid the traps that have been set by the bandits.
Leo plays like most traditional platformers as he jumps his way around the level to avoid obstacles and collect loot. But what sets Leo's Fortune apart is the astounding detail put into every level as well as the music that complements the world. Leo's Fortune jumps on the Xbox One Friday, September 11 for just $6.99.
Castle Crashers: Remastered
crash castles in 60fps
Castle Crashers launched back on the Xbox 360 seven years ago and is considered one of the best digital titles to ever hit consoles. The game is a side-scrolling beat 'em up that can be played with three other players locally or online. Well, the knights have been remastered, and they're making their way on the Xbox One.
Castle Crashers: Remastered updates the game visually in a handful of ways as well as adds a new multiplayer mode called 'Back off Barbarian'. Perhaps the best thing about the remaster is that you previously bought it on the 360 you can grab it on the Xbox One for free until September 20. If you miss that date, however, you will only have to pay $5 to grab the new version.
Castle Crashers: Remastered makes its triumphant return to the Xbox One, September 9.
Which games are you grabbing this week? Or are you saving your money for bigger and better things?
Get the Windows Central Newsletter
All the latest news, reviews, and guides for Windows and Xbox diehards.