Deal Alert: Pick up a Lumia 520 for $55 at TigerDirect and bag yourself a free security suite package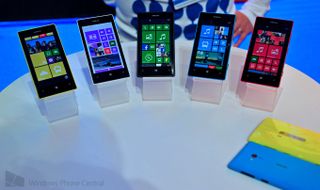 The Nokia Lumia 520 is already cheap as chips, being the most affordable Lumia Windows Phone on the market. But that hasn't stopped TigerDirect from knocking off a further $60 of the already low price tag with a mail-in rebate. Locked to AT&T, each purchase also comes with a copy of Total Defense Premium Internet Security for your PC.
So how much will you be looking to pay for the Windows Phone 8 smartphone and the security software bundle? Just $54.99. For a brand new smartphone with the latest features of Windows Phone 8, that's not such a bad price. Sporting Nokia's suite of apps and location services for free, we strongly recommend this as an investment for anyone looking for a superb smartphone experience.
Source: TigerDirect (opens in new tab); thanks, sanjeev, for the tip!
Rich Edmonds is Senior Editor of PC hardware at Windows Central, covering everything related to PC components and NAS. He's been involved in technology for more than a decade and knows a thing or two about the magic inside a PC chassis. You can follow him over on Twitter at @RichEdmonds.
Okay, at this price point I have to get this phone.

I would get one if it was about $55 less

It can't be free if there is no contract.

If they keeping going lower I may consider giving these out with the Halloween candy.

Be very careful with this rebate and read the full terms as well as the 1* ratings on amazon about Total Defence products. At first it sounds like a great offer, but the hassle to go through + giving Total Defence your credit card info and access to your PC's is just not worth the $45 saving on the Lumia 520; and as far as the software goes I would not use it even if it was for $5.


I would install it in a virtual system and delete it later :P Just saying.

Yup. I'd say save yourself the trouble and buy for $99 at best buy.com

Wow, I'm tempted to get this for my step-daughter (adult) who is constantly whining about the Android she got after her Arrive broke. But then again, I'd be getting it for her for Christmas, and surely there will be better deals then.

Lower than $55 plus bag? I'm not so sure bro

Good price, yes, but Black Friday will be better, I'm sure, and not only that, but I'd actually like to get her a bit better phone, though if there are no "great" deals on off-contract phones then, 520 it is.

Very good phone worth every penny

Oh, that I know... It's just that knowing her, she'll be whining a month later because her text message threads have gotten so long they've filled the 8GB of main storage. You can put music and pics on SD but not texts, and she lives text.

if she had the arrive, im going to assume she has sprint, and this phone wouldnt be compatible

Yes, I'm fully aware of what phones work with what carriers. She has bounced from prepaid to prepaid since the Arrive broke.

Practically giving it away!

That's the price of 2 large pizzas in UK :-o

tempted to buy it, dude? It lasts for years, while 2 large pizzas just last days :))

Days? Maybe your days are my hours ;)

Your hours are my minutes... And she always tells me my minutes are seconds :(

LOL! I actually want to say it will be seconds to eat up all 2 pizzas, because I like pizzas :P

Surely this is a sign that a 525 will be landing very soon, or that they are able to manufacture these like the clappers...

If only they were this cheap in Europe/UK, sigh.

It's $89.99 at TigerDirect w/free shipping and no rebate also. https://www.windowscentral.com/e?link=https%3A%2F%2Fwww.kqzyfj.com%2Fcli...

LOL. Might as well just get this one.

If I get this phone, will I be able to unlock it later? Just curious.

You will not be able to unlock it officially through AT&T. You need to buy the code from ebay or others.

Apple thought they could pull one on us by making the low end iPhone the plastic colorful one.

If AT&T doesn't have great deals on WP devices when three of my family phones are up for renewal next year, I can only hope that this type of deal is still available...of course I'd still be looking at paying the $36 extortion fee that they charge no matter where I buy my phone...

You could just buy these now and use them now? I thought the upgrade fee is only if you get a subsidized phone?

No you do not need to pay the $36 upgrade fee. This is not an upgrade and your contract will not be extended. Just ask them for a new simcard if you do not have a micro sim.

Yea I have a 900 and ordered a 520 from Microsoft since no At&t stores had it yet i just put in my sim card and was good to go it's been great to have into my upgrade in November

Go to AIO, still AT&T, less expensive plans.


If AT&T doesn't have great deals on WP devices when three of my family phones are up for renewal next year, I can only hope that this type of deal is still available...of course I'd still be looking at paying the $36 extortion/activation fee that they charge no matter where I buy my phone...

ok, ok...I just said, sounds like a plan, did you not hear me?

Deal Alert: Pick up a Nokia Lumia 520/521!

It comes with the Total Defense software and you have to install and activate the software. Only then you will get the $60 rebate (docs sent within 30 days) to get the $55 price.

Was gonna post the same thing. This is still a pretty nice deal, but IMO the $90 one with no rebate and no bundled software is a better deal. Personally I've got no use for this Total Defense product.

From the rebate form:

The prodcut must be activated prior to rebate redemption. Activation will require a valid credit card however your subscription may be cancelled at anytime.

So you've got to also sign up for a subscription plan of some sort as well. It sounds as if you can cancel immediately, but I don't know anything about this company so buyer beware I suppose. Those considering this might also want to check the Amazon reviews on this product. Seems kind of crummy. The positive reveiws are obvious plants too. If it were me, I'd worry that I wouldn't get the rebate.

http://www.amazon.com/dp/B008F5THLA/



Thanks for this! I was looking at this as a possibility for an older family member who doesn't even have a PC.

Thanks for the heads up, was gunna jump on this but i dont even wanna touch that software.

I've been thinking of purchasing this for my wife to replace her Lumia 900. However, while this seems like a software upgrade I am not sure the hardware downgrade is worth it.

If the 520 was on Verizon, I would have bought one already just to have as a backup phone. For $90 (without dealing with the bundled rebate offer), it is a great deal.

Well it is my 900 never needed a case but this phone is going to my yellow shell popped off every time I dropped it making me cringe so I got a clear case for it so that's not a issue anymore but I have no ff camera no more and the other camera on the 900 is way better but the frustration of not having WP8 is gone I have Hulu and all the other apps I've been dying to try out

The 520 is getting all the support amber & gdr2 update is reliable does eat battery but u can stabilise that very good quality phone for that money

Crappy mail in rebates, i'll pass.

I heard you have to mail in this rebate because the internet is not secure enough to do it online.... Even with total defense software.

Sounds like a good deal, I'm not a huge fan of this product's rebate terms. Anyhow, the 520 is great! I have a 920 and use the 520 as my primary phone, because there is SD card support for all my music from my Xbox Music subscription.

If it had a front facing camera, I'd buy a few.

While I'm no fan of the MIRs or crappy "internet protection" apps. I AM a big fan of the Lumia 52x line. I suggest reading Paul Thurrott's article "In praise of the 520" on this little wonder.

I would buy this phone in a second if it was $99. Up here in Canada the 520 us $199 on Rogers and $149 on Telus

It is 99$ right now at London Drugs (rogers) until the end of september. They have stores from BC trough Manitoba. It was $99 at Best Buy back in august, If you keeps you eyes open, you can find one in store or online. I bought a Rogers prepaid one last week at BB as a back up to my 920. I had them use their price match policy. 95$, 106$ with taxes. It comes with charger, usb cable, headset, black & cyan covers and a $10 air time voucher. I use it on 7eleven's speakout network. They are on rogers network. No need to unlock the phone, it works as it come. For as little as $25 you can buy air time that is good for 365 days from the time of activation. Rogers as a deal running until november 5 that give you 100 minutes + unlimited text (sms,mms,i believe) for $85 for a full year. With wifi that is all i need as a back up. No need to deal with the sim card every time i use a different phone this way.

Sooooo... its a rebate,and requires you to install bloatware/scamware (a number of antivirus and PC security programs do no more in a real world scenario than Windows Defender and Windows Firewall, exploiting users in the process, imo.)

" . . . with the latest features of Windows Phone 8" Hold on -- You're telling me that the 520 comes with GDR2 and Amber? Ugh . . . I won't even start. (I have a 920)

Does this phone have wireless calling that can be used even if you have no phone service? (via WiFi)

The 521 for T-Mobile does.

Question everyone, my Mother has an iPhone she needs to replace. She is on my At&t plan now with me and my fiance. Am I able to buy her this phone, then go to At&t and have get a sim to replace her iPhone sim and have it put in with her current phone # and keep her on my plan with it?

Yes. As long as its an ATT sim, you can buy a 520, get a replacement sim of appropriate size, and put it in. However, your better off spending a little more for the 520 than this deal, because it is a rebate (so you pay more up front), and it requires you to install and subscribe to Total Defense, which is not optimal nor recommended.

Oh yeah. I'm not going for this deal, I will just go buy 1 somewhere else. I have been wondering about it for a couple months for her but was unsure if we could just go in and have them substitute the iphone sim for a windows phone sim. And yes, she's on my plan with an AT&T sim so it sounds like this would work. Her iphone doesn't hold a charge, so she gets a new phone, WP gets a new user. Win win. Thanks so much for the info.

Yes. You can use the SAME SIM if it is the right size, or get a cheap SIM adapter (

So if I buy this phone and unlock it, can I use it in Canada with Rogers?

Hm... Nice, very nice bargain. The only question - is this Lumia could be 100% unlocked by any existing ways? Thanks.

Gonna get this as my side thing for when I go to the clubs. I'll ask a relative for it for Xmas (should be at the most, $50 by then). I'll have my 1520 as my main squeeze

By the end of the year, they'll be offering it as a free gift inside boxes of Raisin Bran and Coco Puffs.

The update Amber here in Brazil is not working for NL520. Nokia and Microsoft this unprepared even ...

Wow, at that price I'd buy one for each of my kids as an MP3/game player and never activate it.

Terms of the rebate are a deal breaker for me. Good deal if you're willing to deal with the fuss of installing software you may or may not want, registering it with your credit card, later having to cancel, and getting a prepaid cash card instead of a check. No thanks.
Windows Central Newsletter
Get the best of Windows Central in in your inbox, every day!
Thank you for signing up to Windows Central. You will receive a verification email shortly.
There was a problem. Please refresh the page and try again.