Microsoft joins tech and media giants in the battle against fake news
Microsoft is a founding member of the Coalition for Content Provenance and Authenticity, which aims to battle disinformation with technology.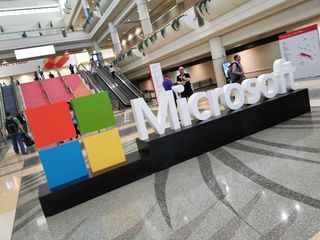 (Image credit: Daniel Rubino / Windows Central)
What you need to know
Microsoft joined several large organizations in the foundation of the Coalition for Content Provenance and Authenticity.
The coalition aims to battle against "disinformation, misinformation and online content fraud."
Adobe, Arm, the BBC, Intel, and Truepic are also founding members of the coalition.
Microsoft and several major tech and media organizations will work together to battle against fake news and disinformation. Microsoft announced (opens in new tab) the formation of the Coalition for Content Provenance and Authenticity (C2PA). Microsoft joins Adobe, Arm, the BBC, Intel, and Truepic as the founding members of the coalition.
Disinformation isn't just about people writing or saying false claims. In today's world, people can doctor images, falsify documents, even create false content. The C2PA will work to create specifications for content that allow people to trace the origin of images, videos, documents, and audio.
Right now, a fake video of the Mars Perseverance rover is making its rounds around the web. The video had 17.1 million views on February 20, 2020, though the original video has since been deleted. As is the case with most fake news, even though the original is gone, people have shared it elsewhere.
Microsoft's blog post explains how the organizations will work together to combat disinformation:
The C2PA will use an open standard that can be used by any online platform.
Several organizations within the C2PA have already taken strides in the effort to verify content. Adobe leads the Content Authenticity Initiative and Microsoft and the BBC lead Project Origin. The C2PA brings those technologies under a single entity. Truepic also created native integration of hardware-secured photo capture technology, which the C2PA will build off of.
Microsoft shared a statement on the coalition:
Truepic echoes similar sentiments:
The BBC and Adobe also shared messages along the same lines within the announcement of the coalition.
News Writer and apps editor
Sean Endicott brings nearly a decade of experience covering Microsoft and Windows news to Windows Central. He joined our team in 2017 as an app reviewer and now heads up our day-to-day news coverage. If you have a news tip or an app to review, hit him up at sean.endicott@futurenet.com (opens in new tab).
My only concern is that these are still capitalist organizations and thus they will have a bias against the left aka socalism. But we shall see.

To date, the bias among social media and most news media has been VERY MUCH in the other direction, driven likely be the fact that tech companies are young (young people with little exposure to the world are much more likely to lean left) and a majority of people in the news business have journalism degrees and work for companies based in NYC, LA, and Chicago, where those degree programs and locations also all tend to lean hard left. My only request to these guys would be to draw a hard line on calling something out as "fake." If it's debatable, it's not fake. Otherwise, you're injecting bias and opinion. Free speech for everyone should be the default, not cast as some dangerous ideal, as Twitter and Facebook have done with their hard left positions, effectively concluding in many cases that if it doesn't align with the talking points of the Democratic party or will of the communist Chinese government, it's false and should be prohibited speech or flagged as untrue.

Yeah, right. All of these companies have been pushing left-leaning agendas for a WHIIIIILE now. You must be delusional.

Twitter and Facebook left.
The BBC is one leftie woke organisation.
UK papers are evenly split, but UK TV and the important part News all left leaning. Sky used to be neutral until Comcast acquired them.
Fake news can be considered news those organisations don't agree with.
The trouble is, who is gonna guard the guards?
Scary thought. Freedom of speech slowly eroding. And you humans are voting for political organisations parties that want to shut you down.

Looks like this is mostly about deep fake technology, which is concerning in its own way, and ultimately capable of being much more deceptive than the biased reporting we see routinely today (which I think is still the larger problem, for now). Glad they're doing this and working to get ahead of the problem. Also glad that Facebook, Twitter, and Google are not involved, as I think they would push for a political agenda driving much of it.

Project Origin eh? Any psychic little girls we should know about?

The lack of transparency in these things makes them stupid. They don't do this to stop flat earthers or antivaxxers, they do it to force the way opinions are presented. Such groups lack accountability or transparency, so you're expected to accept that everything they say is fact and driven by goodness. Suggestions that they're doing this because they're kind-hearted is naive.

Perhaps when a deepfake is used it should be clearly labelled for entertainment purposes only, or some other way of admitting it is made up as a disclaimer.

So in other words, Microsoft are making their own snopes.com?

And this organization will rely on the NYTimes to authenticate what is real or fake? If you've ever been interviewed by a reporter, you will always find errors in the report bc they doubt know anything about what they're reporting on and are constantly lied to by people with an agenda. The best reporters are experts on a topic, but general news reporting is by definition inexpert and routinely inaccurate. The ONLY remedy for false information is more information and not less. Read John Milton's https://en.m.wikipedia.org/wiki/Areopagitica. What he wrote about censorship 400 yrs ago is needed now more than ever.
Windows Central Newsletter
Thank you for signing up to Windows Central. You will receive a verification email shortly.
There was a problem. Please refresh the page and try again.