Microsoft to offer a wired Xbox One controller for Windows PC gamers in November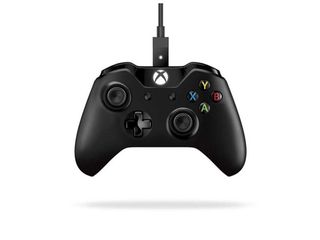 Microsoft will give Windows PC games a new gamepad option in November when it launches the Xbox One Controller + Cable for Windows for the price of $59.99.
The actual design of the controller is the same as the one that Microsoft made for the wireless Xbox One version when it launched in November. It can also be used on the Xbox One, both in wired and wireless mode.
The main difference is that the Windows version comes with a nine foot long USB cable so it can connect to a PC; sorry, there's no PC wireless support for this gamepad. The controller supports Windows 7, Windows 8 and Windows 8.1. If you are a hardcore PC gamer, will you be getting the Xbox One controller for Windows?
Source: Microsoft (opens in new tab)
Get the Windows Central Newsletter
All the latest news, reviews, and guides for Windows and Xbox diehards.
Ohhhh mann ... Great!!!! Absolutely great!!!! Finally you did it MS :)

I don't understand why its not wireless? The 360 controller for pc was...

Because MS is slow and lazy and they did not bother to do that so far. Yet I hear Spencer's BS about caring for PC gamers, yeah sure.

Maybe in the future a driver will come out since it seems to have the wireless technology in it already

I don't understand why people are complaining. You are getting a free battery and cable.Why would you want an exclusively wired product? It works as a wired product once you plug the cable in. I've been using the XBO controller with a couple of steam games since they released the driver in June.

Did what? Created new packaging and Sku that more or less already exists. Classic.

Wrong, you're getting the wire for free. For the same price as the wireless controller.

Hopefully minecraft gets controller support now that MS owns it. If so, I'm picking this up!

Have you tried xpadder tell them farstrider referred you

xpadder is nice. But still a version of the game with menus and everything optimized for a controller would be better.

I read up on it but I would still prefer to have something more like the console version. So much easier in my opinion and can reach more casual gamers that way.

Also fixed touch screen support for desktop cause that would be so much faster with both I you have both like me and many

If you cant play mc with a mouse and keyboard you shouldn't be playing it

PC Master Race rears its ugly head

Go away! no one cares about your pointless elitism!

Yawn..... Posted via the Windows Phone Central App for Android

I love the Xbox controller on PCs, playing FIFA with it is amazing.

Does it work with the FIFA on the windows store or are you using it with the full game on steam/origin?

Can you play with more than one controller on a pc?

If it works with PC and wirelessly with Xbox One, then it makes more sense to buy this instead of a standalone Xbox controller.

The standalone controller works with the PC as well, just doesn't include the cable (unless you buy a separate Play and Charge kit).

Its available bundled with a play & charge kit as well. You don't have to buy it separately.

Yep It was 79.99 when I bought it. Worth it though.

Well, still no wireless for PC @_@

Hasn't the wireless option been unable like 4 months ago? There is a plugin you can download for it on the Microsoft site. They said to download the plugin manually until they decide to include it officially in one of the Windows 8 updates...

Oups, my bad. I just verified and actually it was the driver to use it wired and not wirelessly... :(

So why would you buy the Xbox version over the PC version? It sounds like the PC version is the better deal.

My Xbox 360 controller has no problems so no.

Yeah mine too. Also, am I the only one who thinks the 360 controller feels better? Especially the wired version that doesn't have the battery hump.

Yes, you are the only one. Everything about the new controller is way better. I personally hated the 360 controller, it feels really stiff and too bulky. Plus it just doesn't respond the way that I like quite like the One controller does.

The new controller is less intuitive, specifically with regard to the buttons on the left and right side of the guide button. Hmmm, are the two squares on the left side, no wait that's 3 lines button, oh no its 2 squares. Way better than an arrow pointing left or right.

I like the new bumpers and the way that they feel. The main reason that I really prefer the Xbox One controller is the analog sticks on it better. Plus I don't like the huge battery pack sticking out of the back on the wireless one

The bumper buttons are markedly worse on the Xbox One controller, but it certainly has a better d-pad.

You're not the only one, but that doesn't make you not a freak of nature. lol.

Same here. I already have a wired Xbox 360 controller I use for PC gaming, so I don't see a need to be another controller.

Your comment? Yeah I'd have to agree.

how is it worthless?? You technically get an Xbox One controller with a play and charge kit for the same price of just the controller... It's a WIN-WIN for the consumer

It is a bit useless for me. I already have controllers and a play and charge kit for my X1. What I need is Wireless X1 controller for my PC. I sit more than 9 feet away from my TV that my PC is hooked up too. While I dont mind using the wireless 360 controller i currently use, it would be nice to upgrade to the new controller.

Yup....definitely the price too isn't much.

Wtf no wireless receiver for PC. U don't want to be to closed to the monitor because I play in the tv far away. Xbox 360 has wireless receiver and Xbox one does not for the PC. So instead of going forward we are going backwards.

It matter of frequencies being used maybe they couldn't get approval for it. @ least they took into account for avg. Cord length needed

If the frequencies can be approved for use in the console itself, I don't see why a dongle would face any problems.

I would really prefer a wireless dongle so that I can use my XB1 controllers instead of my roommates PS4 controllers for local multiplayer on my SP2.

Kind of a rip-off for One users, no? It's basically the $75 Play & Charge bundle for $60 on PC, but it also works on the One. Why not just drop the MSRP of the One's bundle, instead of marketing a second one at a lesser price?

I'm very confused by this as well. Makes no sense.

Exactly this, it's nothing new, they are just changing the box art for the play and charge kit bundle.

But why would an always-wired PC user ever need a battery pack? This makes zero sense.

Well, if you want a rechargable battery pack, I'm pretty sure you'll be willing to spend the extra $15 for it. Despite the fact the article says otherwise, the actual product listing says nothing about including a battery and only mentions the controller and cable. I'd tend to trust the product listing.

They're not the same. The Windows version doesn't contain the Lithium-ion battery.

This is stupid. the wireless one works just fine. you just have to buy your own cable which cost like $5.

Agreed.
Also no word on firmware upgrade for the gamepad if you only own a PC.

Considering they're newly manufactured controllers, they likely don't need a firmware update from a couple months ago.

It sure would be nice to have this confirmed by MS. I am not buying the headset adaptor just to find out I need an Xbox to update the firmware.

No wireless use on Windows? No thanks. Even the X 360 controller had a dongle for that. Seems like MS doesn't even try anymore.

Yes. This is practically a no brainer.

Is it really worth me getting one if I already have a 360 controller? Also, wired is perfectly fine by me. No randomly running out of battery. Plus the cable is freaking huuuuuuge, my 360 controller cable reaches everywhere in my living room I could possibly want to sit and play games from. And in my office/study/whatever you want to call it, I sit right in front of the PC anyway so the cord is definitely long enough. Too much emphasis on wireless these days, there's no real need for it.

I'm with you. Wireless is nice but having to recharge it can be a pain unless you shell out for an additional controller which is expensive.

Why not just play wireless and when you are low on battery just play wired until it charges up?

Can we use it on xbox one?
I still don't like wireless controllers

I recognise my failing. However a simple yes would have been sufficient troll

Great just the thing ive been waiting for was worried id damage my day one controller so I haven't use it heavily

So they've dropped the play & charge moniker

What is the difference between this and the charge and play edition..?

Cord length driver disc but yet it costs less then then the current kit

The Windows version doesn't contain the Lithium-ion battery.

Err haven't we talked abt this subject before ? The Xbox one controller itself is already supported for PC. Mine is working just fine.

If EA would ever bring back NHL to the PC then I would get it.

Been waiting for NHL to come back to PC from 2009; damn EA.

Is this not just the existing controller and play and charge kit in one bundle?

Yeah but it probably includes a driver disc & the as mentioned cord length

Now make the wireless adapter!

But where's the Kinect extension cable?! :s

Guess I'm buying the PC Xbox One controller to play on my Xbox One so I can save $20. Can someone explain the pricing discrepancy?

"One of its key differences is that the Windows version comes with its own battery pack (the Xbox One controller does not)." You do know they sell a version that comes bundled with a battery pack and charge cord right now and has been available since day one, right?

Yeah xbone controller should just work with PC over BT. There's no reason for it not to other than M$ just not letting it.

they designed the hardware with propreitary wireless communication, not bluetooth, this controller will never work over bluetooth, but they should have made it bluetooth to begin with!

They couldn't use Bluetooth. It's too slow. They needed a high-speed low-latency wireless protocol suitable for gaming.

Sweet. I'll be getting it for my Xbox One, specifically requested this. I went wired in 360 too.

Crap, nvm, I thought it was ACTUALLY wired. Not just HAS wire.

sure now it comes out after the fact that I just bought a 360 wirreless controller for my PC!!

could you use the same wirreless 360 adapter for the xbox 1 controller ?

I'll wait for the wireless one. I'll get the Xbox controller for windows in the while

Meh, I'll continue using my 360 wireless hub.

Does this work with Surface RT?

Will this work with my surface 2?

So they are just changing the box art for the Xbox One Wireless Controller Play and Charge Kit; which is the exact same thing you described here; Xbox Controller + battery + long USB cable. Don't see why people are so exited about something they can already buy RIGHT NOW; or am I just missing something here? If Microsoft came out and made the headset adapter compatible with PC, i.e. still can't update firmware to use it via PC; or came out and released a wireless receiver for the PC, then I might get a bit exited.

Assholes, what is this the middle ages? USB wireless dongle!

What is foot and why don't you use a measurement system that doesn't sound like you are in 1500s?

So I'm 6 feet and 1 inches tall, what would I replace FT with? Don't you have feet? 9 foot = 9 feet = basically 9 steps away = 9x12 as a foot is a measurement of 12 inches = 108 inches = 3 yards as 1 yard = 3 feet and 3x3Y = 9 feet = a 9 foot cord included with this controller bundle. What is there not to understand about the use of foot? :) *fuzzy math is fuzzy, take those numbers with a large grain of salt and a graphing calculator. ** FT/Feet/Foot is standard in the US and that happens to be where Microsoft is headquartered.

Got it. Off to measure my distance after 9 steps to understand the length of this cable. Am I doing it right? :)

Yup, that's about right lol. I always point and say " Its about from there to here." :)

I don't want this; I want a keyboard/mouse for either gen of XBox so i can put the smackdown on sniperkiddies ;) Keyboard/Mouse combo > *any* gamepad controller

If Xbox One or PS4 had full kb/m support i would buy it right away; but just can't stand to play certain games with a controller.

And I paid the equivalent of $90 for my Xbox one remote and play and charge kit

I'll stick with my black wireless 360 controller with its black receiver. I also have like 8 AA 2500mAh rechargeable batteries I got for free. They work great and last forever.

I'll probably buy it. I only have one Xbox One controller currently so I planned to buy another anyway. I have 3 Xbox 360 controllers that I use on my PC and I have used my Xbox One controller once on my PC with my phone's USB sync cable but it didn't make much of a difference in gameplay. I'll just continue to use my black 360 controller for adventure and racing games on the PC. This is a great deal as you basically get a wireless Xbox One controller, a rechargable battery pack and a 9ft cable so that covers all charging methods in one swoop.

Agreed. That's a good bundle.

This is no different than me using my Xbox One controller on my PC by attaching any micro usb cable to it. However, the second they release a wireless adapter I'll grab that.

Calll of duty advanced warefare with an Xbox one controller on my dell monitor. Umm yes please

About time! Really happy for this - my wired 360 controller seems on the fritz!

I see there are many Xbox fans here , I need your opinion... Which controller is better? Xbox 360 or Xbox One? (I plan to use it on PC) Gamers say that Xbox360 is better choice, but reviewers are saying that the Xbox One is better. Thanks.

Although being a massive XBO fan, I have to admit its controller, somewhat, isn't up the standards of 360's, which is simply the best controller. Ever!
Still, it is very good, just a bit too light and twitchy.

IF u don't care about the lack of wireless technology buy the Xbox one controller, Why? The D pad is a lot better, the thumbsticks are a lot better, and the product is more elegant overall

I forgot to mention...I will not play FPS with controller. Thanks for answers by the way... And I don't mind if it's wired...

I'm so confused. Should I get XBox 360 controller for PC or Xbox one wireless controller or this one!! I'm not a hard core gamer, just wanna try out a few games in my free time. Can somebody point me towards the good and bad of these as concerned to an occasional gamer?

Go for the Xbox One controller; no reason to buy the old 360 one; as for which Xb One controller bundle, that is up to your judgement and needs I guess.

Get whichever is cheapest, of your not going to use it a lot why spend the extra dollars?

I'm sorry but I couldn't find the part in source where it's says that this controller have a battery pack... I believe that this controller is the same as the xbox one but with the play & charge cable (without the batteries)... at least this make sense for the price...

Wow..only wire? That is a deal breaker. Gonna stick whit the 360 controller

Only need for this is to play dark souls. 1&2 need a controller for PC, plus ill have a controller for when I finally get my xbox 1.

Also why does it have to be wireless? I've always used wired simply because I don't worry about it dying or the signal being weird. I've always trusted that direct link over anything. Just simply cable management and you're good.

Why not just get a Xbox 360 or Xbox One controller and connect wirelessly? I use a 360 controller with my SP2 and it works perfectly.

If you're a hardcore PC gamer, you'd probably stick to mouse and keyboard.

There are some games that do not work well with keyboard and mouse, like driving games, sports games, platformers.

Why would you need the included battery with it if its got to be plugged in all the time anyway?

fuck yes! It looks great I'll probably get myself 2 of these when they get here in Belgium :D

Wrong direction, Microsoft. There are two reasons I do NOT play games on my Xbox One. First, the graphics, the sound, heck, everything is better on my PC, which is orders of magnitude more impressive than any console. Second, I HATE controllers. Give me a keyboard and mouse any day of the week over a lousy controller. I would consider playing games on the Xbox One if Microsoft added the capability to use the keyboard and mouse with them.

I'm generally the same, except when it comes to racing games, keyboard just doesnt cut it.

I just want that cord! Even though you can use any USB......

I'm playing Halo Spartan Assault with my Xbox One controller in Windows 8.1 using my old Nokia USB cable. Works fine. Only downside is that i need to pair it again using USB cable when taking it back to the One in the living room.

Basically a cheaper version of the currently available Xbox One Controller + Play and Charge Kit? YES!

Wired, what century are we in? If only Microsoft had made it communicate via bluetooth like every other manufacturer does...

Finally... can't wait \m/

Lovely!!! Best game pad Ever!

For some games like racing or multiplayer shooters like call of duty and titanfall is a must have accesory for the other games don't.

Couldn't you just use the Xbox one controller that comes with the console then, setting as it also has a USB cable?

I wonder if there is ever going to be a wireless version for PC? I use the Xbox One controller with the wire and I love it, if only it could connect wireless as well.

It's the same controller for XBox One the only difference is that Microsoft packaged a 9 ft. USB cable with it.

What's the point of this if the current one already works on PC AND comes with a cable??? Also wireless support when

The wireless Xbox one controller already works on windows 8.1.

Just make the wireless pad

Best controller ever, as far as I'm concerned. So much more comfortable than the PS4 controller.

I'm doing just fine with my mayflash and PS3 DS3 controller, thanks.

I need a new controller. This is gonna be awesome.

Im sure I'll be getting it. Sweet

It would be a nice upgrade to my old 360 gamepad.

I would like Microsoft to make the Xbox One controller wirelessly compatible with Windows. For example, releasing a dongle similar to what they did with the 360 controller.