Microsoft pushes a plethora of new Surface updates; still trying to improve Wi-Fi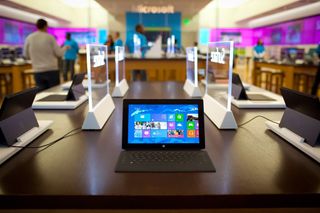 Yesterday, Microsoft announced that new updates for their Surface tablet devices were being pushed. The updates being pushed include Wi-Fi connectivity improvements, a new Surface USB to Ethernet adapter driver, a collection of improvements for both the Touch and Type Covers, an updated LifeCam driver, and new device firmware.
Microsoft has been hard at work trying to create the best internet browsing experience for their Surface users; Brian Hall, General Manager for Microsoft Surface, stated that the new Wi-Fi driver will reduce the chances of your connection falling into "limited connectivity" from the Surface side.
The new Surface USB to Ethernet driver will allow users to PXE boot their devices with a direct Ethernet connection. While most consumers don't know what PXE is, enterprise admins will be thrilled. Preboot eXecution Environment (PXE) allows machines to boot their operating systems from a network, which can be useful for managing a large scale of Windows machines in a corporate environment.
Updates to the Touch and Type Covers aim to improve accuracy and typing performance. According to Brian, "Touch and Type Cover are now even better at catching every single keystroke wherever you're typing."
The previously mentioned hotkeys for the Surface are now active, allowing users to emulate specific keys with a combination press including: Print Screen, Home, End, Page Up, and Page Down.
Updates to the Surface LifeCam is said to improve image clarity in low light conditions; get ready to Skype in a dark room - because now you can. The driver is also said to improve performance and reliability when switching between the built in LifeCam and an externally attached webcam.
Finally, a firmware update has been pushed to the Surface RT model in an attempt to boost the max volume the speakers can output. For those of you who don't use a Bluetooth speaker or wired headset when working with your Surface - you can now enjoy Netflix, Hulu, and Amazon Instant Video a bit more.
The Surface update should be landing on your device soon (if it already hasn't). To manually check for the update: open you charms bar, select "Settings", then select "More PC Settings", finally select "Windows Update".
How many of our readers carry a Microsoft Surface – are you enjoying it?
Source: Surface Blog
RT user here! Absolutely blown away by it. Especially with some registry tweaks and some console management :-D

What registry tweaks have you done?

On my RT I've mapped my skydrive to look like a local hard drive. Also mapped my home W8 laptop libraries to the device, and setup remote desktop to my home laptop.

Loving the RT, it goes with me everywhere

i was just thinking anout mapping my skydrive yesterday. glad to know it's possible. have a link with the how to?

Sure do...
http://rashedtalukder.com/how-to-map-skydrive-folder-on-windows-rt-desktop-mode/


I did some registry tweaks to make the touch screen more sensitive to touch so 1) the screen keyboard works miles better and 2) the Surface has the responsiveness of an iPad (aka, super smooth). Also, I made the touch screen show less friction after swipe, so the pages are more affected by my swipes. As for console management, I just used that to disable some features in the stock apps that are not found in the settings.

Is there a place that details these things. I've been looking for stuff like this but havent had much luck.

Wish I had known about that. Gave up on the touch and got a type cover. Can you share info on the touch screen sensitivity hack?

Is this the source where you found this registry tweak?

So I've tracked down the original source of the registry edit on XDA, and the instructions in my link are valid. However PCWorld has a better step by step list of instructions if you prefer that.

Yes this is correct. Sorry I couldn't find the link :-( appreciate it. There's a lot of good stuff in the op that only people with moderate computer experience can do. I actually lowered the sensitivity to 1 instead of 2. Makes things even better. Referring to the XDA post, that is. I recommend pinning regedit and console management to the taskbar for quick reference instead of always typing it in.

Does mapping your SkyDrive in RT make it show up the same way the SkyDrive folder does in full Windows 8? If so, then this is a something I'll definitely be doing.

Looks just like any attached drive. You'll have to put in your MS skydrive login credentials the first time but it saves that info so you only have to do it once. You can name the drive whatever, mine is SkyDrive.


Sounds pretty neat. I'll be trying this out now.

Look in the forums - you can do this with Box.com account too.

I've not noticed these problems really, but will check the lifecam i think.
Gorgeous system. Looking forward to 8.1

In the past I had never seen Microsoft pay so much attention to their products and services! Glad to see that change

Microsoft has been releasing batches of updates and patches on every second Tuesday for a decade. Actually, it started with Windows 98 but gained its official status in 2003. How exactly have they not paid attenion to products and services. in the past?

Have an RT and have to say that the support for it has been one of the best I have ever experienced for any consumer electronics item. Can't tell you how fantastic the support was when the seam on my touch cover started opening up.

RT owner here, and I love it.

I have the Surface RT, and yes, there are some niggles, but I love it. It's my primary device at home.

I want you to know that I've been following this forum for a long time without really posting, but seeing the word "niggles" in normal conversation made me want to give props to you. Well done sir!

after the very first update i never had any issues connecting to wifi even on public spots but im glad they are keeping the updates on a regular basis.

Are there Wifi improvements in every updates ?? Lol

I would say improvements, I never had the limited connectivity issue until a recent update this year, then another update fixed it. I hope the next one doesn't create it again.

Surface RT owner here and I completely echo this sentiment.

I ended up going for a Surface RT and Love it.... Definitely an upgrade from the HP Touchpad I was using and I am glad it has Office bundled in.

That bundled version of Office is going to get even better in 8.1, they added Outlook.

Just wish they could add the ability to close an app by "swiping up". That's the biggest thing i miss from WebOS :(

Techiedude

Acer needs a huge WiFi fix on the Iconia 510. Worse then the surface. Other than that its a great tablet.

Best tablet OS I ever used. Surface RT.

Love my RT! And I'm thrilled to hear about a USB to Ethernet adaptor. i visit one place on a regular basis that only has wired internet. This will make a huge difference for me:-)

Try a travel router. I got one for touring China, where almost every budget hotel only has wired internet. The travel router lets me connect with all my devices, and my friends in the next room could connect as well.

Most of these updates you're describing are from last month. The Wifi and USB Ethernet adapter are, at least. The only Pro-specific update this month (besides the regular Windows security and bug fixes) was the Lifecam one. The only Surface RT specific updates this month were for the home button driver and a firmware update for the covers to add new keyboard shortcuts (new shortcuts that the Pro secretly added last month, too).

Would have picked one up if they where an 11.6 inch screen. Had to go with a laptop. Would have loved one :)

Absolutely love my Surface RT! Sold an iPad3 to get it and have never regretted it. MS has been great at pushing updates... And 8.1 will be killer!

I'm an RT user and still in love with it. Never had the WiFi problems; tethers to my L920 just fine. (I do wish I had sprung for the 64gb though)

I'm very happy with my Surface RT. Its great having Office as well

RT from 1st week. I couldn't be happier with the build quality. I use it every day and it still looks new. I'm happy to see the updates. Looking forward to 8.1

Unless they make a 12 or 13 inch surface, I'm getting the XPS 12 when they make a Haswell edition.

Get ready for excessive fan noise, I have an XPS12. Haswell won't make a difference cuz my fan noise happens even at idle. Other than that its a great hybrid.

RT here. They actually pushed the volume update last month and while it made it louder, broke the volume if under 10. Fades in and out when quiet.

This months update did not fix that.

Same problem. Really annoying as I like to play music when I go to bed at a low volume and this ruins it.

Other than that I love the device. Keep bringing more improvements!

Yeah, I get the volume drops anywhere below 30 which is the level I use while watching netflix in bed etc.

Hope they sort this out but as has been stated above, MS are showing good frequency with updates here. Makes me wish even more for an MS Windows Phone!!

Man, I thought it was just my device crapping out. Perhaps this is an update to fix this issue.

My device still mutes itself when I detach my Touch cover.

Brilliant updates! Lovin it!

I wish windows phone got this kind of attention from MS

You aren't alone in thinking that, however Windows RT is essentially Windows 8 for ARM so that means that updates can be distributed direct from Microsoft through the regular channels regardless of manufacturer. Windows Phone 8 on the other hand has to be tested by manufacturers and carriers before being pushed out to devices.

Is there an Amazon Instant Video app for Windows 8?

No but you can use the browser, even on RT.

surface rt here! have it since dec 2012 and its nice to see the improvement if win rt

Lifelong mac user here who made his first switch to windows with a 920 this january. Just purchased an RT about a month ago for my wife who is in a masters nursing program and her RT is the talk of her class. Everyone wants one over their ipads or massive laptops and my wife LOVES her little tablet. Happy to say she will be getting the EOS when it comes out and we are making the microsoft move little by little.

You sir, are a great husband! Hope your wife enjoys the RT and that EOS! :-)

I wish the surface rt wasn't generally sluggish. Isn't as smooth and surprised,considering just an arm,tablet. You have to tweak the hell out of it to get it running smoothly and it still kind of slow.

I think it maybe the NVDIA Tegra 3 processor. I';ve notice on some Surface, ASUS and other RT tables using the Tegra 3 that there is sluggishness when having multiple apps open and sometimes just in general. I have a Dell XPS10 with the Snapdragon processor and it has never been sluggish even when having multiple apps open. My only complaint would be the hardware. I've had some virtual keyboard issues and some instances where touch points along the outer edge of the screen with mysteriously continue to register or tap away causing apps to do crazy things. However I read the reviews that the Dell XPS tablets are flaky but I can't complain because I bought it for $239. I hope that next gen Surface either run on Snapdragon processors or that the Tegra 4 is up to the task.

Tegra 3 is slow as hell, the next gen RT with Snapdragon 800 will be much better.

Don't know what you are talking about...mines loaded to all hell and runs like a champ 98% of the time.

I found mine to be very comparable to the iPad2 it replaced. I only see sluggishness when multitasking - playing music while working on a doc, etc...

On the whole pretty pleased with my RT. Couple of minor issues - Touch cover doesn't always respond when it's connected or sometimes the device thinks that a cover is connected/active when it's folded back (no on-screen keyboard); we also have a wireless network at work that causes fits because it expects a domain login. That works intermittently. Will have to see if there's a way to set up or get a certificate to connect to it - that would be easier. :)
Outside of that - no major issues other than waiting on more/better apps.

Can't wait to update my pro! I'm stuck at work for now!

Have the RT and love it. Think it is much more of a productivity item than the iPad. The sheer fact it has Office pre-installed should seal the deal and now with Outlook RT making an appearance as well as making it more enterprise friendly should make anyone needing this in a business environment to run out and get one.
Of course there will always be haters.. People just need to know what they are getting.

Just got the RT the other day.. I'm Vulcan lovin' it! Keep the updates coming!!!

Amazon is selling the Juiced Systems Microsoft Surface 5 in 1 adapter for $24.99 a great little multi-attachment adaptor that is nice and light and fits perfectly with the angled edge of the RT.
http://www.amazon.com/Juiced-Systems-Microsoft-Surface-Adapter/dp/B00C7AQXQQ/ref=pd_ybh_3?tag=wpcentralb-20

Michael, this would be a good product to do a review on.

Sounds awesome so can u actually charge ur surface via micro USB with it?

Not sure if that's for charging the surface or charging another device through the surface. Haven't tested it yet.

I have a personal RT but just received my "Proof of Concept" Surface Pro for work. I'm not part of our IT department, but like gadgets...especially those made by Mr. Softy.
I spend a fair amount of time on the road and live in Excel, Word and PDF's. I'm having a blast trying to incoroprate OneNote into my workflow...different Notebooks for different groups I support, different tabs for different deals I'm working on, and then pages within those tabs for the various documents I'm working with. "Printing" to OneNote to get all the relevant material in there is great. Finally, Acrobat XI Standard, while not as smooth as annotating in OneNote, is pretty solid. I can mark up PDF's I receive for revision, draw on them and use the various text tools, some of which print to the PDF and others that are only viewable when looking at the soft copy.

And the Pen is amazing...completely changes the functionality of the device relative to the RT IMO. I love this device and am so glad I'm part of the POC! Hope to provide some real feedback so more of the workforce here can eventually get it.

The only downside is IT is probably getting tired of this MSFT fanboy...I made them let me use the WP8 RSA app (they claimed to only support Android or IOS) and I keep pushing one of the infrastructure groups to update our Good Server so it works with WP8. I was pushing hard on the Surface before it was even released, which is probably why I'm on the POC. If MSFT knew how hard I was pushing for them I suspect they'd appreciate it. Sadly it sounds like I'm in the minority right now (people here seem content w/ iOS and Android for the most part), but hopefully having the infrastructure ready to handle the MSFT devices will help ;-)


Good to hear how well the Pro works, especially with the pen. Have an RT, but would really like a Pro for more serious tasks (I need a new laptop soon). Not sure it can handle the PhotoShop, illustrator, and other graphics I need, though (am a web/ux designer). Hoping to hear about the next-Gen surface products soon with Haswell in tow.

I use a capacitive stylus with my RT and while it lacks the digitiser of the Pro it functions just fine.

I have a capacitive stylus for my RT as well, but it really lacks a lot of sensitivity for drawing/sketches which is what I want to use it for. Likely also an issue with the apps available for sketching, but would really prefer using a digitizer pen with something like Illustrator...

Have an RT and love it. I use it extensively for both work and home. Very happy to see updates coming through for it and look forward to even more progression in this OS.

Pro owner, it is amazing. Fully replaced work and home laptop. The wireless issue has been the only annoyance. And some kb touch sensitivity, so I'm excited about this update.

Eh? These are old updates...

Surface RT user here. Love it!

Love my surface pro. Use it for everything.

Any word on whether or not this addresses the mic issue?...I have a pro and every time I'm in a Skype call, the other party can hear whirring. I've tried adjusting the mic volume and gain to be lower, but during the call I can see the bars moving up again in the recording settings window...In any case, it's good to know they're really taking updating seriously.

To say "I'm enjoying my RT" would be an understatement.

I have a Pro and love it. I bought it to replace the MacBook pro my work purchased me. Way better! I make my boss jealous even though he has a MacBook air.

Love my Surface RT, my IPad is now collecting dust. I just wish Microsoft would get with it and release more Xbox games on a regular basis. XBOX games were the main reason I bought the RT, loving it so much I'm thinking about buying the Surface Pro.

+1. My thoughts on Surface & gaming. Where are the Xbox games? Its my opinion that every Xbox arcade game should be made/adapted for W8/WRT. One of the biggest benefits of the RT in comparison to an iPad is native USB controller support. Android has it now, however, most devices don't have a full USB and need an OTG cable. Its a huge opportunity lost not supporting Xbox and gaming on the Surface. I'm encouraged to see Halo coming in July however they need to get the ball rolling. Also, it would be a huge boon for the app ecosystem if it was set up to properly sell...anything, much less games. Discovering a cool app is more difficult than it needs be. Usually, I find the good stuff by visiting WPCental and other enthusiast sites. If MS ever reads this: fix the store and release more Xbox games.

I'm glad there updating things. But I wish for Bing search when I type of wouldn't stop my letters from being pressed. That's my only issue with the surface experience. Seems my volume issue has been fixed.

Surface Pro .... Love it!

I love my Surface RT. I use it more and more everyday. With SkyDrive and office I can even use it at work. When I get VPN support in 8.1 it will be almost perfect for my needs.

Teched $99 surface RT user here. It does exactly what I expected, glad to see the flow of updates. Going to check into the registry hacks from earlier in this thread!

Thanks Microsoft! Surface team is awesome!

RT owner here and absolutely love it!!

Surface Pro user. I love it.

Pro user here too. Bought RT at launch, gave that to the wife when Pro launched. As much as I love my Pro, I really love RT. I love the weight and low power standby (email and messages still come through). Not to take anything away from pro because I do love it, just really love those two things about RT.

The RT just keeps getting better. I've found the touch keyboard response now way way better. Previously always has issues with b or m being hit when I was aiming for space but now it always gets it right. And I can now touch type full speed with minimal errors. Previously was hesitant using the touch cover to type, now using it all the time. Good work MS. I hope more OEMs make use of RT and make cheaper devices cause RT is very useful for those that just need a tablet with Office and apps.

One thing I wish to hell they fix someday is that damn Windows logo on the back of the surface. YOU CAN BARELY SEE THE DAMN THING!!! I would have emblazoned that logo in blinding white, yellow, red. Something!! How many times do I have to say no this is not an ipad dammit! This is a thousand dollar Surface Pro. See my barely visible logo?

I agree, the logo on the back is too subtle. In the right lighting it looks good, though.

I think the WiFi issues are Windows 8 and not just RT. My Lenovo w510 craps out all the time.

Will it fix the issue with a AD connected Pro where wifi does not connect unless a user is logged on?

Because the user can't log on if there's no network. So basically that means a local admin has to log on, make sure wifi is working, log off, and THEN the domain user can log on. If that user powers off the device and hands it to another domain user who does not have a local profile or cached credentials guess what... they can't log on because wifi won't automatically turn on and connect. Pretty much makes the Surface worthless (so far) in a domain environment with multiple users. I expected the Surface Pro to act like a laptop. It doesn't.

I believe your admin can setup the wireless in the admin account to connect to your corporate wireless network automatically. That should enable "other" users to log in and have their profile setup. I'll check this tomorrow. This is not a Surface specific issue. It's an issue with any device that has no Ethernet connection and only wireless. I guess you can say it's a Windows specific problem.

Normally that is the case but the techs who "provisioned" the tablet say it doesn't work that way. I've yet to verify their conclusion. Even more frustrating is that we have the ethernet dongle and even that doesn't connect to the network without someone having been logged in. I'm hoping 8.1 will fix at least that issue. Thanks for taking the time to respond, though, I'm sure the issue I have is either fixable or patchable.

Ok, I just had one of my colleagues with a domain account try to log into my Dell ultrabook 13. The laptop was completely off and the person had never logged in before. He was able to log in succesfully and his Profile was created. I made sure that in the admin account, I set the Wifi to connect to our wireless access point automatically. I guess they can say what ever they want, it worked for me. Maybe they have a policy object setup to prevent it from working the way you would like?

Cool. That's exactly how it's supposed to work. Try that process again on a Surface and see if you get the same results. Every other device we have works like you described except for the Surface... so far. I'll play with it more next week. Today is EMC storage day :)

Pro here. Love it! Completely replaced my MacBook Pro. At home I use the minidisplayport connection to pair it with at 27-inch 2560x1440 pixel monitor. I use a Logitech Unifying receiver to connect a wireless keyboard and Touchpad T650 which has all the Windows 8 gestures built in. I also have a Pioneer portable Blu-Ray burner and USB 3 hub for it. It works great as a home computer AND tablet/laptop! What else even comes close????

I purchased an RT two weeks before they announced the free typecover with purchase :( but overall I LOVE my surface RT!!!!! And these updates will only improve the experience.

RT user here..... The surface is fantastic. I am in a family that use iPads and my Surface beats them hands down..... Love it....

2nd surface rt,64GB. Love it and take it everywhere. Work and play, it is all there. Von, remote desktop to home and work. I don't take my laptop much at all unless I have a lot of typing/coding to do... Though I do do a lot of that on the surface through remote desktop or just a plane text editor... One of the best computing devices I've had the pleasure of using for business and personal use.

The only real improvements I would like to see is the drop down menu in IE where you can't actually select anything or the menu pops right back up before you do

YES!!!!!!!!!! Drive's me nuts every time. Also on amazon when you start typing and get the auto-complete drop down... but you can't select any of them :( Hoping IE 11 will fix this stuff in 8.1

Many businesses are moving to USB rather than PXE now due to the size of a Windows 7/8 image being pushed over PXE rather than the 1-2GB Windows XP of yesteryear. Nice to see it being included though.


I have mine since the third day after launch and still love it. I'm waiting for the new surface pro to give this one to my wife. Wating also for W8.1, I'm sure interesting improvements will come!

I love my Surface RT. I recently went on vacation, plugged my Sony camera into the USB, automatically downloaded the photos and edited them on the plane. Worked perfectly and didn't have to worry about having a power outlet on a cross country flight.

Loving my RT, that tethered with my 920. Heaven!

Love my RT. Next year i start college and im gonna try to take notes on this. Has anyone else done this with an RT?

Yes! I replaced my iPad with a RT for note taking and its a night and day switch. Invest in the type cover, give One Note a fair chance and you will hardly pick up your laptop for school work any more. My school bag has gone from books and notebooks and folders to my Surface and a pen. And with multitasking I can discreetly stream the hockey game while still taking notes! Cannot wait for Surface 2.0. Would love to see it with an Atom with x86 capability

I enjoy it but it shares the same problem as windows phone as apps, but I believe for sure it will be fixed soon

RT getting better with every update!!

Simply love my Surface Pro, it has replaced my notebook. :-)

I have both Surface Pro and RT. The GF has the RT. I love the Surface Pro.
Surface Pro = Best Tablet hands down. Helix may be a contender but hard to justify the price, unless it had a GPU :-) Surface Pro keeps the tablet feel with the slim keyboard.
Looking forward to the Surface Pro 2 with Haswell.

I got a Surface RT and I'm loving it. Specially after the last 2 firmware updates.

L-O-V-E my Surface Pro. It replaced my laptop and netbook. Tethering with my HD7 works great. (Don't forget to turn on metered mode for tethered connections!) The only Wi-Fi glitch I've really noticed is sometimes IE locks up when I wake up the device on a new network. Have to close and relaunch IE to fix. Great to see the ongoing improvements. Starting to see more and more Surfaces (usually Pro) in the wild.

Surface PRO for work and RT for home. Also WP8 920 for work :-). Full MS !! I only miss an xbox1 now :-p
The PRO version is amazing !! I'm an IT Infrastructure admin and i really love to work with it !!
The RT for home is quite comfortable. I would love it to be a bit more reactive with surfing th net.



Can we expect the July update fixes the RT camera grainy-ness under low-light conditions as well (as both use the same webcam hardware)?

I just recently bought a Surface Pro so I can tether the camera to it, the pen makes it easy to make quick edits and discuss the images with clients to markup the areas to be retouched. It's not a perfect device battery life being the biggest issue, but for what I do it's more than sufficient at this point in time.
Overall it's a good compliment to the Lumia 920 even if the gesture commands makes it sometimes difficult to switch devices.

Has anyone noticed if the messaging app is duplicating sent messages. Seems as though a recent update managed to screw it up again.

Replaced my iPad2 with Surface RT and have not regretting it for a second.

Was able to pick up a Surface RT at TechEd and it's great! Wish I had picked up another one!

The prices for the RT and the Pros at TechED were really good deals. I sent one of my team to the conference and he picked one up for us. Sounded like a great conference!
Windows Central Newsletter
Get the best of Windows Central in in your inbox, every day!
Thank you for signing up to Windows Central. You will receive a verification email shortly.
There was a problem. Please refresh the page and try again.