Microsoft Teams now has more than 270 million monthly active users
Teams growth has slowed, but the platform has still surpassed 270 million monthly active users.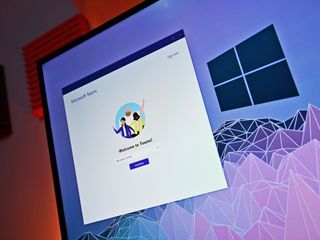 (Image credit: Windows Central)
What you need to know
Microsoft Teams now has over 270 monthly active users.
Monthly usage of third-party apps within Teams has increased more than ten times over the last two years.
Over 90% of Fortune 500 companies use Teams Phone.
Microsoft Teams continues to grow in user count, application usage, and in several other areas. This week, Microsoft shared insights about the growth of Teams during a call with investors about FY22 Q2. The communication platform now has more than 270 million monthly active users, up from 250 million in July 2021.
Microsoft Teams saw a rise in the frequency of third-party application usage, which has increased tenfold over the last two years. The number of active Teams Rooms devices more than doubled year-on-year as well.
Over 90% of Fortune 500 companies now use Teams Phone. Microsoft highlights that Bank of Montreal, Chevron, General Motors, LVMH, and NetApp recently started using Teams Phone.
The usage of Teams among frontline workers has also gone up. Microsoft states that Teams usage among frontline workers doubled year-on-year. Walmart, which has more than 2 million frontline workers, chose to use Teams in the reported quarter. Zebra Technologies recently announced a range of devices that have dedicated buttons for Walkie Talkie functionality within Teams.
Microsoft had a successful quarter across the board. The company reported a revenue of $51.7 billion and exceeded expectations in several areas. Microsoft shipped more PCs than expected and saw major growth in its More Personal Computing division. The company also shared that more than 1.4 billion devices now run Windows 11 or Windows 10. Microsoft's gaming revenue also went up 8% year-over-year, while content and services revenue increased 10%.
News Writer and apps editor
Sean Endicott brings nearly a decade of experience covering Microsoft and Windows news to Windows Central. He joined our team in 2017 as an app reviewer and now heads up our day-to-day news coverage. If you have a news tip or an app to review, hit him up at sean.endicott@futurenet.com (opens in new tab).
Only because more companies are trying to push this load of rubbish onto their employees, even when there is no need for it. I have a new manager, and she is trying to get us to download and install it, so far it has fallen on deaf ears, because most people do not see the point in it for our job. When we see the people we chat to every day at work, what is the point of this bloated mess? Want to tell me something then do so with the mouth, want to tell a load of people, stick it on a notice board, more reliable for a start. With the problems we have had for the last couple of months or so with the scheduling software that is used to set people's work times, wages and holidays, makes me wonder why we rely so much on this technology, paper and pen is more reliable. I have done my job for 16 years without teams and I certainly don't need that pile of bloat on my phone now.

Daniel, ad47uk won't see your comment unless you put it on a notice board.

Mad? no, but fed up with being told to use this, use that, for doing stuff that we have been doing for years with no problem without the apps and rubbish. I can see the point in something like Teams if you are working remotely, but not in the same flipping building where I see the person I would send the message to all the time. It is just using techn ology for the sake of using it, unless the company I work for pays so much for Ms rubbish anyway that they are trying to make sure they get the money worth.

Horse drawn carriages worked fine for centuries.
Still do in parts of the world.
Nonetheless, Tesla rolls merrily along.

And you don't have to clean up after a Tesla.

But a Tesla won't last as long, looking at the build quality of them, I will be shocked if a Tesla will last for 5 years.
Also, all a horse need is food and sleep, try charging up a Tesla miles away from anywhere.

Appearances are deceiving you, then.
Used TESLAs, if you can find them, go for high prices, comparable to new. And their sales growth rate is ridiculous: 50% y2y in the middle of chip shortages. Profits growth rate beat even software companies. https://abcnews.go.com/Business/wireStory/tesla-posts-record-profits-del... They are doing to cars what gamepass is doing to gaming: dragging the industry kicking and screaming into a new era. FWIW Anecdata: a friend of mine bought the original Tesla Roadster in 2008. Still running like new.

People want them because they like the look of them, or they think Tesla are special, like people buy BMWs or a Jaguar, it is a status symbol. I know someone who has one, got it about 2 years ago, yeah it runs ok, but the build quality to be honest for the price is pretty hit and miss. He admits the only reason he got it is that it is a Tesla, it is the name. His wife hates it, which is why it is never used to go very far, I think the furthest it has been in one go is around 20 miles. If they go off somewhere for the day they use her car which is a clio i think. Electric cars are still expensive to buy, the infrastructure is not there for it in the UK anyway, and where the hell are people going to charge it if they have no driveway?
those in charge comes up with these fantastic ideas, or they think they are fantastic, but they never think about it correctly and these ideas just normally come out of their backside. Myself, I am just getting fed up with being told what I should or should not, do, use this and use that. i can't even go into a supermarket without being asked about some stupid loyalty card. can I not just go in, get my shopping, payt and then walk out? Now the company I work for, want me to use some stupid communication software that there is no need to use. as I have said before, I go to work, do what I am supposed to do, go home and get paid at the end of the 4 weeks.

You post the same thing on every article about Microsoft teams. I think it'll be more effective to start a petition or something with your coworkers.

What difference would that make? Companies will do what they want to do, they never listen to us, we are the under dogs. What makes me laugh is that out of 300 people in our store, only about 10 people use it and yet the company still insist in keeping, it even the store manager posts a long message evey week on it and yet only 10 or so people see it.

Teams is pretty good in my pro-pinion. It's world's better than iMessage. I do wonder how well Discord would work in a corporate setting though... I want to have custom stickers too send to fellow employees for either doing good jobs or not so good jobs. 🤣

I use discord for home use and keep me in contact with people, but I would say the same thing if the company I work for started to use, I see no point in having that sort of software for my job,.
All this rubbish about telling people they have done a good job with stickers and GIFs, they do it on yammer, while if I have done a good job, come up and tell me, just a thank you, that is all I want, not for it to be displayed to the whole flipping company.
as I said to them before, I go to work, do my job, go home, that is it, I only go to work for one reason, to earn money to live.

spoken like a true luddite.. glad to know the faith is still alive and well..

It's catching up to Zoom very well, in a few years it might be the dominant messaging service in their catagory. Hangouts is basically dead and Skype's heyday is long over. Teams is probably the future and with Microsoft behind them, they got big money behind it which is more than Zoom can say.

Business use Teams will be there, but for home use it has little chance. While I don't use it myself, I do know the majority of people use WhatsApp, I used to get asked a lot to install it, I don't get asked these days as people have realised that I have no interest in installing WhatsApp., but loads of people still use it. I don't know anyone uses Teams for personal use.
Me, I stick to SMS, it does the job.

It's not just money, it's features and integration with services that businesses already use. That's Teams' secret sauce. As for Zoom, the market believes its surge was a Covid phenomenon only. Its stock tanked when the first vaccines were announced. BTW the vaccines work 🤣

The argument isn't the vaccines, but the mandates.
ABC had a piece on Puerto Rico some weeks back: they're at 92% vaxxed. No protests like the mainland or europe.
Why? The entire campaign has been couched as: vax to protect *yourself*, not "you must vax to protect others". Self interest: powerful driver.
Windows Central Newsletter
Thank you for signing up to Windows Central. You will receive a verification email shortly.
There was a problem. Please refresh the page and try again.