Microsoft unveils Xbox One S All-Digital Edition, starting at $249
Microsoft's Xbox One S All-Digital Edition marks a new disc-less era for its gaming console.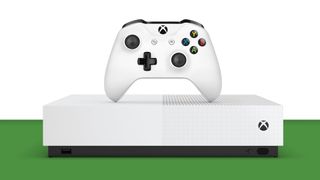 Microsoft today unveiled the Xbox One S All-Digital Edition, an all-new disc-less addition to its Xbox One console family. Revealed during its monthly "Inside Xbox" live show, the latest entry-level device cuts out the optical disc drive, debuting the console's lowest retail price to date at $249.
The Xbox One S All-Digital Edition builds on Microsoft's existing Xbox One S, first debuted in 2016 as its baseline console, followed by flagship Xbox One X. The new All-Digital console embraces the ever-connected nature of modern gaming, designed to accompany a growing suite of digital services.
Jump into digital
(opens in new tab)
Secure your Xbox One S All-Digital; Microsoft's new and ambitious disc-less console. It's the cheapest Xbox One ever made, bundled with a trio of downloadable games.
Leaked Xbox One S All-Digital info confirmed
The Xbox One S All-Digital Edition comes as no surprise, following our extensive leaks leading up to its unveiling. As we exclusively reported last month, the Xbox One S All-Digital retains a form factor near-identical to the Xbox One S, with the same minimal white silhouette. With the disc drive and eject button now removed, it's all about cost-cutting for budget gamers. Otherwise, shared internals with its predecessor means the same features, performances, games, and accessories, but now available at a lower price.
General Manager of Platform and Devices Marketing at Microsoft, Jeff Gattis, expanded on its ambitions for the new console:
The initial launch package will bundle the Xbox One S All-Digital 1TB, one wireless controller, and digital codes for Forza Horizon 3, Sea of Thieves, and Minecraft.
Like the Xbox One S, this new All-Digital package will support up to 1080p gaming with high dynamic range (HDR) for sharp, color-rich experiences. This doubles with 4K HDR video playback over downloads and streaming, while obviously cutting 4K Blu-ray capabilities. Other existing system-level features remain, including FreeSync variable refresh rates (VRR), Dolby Vision HDR, and Dolby Atmos audio.
All-digital gaming vs. discs
The Xbox One S All-Digital serves as a new avenue into the Xbox gaming ecosystem in 2019, ahead of a new hardware generation slated for 2020. It's not designed to be an upgrade for existing Xbox One S and Xbox One X owners, but rather innovate and expand Microsoft's portfolio in an ambitious new direction.
Related: The hidden cost of digital games
However, with the Xbox One S often available below its retail price at third-party retailers, the Xbox One S All-Digital falls into strange territory. While the disc-less device will eventually align with the full lineup, you can still find its 2016 predecessor at (or below) $249, and it has a disc drive. But for those embracing a clutter-free all-digital lifestyle, the Xbox One S All-Digital is an exciting shift for console gaming.
The Xbox One S All-Digital is currently slated for a May 7, 2019, worldwide release. The disc-less console is now available for preorder via the Microsoft Store, priced at $249 in the U.S.
Jump into digital
(opens in new tab)
Secure your Xbox One S All-Digital; Microsoft's new and ambitious disc-less console. It's the cheapest Xbox One ever made, bundled with a trio of downloadable games.
Xbox accessories you'll love
Every one of these quality accessories is guaranteed to enhance your Xbox experience.
PowerA Enhanced Wired Controller for Xbox One (opens in new tab) ($20 at Amazon)
PowerA's take on the Xbox One controller is an attractive pickup for budget-conscious gamers that nails all the basics.
Talon PDP Xbox media remote (opens in new tab) ($20 at Amazon)
The Talon PDP Xbox media remote is great for watching shows on your console.
Xbox One S vertical stand (opens in new tab) ($10 at Amazon)
Stand your console upright with this accessory.
Windows Central Newsletter
Get the best of Windows Central in in your inbox, every day!
Matt Brown was formerly a Windows Central's Senior Editor, Xbox & PC, at Future. Following over seven years of professional consumer technology and gaming coverage, he's focused on the world of Microsoft's gaming efforts. You can follow him on Twitter @mattjbrown.
🤪 They blew it with that price. Who is in charge pricing decisions? $199 would have been The Sweet spot

No trade-in program for the already owned games ?

its not supposed to be an "upgrade" for existing Xbox One and One X owners

Yeah, gotta agree, that's not an impulse buy kind of price.

Wasn't there a topic about the rumoured price with comments? Looks like the comment were removed there.
Anyway like I said in the other topic, this whole thing is a joke. The console + the price. This is all advantage to MS they should do everything possible to sell it even if it means cutting profits made on it and even selling it at a loss.
We can get the s sells for around 200-210.
For me, this should be at the most 100 bucks cheaper than this price. We got to look at few things here.
1) When the S came out 4K UHD drive was such a major point, all the fans and MS were hyping it so much. They were talking of value and how the S is worth it for the 4K UHD alone.
When they finally cut just 50 bucks out of it, it just shows that they were feeding us bs. That thing was just worth 50 bucks for them.
2) Here, they are taking out something from the console. An important feature that gives the gamer the choice of getting games anywhere they want. Here gamers are allowed to use only one store. Games will obviously be more expansive and ofc it removes the ability to sell and buy used games. The 50 bucks will quickly burn away when the person buys few games.
3) Like I said this is ALL WIN for MS. This should do everything possible to sell it even if it means cutting profits made on it and even selling it at a loss.
4) The choice of games is weird, also going for the lazier/cheaper design choice, and not adding additional HDD knowing that this is a digital-only. We know that console price tends to drop. For black friday the XB1s was sold for 189$ in 2017!!!
https://news.xbox.com/en-us/2017/11/13/black-friday-deals-2017/
That was two years back... Now after all that time, come out with a more expensive console and not just that, they'll remove a feature that was hyped so much by MS themselves and make everyone who buys this console dependent on their store while preventing them from reselling games.
The more I think about this, the more I think it's an ridiculous joke.

For one, you can get digital codes at several retailers. Two, I'm sure $200 will be the Black Friday rollout. I'd bet money on that. No reason to give all the goods away at launch, there is no competition at the moment so what for? You drop your price during shopping season when you're trying to clear inventory.

For one, even if you get digital codes that doesn't change the fact that you're limited in the stores and also limited as in you can't buy used or even sell your games. If your gamestop or amazon has an amazing sale on some physical games, you can't do anything about that. Games eventually are more expensive.
And two, even if end up at 200 bucks on black Friday, the XB1s was 189 bucks in 2017 !!! Two years back.
https://news.xbox.com/en-us/2017/11/13/black-friday-deals-2017/
In a world where consoles quickly drop in price. After two years MS is removing a hyped feature(that mostly benefits them) and sells the thing for more money. Crazy...

Aye apologies, I had to shift that article to a different template where comments aren't enabled, but we have template updates coming soon that will allow us to enable comments on different article templates. At the moment they're only enabled for editorials and news.

No worries... Thanks for clearing it up.

PC gamers used physical games for over a decade now. You don't have to deal with physical media cluttering your home, lost or scratched disks, or driving around trying to find the best price. You still have to download an install the game, even with a disk, making it even more pointless. Is the $5 GameStop might give you for the disk really worth all the other headaches? Obviously wasn't an issue with PC. It is time for consoles to catch up. Physical media is dead.

I always wonder why someone who prefers digital, is so much against physical games that he wants them to die. He wants a digital-only world.
Isn't that selfish of them? I mean I prefer physical games but I wouldn't want the death of digital games. I want both. I want gamers to have a choice. If they prefer digital, they can have them if they prefer physical, they can have them. if they don't mind either, they can still have both. Why do you want to take options away from gamers and give companies like MS a monopoly and all the advantage?

I bet horse and carriage people said the same thing. Physical disks are old technology and well beyond obsolete. The disk is now just a transfer device for the DRM. The actually game is not on the disk, it is just a remnant of a time when physical media was required as a storage medium. It isn't that I want it to die, that us inevitable. Just look at PC gamers. You don't see them mourning physical media because it is just a superior format.

I love how people keep saying it's inevitable. As if it is written in some sort of holy book. People always try to predict the future and kill tech. From the death of consoles, to the death of PC gaming, to how mobile gaming will be the future of gaming, to the death of single player games and now the future is streaming....
How about this? Let the physical media exist until everyone wants digital-only gaming?
We the consumers are the one who gets a say. If a company want to force things on us we can fight back (see 2013). Digital-only is perfect for these companies. That's what they want. That's what Steam got. Steam got the monopoly in PC gaming because they managed to get so many third party studios and publishers to use their platform. Can you understand that there are still a lot of fellow gamers who prefers physical games? Why are you fighting the fight for big companies?
If you're a gamer wouldn't you want choice for every gamer? This is just like me saying "racing games should die" just because I don't like them. Your post suggests that you are against physical games even though you say you aren't.
Why even reply against physical games if you don't even care?

The pricing is wrong but it'll go down quick I bet One S is almost always on sale. Give it couple of weeks and on BF they will price at around 150 I'm sure.

This site has devolved into a waste of time with all the "articles" that are really nothing more than glorified ads. I used to really like this place as well as the other Mobile Nations sites, but they are all the same. Really, 5+ articles just to generate ad traffic? A glance at the home page has 2 real items and about 10 ads. Do things like does this play 4K games need its own post? I can get all this and more from 1 post on most other tech sites. Now a days, I seldom read anything here. I hit the home page, see the crap and move on.

We're fine with this. Home page traffic is not a thing in 2019, so not a concern for us.

Bummer. How about an enthusiast setting so long time readers don't have to deal with the garbage? Shouldn't impact your search result hits, which I assume is where your purported traffic comes from.

Yes, it's really weird. All those topics looks so strange with the new template.
So do you think MS paid for those articles?

If Microsoft paid for the articles, the site wouldn't be blanketed in advertisements. No Windows Central is gunning for clicks, the more separate articles there are, the more clicks they get, the more money they get.

Lets all not gloss of the fact that this might very well be one of Microsoft's best commercial to date.

What a disappointment, all that buildup and it fell flat.
I have been looking for a console upgrade so I waited hoping for something good.
Saw an ad today for a new XBOX one S for $187 how the heck would anybody pay $250 for no disc drive.
I for one am not waiting around for a future black Friday sale.

If the One S is on sale for $187, this will likely be $159. It will also have sales.

Only 28 bucks difference? I think it should be a lot more than that.

Maybe. Retails $50 cheaper, so I don't think it will go much lower. Maybe $149.

i think microsofts intention here is to really sell more regular xbox one S and possibly sell off whatever remaining they have, but for anyone interested or wants a 2nd xbox thats all digital, or those who really wants this will most likely buy one. its just to ''ease'' the consumers who are slow to adapt to this kidn of console. its coming!@!

Microsoft offer consumers a choice that is more expensive than current Xbox One S bundles and more expensive digital games. Sounds very Microsoft.

That is retail though. If you buy this at retail, you are doing it wrong.

True, although it's rare for consoles to be discounted on release, maybe down the track it will be cheaper.

It's funny to see how people including MS says "it'll go down during sales". It's almost like they all agree they are overcharging for this product.
The only real advantage was suppose to be the price and they ****ed that up.
This is like how they wanted to have that all digital console gaming in 2013 and ended saying that games will still cost 60 bucks. It's ridiculous. They are being greedy. 4K UHD was hyped so much by MS and it's fans. Now they devalue that thing by saying it's only worth 50 bucks. How can that be your main selling point in 2016-2017 and make it just a useless feature that's worth 50 bucks few years later.
That's the crazy 180° messaging that keeps changing as we go along...
Windows Central Newsletter
Thank you for signing up to Windows Central. You will receive a verification email shortly.
There was a problem. Please refresh the page and try again.