On Microsoft's Windows 10 Mobile strategy for 2016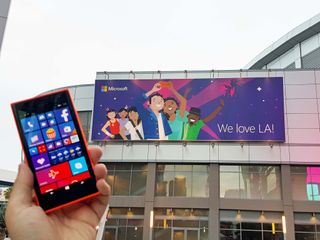 Did Microsoft give up on Windows 10 Mobile? If not, what is their plan in 2016? With dipping sales, a ho-hum portfolio of Lumias, and an OS that is increasingly accused of being not ready for primetime, many are proclaiming this is the end of Microsoft's mobile ambitions.
However, I contend what we are witnessing is not the end, but rather a repositioning in the market. It is not easy, nor is it comforting, for those of us who prefer Windows 10 Mobile. But this change in approach is necessary for a company that veered too far from its roots.
A low profile reveal
Very early this morning, at least for those in the U.S., Microsoft announced the Lumia 650. The news matched my previous reporting of a launch with little fanfare. Announcing the budget-friendly Lumia 650 in the early morning for Western media is one sure way to achieve that goal.
Moreover, it is telling that Microsoft passed on revealing the Lumia 650 at Mobile World Congress, which is just a week out. If you haven't picked up on that oddity, well, you are missing the big picture.
For many fans of Windows 10 Mobile – or, at least, Microsoft's ambitions in that area – 2016 so far is testing their resolve. Sagging sales of Lumias and an OS that feels like it is still gestating does not inspire confidence. Toss in proclamations from various tech blogs on the demise of Windows Phone (yet again) and it does feel like the best days of Windows 10 Mobile are already behind it.
Does Microsoft have a mobile strategy or are they just letting Windows 10 Mobile and Lumias wither? I'll try to make clear what I think is happening.
1. Microsoft does not want to be in the phone hardware business
Putting aside your thoughts on Nokia's strategy to adopt Windows Phone years ago, the Finnish company did do a remarkable thing: they quickly owned the Microsoft phone market. Going from zero to 97 percent in just a few years was very impressive. It was almost too impressive, as it squeezed out the likes of HTC and Samsung, who saw little reason to continue to compete in the comparatively small Windows Phone market.
That was a good problem to have if you were Nokia. After all, competition is competition, and they showed they could deliver a product to satisfy Windows Phone users. The downside to this problem was that Microsoft was practically forced to buy Nokia's mobile division just to keep somebody around producing Windows phones. To this, I ask two questions:
Does Microsoft want to make phones on a large scale and to compete with their partners?
Does the current leadership at Microsoft view the Nokia mobile acquisition as a bad one?
To the first question, the answer is a resounding 'no'. Microsoft CEO Satya Nadella made this clear last July and the cutbacks to the Lumia portfolio, including canceling the Lumia 650 XL, Lumia 750 and Lumia 850, are testaments to that strategy shift.
Microsoft is not a hardware company. It is a software company that occasionally makes some great flagship devices. Becoming a large scale phone manufacturer on the level of the old Nokia is just not something they were prepared for nor wanting to do (at least under this Ballmer-less regime).
Think of Microsoft's PC business where they make the Surface and Surface Book, but leave plenty on the table for Lenovo, Dell, Acer, MSI, and HP. Why break from that and attempt to make every Windows Phone out there? Where is the incentive when you control 97 percent of the Windows Phone market? Solution: you back down and give your partners room to innovate and grow.
As to the second question, I'd contend that the current leadership at Microsoft was not keen on the Nokia mobile acquisition. Remember, Ballmer had to do a lot of convincing to make that deal happen. It was not an easy choice either as Nokia Mobile could have been snatched up by a competitor or just gone broke.
Understanding that backstory let's be clear: Microsoft is currently dismantling much of that acquired Nokia infrastructure. Between the layoffs and portfolio reduction, the days of plentiful Lumias are behind us. This is not a giving up, but rather retrenching to open up the market.
2. Surface Phone is not a savior device
Later this year, Microsoft is rumored to be releasing some sort of 'Surface phone' under the leadership of Panos Panay and his hardware group. I have reported on this numerous times, but the details about the project have been hidden securely from the prying eyes of the public at large. We have no idea what this device will be except that it will be premium, and likely utilize Microsoft's own innovations from the Surface line.
I want to be clear here: The Surface Phone is not going to be a device that single-handedly "saves" Windows Phone and it is silly to believe otherwise. In fact, no one device can or will do that. Assuming this mythical phone is even released it will simply be one of many phones out there that keeps Windows Mobile going.
The Surface PC line did not save PCs, but it did play a major role in setting the bar for OEM partners. Compared to 2012 in 2016, we now have a profusion of high-quality PCs and laptops. Look at Dell's innovative XPS line, Lenovo's creative YOGA portfolio and even HP's resurgent Spectre series as evidence for that tactic's success.
The takeaway is this: I think the Surface Phone, whatever it is, will be a high-end, flagship level phone that will wow users. But like the Surface itself, it will be symbolic. Microsoft is not putting all its Windows 10 Mobile bets into that phone and neither should you.
3. Windows 10 Mobile is just Windows 10
The notion that Windows 10 Mobile could 'die-off' is a bit absurd. Conceding the fact that the OS may only garner a subordinate position in the market, Windows Mobile is intrinsically linked to the desktop version of the OS at a core level. Development of Mobile and Desktop Windows 10 is run in tandem by the same teams, and the amount of code shared between the two is so commanding that abandoning mobile would be like akin to Microsoft ditching Windows 10 Pro. In other words, the resources needed to keep Windows 10 Mobile alive are minimal.
What is changing, however, is how Microsoft positions the OS.
Microsoft has apparently lost the consumer battle for mobile. Android and iOS are simply too far ahead to compete on a feature-to-feature basis and the marketing behind Android (i.e. Samsung), and Apple's iPhone is just too massive for Microsoft to combat on a tit for tat basis.
So, what is left for Microsoft in mobile? Plenty. Giving your OEM partners an OS that can mimic many of the features of the increasingly popular desktop one can lead to some creative results.
We already see a lot of uptake on the Universal Windows Platform (UWP), and Microsoft still contends that the burden of making a mobile version of a desktop UWP app is to such a degree that companies will find it hard to ignore the option.
Windows 10 and Windows 10 Mobile are linked fundamentally, and both will be developed ad infinitum.
That leads me to the final point: more phones.
4. Partners to fill in the void
With the Lumia brand winding down and giving breathing room to other vendors, we should begin to see more Windows Phones hitting the market in 2016. This adoption is already happening, albeit on a smaller scale. So far, there are a few new companies at the Windows 10 Mobile table, including:
Alcatel OneTouch Fierce XL
There even have been recent rumors of an HP phone, which is borderline absurd when you think of how long it's been since that company made a Windows mobile device. Doubly so when you consider how disastrously HP's last major phone initiative went.
There are, however, still some elements missing from this strategy that many of you are aware of:
No high-end phones
No Samsung or HTC Windows Phones
Without the above I concede this new strategy of letting vendor partners pick up the Lumia slack is just not compelling and falls apart. Of course, this assumes that no such devices are in development or that those companies have no plans to enter the Windows Phone fray. I stress assumptions because I think they are just that, and we will begin to see a partner strategy akin to the PC model take root starting this year.
Brad Sams of Thurrott recently asked 'what if another company made the Surface Phone?', and I think it's an interesting question to consider.
Many naysayers will contend that all of this doesn't matter and that it is too late. But that is assuming we are talking about just the consumer market for mobile. That segment is but one area – albeit a massively profitable one – where Microsoft could compete. But there are others who need a robust mobile solution using an OS that is not all about Snapchat, but instead focuses on productivity, security, and ubiquity.
There is also the challenging but fascinating 'category creation' area that Nadella mentions parallel to how the Surface brand found the winning formula for two-in-one devices.
It's all about opportunity
The bigger question is can Windows 10 Mobile not only survive, but thrive, in a non-consumer mobile market? I would claim many companies can and do just that in addition to spilling over into the consumer space. After all, go back in time to Windows Mobile, Palm, and BlackBerry and you will find that before the iPhone consumer revolution those platforms were business-focused, but still consumer-friendly.
In 2016, the new Microsoft is focusing on productivity and entertainment everywhere regardless of hardware, or even the OS platform. The company is getting back to its roots and reversing years of mismanagement and chasing consumer-only visions of Windows.
The future of Windows Mobile – Does Microsoft want to reboot the concept of a phone?
Enterprise emphatically disliked Windows 8 and 8.1, and Microsoft suffered greatly. With Windows 10 we see the fastest adoption by vendors, companies, and institutions of the new productivity-focused OS. Why is that? What do those organizations see in Windows 10 that regular consumers perhaps do not?
It's opportunity.
Windows Phone is not dead, folks. Microsoft, however, is changing the rules and in many ways is getting back to its origins. To the average consumer this understandably looks like the end of days for Windows on phones, and in some respects it is. Microsoft's mobile strategy up until this point has been nothing short of disastrous, in spite of some great ideas and design.
Microsoft has indeed lost the broad consumer market, and the idea that your average mom and pop will be running a Windows Phone in 2016 or 2017 is dead. Nonetheless, Windows 10 and Windows 10 Mobile do play a role in the future of smartphones; it's just not the one we necessarily expected.
Will what I say above come to fruition? With Mobile World Congress around the corner and more updates for Windows 10 due this year, we'll have to kick the can down the road a bit further, but I'm willing to bet on it.
Get the Windows Central Newsletter
All the latest news, reviews, and guides for Windows and Xbox diehards.
Daniel Rubino is the Editor-in-chief of Windows Central, head reviewer, podcast co-host, and analyst. He has been covering Microsoft since 2007 when this site was called WMExperts (and later Windows Phone Central). His interests include Windows, laptops, next-gen computing, and for some reason, watches. Before all this tech stuff, he worked on a Ph.D. in linguistics, watched people sleep (for medical purposes!), and ran the projectors at movie theaters because it was fun.