Microsoft's Xbox July Showcase review: Finally, a roadmap
Microsoft's Xbox July Showcase put a big emphasis on Xbox Game Pass, revealing parts of its upcoming content slate.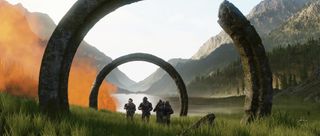 (Image credit: Microsoft)
So the Microsoft Xbox July Showcase has come and gone, detailing tons of interesting games from across the spectrum built for Windows PC, Xbox One and Xbox Series X. Of course, we finally got to see Halo Infinite in motion.
While there were a few things I wished we could've seen more of in the show, the message Microsoft offered was concise and clear, emphasizing Xbox Game Pass as the premier way to experience content coming out of Xbox Game Studios for the next half-decade or more.
Here are some of my key takeaways from the show, and some of the things I wish Microsoft could've dug a little bit deeper on.
What I loved
One aspect of Xbox I've grown to love is the diversity of games Microsoft is trying to claw into its lineup. Game Pass has led me to discover new genres repeatedly over the few years the service has been live, and the investment smaller studios receive from the service helps me become aware of games I otherwise might have not.
We got to see games like Echo Generation, with its turn-based monster show nostalgia vibes and The Medium, with its top-class horror presentation and unique next-gen features, coupled with the fact S.T.A.L.K.E.R. 2 will drop as a launch exclusive. Some of the smaller announcements really resonated with me, joining my growing list of most-anticipated upcoming Xbox games.
I'm also glad to have seen some of the new games we suspected were coming, but hadn't yet seen anything from. One thing I've been acutely aware of with modern Microsoft is how reluctant they've been to describe games that maybe were years out, rather than months out, perhaps in reaction to canceled titles like Phantom Dust and Scalebound. That fear of announcing games further away seems to have been shed, since Microsoft showed off some cinematic footage for a few of its staple franchises.
For example, State of Decay 3 was revealed, giving us a glimpse at Undead Labs' next major effort with this premier zombie apocalypse simulation game. The trailer didn't give away much in terms of gameplay, but did seem to offer a few hints at the locale and types of enemies we may face. Up until now, State of Decay has only featured human enemies and mutants, but the new trailer showed off a zombie deer, disturbingly devouring a wolf in a bit of a role-reversal. As a State of Decay fan, seeing the game with this kind of detail was impressive, but whether or not it can be replicated in-game and not just CGI remains to be seen.
Fable was finally revealed, albiet via a brief cinematic trailer. Thankfully, Fable will retain its humor, sidestepping some rumors that it would pivot into something a little bit more grimdark. However, if you're looking for grimdark fantasy, we have Obsidian's Avowed, which looks to be Microsoft's answer to Elder Scrolls. We also got a brief glimpse at the next Forza, and of course, a huge gameplay explosion for all things Halo Infinite.
For most, Halo Infinite is the center piece of the show, as Microsoft's biggest gaming franchise this side of Minecraft. Halo Infinite evolves the formula the franchise is typically known for, taking it into an open world format with map objectives, although the general gameplay structure isn't fully clear.
I'm glad we got to see more of Microsoft's longer term plans, and it's something fans and, at least myself personally, have been asking for. However, it's a bit of a double-edged sword when, again, we primarily got cinematic trailers rather than gameplay footage for some of those games that are further afield.
What I liked less
Halo Infinite was split into two trailers, one cinematic and one gameplay-oriented. The cinematic trailer jarred quite hard against the gameplay visually, with supremely detailed CGI renders giving way to stylistically attractive, but technically less-impressive in-engine visuals. I remember being totally blown away seeing Halo 4 on an Xbox 360, but Halo Infinite isn't as visually impressive as some other open world titles on the horizon — Sony's Horizon Zero Dawn 2 specifically, which is a bit of a marvel to behold.
That said, Halo Infinite is a first-person shooter, and Microsoft has prioritized frame rates to that end. However, I thought next-gen was going to do away with compromises, and nothing about Halo Infinite really felt like it was a step up from Halo 5 to me. I also have concerns about the open-world gameplay. Are we going to be grinding materials to level up gear like in Destiny? If not, how to you make side objectives compelling in a shooter like Halo? There are a lot of unanswered questions there.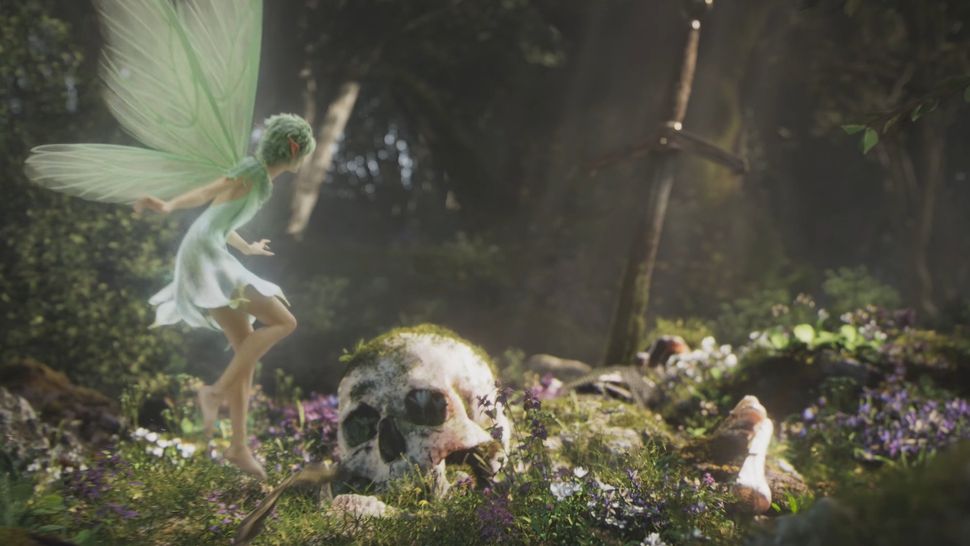 And while I did complain that Microsoft didn't show off its roadmap to us in more detail previously, it's a bit annoying that Forza, State of Decay 3, Fable, and Avowed only had cinematic trailers once again, without any gameplay. Even Hellblade II which was announced over half a year ago was a no-show, which makes me wonder when we're likely to actually get our hands on some of these games.
The future is Game Pass
One thing Microsoft was keen to do throughout the show was slam home the idea that every title it had shown off is coming day and date into Xbox Game Pass, from the biggest titles like Halo Infinite down to smaller ones like Grounded, along with some third-party offerings like Dragon Quest XI and Destiny. The value of Xbox Game Pass is truly unrivalled in the industry right now, but I'm not sure if Xbox Game Pass alone is enough to turn the tide against PlayStation.
Nothing in today's Xbox show truly blew my mind, even if it was a rock solid show and delivered a longer-term roadmap of things to look forward to. What it did slam home to me was that we can continue to be happy and comfortable about Xbox Game Pass. I see no reason to move my primary gaming expenditure away from Xbox and PC, given that Game Pass is delivering so much value on both of those platforms right now — more value than I physically have time for even. Similarly though, I saw nothing in the show that would necessarily make a PlayStation-oriented gamer feel like switching sides.
A lot of gaming discourse revolves around the sport of "which platform is winning." Nothing about today's event suggests Xbox will steal the hardware sales crown from Sony, but they don't need to. Microsoft is delivering for people already invested in its ecosystem, already invested in Xbox Game Pass, and want to carry their investment forward to next-gen hardware with the Xbox Series X, or mobile with Project xCloud. And clearly, Xbox is crushing it on the sales front.
Xbox Series X/S
Main
What is the Xbox Series X release date?
How much does Xbox Series X cost?
Why you can't preorder Xbox Series X yet
Get the Windows Central Newsletter
All the latest news, reviews, and guides for Windows and Xbox diehards.
Jez Corden a Managing Editor at Windows Central, focusing primarily on all things Xbox and gaming. Jez is known for breaking exclusive news and analysis as relates to the Microsoft ecosystem while being powered by caffeine. Follow on Twitter @JezCorden and listen to his Xbox Two podcast, all about, you guessed it, Xbox!