Mobile Fun offering $10 off Nokia CR-200 wireless car charger in time for Christmas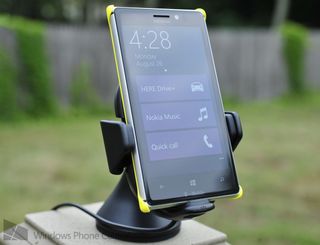 The CR-200 is Nokia's wireless charging car holder for Windows Phones (or any compatible smartphone). The accessory is currently available over on Mobile Fun for $79.99, but since Christmas is just around the corner for those who celebrate the festive holiday, the retailer has a coupon code to knock $10 off the listing price.
As well as wireless charigng, the unit also supports NFC, enabling you to connect to and use services from the get go. Nokia showed off the wireless charging holder back at Mobile World Congress earlier this year. Here's a demo of the product:
Should you be interested in picking one up for yourself or someone else as a gift, entering the code USCR200 when checking out will bring the price down to just $69.99. If you're still on the fence, why not check out our review of the CR-200?
Source: Mobile Fun
Windows Central Newsletter
Get the best of Windows Central in your inbox, every day!
Rich Edmonds was formerly a Senior Editor of PC hardware at Windows Central, covering everything related to PC components and NAS. He's been involved in technology for more than a decade and knows a thing or two about the magic inside a PC chassis. You can follow him on Twitter at @RichEdmonds.
Can someone who has this comment on how well it works with the 1020? Does the wireless charging line up well enough go work? Thanks!

Thirded. It fits and does the job.

Thanks all. I'm getting one! Though I do have concerns that AT&T may never let us get another Qi phone again... but for $60 I'll risk it.

I read "Mobile Fun offering $10 for wireless car charger"... Oops. Probably U.S only anyway

Mobilefun have various website in a lot of coutry and if the offer is us only, they ship almost everywhere ;)

Wow I'd never even heard of this product, sounds quite of awesome

Too expensive for the amount of times people have had problems with the grabbing mechanism. For something that costs so much, I expect better life.

It works fine for me. It sticks to the windshield better than my GPS and, even in my bouncy jeep, my 1020 has never fallen out. I'd recommend it to anyone.

I have just e-mailed Nokia support. The mechanism gave way last week sending my phone accross the dash and and into the footwell which caused fine scratching on the screen. No damage to the phone apart from the scatches but very annoying. Thing is I bought it in Europe when I was travelling but taking the issue up with Nokia New Zealand so don't know yet how this will work out.

65 With Prime shipping http://www.amazon.com/Nokia-CR-200-Wireless-Charging-Cradle/dp/B00EVVO0XW/ref=sr_1_1?ie=UTF8&qid=1385568356&sr=8-1&keywords=CR-200

does it works with the 1520 ? or it s too small and nokia must create an other one ?

I think Daniel's review said it just fit without a case. So no charging if you have the US 1520, it would have to be modified if you have a case.

I can confirm. I took mine into the at&t store and tried it, it barely fits and there's a chance the arm may start up the camera as it is halfway on the button. Maybe if there's a 925/1020 type Nokia charging cover in the future, it could work, but they definitely didn't design these two things with each in mind.

That's the same problem with the 928

These things are way too expensive. They should be around $45. I am currently using a mount off ebay that costs less than $15 and a sperate USB charger that cost less than $10.

Are the grips adjustable? I have my LG optimus pro 2 that I would also like to dock.

70 bucks for a charger. Lunacy.

I am hearing problems with the placement of the grip and the buttons on the 928...is this true?

So does then is it a "no buy" then? Not worth it?

To much trouble in my opinion for the 928. Works great with my friends 920.

This has to be the worst piece of technology I've ever purchased. Just after two days with it something inside snapped and broke so now that side brackets that hold the phone in place don't close. I paid 100 on amazon and used it for two days. I opened it up and crazy glued it and worked for another week. But the plastic piece is so flimsy that it doesn't hold for very long.

Same here. The plastic inside that is used to clamp your phone in place broke in half. They need to replace it with something stronger like metal piece. The design is flawed on this device. Don't waste money on this. It doesn't even worth $5 to me. Are there any other wireless charging dock out there?

And I just purchased one from them last week... My luck.

Does anyone know what app is displayed on the phone with the artical. I been looking for a driving app that has easy access to Here+, Music, and easy access to making calls...

This accessory comes with bugs that Nokia hasn't been able to come out with a fix yet, it's a shame!! The ringer stops functioning, the Bluetooth for music sometimes stops, gets an error message when opening here maps....

Now I use it as a charger and a handsfree device with bluetooth on my truck's dashboard for my 920, the glue works well. I don't activate the NFC because the bugs I mentioned before.

I bought this charger for use with my Lumia 920 and I am very disappointed. It doesn't supply enough current to charge my phone while using Nokia Drive+... my phone actually LOSES battery while navigating and "charging." I lost about 20% in like 45 minutes, with nothing running in the background.

At just .75a I'm afraid it'd be useless for its intentions. My 3.1a charger can't feed my L920 fast enough when navigating as it is. :(

OMG, it's the Lobster!! :D

The one and only! To my knowledge. Lol. how goes PR?

Pretty damn good. I guess the CR-200 has been superseded by the CR-201 now. Still hard to find accessories in Canada unless you want to pay double :/

This would have been a better article had the title been "Mobile Fun offering $10 Nokia CR-200 wireless car charger in time for Christmas."

Can someone tell me why it's so hard to find Nokia accessories in stores in the states. I would buy a lot more if I could go to the store and get a hands-on feel of them. Microsoft store at least. I'm very particular about buying something without touching first. Especially for that amount of money. BY THE WAY, WHERE IS THE DARN TREASURE TAGS

Agreed. In particular, I don't understand why the WPCentral store doesn't carry any Nokia products. I've asked, but they always ignore me.

What kinds of surfaces will that thing attach to? My dash doesn't really have flat surfaces nor would I want a cord dangling from my windshield.

I have had zero issues with my CR-200. My 1020 has never fallen out, and it has stayed firmly attached to my windshield.

Free shipping? If so, we have a deal.

Still wondering where Part 2 of your review for the car charger is.

Did Nokia fix their issue with the flimsy plastic piece that keeps breaking on this unit that allows the device to squeeze and release your phone? Or is that still an issue?