Mobile Nations Weekly: iOS 9, inbound Nexus, upcoming Windows, and leaky sliders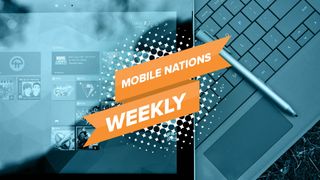 There's a phrase: in the eye of the storm. It's meant to evoke a certain "calmness" that exists in the eye of a hurricane, a respite from the pounding, a brief moment where you can pause to catch your breath. You might call this past week such a thing after the big Apple event last week and the events marked into the calendar in the coming weeks. You would be wrong.
This week saw the official widespread launch of Android Pay, which is going up against not just Apple Pay on iPhones, but head-to-head against Samsung Pay on Samsung Android phones. Oh, and this little thing called iOS 9 launched onto iPhones and iPads around the world, with a tremendous 22,000-word review from iMore as reading material for the weekend
Windows 10 saw new preview builds released for both Windows 10 Mobile and Windows 10 for PCs — and speaking of Windows 10 phones, there's a big event scheduled for October where we expect to see new hardware running said software. The folks in BlackBerry land got to see the much-anticipated Android-running BlackBerry Venice vertical slider leak from pretty much every angle. Again. This time with video. Pretty much the only questions left about this device are these: when will it launch and how much will cost?
Sure, we're in the eye of the storm, but don't think that means it's calm.
Windows Central — New builds for all
Microsoft had a rather busy week especially in keeping their Insiders happy with new releases. Indeed, the Redmond giant released a new Window 10 Mobile build on Monday and a new Windows 10 build for PCs on Friday. The release for Windows Phone goes a long way in fixing bugs and lagging, whereas the PC build added a few new features and more UI polish as well. New, finalized versions of both operating systems should be ready for the masses by November.
Oh and about those November releases, Microsoft is doing their fall announcements on October 6 in New York City. Surface Pro 4, Surface XL, Lumia 950, Lumia 950 XL and the Band 2 are all on tap to be announced.
Speaking of Windows 10 the Xbox One team started to take volunteers for their big update. Yup, Xbox One is also getting Windows 10 and starting this weekend a very rough build is expected to land on a few users consoles. Unfortunately, there will be a lot of bugs. However, Microsoft is keen on getting two releases out a week sometimes with quick bug fixing turnarounds.
Android Central — Paying for the calm
It's the calm before the storm. But it's really not even all that calm. Android Pay is officially official and available to use now, Google has scheduled is next Nexus event for Sept. 29, and for the non-U.S. folks (or the hard-core importers) we've reviewed the Huawei Mate S.
CrackBerry — Slide up, slide down
So much happened this week, I'm not even really sure where to begin. BlackBerry CEO John Chen sat down for a fireside chat at the Waterloo Innovation Summit, the upcoming Android-powered BlackBerry Venice Slider got leaked all over the place and BlackBerry announced they would be opening up their first pop-up shop for Germany on September 23.
iMore — iOS 9 is here!
Apple kicked out iOS 9 on Wednesday, updating every iPhone, iPad, and iPod touch since 2011, all at once, everywhere. watchOSm2, however, was not so lucky. It's been delayed to fix a bug. Meanwhile iPhone 6s and iPhone 6s Plus ship this Friday, so there's no slowing down!
Kicked
This week on Kicked we look at a high-tech backpack, a smart door lock, a rotisserie grill and more! Plus, Kim questions the tightness of Dan's t-shirt. Dan also does a robot impression which might be less than impressive.
Time is running out on our prize giveaway! For your chance to win a Pebble Time smart watch, an Ilumi smart bulb 10-pack, or the Coolest Cooler, watch this video and subscribe to our YouTube channel. You've only got until the end of September so subscribe today!
Connectedly
This week on Connectedly was all about the future, with both Audi and Porsche showing off their new all-electric cars. We also saw a double-sided TV, LG's 8K ready $133,000 panel, and iRobot's new Roomba connected vacuum system. We also took a look at Amazons new product line, the world's smallest drone and some funny and unique flash usb drives.
Windows Central Newsletter
Get the best of Windows Central in your inbox, every day!
Derek Kessler is Special Projects Manager for Mobile Nations. He's been writing about tech since 2009, has far more phones than is considered humane, still carries a torch for Palm, and got a Tesla because it was the biggest gadget he could find. You can follow him on Twitter at @derekakessler.
Surface XL? Didn't Dan just said in his video that this device js expected for 2016?

Surface XL is a 2in1 PC. Not a surface phone.

Surface XL would be consistent with the phone naming for larger devices. So pretty good. However, would omitting 'Pro' confuse? Saying that, Surface Pro XL would be a ridiculous mouthful, particular when you go up a version; SPXL2! ​ ​

I just cannot understand Blackberry's love for key pad. They have to understand that traditional keys stand no chance in front of swipe keyboards as in Windows phones.

Even after sticking with the keyboard cellphone bright them to their demise, they still haven't learned a thing. No one is using cell phone with keyboards anymore! The BlackBerry classic didn't save them, so I guess they think, "Al we have to do is put Android on it and it will save the day"! They already had an Android for years ago, the Motorola A855. Phones with keyboards are history!

Image showing Blackberry Venice has Android Authority Logo lol..