Mozo Lumia covers are on sale via MobileFun, and we have an exclusive offer to go with it!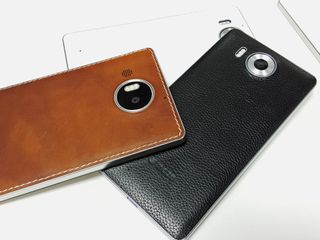 If you own a Lumia 650, Lumia 950, or Lumia 950 XL the various replacement back covers from Mozo are likely on your radar. The one hindrance for many is cost as some of those Mozo covers are north of $50.
MobileFun US and MobileFun UK are both official distributors of those Mozo replacement covers, and they are running a big clearance sale on many of those highly coveted items. Even better, we're teaming up with MobileFun to offer you some exclusive codes to help lighten the financial pain even more!
Currently, MobileFun and MobileFun UK have savings of 20% or more on many of the covers, including:
Lumia 650 Wood (various colors) - $18.99 (was $23.99; Savings of 20%)
Lumia 950 Cognac Leather - $29.99 (was $41.99; Savings of 29%)
Lumia 950 Black Leather - $29.99 (was $41.99; Savings of 29%)
Lumia 950 XL Cognac Leather - $29.99 (was $41.99; Savings of 38%)
Lumia 950 XL Black Leather - $27.49 (was $41.99; Savings of 43%)
Lumia 950 XL Red Leather - $35.99 (was 47.49; Savings of 25%)
Besides the already lowered prices you can also get FREE SHIPPING by using a special code during checkout ($2.99 savings):
WINDOWSCENTRALUK
WINDOWSCENTRAL
Obviously, the first code is for those using the UK store, while the second is for the US. All of the above cases are now shipping so there should be no wait times.
Bonus: Mozo Wallet Flip Cover + Free screen protector
For those who are interested in the Mozo wallet-flip covers, those too are on sale, and you now get a free Olixar Tempered Glass screen protector either for your Lumia 950 or Lumia 950 XL.
Mozo Lumia 950 Black Leather Wallet Flip - $23.99 (was $47.99; Savings of 50%)
Mozo Lumia 950 Cognac Leather Wallet Flip - $24.99 (was $47.99; Savings of 48%)
Mozo Lumia 950 XL Black Leather Wallet Flip - $24.99 (was $47.49; Savings of 48%)
Mozo Lumia 950 XL Cognac Leather Wallet Flip - $23.99 (was $47.49; Savings of 58%)
Use the follow codes during checkout to get the free Olixar Tempered Glass screen protector a $15.49 value. These codes apply to both the US and UK MobileFun stores.
Unfortunately, you cannot combine the codes, so you have to go either with the free shipping or free glass screen protector with the Wallet Flip cases.
Besides the above sales MobileFun also have the new Mozo color cases that I recently reviewed in stock, including Blue, Green, and Coral all of which are shipping now and go for $41.99. If you use the free shipping code, you'll save yourself $2.99 off that price too.
To grab the deal head to either MobileFun US or MobileFun UK and search for Mozo to find the covers you want and add to your card. During checkout, apply one of the above codes. The codes are valid until June 30 and while supplies last.
Let us know which one you get if you choose to order!
Related Reading
Windows Central Newsletter
Get the best of Windows Central in your inbox, every day!
Daniel Rubino is the Editor-in-chief of Windows Central, head reviewer, podcast co-host, and analyst. He has been covering Microsoft since 2007 when this site was called WMExperts (and later Windows Phone Central). His interests include Windows, laptops, next-gen computing, and for some reason, watches. Before all this tech stuff, he worked on a Ph.D. in linguistics, watched people sleep (for medical purposes!), and ran the projectors at movie theaters because it was fun.
Is it only for US and Uk? Are you guys shipping to another country?

You can visit their UK site, guess it's their main website. They ship almost every country.

same sale to Canada site as well as the promo code

I was excited until I saw the white 950XL cover is not on sale. ☹

Would only go for the poly covers. Wood and leather? Come on, is this a 60s gentleman's club? Bizarre choice for premium tech from the off.

Don't knock it til you try it. Feels very nice (and premium) in the hand

Bizarrely awesome. Love my black leather cover on my 950.

They are nice, but I got bored with red and gold so I'm buying the green one, you can have my red one for 20 plus shipping :) Bought from their site, order still processing after 2 weeks :( amazon was super fast for the red one...

Are you talking about red poly cover or leather? 950 or XL? If it's red poly 950 I'd buy it in a heartbeat for $20.

Red leather € and I guess shipping to US wouldn't be so convenient. Ill ebay it :)

Would you ship it to Albania?

I want it, how do we proceed?

The cognac leather for the 950 is smooov.

"Old is Gold" they say...

When in India? I Ordered the black one last week for my Lumia 950!

Prices were reduced (or on sale) from last week... Free shipping and/or tempered glass screen is new! Got Blue for 950Xl and looks good, so would buy other colors too when they go on sale at 29.99

Ordered a green one from Amazon UK yesterday @ 29.16 free shipping :)

There seems to be zero info out there on the flip covers... Especially for the 950; anyone have and like it?

Wondering the same. If it's anything like the MS flip covers for the 640, it'll be nice.

How do they know your email address? I was never prompted to put it in when ordering...

Tempted to get a wood to go on mine...

Disappointed that color cases are not on sale. I'd definitely buy for ~$30

Again Europe mainland is getting ripped off... What costs 29$ for the US translates to 37€ in the UK store... Great deals...

hey. I'll wait until the red blue and green covers go on sale. not much of a fan of leather. nice offers though!

Yeah! Ordered a cover for my 950XL here in Canada. MS store didn't have the color I wanted and it was way to expensive to order directly from Mozo in UK. Thanks for the info Windows Central :)! Yes Canadian funds

I'm guessing prices are in Candian funds?

but one thing i was concerning is if it would be charged for custom duty which would likely DoA by canada post and then there would be another $10 Canadapost costumer handling fee. so would rather pay the "tax" duty fee a head and mobilefun can provide documents or proof of paid tax so, there won't be issue passing the custom.

Still can't justify the expense, they look lovely but I would feel I need a cover to cover my nice cover to stop my cover getting damaged. All to keep my phone nice. I currently use a £4.99 cover from ebay that does the job. My top end is about £15 maybe if they keep reducing them.

Just a heads up, the shipping/stock situation that plagued the first wave of mozo covers for the 950/950xl doesn't appear to be an issue this time. I ordered mine on Sunday night from mobilefun.com, and it arrived today.

Just ordered mine black with black sides. Always wanted one but I wasn't paying over $40. So I'm stoaked now.

Ordered one for my 950xl as the standard is a bit squeaky. Looks nice, so hope it improves the quailty of the phone.

Just ordered a black one for 950 at US site. Heads up! - the WC discount became $4.99 at checkout, so my total was $27.99 at checkout!

I just got the Cognac one for my 950 at $27.99. Thanks WC.

Enough waiting for the polycarbonates with metal rim.. Ordering the black leather.

I have almost bought the 950 leather one at least a dozen times. finally very easy to pull the trigger at this price. Hope the color ones go on sale soon as well. I will get a few of thoses if they go on sale like this. Thanks WC

Damn you Windows Central. Just impulse bought a walnut back for my 950 and it wasn't even on sale lol The $2.99 helped... I guess. ha

The free shipping code works in the Canadian store, too! Picked up the 950XL Cognac case.

Looks like they don't ship to US territories like Puerto Rico or the US Virgin Islands. Too bad, they missed a sale. That's why I always order through Amazon since they have basically everything and nearly always ship to the territories.

Purchased,. thankyou. The screen protector code works on the non filp covers too.

its arrived,... and ahhhhhh feels so good!

Woohoo! Thanks! Got the Lumia 950 leather cover finally!!

I already have the white and red covers for my Lumia 950 XL. Just ordered the black with chrome one, and the new green one... :)

How much have you spent on covers already? O_o

Yeah, too much I guess. They're about $50 about a piece without any discounts...

More power to you Chris. Be the best fan you can be. You just end up with more color options for your phone to match your outfit.

Pls Post some pics of the white one...

Got Cognac and Black for quite a while. I'm really regretting now seeing the discount. Got the Light Oak and Coral, liking them, guess will keep Light Oak as default case.

Awesome, thank you for the offer!

Even at $27, the cheap, slippery, defective, plastic MADE IN CHINA Mozo cases are still a scam.

those are not plastic but real leather. with chrome on the side

I wish they made the wood ones with the silver sides. The black with wood looks off to me.

I made an order recently with the red cover got 950XL, the price has gone down. :-( just wrote to the mobile fun team. Hope they will give a refund of the difference amount.

Ordered the Cognac Leather for my 950XL. $27.99 after a $4.99 WINDOWSCENTRAL discount and $2.99 standard USPS shipping. THANK YOU WC !!

Has anyone ever ordered from Mobilefun before? I thought people were having some crazy issues this past year ordering Mozo cases from them.

avaiable to MobileFun canada site too. promo code also apply

My wood case just came in today and it's amazing. Best thing out there for the 950xl. Just ordered my red and gold.

Which wooden variation did you get?? I was thinking to get the lightest one

These are some really great offers, unfortunately I've already bought the cognac leather back cover, I absolutely love it, I'm eyeing up the Wooden designs which are actually currently available, but instead of spending £40 on that, I'm going to buy Deus Ex Mankind Divided instead!!! Great deals guys and made even better with your codes, you guys really look out for us!!!! Appreciated!!!!

when it will be officially available in indiaa.. plzzz

Apparently this was a one day sale. All except the red are back to normal price.

technically it has been that price for last week, well at least on Tuesday, it was that price too, except I didn't know about the promo code from Windows Central. and as normally stores do promotion circle weekly from Friday to Thursday. so now the price back to normal as the beginning of sales week now.

I thought the prices woukd be good till June 30 along with the codes. Sadly, I wanted the red/gold for the XL and it is no longer on sale.

I'm finally gonna get my Lumia 650 black wood back cover

I ordered the ​cognac leather cover for my L950Xl on the 17th of June and still have not received it as of July 1st! Good price but you have to wait forever.