MSI GS63VR 7RF Stealth Pro review: Easily one of the best gaming notebooks available
The GS63VR 7RF Stealth Pro by MSI is a portable yet powerful notebook capable of some serious PC gaming.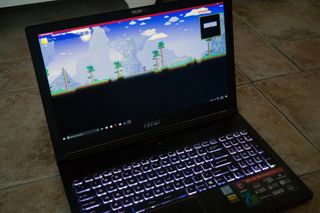 MSI is one of Microsoft's Windows OEM partners that produces some killer hardware, especially when it comes to laptops. The GS range of notebooks is composed of powerful gaming machines capable of not only enhancing productivity but also allowing for some downtime in AAA titles at high settings with positive results.
The GS63VR Stealth Pro is a shining example of stuffing highly-optimized components inside a slim, full aluminum chassis with adequate cooling. The drawback of this MSI laptop is that it falls short of being the perfect portable gaming notebook. Here's why.
About this review
We have the GS63VR 7RF for review, which was supplied by MSI. The model we received sports a seventh-gen Intel Core i7-7700HQ CPU, 32GB of RAM, and a NVIDIA GTX 1060 dedicated GPU. This isn't the most expensive configuration but it clocks in at a whopping $1,999.
See at Amazon (opens in new tab)
MSI GS63VR Stealth Pro specifications
The GS63VR 7RF comes packing some serious heat, even if you opt for the most affordable configuration. Here's a full run down of all available components.
Swipe to scroll horizontally
Category
XX
Processor
Intel Core i7-7700HQ
Storage
256GB or 512GB SSD (with 1TB or 2TB HDD)
RAM
32GB or 64GB DDR4
Display
15.6-inch IPS
Up to 4K
Graphics
NVIDIA GTX 1060 (3GB or 6GB GDDR5)
Sound
Nahimic 2
Ports
Thunderbolt 3
Three USB 3.0
HDMI 2.0
Mini Display v1.2
RJ45 (Ethernet port)
Audio in/out
SD (XC/HC) Card Reader
Wireless
Killer 802.11 a/c WiFi
Bluetooth 4.0
Camera
Front-facing
Touchpad
ELAN
Battery
65Wh
Weight
2.43 kg (3.96 lbs)
Dimensions
411.8 mm x 284.9 mm x 19.6 mm
OS
Windows 10 Home
MSI GS63VR Stealth Pro design
MSI attempted to keep things clean and simple when it comes to the GS63VR line of notebooks. There aren't any aggressive angles, nor are there numerous instances of red that screams a gaming laptop. The company instead opted for a simple but attractive aluminum chassis.
Because it's a full metal body, the laptop is slightly heavier than competitor offerings, but that also means the unit itself can take some degree of beating from use and remains cool during operation. On the lid, you'll find the MSI logo, alongside the dragon branding for gaming PCs, which glows when turned on.
On the front, you have a number of LEDs for storage activity, battery status, power, and Bluetooth.
Image 1 of 2
The right-hand side houses a single USB 2.0, Thunderbolt, HDMI, DisplayPort and the proprietary power port. The opposite side has headphone and microphone jacks, three USB 3.0, an SD reader, Ethernet, and a Kensington lock. That's more than enough for most gamers.
Weighing in at 3.96 pounds, it's not the lightest notebook on the market. That said when you consider that MSI managed to pack in a GTX 1060, Intel Core i7 processor, mechanical drive, solid state drive (SSD), and everything else makes you forgive the weight increase.
Opening up the lid greets you with the gorgeous 15.6-inch display, which comes in 1080p and 4K configurations — both IPS panels.There's a webcam up top, which is average for video calling. A large grill lies above the keyboard, which doesn't house speakers but does allow for air to be pulled in to cool components.
Opening and closing the laptop doesn't feel like the hinge will give way anytime soon. MSI did an excellent job in the construction of the notebook. There are no creaks and barely any flex aside from some in the lid. But this shouldn't come as a surprise as the previous generation was also a killer design.
The main issue I have with the metal and brushed aluminum, in particular, is fingerprints. Even after countless washes, finger oil and marks are still transferred to the chassis.
MSI GS63VR Stealth Pro display
The 7RF model houses a 15.6-inch IPS panel, which alone makes for some stellar viewing angles and great visuals. The choice of either Full HD (1080p) or 4K allows for the decision to be made for more pixels or increased frame rates in games. Either way, you'll be matched with a capable display.
Technical jargon includes 69 percent Adobe and 90 percent sRGB, using a colorimeter. This makes it nowhere near the best display on the market, but it's not terrible. If you don't require absolute true color reproduction, you'll have no issue.
Image 1 of 2
Brightness comes in at around 250 nits, making it not so good for use outside.
MSI GS63VR Stealth Pro keyboard and trackpad
MSI teamed up with SteelSeries to provide keyboards for its laptops, and the GS63VR also makes full use of this partnership. I'm a big fan of the keyboard, finding it to be an interesting middle ground between a membrane and mechanical solution. There's enough travel (just over 2 mm) for some button mashing, but the actuation point allows for a more comfortable and speedy experience.
Using silver lining for each key (essentially making the sides of each key somewhat transparent) allows for the backlighting to shine light through and create a nice glow effect between keys. Unfortunately, as far as backlighting goes, the implementation in the GS63VR 7RF we received isn't great. We experienced color bleed and inconsistent levels of brightness.
There's also the inclusion of a full number pad on the right, but this has led to the company removing any spacing between the arrow keys, which can lead to instances where it makes locating said keys a little difficult. These little niggles aside, it's a stellar notebook keyboard. As an added bonus, you get full support for SteelSeries Engine, which allows for the alteration of colors, brightness levels, and other options.
Interestingly, the base configuration of the backlighting only allows for a three-zone setup, but enabling Prism overrides this limit and unlocks the ability to have all colors of the spectrum roll across the surface.
When it comes to the trackpad, things become a little disappointing. It's an ELAN device that requires some degree of effort to click down on the two lower buttons. I quickly opted to disable physical clicks in favor of tapping. While plastic, tracking carried through as expected, though it simply doesn't feel as responsive as a Precision trackpad. You'll want to hook up your favorite mouse.
MSI GS63VR Stealth Pro powerful internals
The 7RF within the GS63VR series of notebooks is a recently launched line that sports the GTX 1060 GPU. There's also the 7RG variant, which comes packing a GTX 1070 Max-Q GPU. The main difference with a Max-Q GPU is the enhanced level of efficiency thanks to tweaks and such implemented by NVIDIA. This is always good news for a laptop with limited power supply.
Still, a GTX 1060 is a capable graphics card and one that can power through even demanding titles. As for the processor, you're looking at an Intel Core i7-7700HQ, a 45W quad-core mobile powerhouse. Check out the benchmarks below.
CPU
Geekbench 4.0 Benchmarks (higher is better)
Swipe to scroll horizontally
| Device | CPU | Single core | Multi core |
| --- | --- | --- | --- |
| MSI GS63VR 7RF | i7-7700HQ | 4,296 | 14,437 |
| MSI GT83VR | i7-7920HQ | 4,747 | 16,208 |
| Razer Blade Stealth | i7-7500U | 4,211 | 8,333 |
| Lenovo Legion Y720 | i7-7700HQ | 4,697 | 14,810 |
| Razer Blade 2017 | i7-7700HQ | 4,277 | 13,597 |
| Dell XPS 15 | i7-7700HQ | 4,503 | 13,587 |
| Razer Blade Pro | i7-6700HQ | 3,660 | 12,325 |
| Surface Laptop | i7-7660U | 4,677 | 9,538 |
| Dell XPS 13 (9360) | i7-6560U | 4,120 | 7,829 |
| HP Spectre 13 | i7-7500U | 4,100 | 7,469 |
| Surface Book | i7-6600U | 3,948 | 7,415 |
The i7-7500HQ is a superb mobile CPU, but we found the MSI laptop to perform below that of the Legion Y720 by Lenovo. This is likely due to the slight throttling that occurs. Still, it gets a very good score and outperforms the Razer Blade 2017.
GPU
3DMark - Fire Strike (higher is better)
Swipe to scroll horizontally
| Laptop | GPU | Score |
| --- | --- | --- |
| MSI GS63VR | GTX 1060 | 9,874 |
| MSI GT83VR | GTX 1080 (x2) | 15,240 |
| Lenovo Legion Y520 | GTX 1050 Ti | 6,623 |
| Razer Blade Pro | GTX 1080 | 12,976 |
| Dell XPS Tower SE | GTX 1070 | 12,315 |
| Razer Blade 2017 | GTX 1060 | 9,278 |
Compared to other gaming notebooks with similar dimensions and weight, the MSI GS63VR is an exceptional gaming machine. It took out the Razer Blade 2017 in this synthetic benchmark.
SSD
CrystalDiskMark (higher is better)
Swipe to scroll horizontally
| Device | Read | Write |
| --- | --- | --- |
| MSI GS63VR 7RF | 2,135 MB/s | 1,615 MB/s |
| Raze Blade Stealth | 1,281 MB/s | 1,330 MB/s |
| Razer Blade Pro | 2,571 MB/s | 2,467 MB/s |
| Dell XPS 15 (9560) | 2,207 MB/s | 1,628 MB/s |
| Raze Blade | 1,478 MB/s | 1,187 MB/s |
| Lenovo Legion Y720 | 1,642 MB/s | 790 MB/s |
| Lenovo X1 Carbon | 1,518 MB/s | 1,188 MB/s |
| Samsung Notebook 9 15 Ext | 1,365 MB/s | 1,213 MB/s |
| Dell XPS 13 (9360) | 1,287 MB/s | 794 MB/s |
| HP Spectre x360 15 | 1,128 MB/s | 862 MB/s |
| Surface Laptop 512GB | 899 MB/s | 966 MB/s |
| Huawei MateBook X | 889 MB/s | 872 MB/s |
| Surface Laptop 256GB | 423 MB/s | 237 MB/s |
Rocking an SM961 M.2 NVMe SSD, we were able to achieve some amazing transfer speeds, which helps with OS boot times and general productivity. The secondary mechanical HDD is slower, spinning at only 5,400RPM. But for gaming it's adequate.
The MSI GS63VR has powerful specifications and thankfully the performance can be enjoyed even outside the lab. We found the CPU to throttle slightly to keep everything within optimal temperature limits, but this didn't have too much of an impact on gaming and general use.
Firing up Rise of the Tomb Raider, GTA V, The Witcher 3, Ashes of the Singularity, and Total War: Warhammer left me with a smile every time.
MSI GS63VR Stealth Pro heat and noise
Sporting a total of three fans, the MSI GS63VR managed to keep temperatures within acceptable readings (as in nothing melted). For components, we found temperatures to hit 203 degrees F (95 degrees C), and 169 degrees F (76 degrees C) at the very most for the CPU and GPU respectively. The surface of the laptop grew warm, but never uncomfortable.
Fan noise can get rather high when all three kick in after some intense computing. We managed to record 51db. While the CPU got hot when pushed, it only hit 80 degrees C and beyond sporadically.
Image 1 of 2
Overall, there is nothing to worry about aside from the noise when you push the system to its limit.
MSI GS63VR Stealth Pro battery
Battery life on the MSI GS63VR isn't great. Fire up a game without being plugged in, and you'll drain the reserves in little over an hour. Lighter use and general web browsing are easier on the 65Wh battery pack, coming in at just over four hours, but this is still a letdown for those who need a portable PC that can last half a day or more.
That said, you need to take into account what's located inside the chassis: a GTX 1060 and Intel Core i7-7700HQ. Both are power hungry in laptop terms when it comes to gaming and intense workloads, but the components and Windows 10 do a good job with available power.
MSI GS63VR Stealth Pro review conclusion
MSI is close to having the absolute best gaming laptop available. The GS63VR 7RF is a stunning piece of kit, which houses some serious firepower. You'll make mince work of the latest AAA titles, allowing for some truly mobile PC gaming. Take the notebook to LAN events and you'll even outperform some desktop PCs there.
To house all this in a thin and somewhat light all-metal chassis is impressive, and it is a joy to use. The thermal design does a good job at keeping the GTX 1060 and Core i7 processor within optimal temperature ranges, but unfortunately, there are a few drawbacks that ruin the experience.
The trackpad isn't great., and it should be on a laptop that costs upwards of $1,500. Throwing in a Precision trackpad for good measure would have been welcomed. Also, we had issues with the backlighting on the keyboard. This is SteelSeries, which surprised me, but we had color bleed and inconsistent levels of lighting. Typing was a different story, thankfully. Lastly, the speakers shoot audio from underneath. I would have liked to see a second pair installed inside the grill just above the keyboard.
That all said, this is a great gaming laptop. If you're looking for a portable notebook with enough power for some high-quality gaming, you could do a whole lot worse. This is close to being the best gaming laptop you can buy at this price range.
Pros:
Stunning design.
GTX 1060 and Core i7 in a thin chassis.
Truly mobile PC gaming.
Ethernet port and Killer Wi-Fi.
Cons:
Keyboard backlighting isn't the best.
Trackpad is a letdown.
Speaker placement.
Throttles under load.
Poor battery life.
See at Amazon (opens in new tab)
Windows Central Newsletter
Get the best of Windows Central in in your inbox, every day!
Rich Edmonds was formerly a Senior Editor of PC hardware at Windows Central, covering everything related to PC components and NAS. He's been involved in technology for more than a decade and knows a thing or two about the magic inside a PC chassis. You can follow him on Twitter at @RichEdmonds.
I have this laptop and personally can't stand it or get used to it lol. The keyboard and display are excellent as are the raw specs, but MSI software is super annoying and buggy, the battery life is hilarious, and I really dislike hybrid SSD/HDD solutions. Also, the trackpad should be illegal. Although my guide on how to make it "Precision" works with it so that helps.

Hi, i have the GS73VR Stealth pro and im happy with it., i dont have a Hybrid HD, it does have an M2 SSD and it is insanly fast. First thing i made, a complete new Installation of Windows, without the bloatware. I dont have any Problems now. But yes, battery life isnt worth to speak about

I own a GS63VR and I love it. However it is my first gaming laptop and just about anything would have impressed me after hauling around my old 1" thick, 8 pound HP for 6 years. haha I completely agree that the included software is horribly buggy and drains resources, nor does it enhance my user experience. I have uninstalled virtually all of it and found it much more stable. I love the Precision drivers that I installed last week, courtesy of Daniel's excellent post. Made a noticeable difference in smoothness and has great multi-finger options.

I'm MSI retailer and i can say GS73 VR 7RD is the best notebook in the price range...

This review should be illegal!! 95 degrees C for the CPU is ACCEPTABLE? no one comes to Windows Central for reviews for reason.

Dont know whats the definition of the ACCEPTABLE. I am also in search of whats ACCEPTABLE, especially because my Xps 15 2011 edition frequently hits that range....

The 95c reading was the maximum temperature recorded. It wasn't the norm nor was it what the CPU sat at under load, hence why it wasn't too much of a concern. More like high 70s to low 80s.

"one of the best gaming notebooks" -> "GTX 1060" & "Throttles under load." 95C cpu temps... Those statements are mutually exclusive, how the hell can you recommend this piece of trash under the title of "best gaming laptop"? You remind me of the uneducated sales people at electronics stores that recomend trash to customers and screw them over when that trash does not do what is expected from the marketing and hype. Expected better from WC; don't do click bait headlines for products that don't deserve it.

Piece of trash? You remind me of those people who take a bad point or two and completely ignore what a product has to offer the consumer. This laptop is far from trash. 32GB of RAM, Intel Core i7, GTX 1060 (which is the sweet spot in terms of portability) all contained within such a mobile-friendly chassis? Trash? Oh pa-lease. Yes, it hits rather high levels of heat at points, as do other laptops in the market, and was expected. The throttling wasn't extreme and didn't affect the performance in-game where it was noticeable. These points were listed as negatives and rightfully so. Overall, it's one of the best gaming laptops and I stand by that statement. Perfect? No. Most powerful? Not even close. Look at the GS83VR Titan with GTX 1070 SLI. But that's a tank. In terms of power and portability, this ticks many boxes.

To stop the CPU throttling I've used Intel XTU to lower the voltage offset by 100mV and that really helps keep it down. My CPU fan is a bit rattly... so my RMA it for a repalcement as the rattle is louder than the him
Windows Central Newsletter
Thank you for signing up to Windows Central. You will receive a verification email shortly.
There was a problem. Please refresh the page and try again.