Next Windows 10 updates reportedly codenamed 'Vanadium' and 'Vibranium'
A new report claims Microsoft is switching up its codenames again for future Windows 10 updates.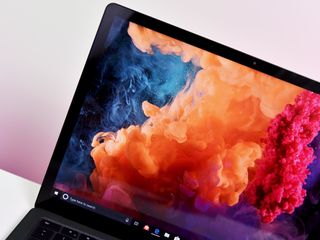 Earlier this year Microsoft dropped its "Redstone" codename for Windows 10 updates, shifting over to a new format after five releases. The next update on the horizon currently goes by 19H1, identifying its planned public release in the first half of 2019. However, another change is reportedly underway at Redmond, adopting a new system for next year's second update.
As reported by ZDNet's Mary Jo Foley, the next Windows 10 update will be codenamed "Vanadium," amid a shift to element-themed codenames. Next on the list is reportedly "Vibranium" – the fictional metal used to create Captain America's iconic shield. The report claims Microsoft will use elements as they appear in the periodic table, however, given Google's ties to "Chromium," Vibranium will take center stage.
Microsoft has cycled through several codenames over Windows 10's lifetime, starting with "Threshold" updated based on its Halo video games. Redstone clearly derived from its blocky-adventure franchise, Minecraft, before 19H1 restored some order to the system. With closer ties to the Microsoft Azure team, it appears to two divisions will share codenames after 19H1 releases.
For all the latest details on Windows 10 19H1, the next major update, don't miss our complete roundup.
Let us know your thoughts on the new codename format in the comments section.
Windows Central Newsletter
Get the best of Windows Central in in your inbox, every day!
Matt Brown was formerly a Windows Central's Senior Editor, Xbox & PC, at Future. Following over seven years of professional consumer technology and gaming coverage, he's focused on the world of Microsoft's gaming efforts. You can follow him on Twitter @mattjbrown.
Windows 10, April 2019 update

Launching in May 2019 most likely

I was hoping for Andromedium ;-)

Me to. Going by the last/current update though, I think it would be more informative to just call it the Sh*tstorm Update.

Andromeda is as reachable as its galactic namesake.

Lets not forget that Vibranium was also in Black Panther ;-)

Sadly still need to watch that :P

Wonder if this shift in codename usage might correlate to a new slew of Surface devices? Completely disregarding "Andromeda" -- I do hope new code names for Windows 10 updates corresponds to not just a shift in HARDWARE devices, but software emphasis. Let's get that tablet mode up to snuff and make a Surface Pro device a usable and intuitive tablet!

The next Windows 10 Mobile update is rumored to be called Unobtanium.

Ok I actually laughed at that lol. Good job

Duuuude. I was not expecting to come in here for comedy. But that was gold! Definitely warranted a good laugh.

I usually don't post on message boards. But when I do, it's because I found something funny. Stay jovial my friends.

I'd love to see a Windows 10 update codenamed Kryptonite (that packs heavy features).

They need to do a Quality Update. Like dedicate A WHOLE YEAR to getting rid of control panel, modernizing File Explorer, fixing context menus, fixing bugs, and adding fluent design everywhere. I know that they are working on these things but the problem is they are always adding new additional features, causing even more bugs to emerge in the process. I feel like if ALL energy was dedicated into this, we could be done once and for all. I believe they can do it. I mean if they can transition from XP to Vista and do all of those visual changes they can definitely do the same with Win10.

All that plus making everything being replaced have the same features and functionally. Not less like they are doing now.

100% agree. Microsoft is the king of software. They could easily pull this off.

They're the king of something alright...

That's one advantage with longer release cycles. Teams individually work on branches more. They still do that but don't have as much time to fix "winmain"/release bugs.

Its also the advantage of shorter release cycles. If issues are discovered, you don't have to wait for a new version to fix or optimize, you can have those fixes out sooner.

XP to Vista took over 5 years ...

What about the October 2018 update? Did that ever get released. I haven't seen it yet?

Microsoft still working on it...

Still in Release Preview.

If incremental alphabetization is taken into consideration this leaves options for "Vibrant" and "Vibrator".

Very interesting article! I have an old Windows XP app. Will I be able to install and run it on Wondows 10 ?
Does Windows 10 run this app in Windows XP compatibility mode and rest of the apps in
native mode simultaneously ? Appreciate this clarification

And then it's Manganese: https://www.reddit.com/r/Windows10/comments/9thys6/its_november

I vote for windoze 10 code names of: Kyptonite, arsenic, lead, radon, or plutonium.

"Adamantine Chains" works well as window 10 code name.. or maybe "cloudexplodium"...
Windows Central Newsletter
Thank you for signing up to Windows Central. You will receive a verification email shortly.
There was a problem. Please refresh the page and try again.