Oculus Rift pre-orders are now shipping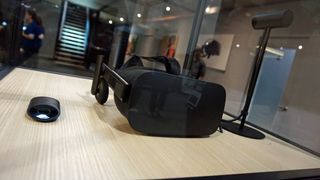 The Oculus Rift is now shipping to pre-ordered customers, with deliveries scheduled to arrive starting March 28. With the first version of the Rift going up on Kickstarter all the way back in 2012, it is a momentous occasion for the Facebook-owned company as it finally starts delivering retail headsets to consumers.
Oculus CEO Brendan Iribe tweeted the following image of a boxed Rift bundle:
If you missed out on pre-ordering the headset in January, you can go to Oculus and order the Rift right now for $599, but you'll have to wait until July to get your hands on the headset. At launch, the VR headset will offer access to 30 games, with pre-ordered customers receiving EVE: Valkyrie and Lucky's Tale for free.
See at Oculus (opens in new tab)
Windows Central Newsletter
Thank you for signing up to Windows Central. You will receive a verification email shortly.
There was a problem. Please refresh the page and try again.